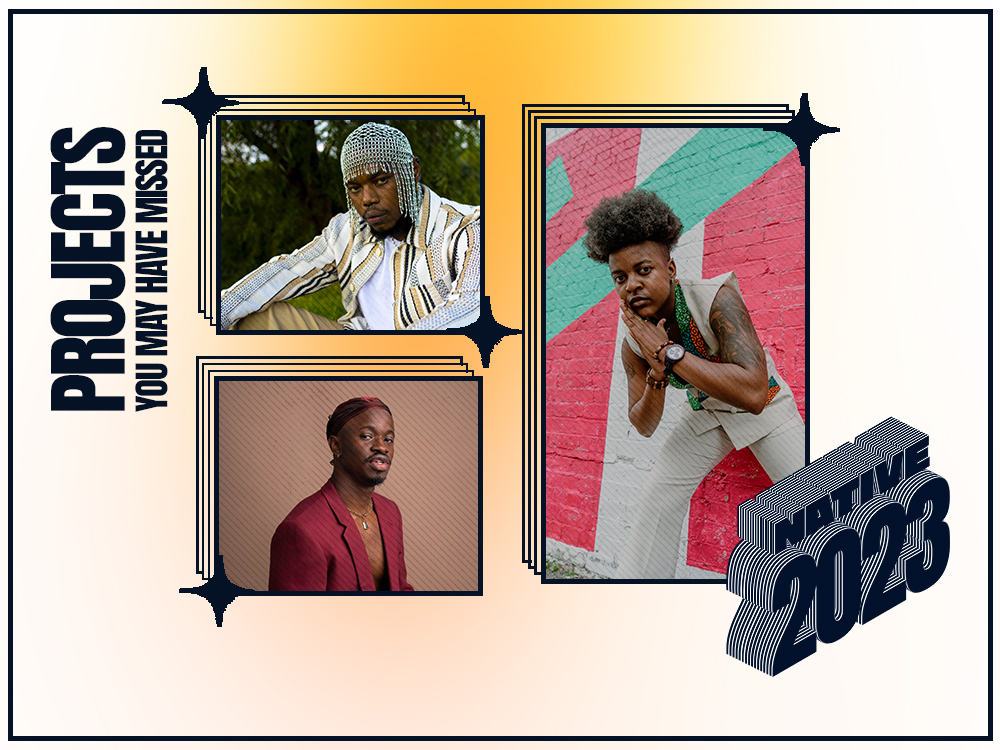 13 Great Projects You May Have Missed Midway Through 2023
Featuring MOJO, WITCH, Halo Yagami & more.
What a time to be alive and to be a listener of African music. Over the last few years, streaming has made it easier to access the expansive scope of the many, many sounds and  styles that make-up the music from across the continent and its diaspora. It's a great positive that has its overwhelming side: There's always a lot of music to get through. For us at The NATIVE, where we pride ourselves on being on the pulse of African music and its attendant culture, it takes a lot to keep up with the unending torrent of new music that constantly lands in our collective mailboxes and streaming feeds.
We're not complaining, though. In fact, as a way of acknowledging the expansive nature of African music in 2023, we've compiled this list of great records we believe haven't received enough attention. In our deliberations, some projects were left on the cutting floor for quality control, which means there's probably more projects we could've put you unto. Regardless, these 13 projects represent what we believe is a strong start point for you to join us in our rabbit hole listening habits. Dig in, listen (!) and enjoy.
WITCH – 'Zango'
After their 1984 album, 'Kuomboka', legendary Zamrock group WITCH disbanded. During the 1970s and '80s, WITCH, an acronym for "We Intend To Cause Havoc," were at the forefront of the popularisation of Zamrock in Zambia, digging into their cultural history for material that they paired with the Western offsprings of Psychedelic Rock and Funk. The band, alongside their country, were swallowed up in long years of political struggles, economic hardship and AIDS epidemic. More than thirty decades later, WITCH is experiencing a rebirth, led by the band's founder and only surviving member Emmanuel "Jagari" Chanda. 
An album ten years in the making, 'Zango' is a unifier of the present and the past. Together with Jagari as lead singer, Dutch musician Jacco Gardner, keyboardist Patrick Mwondela and a host of other instrumentalists, WITCH conveys years of strive, failures and success. They long for home and peace on "Waile," "Streets Of Lusaka" and "Stop The Rot." 'Zango' is also a bridge with Zamrock legends Amanaz and Keith Kabwe connecting with newer stars Theresa Ng'ambi and Sampa The Great. The album is an artefact for Zambia and Zamrock's yesterday, today and tomorrow.
Uzoma Ihejirika
Mannywellz – 'Don't Tell Anyone'
Over the years, Mannywellz has been an outlier in afropop music. He's resident in the United States but was actually one of the earliest international acts to recognise the sound's new wave. Pairing the serene melodies of R&B with vivacious percussions from the homeland, he's created projects with a lot of soul and verve.
2022's 'Unwanted' reflected the artist's outcast perspective, set on brooding notes while unfurling heavy themes. As a result, 'Don't Tell Anyone' sounds like an unstripping of that weight; its opener "Deja Vu" returns him to love, singing with rich emotive resonance, "I find myself, when I look like you, feels like deja vu". Over bright beats, he croons tellingly about intimacy, from the assuring ode of "Everything" to the rollercoasting-effect of "Miracle". Even in love, Mannywellz is investigative and intense, these qualities heightened by the sparse soundscape the project adapts.
Emmanuel Esomnofu
Chmba – 'Okongola Caucus'
If the aim of 'Okongola Caucus' was to transport the listener to another dimension, then a job well done. It almost feels like an out-of-body experience listening to the fiery strings and ethereal vocals of Ms Fay on "Dzuwa" or the sonorous rendition by nIGEL laced with the climbing, climatic pacing on the introduction "Okongola." As the records blend into one another they offer a fresh play on a series of funky fusions and futuristic house grooves, creating an undeniable transcendental listening experience across the project's 5 tracks. In the middle with "Nitemwe," Chmba taps her Malawian heritage for a series of time-travelling synths and African percussive elements all tied together by deep almost humming vocals straight from the soul of its performer, Nyago. Through its course, 'Okongola Caucus' offers a lush, infectious series of soundscapes all perfectly woven by familiar House and Alternative sounds.
Nwanneamaka Igwe
MOJO & Ronehi – 'I KNOW YOU MISSED ME'
MOJO can spend your annual rent on weed casually, his rotation is filled with women that are as bad as one of Afropop's biggest stars, and he might be a quiet guy IRL but he definitely isn't shy. 'I KNOW YOU MISS ME', the Lagos rapper's joint project with frequent collaborator Ronehi, is a thrilling caper of eye-widening punchlines, delirious hooks and wonderful beats. From its Trap-indented opener, "NO FILA," to the drill leanings of standout "RAP JESU" and the soulful closer, "RASTAMAN DREADS," there's a very Nigerian essence at the core of Ronehi's composition and, in typical fashion, MOJO oozes supreme confidence, every boastful line uttered  with an  infectious casualness that also emphasises his dead-eyed technique as a rapper. It's enthralling and greatly entertaining.
Dennis Ade Peter
BENSOUL – 'THE LION OF SUDAH'
Bensoul knows his onions. The Kenyan singer, songwriter, multi-instrumentalist and record producer has consistently sharpened his art by writing for and collaborating with numerous artists across the African continent, from Kidum to Sauti Sol to Burna Boy. He has also put out songs and EPs, bathing melodies wrought from R&B, Soul, Hip-Hop and Afropop with a sensibility unique to himself. His efforts culminated in his 15-track debut album 'The Lion of Sudah,' which served as an inlet into his persona, addressing topics such as self-actualisation ("Intro (Dreams)"), romance ("My Boo") and the decriminalisation of marijuana ("Legalization"). 'The Lion of Sudah' is also aided by accomplished guest appearances from African acts including Bien (of Sauti Sol), Xenia Manasseh and Bayanni.
Uzoma
DOTTi The Deity – 'For You Knew Me'
Nigerian singer/songwriter DOTTi The Deity is as distinct as they come, operating from within the sphere of live music and unfiltered perspectives. A roots-influenced act who grew up in Lagos, 'For You Knew Me' captures his mastery, cutting tenderly into stories about love set in the backdrop of a busy city that barely stops to acknowledge the beauty of the mundane. Taking vividly from the Yoruba sonic tradition, the beats here are alive and percussive, finding measure through the smooth-coasting deliveries of DOTTi. The warmth of background vocals enliven "Deja Vu" and "Pamisaye", offering intimate takes on the state of love. Whereas the former was dreamy-eyed, DOTTi's character learns the hard way and the crashing feels of a lost affair is weaned into the country bounce of the drums, the melancholic twist of its guitar. 
A soothing serenade follows "Good Times" and "Time Heals", with live-centric flourishes carrying the songs through to the honey-toned ballad "Goodbye". DOTTi can be situated in a tradition of live performing artists, stretching back decades towards oral storytelling griots. In the post-war eighties, the likes of Beautiful Nubia, Lagbaja and Asa have translated the expansive scope of live, fusion-heavy music into their recorded songs. 'For You Knew Me' belongs in this tier, possessing the distinct vibrance of a cult classic.
Emmanuel
DeadWvlf & Jaci Martinz – 'The House Kids From Africa'
This offers simplicity in its most digestible and captivating format. Across 5 tracks, the Afro-House extended play combines a balanced combination of wordless compositions with distinct instrumentals and crisp, melodious vocals. For any Electronic/EDM music fans, "Deep Waters (intro)" is instantly reminiscent of tunes from a summer in Ibiza or at least your favourite Calvin Harris song. At the centre of the project is another standout track for its soothing drum pattern and lush keys. At various stages of "Sound of The Morning," a new layer is peeled back with the aid of an additional instrument to heighten the senses whilst leaving your mind cast to your idea of a calm morning. However, the best production of the project has to go to the penultimate track, "Sensual." Introduced by a smooth, head-bopping beat followed shortly by deep chords, "Sensual" has a more groovy and familiar touch with the inclusion of lyrics performed in English and Pidgin. With barely over 15 minutes to listen, 'The House Kids From Africa' offers a compact and familiar take on Afro-electronic sounds.
Nwanneamaka
HALO YAGAMI – 'SILHOUETTE DREAMS'
Halo Yagami's debut album 'You Can't Replace the Sun' entered the NATIVE's list of the best R&B projects of 2022, boasting the singer's "golden voice" and "soulful verve." For 'Silhouette Dreams',  his EP from earlier this year, the South African act brings to the table all that fans have come to identify with his music: soulful melodies and musical variety. On "La," he proposes an escape from the worries of the world to his lover, and on "Only You," he reiterates her importance in his life. But it's not all roses and scents: the Kemuel-featuring "Toxic" highlights the harmful push-and-pull dynamics that can seep into relationships. That, in itself, is the beauty of 'Silhouette Dreams'. It is Halo Yagami's diary where he explores the calm and disorder in and around him.
Uzoma
DAP The Contract – 'PW3RS
'
DAP The Contract is purposeful with his music, which makes every new project a worthwhile listen. On his latest mini-album, 'PW3RS', his sonic scope is as expansive as it's ever been without undercutting the relatable expressiveness in his lyricism. It's the third instalment in the series he kick-started circa pandemic times, and it's a focused culmination of the wandering verve behind the first two projects. There are straight-up rap cuts as in Vol. 1 and there's a lot of singing—sometimes auto-tune-aided—like Vol. 2, however, the level of clarity on this newer set is gobsmacking. DAP is no longer just projecting himself as a self-assured young man; he takes it a step further by radiating a sense of conviction that he's blessed to know the value of living and loving himself, as well as those closest to him. The perspective is enhanced by a glowing, self-produced palette that features club-adjacent beats, psychedelic funk and soulful hip-hop. 'PW3RS' is a treat to the ears and food for the soul.
Dennis
MAUIMØON & LA SOÜLCHYLD – 'FROM UGANDA WITH LOVE'
The power of MAUIMØON's vocals cannot be overstated. He breezes through tracks with panache and complete understanding of the soothing effect he creates. Since his debut 2021 EP 'Pleasure', the 2022 uNder alum polishes his R&B/Soul-influenced tunes with elements from other genres. On his recent EP 'From Uganda with Love,' MAUIMØON, who also goes by the moniker La Soülchyld as a producer, sought to "capture the beauty of Ugandan skies." He achieves this effect with a pack of rich songs that flow into one another with mellow, soulful rhythms. 'From Uganda With Love' is concerned with love and both its simplicities and complexities. From the promised pleasures in "Cherry Sweet" to the urgency of "Really Need," MAUIMØON casts 'From Uganda With Love' as a contender for one of 2023's best music projects.
Uzoma
Suspect 95 – 'Société Suspecte'
You could make a case that Cote d'Ivoire has the most vibrant rap scene on the continent right now. It's certainly the home to some of the best hybrid rap sounds in Africa, where contemporary rap trends are reengineered into something distinctly African and Ivorian. Case in point: 'Société Suspecte', the recent album by Suspect 95, is defined by a maximalist canvas that weaves Zouglou and Trap, Drill and Coupé-décalé, along with hints of Ndombolo and a soulful closer that features Nigerian singer Tomi Owo. Even if your understanding of French is rudimentary or non-existent, 'Société Suspecte' is quite the hair-raising listen, with Suspect 95's gravelly voice and impassioned gusto commanding attention even as he shares space with a blaring soundscape. By turns, he's irreverent, ruminative, candid and generally riveting, the lived-in edge of his lyricism palpable even if you don't decipher anything he  says.
Dennis
YTBoutthaction – 'Love & Vex'
For a good month plus, any moments of silence in my mind were replaced by the subtle whispering of "Bẹ, bẹ, bẹ ko le bẹ, Iya mi, ko le bẹ// Baba mi, ko le bẹ E mi ni kan lo le bẹ Bẹ, bẹ, bẹ." That's the alluring hook of YTBoutthaction's biggest track yet, "Cool Story Bro," off the EP 'Love & Vex'. From this track and a number of others in her discography, YT interestingly layers a number of elements that on paper just do not seem to work. A heavy Trap beat, light and mellifluous vocals that hold a confidence which brings about well enunciated bars, all tied together by an irregular rhyme scheme. An honourable mention would be her admirable transition between Yoruba, English and Pidgin. It simply works. 'Love & Vex' holds the same self-assured YT addressing any and everyone who's offended her with witty lyrical similes,  and sure-fire production that pushes the envelope of her dextrous soundscape.
Nwanneamaka
Maison2500 – 'Crybully'
Last year, Maison2500 released two albums, 'BUFFCORE' and 'Maseverse', both projects embracing the immersive worldbuilding they have become known for, lodging memorable one-liners centred on youthful exuberance within psychedelic trap slappers. 'Crybully' is a continuation of the same ethos. Clashing synths and drawn-out inflections embolden the grasp on emo themes, which isn't surprising given the title of the project. Reaching into the extremes of individualistic behaviour seems to be a favourite activity for Maison, and he does play those narratives well.
"Bizzare" opens the cinematic scope of the project, with Trap flows carrying the message of getting high. "Demons inside my head, wonder where the molly at," he raps. "Castles" and "X-Rated" are uproarous in their rage, incisively peeling into the character Maison consistently paints through the project's runtime. In the end, the title becomes more than a character and more of a metaphor, representing the paradoxical urge for the one who hurts others to cry, to stop in the midst of all the lust, craze and destruction and really ponder the details of their life. In a sense, it's reminscent of the 1999 movie 'Fight Club', based on the Chuck Palahnuik novel of the same title.
Emmanuel
---
Written by Emmanuel Esomnofu, Nwanneamaka Igwe, Uzoma Ihejirika & Dennis Ade Peter.
---