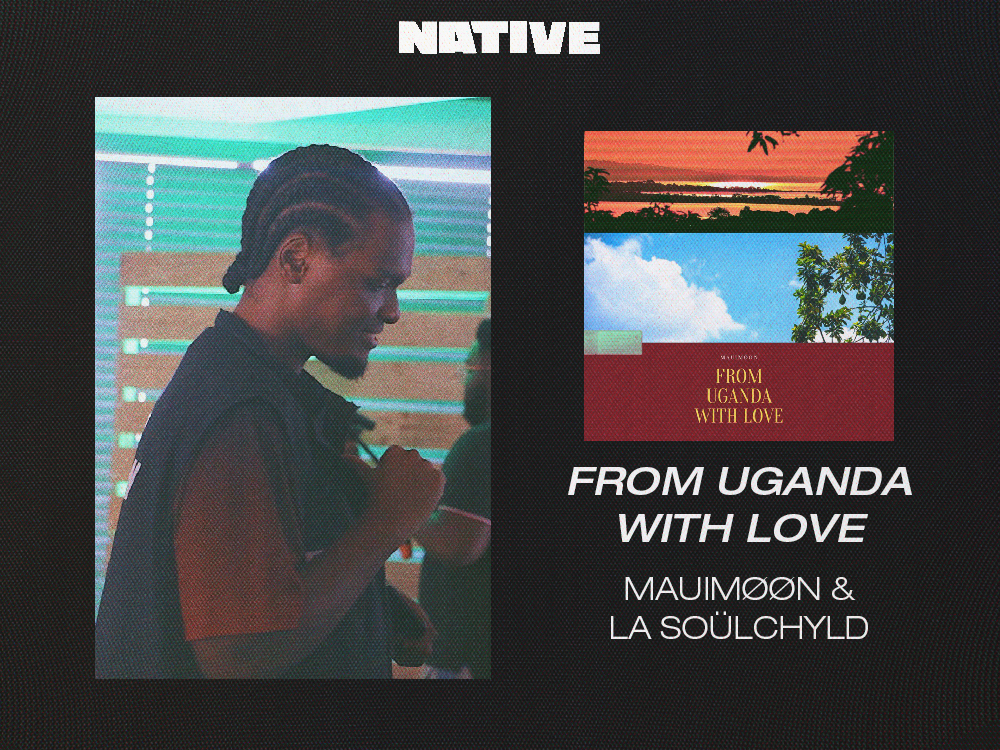 Track-by-Track: Mauimøon Breaks Down His Sophmore EP 'From Uganda With Love'
love doesn't need a happy ending
2022 uNder alum Mauimøon is gearing up for a big year. First introducing listeners to his colourful world as a producer under the moniker La Soulchyld, his craft music has since evolved and morphed into a riveting career that has seen him gain fans internationally. In 2019, he released "Too Real," a fast-paced track foreshadowing his upcoming greatness, which showcased an artist on the cusp of breakthrough with grand ambitions and even smoother flows. His stellar penmanship and fusionist sound soon started gaining traction with the release of his debut EP 'Pleasure,' the best introduction to his catalogue for the uninitiated listener.
View this post on Instagram
Mauimøon's presence over a silky R&B sound fusing pop, dancehall, and delectable Afropop has ensured that each release is met with enthusiasm from his loyal fans and close-knit listeners. Last year, he performed and wrote on "Part2 (Dinner in Maui)" alongside Fresh Meat alum Hermez, off the Nigerian-American R&B singer's sophomore album, 'Oasis'. Alongside this, two of his most recent tracks this year, "Leaving Summer" and "Sweeta," have both amassed over 150K streams on Spotify alone, setting the scene nicely for his 2023 run.
With this in mind, Mauimøon has unveiled his sophomore EP 'From Uganda With Love,' a succicnt collection of love songs and survival tales about his place of birth. Now, after time spent refining his craft and a renewed spirit for gracefully inspecting his emotions, the new project finds the singer contouring his voice around lovelorn pleas while drawing on relatable experiences for young people.
The self-produced project invites only one guest into its simple world–Kenyan singer Mau From Nowhere who delivers a sharp verse that comes with a twist that doesn't necessarily tell the tale of a happy ending in love. With a vision to capture the beauty of Ugandan skies, the EP cover art is created to depict the innocence of love and the rush of intimacy. "I just wanted to have a theme that would work. The sunset matched my first song of the tape. I wanted to have something that gave a beautiful look and sound before you listen to the project," he tells the NATIVE.
View this post on Instagram
Inspired by his love for R&B, Timberland, and Pharell, Mauimøon continues to display his mastery as he croons over songs reminiscent of Craig Davis. His harmoniaation technique is especially noteworthy, pulling the listener in and hitting them where they can feel it. Whether it is reminding girls of their effortless beauty in the lead single "SupaHawt" or experimenting with his voice and production skills in "Felony," Mauimøon takes you on a short trip over well-sequenced sensual soundscape accompanied by a voice guaranteed to get you in your feelings.
Ahead of the release of his new EP, 'From Uganda With Love,' the NATIVE sat down with the rising Ugandan star to walk through each track on the project.
His words which follow below have been lightly edited for clarity.
"SAYING MY NAME"
I self produced this track. As soon as I started with the harp I wanted to have a Timbland – Pharell type of bounce but with African elements to it and it was creating the fusion of old-school melodies. Underneath an afro-inspired percussion and drums to create something different for me so when anyone clicks it, they hear it's something different from 'Pleasure.'I think it's important to be open about your emotions because a lot of times we can say things and keep them to ourselves. I stay relevant by ensuring I do not overthink anything and as soon as I start working on something I write down my thoughts and that shows the song came to be.  and it really influences how we perceive various things. Being honest with yourself makes you understand yourself.    Before starting this track I already had a rough idea of the chorus. I wanted to create a unique fusion of old-school R&B underneath afro-inspired percussion.  Following the theme of love I felt the harp-like instrument was the perfect choice to start off the project and lean into the theme of love.
"CHERRY SWEET"
I used my own ad-libs here because of the beat. It was bouncy and playful and I thought it was important for me to try and experiment with how to enhance the feelings and sounds ensuring it continues the vibe and doesn't sound plain. I really enjoyed it because I got out of the rhythm of always trying to sound on beat. Continuing with the theme I wanted to create a bouncy love song that felt catchy and unique when it came to an arrangement. The production was done by Ransom Beatz and as soon as I heard it felt like the perfect beat for this project.
"SUPAHAWT"
This was my lead single since I enjoyed the process of how I created it. I often let the beat play and mumble words to find a melody that is catchy. I had mumbled different melodies and one specific one was standing out. I felt this is the perfect track to not only write to but to also have fun with. The production was done by Brizy beats and the goal was to create a song for the ladies to enjoy and appreciate themselves. A short and sweet single that could catch the ear of any listener.  It's important to create niche songs for my female fanbase considering all the love I have gotten from my female fans. With songs like "Sweet Love," my fans send me messages telling me how the song uplifts them. I felt it was important having this track because it's more direct.
"WHAT YOU WANT"
I chose Mau as the only collaborator because when I made the song he was the first name that came to mind. Working with him on "Sweeta" was amazing and I saw how his cadence is pristine. The original goal was to have the whole project by myself but as soon as I heard this track, I couldn't leave him out. Every time I get something from Mau he goes above expectations. The melody is purposefully different. It was one of the last tracks I worked on and I wanted to create something different that would still make sense in the sequencing. I like to push myself in not getting comfortable. Because of the genre Alte, I love how broad the definition I, so it gave me more confidence to try something new and still keep it similar to the songs. When producing I like producing with slices, I started off with the drums, mumbling a few lyrics, and coming up with certain structures. I sound more like a dancehall artist in this song and I felt it was necessary because it's always interesting for different songs because I use various vocal performances. I wanted to challenge myself by creating an unorthodox afro-fusion-inspired song that would feel different yet familiar to what my audience is used to.
"REALLY NEED"
"Really Need" is a ballad-like tune under an Afrobeats production produced by Brizy beats. For this track, I refrained from using the common verse-chorus arrangement and opted for a dynamic structure that would take the listener on a journey. I felt it would be an interesting chance for me to shift from the basic structure and also test my own ability to see how I can dance with different structure and still keep it dynamic and authentic. Most of the time when I mumble an idea, I go through various stages but for this track, I mumbled all at once and it was a one-take situation. I fixed my vocal performance to make this align well. It's actually one of my favourite songs on the project. When creating this song I felt I really wanted to make this emotional, deep, and for all the red-wine drinkers to enjoy. I wanted to tap into what someone who really needs something would want to listen to.
"CAN'T BELIEVE"
"Can't Believe" was produced by SOULCHYLD and Tyler Turner. This was another song I had a melody for after listening to the sample provided by Tyler Turner. The melody had been stuck in my head for some time and felt it was the perfect chorus to have. I also wanted to experiment with the syncopation of the adlibs to showcase the R&B influence that has been a big part of my childhood. It all fell into place just how I want to. I keep my fanbase growing in Uganda by keeping authentic to my sound just as I did in this song, I don't pay attention to what's popular in Uganda rather I pay attention to what my listeners and I can relate to.
"FELONY"
Once again I was testing my vocal performance and ability when it comes to different genres. I have always focused on alte so I decided to lean into the vocal performance of what's trending. I was really excited after writing everything and it's unique because in this track I am trying to give a different ideology and performance. It was the second last song to put together because I already knew it felt like a good structure with how the tape was arranged. The first six songs are all about love but I flip the tale with "Felony. It is another dynamic track that was inspired by a similar arrangement as "Really need." In this song I experimented with a different vocal performance than the previous songs in the project, borrowing from afrobeats sounds that are currently trending.
Listen to 'From Uganda With Love' here.
Featured image credits/NATIVE
---