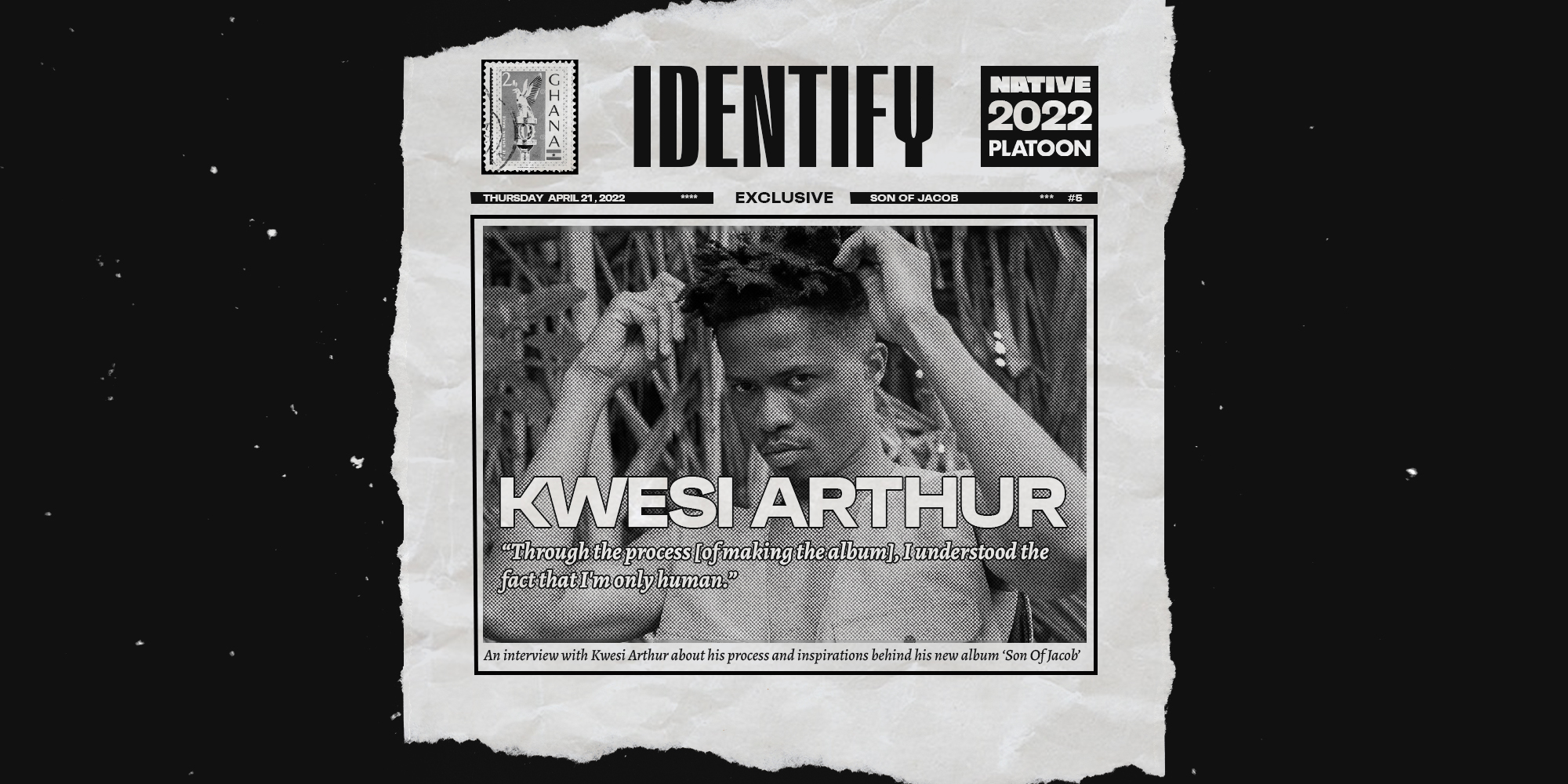 Identify: With 'Son Of Jacob', Kwesi Arthur Is Aiming For The Next Level
"I want my people to be good."
Ghana's music industry is experiencing its golden age. In recent years, the West African country has become a stronghold of the continent's buzzing music scene, spurring a talented spate of artists including Gyakie, Stonebwoy, Shatta Wale and more. Ghana's new-gen artists have also fiercely carved a lane for themselves in the over-saturated Afropop scene, giving us a diverse palette of sounds, from swoon-worthy feeling of Highlife to the gritty sound of Drill.
Enter, Kwesi Arthur, one of Ghana's most vital stars and one of very few artists able to take on this monumental task. Since 2017—when his debut single "Grind Day" marked him as a star—Arthur has been musically fine-tuning a unique blend of Afrobeats, Hip-Hop, and R&B. In his hands, anything—a mumble, a hum, spoken-word—becomes the perfect avenue for his particular brand of genre-lessness. A song like his Afropop hit "Celebrate" is upbeat and carefree; on "Don't Keep Me Waiting," his vocals carry the highlife ballad; then with "Winning" he turns into a merciless drill rapper. And his music is as multi-territorial as it is multi-dimensional. In 2018, just a year after dropping his first single, his regional fame quickly turned into international recognition when he was nominated for the Viewer's Choice Best International Act at the BET Awards.
But what makes him especially formidable is that his musical ascent is nothing short of what he calls "miraculous." Taking his dream from the harbour town of Tema, where he was born and raised, to audiences thousands of miles away was never in the cards for him. His candid lyrics offer a poignant and dynamic exploration of his journey and what it means to be young and defiant of your circumstances. It's spiritual music, he says, and something he dubs "ghetto gospel."
Now, five years into the game, he's got something to prove and his long-awaited debut album, 'Son of Jacob', is his testimony of the journey so far. We all know Ghanaian music is due for its crowning moment, Kwesi Arthur believes he's the chosen one.
Our conversation, which follows below, has been lightly condensed and edited for clarity.
NATIVE: What was it like growing up in Tema?
KWESI: Growing up in Tema was really fun even when we didn't have much. The sense of community always feels like family. You have different people from everywhere coming together. In Ghana tribes and ethnic groups matter so much, but in Tema there weren't those boundaries.
How did you know that music was the path for you?
KWESI: Writing poetry was always something I enjoyed. Then Thank Me Later by Drake, came out and that kind of changed my life. Because listening to that, how Drake spoke from his perspective, how he put his words together, it made me think, "Maybe I can do this too and tell my story." From there, I decided to write a verse, when I went to school, I rapped it for my classmates. They were like, "Yo, where did you steal these bars from?" That was my light bulb moment. I thought, if they believe I stole this verse, there must be something there.
Ghana's music scene is having an incredible moment right now and it's bringing a lot of different sounds and stars to the world on a level that we haven't seen before. What do you think is Kwesi Arthur's role in this movement?
KWESI: I feel like the internet opened the gate for us. Right now, there's nothing like gatekeepers anymore. Now we all finally have the chance to just make good music and keep it going. When I was growing up, I looked around and I felt like there was this gap where nobody really talked for the youth in Ghana. It was usually about love or parties, but never about us. I think I represent the culture as we know it, from our perspective. That's the role I want my voice to play.
As you said, the internet plays a big role in this movement African music is finally having. Is the idea of trendiness and virality something you consider when you're making music?
KWESI: In terms of the creative process, we do what we do because it feels good. I'm not even on the internet like that, but I keep it in the back of my mind because that boosts the audience and that means my message reaches more people. We take all that into consideration, not when we're making the music, but afterwards in the rollout, promotion and everything. And chale, we're from Tema, so we got the hustling spirit in us.
View this post on Instagram
Let's talk about 'Son of Jacob'. Fans have been waiting on this album for a couple of years now. Why the delay? And what made you realise that the album was complete at last?
KWESI: So, Covid happened and we couldn't do a lot of things. Another thing that came into play was losing my grandma. I feel like all those things shaped what the album is. If I didn't lose her, I wouldn't have a song like "Silver Spoon" on there. So I feel like the delay too helped with making it what it was meant to be. We ended up taking some of the songs off and adding new ones because we had the time to edit. I feel like it's all God's engineering. There's nothing like perfect timing, but everything will fall in place at the right time. And that's how everything played out with the album.
What have you learned about yourself while making this album?
KWESI: Through the process [of making the album], I understood the fact that I'm only human. I'm a complex being, it will take a while to understand myself, and I need to give myself the chance to venture out, make mistakes and grow, and not let people's perceptions of me hold me back. I also learned that I can have fun with my music. Like on the song "Animal," I was really playing around when I wrote it. For a while, I wasn't really doing that, being playful on a song. This album should have been out 2020, then 2021. Because it took so long I got to have fun with it.
Could you explain the title of your project and what it means to you?
KWESI: The name came to me on my first EP, where the first bar I opened with [on "Ade Akye"] was, "Son of Jacob/Thank God/Wake up." In my culture a lot of the practices are connected to the ancient Israelites in the Bible [of whom Jacob is the patriarch]. So the title is spiritual for me. Son of Jacob is deeper than just me, it's about all of us belonging to something. If you listen, you will understand.
Sonically you're very versatile, is this album going to sound like the Kwesi Arthur we know or are you giving us something new?
KWESI: I don't like being boxed in. I'm an artist and at first, I wasn't allowing myself to be that because I was stuck on, "Oh, but I'm a rapper." But bro, I was in the choir in school and I was singing in my uncle's church! That side of me was always there but I wasn't really paying attention to it. So, I'm comfortable not boxing myself in a category. However I feel like expressing something, that's the way I will express it. When people listen to the album, my convictions, challenges, insecurities, imperfections, everything is on there. They'll understand that this is the ghetto gospel.
What's your favourite part of the album?
KWESI: My grandma's skit. That was one of the last things we did before she passed away. She was the head of the family, she changed everything for us. It felt important to honour her, my matriarch.
View this post on Instagram
How do you hope people receive your debut album?
KWESI: I hope it connects with people and they take away something special from the music. I want the melodies, the words, just everything to resonate with people listening. Some of the songs on there are therapeutic for me and maybe they can be for someone else too. If everyone gets their own personal experience from it, then it's done what it was supposed to do.
After an album like this, that's been so anticipated, how do you approach making the next project?
KWESI: I've already started making the next project. This is the thing with me: it never stops.
From growing up in Tema to finally presenting your debut album, your circumstances have changed so much in the past years. Have you also changed as a person in response to that?
KWESI: I'm growing. I'm learning more about myself. Yeah, I fuck up. I try to do good things, but I fuck up also. Chale, I'm not perfect but I strive to be better every day.
What does success look like? What is the bigger picture that you're aiming for?
KWESI: The bigger picture is taking my culture to the top. Making it go places it's never been. As Africans, we got a story to tell. The world hasn't heard us like that, but now they're tuning in. There are so many sides of the story that still need to be heard, our perspective is needed. I'm also trying to build an empire, I want my people to be good. So the people after us have something they can depend on, something that can last for generations. Way after we're gone, it will be there.
Listen to 'Son Of Jacob' here.
Featured image credits/NATIVE
---