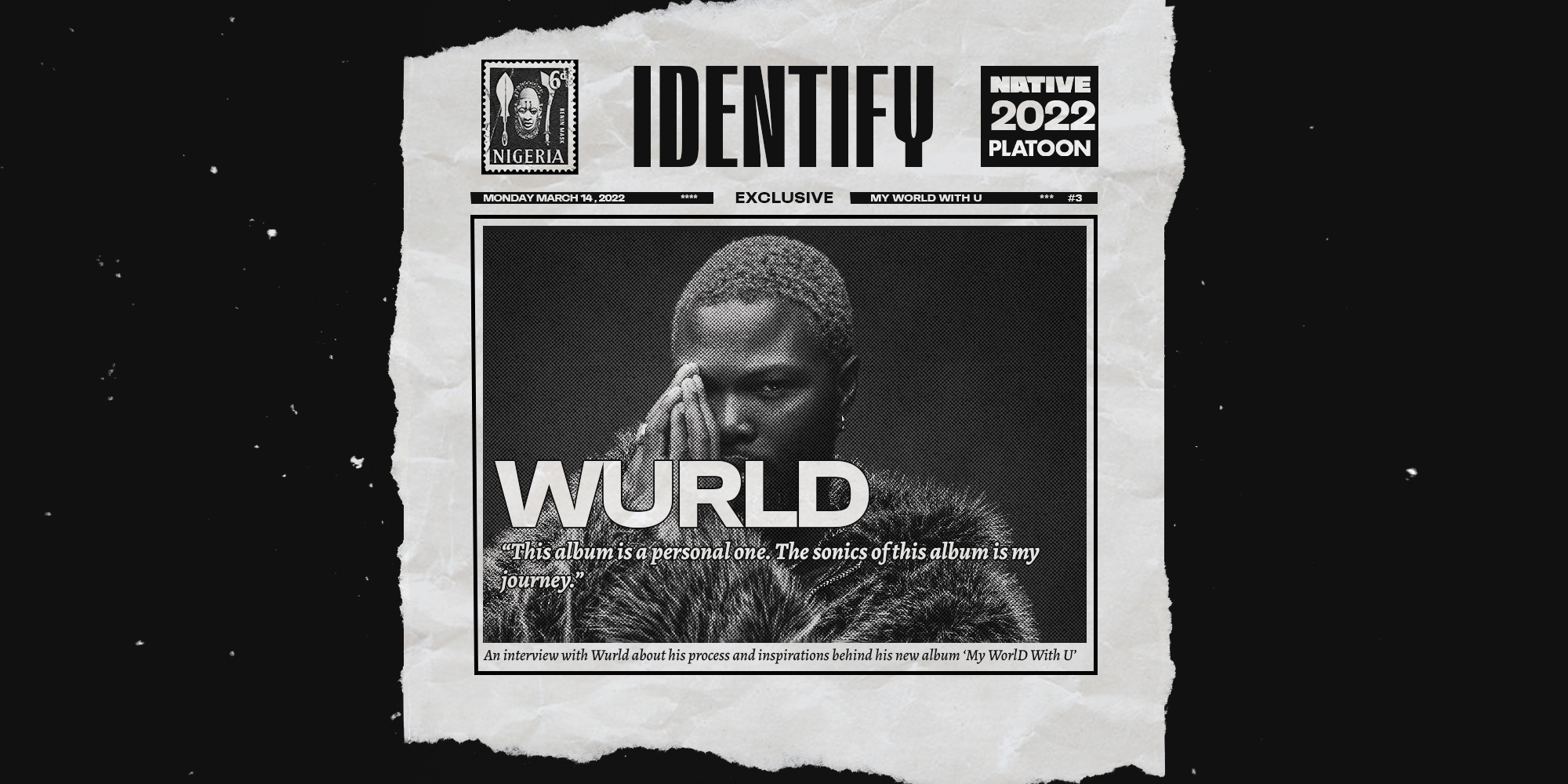 Identify: WurlD keeps getting better and better
"This album is me trying to find myself all over again."
WurlD is perhaps the quintessential example of how far Nigerian music travels. Bred in Lagos, he moved to the US in the 2000s where his journey into music began. His early songs were crafted through an eclectic understanding of Western forms, no doubt imbibed during his time as a songwriter.
He'd later pair those sensibilities with elements from his Yoruba tradition, with songs like "Contagious" especially inspired by the audio-visual universe of Fuji. Around 2016, WurlD made "Show You Off", an inspired collaboration with Shizzi and Major Lazer's 'Walshy Fire', which introduced him to more listeners Caribbean. The success of that record, he tells NATIVE, "brought me into the culture, to be more intentional on being part of the history that's being made right now with afrobeats."
View this post on Instagram
That intentionality is precisely why WurlD has been at the forefront of discussions about artists who transcend conventional Afropop definitions. Since 2018, he's released three EPs and a deluxe, showcasing his flair for songs that stun with their range and whose wisdom is often simple, but ultimately tender and refreshing.
His genre could fall anywhere between electronic music, soul and percussive Afropop. In 2019, he was everywhere in the Nigerian music, lending his crystalline voice to hit records and his blue hair, one of the scene's most recognisable features. After hitting the home run of Davido's hit outro "Sweet In The Middle", he went on to co-write "Blow My Mind" and again replicated the magic on 'I Love Girls With Trouble,' his joint tape with Afropop savant Sarz, whose vivid beats were the palette on which WurlD painted searing portraits of emotional turmoil.
Since 'AFROSOUL,' WurlD has teased the release of his debut album. Two years after, some personal struggles have empowered the singer to now let us into his sonic world with more clarity which sparkles across the nineteen songs on 'My WorlD With You.' A play on his name, the title also reverberates with the cathartic quality in his music. "This album is me trying to find myself all over again," he explains. Two days before its release, we caught up with the musician to discuss its making and other relative aspects of his life.
Our conversation, which follows below, has been lightly condensed and edited for clarity.
NATIVE: How did the sound of this album emerge? Did you reach out to producers when you had the ideas or were there songs you recorded over time?
WurlD: This was more from songs that I've recorded over time. This album is a personal one. The sonics of this album is my journey; I lived in ATL (Atlanta) for almost seventeen years, starting my music there and coming back to Nigeria. You know, being born in Lagos and coming back to Lagos and being influenced heavily since my time in Nigeria, it made it easy for me to kind of find a space between both worlds. And the choices of the producers that I picked were producers I used to work with in the US, having them work with Afrobeats producers to get unique sounds and energy.
NATIVE: On "SAD TONIGHT" as well as "SWEET N FINE" and a few other songs on the album you're often singing of romantic angst. To an extent, I think that's the mood reflected in the album cover. Why is it a subject you're interested in?
On this album there were a lot of things that I touched, and on the more overall spectrum, I'm talking about my personal experiences and how I'm trying to improve myself as a person, as a man. Those are my observations these days and when it comes to "SAD TONIGHT" "I'm going back into my flaws as a human being knowing that I've not always been the best boyfriend or a guy dating in a relationship and it's just one of those records where this time around I'm just trying to fix a problem. The idea of waking up in the morning when you have unresolved issues with your partner. That feeling in that moment's always heavy and I feel like a lot of people can relate to that conversation. Wanting to fix a problem, right there and then, when you still can.
NATIVE: The first song on the album talks about success. I'd like to know what a celebrated artist such as yourself considers success as.
What I consider success these days is…being successful, it's everyone around me. My family, my people, my friends—that's success to me. Helping somebody; being part of someone else's success story because we can all bear the instruments to each other.
NATIVE: A lot has happened since you released your last project, which was 2020's AFROSOUL. How've you been since then?
WurlD: It's been a personal struggle of survival to be honest, a lot of self-improvement and mental wellness. I've been really trying to just take care of myself, like my headspace. I think I was in a state of depression, early 2021. It's the worst thing ever. It's not fun talking about it. I was scared, I had no motivation. I mean, I just didn't feel like doing anything. I had to just take time off and get myself right, if that makes sense. It's been a lot of self-improvement. Mentally, as a person, as a friend, as a family member, as a communicator. I was really working on myself. Mental health is very important and we have to be really kind to each other.
NATIVE: Looking back on your previous work, there's that one: I Love Girls With Trouble, which is unarguably one of the high points of afro pop in the last half decade. For you, what's the biggest takeaway from that joint project with Sarz?
What we achieved is beyond words. When we came together we had a vision to create a progressive Afrobeats project. I think we did that. You know, and the project is still unmatched. We're working on the part two of the project right now, it's a beautiful thing. I feel like the best is still yet to come. We're just blessed and hopeful that we're able to see it through and looking forward for what's to come. We just did something right on [the new album], "SWEET N FINE" to get people who miss the vibe back and slowly.
NATIVE: Before you became known to most Africans you were somewhat accomplished as a songwriter in the US. How did you get started on that?
WurlD: Being in America, as an artist the way for me to get into rooms was be a songwriter and I had passion for songwriting. And I knew lot of people in America then who were amazing artists but they loved my songwriting and that was my way in. I worked with Timbaland, I met B.O.B through someone and shortly after that, I started just doing all his hooks, for him and all the artists he was working with. I started just working with everybody, all the top producers. I started writing for Mario, I could list them on and on.
"Show You Off" was my first step at being close to Nigeria. It's the reason why I'm in Afrobeats now; shoutout to Shizzi, we did something special and it changed my whole perspective. And for the first time I had people from Nigeria hit me up like yo, "we love your sound". That brought me into the culture, to be more intentional on being part of the history that's being made right now with Afrobeats.
View this post on Instagram
NATIVE: How and when did you identify music as your career path?
WurlD: To be honest, at a really young age. I think I was probably like eleven or twelve though I didn't start taking the steps till I was in America. I'm just grateful that I could follow my intuition. I just couldn't see myself doing anything else even when I was in college. I would be in college daytime, and music studios nighttime.
NATIVE: Much of your music sounds luxuriating, the kind you hear when you're chilling out and just taking care of yourself. Is that in any way influenced by your lifestyle?
I like to have a good time surely. I don't swim but I like to be in beach spaces. Maybe house on a beach vibe, overlooking the ocean. I'm more of a lounge guy than a club guy. I love easy vibes, good music, live bands. I love movies, I'm a Netflix and Chill guy too. At the same time I love concerts, I love performing, I love taking trips. I'm a traveler; I love seeing beautiful places, I get inspired by them. Some of my music has a travel vibe, it's traveler's music, if that makes sense.
NATIVE: You're always pushing the boundaries of the art you create. What's the motivation behind that ethic?
WurlD: The motivation for me is to inspire. When I came into the market with "Show You Off", that didn't sound like anything else that I heard. I didn't do [the song] till I felt like I had something that was different. I've always been inspired by artists that come with new vibes, one person would be Kanye West, right? Or like the Coldplays, the Sades and Seals and for me, all these artists have one thing in common: they have their own sound, they brought something new to the table. As for me, I always try to bring something new every time. That's why every one of my songs and projects sound different from another.
NATIVE: What does this album mean to you?
This album is me trying to find myself all over again. This is me being flawed, this is me being broken, this is me being uplifted, this is me being hopeful. This is me falling in love, falling out of love but also more importantly, this is self-improvement for me. Self-awareness–this is me being a better person and a better artist, a better songwriter and a better friend. A better human overall, 'cos we're all a work in progress.
Stream 'My WorlD With You' here.
Featured image credits/