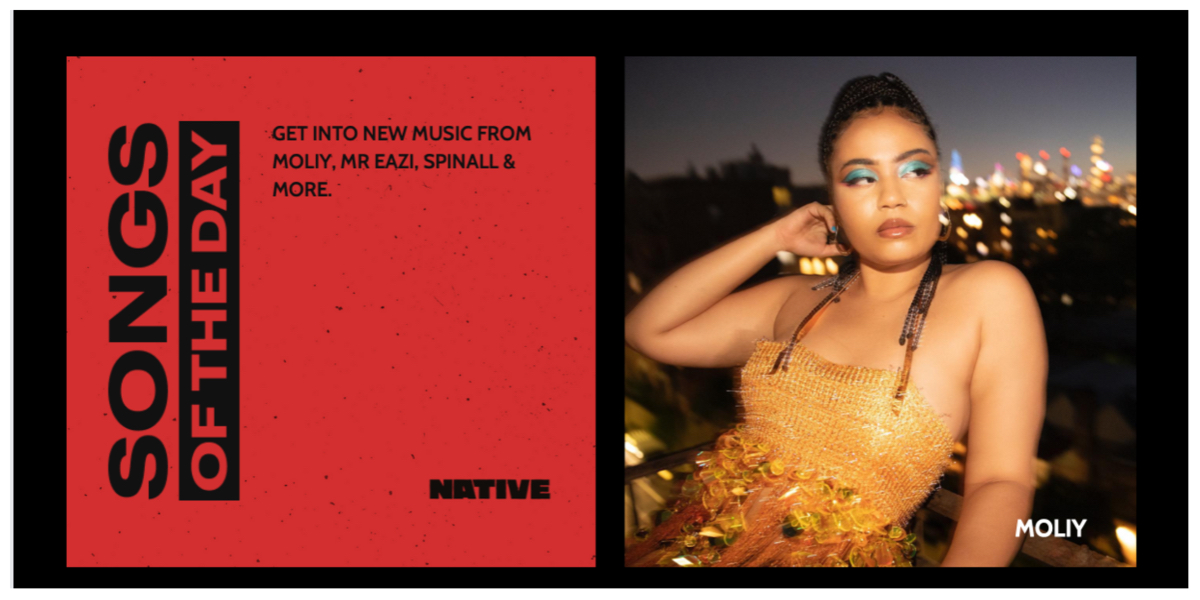 Songs Of The Day: New Music From Moliy, Wizkid, Spinall & More
update your playlist
2022 is winding down, and it's been an eventful year for Afropop. There's been a torrent of great new music, spawning a massive stack of inventive smash hit songs. From Highlife-infused Ghanaian pop, to the unrelenting force that is Nigerian street-pop, to South Africa's indomitable Dance scene, to tantalising Drill explorations in East and Central Africa, and much, much more, we're living through abundant and musically expansive times.
Every week, many songs from African artists make their way to digital streaming platforms, and wading through them can be intense. That's where The NATIVE's Songs of the Day column comes in to help. We go through as many new releases as possible, spotlighting them here, two to three times every week. Today, enjoy new music from Moliy, Mr Eazi, Reekado Banks, Dami Oniru and more. Lock In!
Moliy – "Together" ft. Juls
Since releasing her debut EP 'Wondagirl' back in 2020, Ghanaian singer Moliy has continued to expand the levels of her artistry with new and powerful releases including her feature on Amaare's "Sad Girlz Luv Money" and "Love Doc," and BOJ's "In A Loop" with Melissa. This was followed by the promotional single, "Hard" off Moliy's just released EP, 'Honey Doom', which features a dazzling collection of songs which showcase her sultry vocals. For the EP's intro song, "Together" Moliy enlists Ghanaian producer Juls on a mid-tempo number where she serenades her love interest over a teetering percussion beat.
WIZKID – "Bad To Me"
Wizkid is the gift that keeps on giving. The Afropop crooner is set to release his new album 'More Love Less Ego,' the charming follow-up to his award winning 'Made In Lagos,' and has shared the P2J-produced "Bad To Me" ahead of its official release. Now, Wizkid is back with a colourful video to accompany the memorable hook he's got us all singing, "Casamigos, for my Amigos". The new video is a lush watch which features clips of Wizkid playing up his usual cool charm, as he takes us behind the scenes of a typical Starboy experience.
Spinall – "Top Mama" ft. Reekado Banks, Ntosh Gazi and Phyno
Spinall is best known for connecting talented artists. This year alone, he's worked with the likes of Summer Walker, DJ Snake and Ayanna assisted track, "Power(Remember Who You Are)". Now he's returned with an all star lineup for his recently released Amapiano-infused track, "Top Mama", which is accompanied by a colourful new video. Reekado Banks' raspy vocals colour the track's intoxicating beat with the assistance of Ntosh Gazi's catchy adlibs, as he sings "Top boy rolling with the top mama/Boy rolling with the top." In his usual fashion, Phyno chimes in and showcases his impressive vocal abilities while delivering a killer verse in English and Igbo.
Dami Oniru – "Soft Life"
Dami Oniru is back. Last week, the singer returned to the scene with the smooth sounding, "Soft Life," a track about not taking oneself too seriously and living a stress-free life. Now, she's followed this up with a befitting new video which reflects the song's easygoing ethos. Featuring cameos from talented young woman across the music industry, the video ties together Dami Oniru's penchant for delivering powerful messages and timeless videos.
Mannywellz – "Jooce" 
"Skedaddle", "Di Do & No Closure" and "Closure" are just a few of the tracks Mannywellz has under his belt this year alone. Now the BET next up 2022 artist dropped has shared a new track titled "Jooce" which comes accompanied with a befitting music video. On the new single, Mannywellz reaffirms himself and his capabilities with empowering lyrics such as "You got the jooce, you got the jooce/There's nothing that you need to prove."
Swagz.i – "I Don't Know"
For his latest offering, Swagz.i has released his debut EP 'Diamonds in Broken Hearts' which features five solo tracks from the singer. The project falls in line with his love themed previously released singles "Heartbreak Semester" and "Enough for You." On the intro track and standout number, "I Don't Know", Swagz.i skillful swaps between Yoruba and English to tell his love interest to prove his devotion to a lover as he sings, "I don't know what you think this is, I don't know, I don't know/No this is not Romeo and Juliet." 
Rowlene – "Would You Like That"
South African R&B singer Rowlene returns with a new single titled "Would You Like That." The song see's Rowlene express her power through demanding, enticing and suggestive language – sexual prowess at its peak with lyrics such as "feeling touches when you lonely/body language got you hypnotised." The single will feature on her forthcoming EP titled 'Frequency' which is due for release on November 11. The new EP ends a 2 year hiatus for Rowlene following the success of her 2020 Album '11:11.'
Featured Image Credits: NATIVE & Instagram/moliymusic