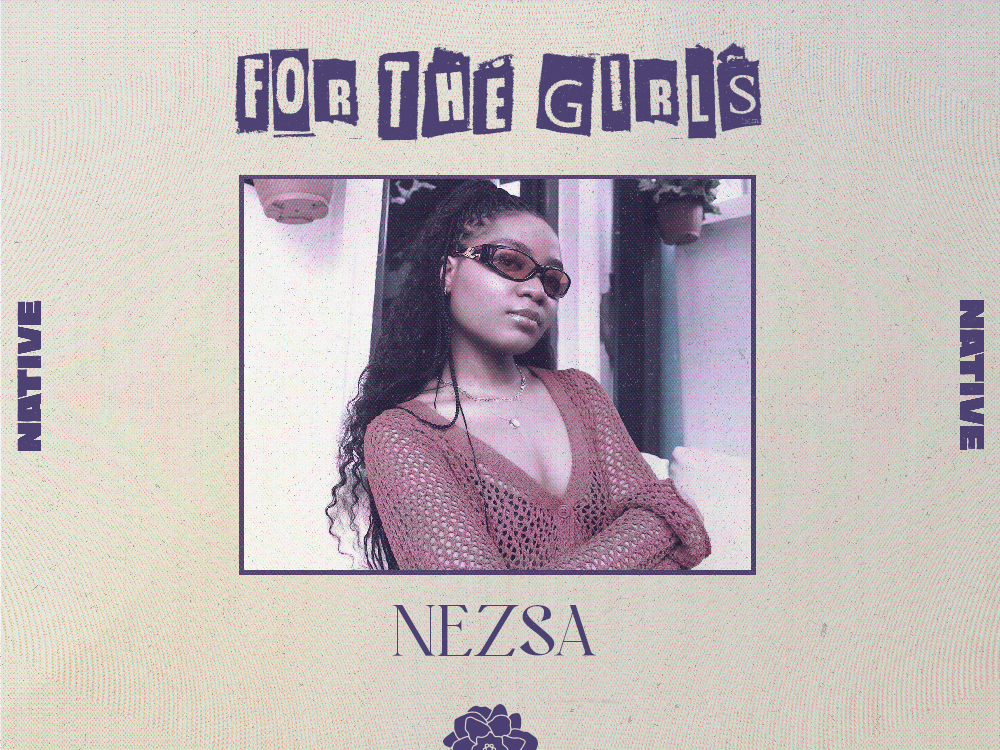 For The Girls: Out of the Fog, Nezsa Emerges Better and Assured
buoyed by an insular moment of self-conviction
In her journey to become the best version of herself, Nigerian singer Nezsa has had to embark on her biggest challenge yet: herself. In the months after she self-released her 2020 debut EP 'Bitter-Sweet,' she hit a creative block – a result of personal ups and downs, which were exacerbated by the world-conquering coronavirus pandemic. It wasn't until last year that circumstances shifted in her favour. Her manager had been in conversation (for a different artist) with emPawa Africa, the Mr Eazi-owned music company. Although that deal didn't materialise, Nezsa's manager kept in touch with the emPawa Africa team; later, he sent them Nezsa's music, which they liked and indicated an interest in working with her.
Nezsa didn't need much convincing to consider emPawa Africa's proposal. "I just thought 'Oh, I already feel hopeless with this music thing and I almost gave up, maybe this is a sign for me to get back into things and see what can come out of it," she tells the NATIVE. The singer convinced herself to go for the distribution deal opportunity and take a chance on herself: "I said [to myself], 'Oh, if I'm under emPawa, I'm kind of obligated to keep making music,' [and] this deal would help me keep me on my toes and be like, 'Oh, this is not a joke. You have to take it seriously.'"
Nezsa and emPawa Africa began their journey with the single "Break," which features the inner workings of a dysfunctional relationship full of broken promises. At 17, Nezsa—real name Vanessa Adaeze Enoka—moved to Canada from Nigeria, where she was born and was part of her church choir. As a young child familiarising herself with her love for music, she grew up listening to the music her brothers fancied: Yanni, Sade Adu, Aṣa, Adele, Coldplay, Rihanna, Beyoncé, Lana Del Rey, Davido, Wizkid and Wande Coal.
It was whilst studying in Canada that Nezsa surrendered to the idea of becoming a recording artist. "I got into university and I made a couple [of] friends," she says, "and there was a day they were recording in their room, and I just came in and they were like 'Oh, do you wanna try something?' And I just sang something and from there, that just turned into a single that they decided to release and that was what got me thinking about starting my own music career." 
Nezsa held on to her dream and, in what she describes as "a spur of the moment type of thing," she decided to record an EP. "At that period—that was right before the pandemic hit—I was recording a lot of songs and just enjoying the creative process," she says. "Around that time, that was the first time I got all my music equipment that I used to record in my room. So I was just really excited to record a lot of songs. That was how I compiled an EP and decided to release it at that time."
The six-track EP, titled 'Bitter-Sweet,' was the breeding ground for Nezsa's brand of sultry alternative R&B and emotive songwriting. The songs travel different terrains of love and relationships; on "Safe," she is weary of a lover who chooses to hold their cards to their chest; she is completely enveloped in love on "Subway,"; on "Dangerous," she realises the unhealthy dynamic at work in her relationship; and on "Peace of Mind," she wants nothing but to prioritise her sanity and wellbeing. 
Since the release of 'Bitter-Sweet' and the deal with emPawa Africa, Nezsa's confidence in personality and sound has soared. "It was around that period that you saw the rise of more female artists like Tems [and] Amaarae," she says. "So that period was definitely motivating and eye-opening for me. One thing that happened after releasing 'Bitter-Sweet' was [people saying], 'Oh, have you ever thought about trying Afrobeats? Have you thought of this, have you thought of that?' A lot of unnecessary opinions from people. But I already knew the direction I wanted to take my sound, and just seeing the women I mentioned being able to do their thing and being able to achieve what they're achieving right now was inspiring for me."
While R&B and Soul sit at the core of her music, Nezsa hasn't shied away from incorporating different sounds. 'Bittter-Sweet' was more of a strictly R&B sound. Back then when I was recording, I was trying to stick to one particular sound I knew I could hop on," she says. "But I think after that project, I expanded my sound selection choices and started adding [Afrobeats-inspired drums] into my already alternative style. I would say that's one difference that separates 'Bitter-Sweet' from the new songs I am making."
In 2022, her Gbeduboss-produced single "Trouble" caught the attention of music lovers and won her new fans as well as spots on Spotify (Fresh Finds, R&B Rising) and Apple Music (Breaking R&B, New In R&B). In the music video for "Trouble," which was Nezsa's first music video, she is out for revenge against a lover who has crushed her emotions with his ill-doings. Nezsa tells the NATIVE that although the filming exposed how stressful shooting a music video is, she enjoyed the process. Last year, she was also an opening act for the North American leg of Adekunle Gold's "Catch Me If You Can" tour, which happened in Toronto, Canada. "It was probably the best performance I've had because the energy from the crowd [and the reception] was amazing," she says.
At the moment, Nezsa and her team are gearing up for the release of her new project, which she reveals has "been bouncing from album to EP to album to EP" but would most certainly be an EP. "Most of the songs recorded [were] kind of an accidental collaboration with [Gbeduboss], [a] Nigerian producer I got introduced to," she says. "I think my manager accidentally sent a beat pack to me, which was supposed to go to an Afrobeats artist. But when I listened to it, I was like, 'Oh, this is interesting.' And I recorded. That was how I recorded 'Trouble' and some other songs that haven't yet been released. 
"That [opportunity] also reignited my passion for music again because one thing that was happening before the emPawa thing was I was stuck in a rot where I wasn't getting inspired by the beats and the music I was hearing. But I think that reignited that spark and got me motivated. So I wrote a couple of songs, like about five or six songs at that time. But now, it's a lot more than that. So that's why I'm trying to decide which ones to go for at the moment."
Judging by her latest single "Should Have Cared," which was produced by Denzl and borrows from Reggae, Nezsa's upcoming project promises to be worth the wait. The song is a tasteful compilation of lush melodies and Nezsa's fascinating vocals, and her solid storytelling about the regrets and hurts that linger after a failed relationship. For the project, Nezsa has worked with a talented crew of producers: Denzl, Gbeduboss, Malik Bawa, and Lexjnr, among others. Outside of the project, she has worked with Type A and E Kelly.
Nezsa learnt that she creates music best when in isolation. "In terms of the creative process, I feel more free and able to tell the story the way I would want to tell it," she says to the NATIVE. Now, the singer is challenging herself to invite more people into her sonic world which she believes is a necessary ingridient for growth as an artist. Nezsa doesn't have a title yet for her upcoming EP but she has one for her debut album, which she hopes to be ready by next year: 'To All the Heartbreakers.' She got the idea for the title after a friend of hers had spoken those words while in a conversation with her.
For Nezsa, there lies a connection between the subject matter her music touches—love, heartbreak, betrayal and self-reliance—and her observations of the lives around her. She might not be expressive in her day-to-day living but the words in her head always find their way into her music and spark her creativity. "But I'm going to [explore] other topics that will definitely be coming out in some other songs," she says.
In a similar thread to the names whose music Nezsa grew up listening to, the list of artists she hopes to work with is cross-continental and extensive. They include Nonso Amadi, Bloody Civilian, Aylø, Burna Boy, Q, Rihanna and Frank Ocean, among others. With her upcoming EP scheduled for release either in the second or third quarter of the year, Nezsa is poised to stamp her name in the growing collection of African music artists pushing their sound to a global audience.
"I look at it [her upcoming EP] as kind of building my résumé," she says. "I would say 'Bitter-Sweet' placed me where I am currently. So I'm hoping that this next project will take me to the next level that I need to get to."
Featured image credits/