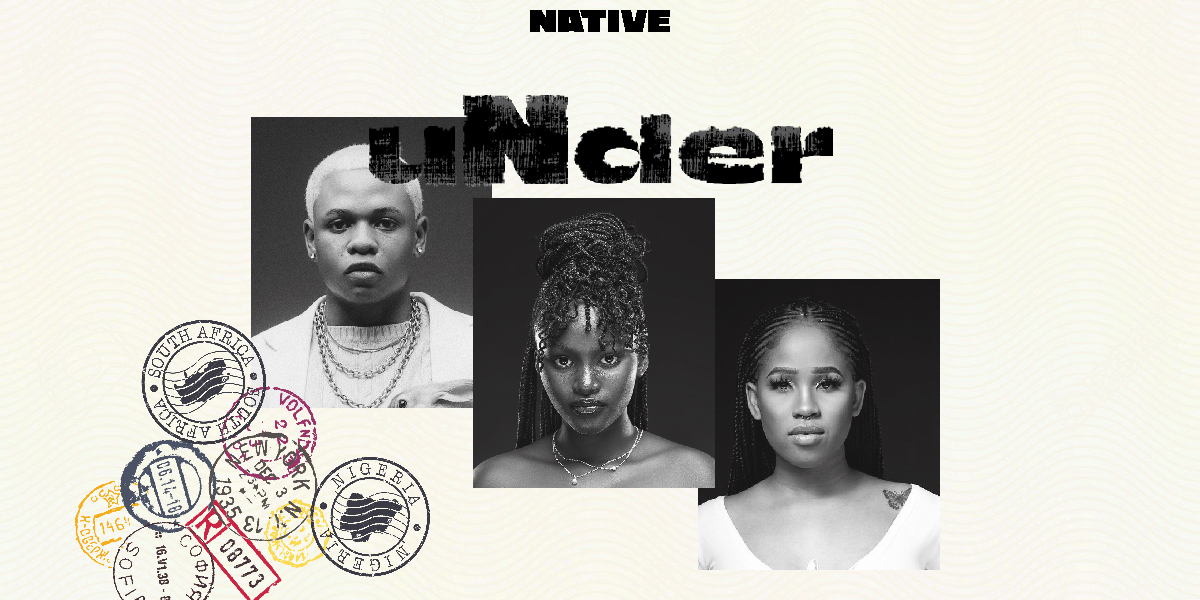 UNDER: Best New Artists (April 2022)
Featuring Raebel, Pabi Cooper & more
Staying True To Our Mission To Reshape The Face Of African Popular Culture, The NATIVE Team Curates A Monthly List To Spotlight The Best And Most Exciting New Artists On The Continent. Some Of These Artists Have Dropped Songs To Some Regional Acclaim, While Others Are Brand New On The Block, Working Towards Their First Big Break. Tune In To What's Next. Click Here For March's edition.
---
Last month, after two years of discovering some of the Best New Artists on the continent and in the diaspora, we launched uNder, our new column dedicated to furthering our mission of spotlighting the sounds of tomorrow: today. With the start of a new year and quarter, we deemed it best to re-evaluate our commitment to music discovery and where it fits into the grand scheme of things in today's hyper-viral climate.
While our goal of putting you unto the most exciting sounds remains unchanged, we realise that music is in a constant state of motion. uNder, therefore is a celebration of the ever-spinning wheels of music which vastly covers artists at different stages of their careers–from brand new discoveries to artists who are reaching a tipping point and on their way to mainstream success and even to more familiar names, with a few accolades under their belt.
This month's edition is an indication of how wide that talent pool currently is. From Nigeria's Boy Spyce who was just activated by the Mavin powerhouse with a debut eponymous EP to South Africa's Pabi Cooper who blends kwaito with the rich sounds of house music. So stay tuned for all the exciting features to come—we'll still be doing this round-up every month, but if you want engaging submissions, deep cuts, or just want to suggest who else we should be listening to, subscribe to uNder newsletter. We hope you find something new that you like.
Boy Spyce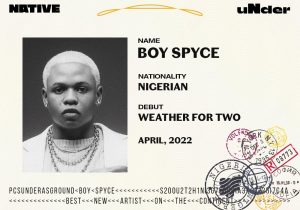 The Mavin Dynasty has done one thing since it was established in 2012: produce stars. Last year, the record label unveiled Ayra Starr and Magixx, two instantly prominent voices of the new generation. In such little time, we've seen these artists grow rapidly, positioning themselves as key parts of the new wave of stars, emphasising that Mavin isn't stopping anytime soon.
Earlier in the month, Mavin records activated new signee Boy Spyce, a promising new already making his mark and primed to reinforce the label's dominance. Spyce was first discovered through a viral video on Instagram where he did a cover for Wizkid and Tems' "Essence". The cover garnered the attention of many, including industry heavyweights such as Don Jazzy, who reached out to the artist at the time and signed him to the Mavin academy.
Now, the artist is ready to take on what the world of music has for him. His unveiling arrived with the release of his self-titled debut EP, a 5-tracker which cuts across matters on love, self-awareness as well as self-growth, showcasing his euphonic vocals and splendid songwriting skills one track at a time. Tracks such as "Wayo" and "Dreams" are clear statements by the artist, proving why he's here in the first place. On "Dreams", he sings lyrics such as "And I dey look you through my window; boy you have to chase your dreams, you have a plane to catch by six", reminiscing on the past and wishing for a better future.
Boy Spyce is a fresh voice of the new generation and we're rooting for him.
Wonu Osikoya
Simi Liadi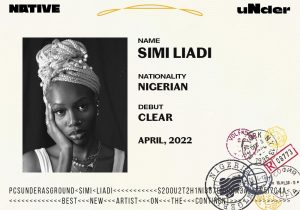 Silky vocals have featured in the resumes of many great R&B musicians, and Simi Liadi is no different. Born in Germany to Nigerian parents, her childhood was characterised by a lot of moving around. Her family eventually settled in Maryland, USA. At 12, she joined the church choir which was where she got her earliest training on the technicalities of sound. In 2020, Liadi made her debut with "Clear", a glossy record built on stuttering drums and swooning keys.
Liadi's songwriting underplays complexity, rather honing in on the nuances of her voice to pass across an ultimately deep message. "Clear" was indicative of this, beginning with the couplet "I don't need nobody but you/ But I need you to tell me if you're down for me too." She proved to be a consistent act over that year, releasing "Dream" and "The Hills", both further underscoring her flair for pulling diverse strands of young love together.
She was especially busy last year, releasing a number of songs before putting out her debut EP, 'Essence', in May. Its six songs were carefully selected to highlight Liadi's subtle twist on love stories, with "Letter To You" and "Faded" being particular highlights. The former demonstrates her technical writing ability vividly portrayed with melancholy as she thinks of a distant lover. "Faded" is about feeling out of touch in a relationship, with Liadi likening it to a fading fire. Last month Simi Liadi released a 3-pack titled 'Experience'. Here, her songwriting shows even more maturity, leaning into less dramatic flourishes to tell her stories. Together, it's a fine offering in the oeuvre of a singer who's really singing.
Emmanuel Esomnofu
Pabi Cooper
From the deep basslines of Kwaito to slowed-down House beats and the dark atmospheres of Gqom, Dance music has, for decades, been an outlet for young Black South Africans to creatively express themselves. At the moment it cannot be argued that Amapiano is the biggest sound at the moment, serving as the modish outlet for producers, singers and dancers to express and entertain. This ongoing 'Piano dominance has been the catalyst for new stars to transition from the dancefloor to the singing booth.
Not too dissimilar to 2021 breakout star Kamo Mphela, the exuberant Pabi Cooper came into the spotlight for her smooth dance skills in Amapiano, before getting in front of the mic to hone and showcase her chops as a vocal entertainer. Releasing her first EP dubbed 'Isphithiphithi' in 2021 she has become a fast-rising star to watch out for. The 2 song-set contained the titular track, featuring Amapiano buzzing artist Reece Madlisa, Busta 929 and Joocy, and "Unyangi'Jabulisa" featuring Yumbs. The EP vaulted her to local notoriety, on the strength of her gleaming vocals and infectious, energetic candour over dusty beats.
Despite being a relatively fresh face to the industry, Pabi has enjoyed many highlights on her path to greatness including stellar collaborations from some of Africa's biggest stars including DBN Gogo, Focalistic and Diamond Platnumz. Her latest release, "Bayana Ke Bafana," seals her come-up, as she partners with Focalistic, Ch'cco, LuuDadeejay and Nobantu Vilakazi for an anthemic cut that cements her proficiency for delivering 'Piano cuts with a wide appeal.
Tela Wangeci
Majeeed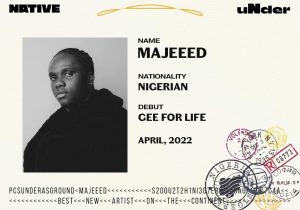 At just 23, Nigerian singer Majeeed has been making music for seven years, and writing for some of the most influential names in Afropop today, from Tiwa Savage to Seyi Shay. The singer and songwriter is slowly becoming an emerging voice of the new vanguard of Afropop stars, using music as a potent tool to tell stories which heal the mind. Interestingly, in a conversation with The NATIVE, he described his music as nature-inspired.
After signing with new record label Dream Empire Music, which was established in 2021, Majeeed recently delivered his debut EP 'Bitter Sweet'. The 6 track project is a musical experience which is tied together by the artist's emotions, his personal experiences as well as his environment. The 17-minute long listen features records such as "Yawa No Dey End" and "Tough Love", both of which are uptempo afro-fusion records, which sees Majeeed speaking to his love interest about what he has been through and why he deserves to be loved correctly, flaunting his songwriting abilities and his satisfying melodies on the tape.
Since Majeeed made the decision to begin making recording music for himself two years ago, his musical journey has become a story in itself. With a knack for blending catchy Afropop rhythms with soothing R&B melodies, Majeeed is one to look out for this year.
Wonu
Mau From Nowhere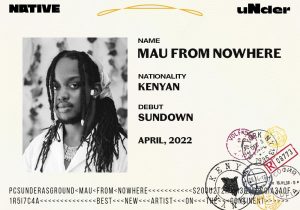 Kamau Wainaina came up with his moniker, mau from nowhere, as an ode to feeling out of place within the context of mainstream Kenyan music. Starting off on the Hip-Hop/R&B spectrum, he's diversified his sound over time, leading him to dive into his pure consciousness and create by listening to more of his inner self. His hotbed is his ability to draw your emotions as seen in "Try," as his vulnerability creates a serene environment free of judgement. Inspired by his time spent in the diaspora, UK and briefly, in the US, Mau has no facade in his music permeated, by mellow sound beds and cathartic performances.
For his releases, he occasionally takes to Soundcloud and YouTube, releasing covers and singles as he builds his Kenyan fanbase. From the release of his 2020 EP 'MFN', which is an acronym for his name Mau From Nowhere, his growth and maturity can be heard and felt as he expands his sonic palettes in "Pink Matter," originally by Frank Ocean. 'MFN' was a stellar tape where Mau exhibited himself as a multidisciplinary artist, exhibiting his prowess as a singer, songwriter and producer. The EP served as a re-introduction into the scene allowing him to re-centre as he plans his next move. Thematically, the project delved into the complex turmoil of the human experience, touching on burnout and self-sabotage, while the results of miscommunication in relationships are also explored.
Sonically mau from nowhere is an experimental artist often toying with unconventional sounds. His creative restless nature enables him to explore and grow his sound as he delivers his emotionally layered numbers with tangible emotions.
Tela
Raebel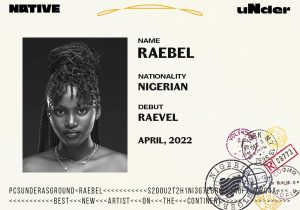 It's increasingly becoming common for young Nigerian women to steal our hearts with names such as Fave and Ayra Starr immediately coming to mind. Another name that should be on your radar is Raebel, an 18-year-old  singer with a voice of gold. She grew up listening to the greats Onyeka Onwenu and Fela Kuti, but also had lots of contemporary music around her, put on by her mother. "My mom tried to make me join a choir but it was not my thing when I was younger," she tells The NATIVE.
Raebel's voice is undeniably her standout feature, a sun-tinted blossoming made even more evocative through her unique takes on songwriting. Writing from her own perspective, her songs however come across as universal, imbibed with all the emotional heft that has made international youngsters like Arlo Parks and Olivia Rodrigo so heralded in recent years.
Last December, Raebel released "Miniskirt", a record about her autonomy in a relationship. She recounts the conflicts between her and a lover who wants her to freak out for him. The Timbun-produced song sparkles with bubbly drum patterns and an assortment of live-sounding effects. Made breezy with elements of Dancehall, Raebel sets a distinct mood, weaning lyrics such as "Why you try to compare me with all of them girls?/ Say me no fit wear miniskirt for you/ Me no fit be like others for you". Speaking about the song, she says, "'Miniskirt' is not just a song about a [piece of clothing]. It's a song about life, about society and how people expect you to be. Everybody expects you to look like this, the society wants this from you, what about what you want?"
Emmanuel
Avalanche Kaito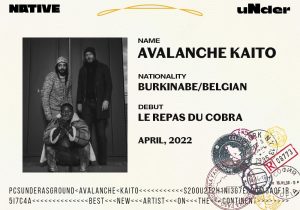 Experimental doesn't even begin to describe the music Avalanche Kaito make. The trio, comprising Burkinabe griot and multi-instrumentalist Kaito Winse, alongside Belgian musicians Benjamin Chaval (drums) and Nico Gitto (guitar), is primal and cerebral, folksy and post-modern, beholden to ancestral traditions and driven by a future-facing, inventive verve. It's a head-spinning meld of punk, electronic music, beatless noise, hints of free jazz, and Kaito's deeply-ingrained folk music and reverence to tradition.
Born and raised in the village of Lankoué, in the Sourou region of northern Burkina Faso, Kaito Winse learnt the griot customs and musical heritage of his origins, taking them with him on his European travels, where he met Chaval in 2018. Then, Chaval was part of the post-punk duo Le jour du Seigneur, and as the two new friends and collaborators continued bonding, they invited Gitto to join in the formation of Avalanche Kaito. All three artists push past the boundaries of their work in previous bands and as solo act—notably, Kaito's 2020 album 'Kaladounia' is a masterful introduction to the folk music knowledge he gained while growing up.
Earlier this year, the trio dropped their debut EP, 'Dabalomuni,' a brief and searing collection that includes musically spare tracks that centre Kaito's voice, sometimes manipulated but never lacking organic intensity, and entirely wordless songs that still stun with their shifty compositions. It's just an entrée for Avalanche Kaito's self-titled debut LP, set to drop in June. With their released material so far, the band has set a precedent of unlimited possibilities guided by their zany perception of music's relation to the earth, and whatever imaginations follow after that.
Dennis
---