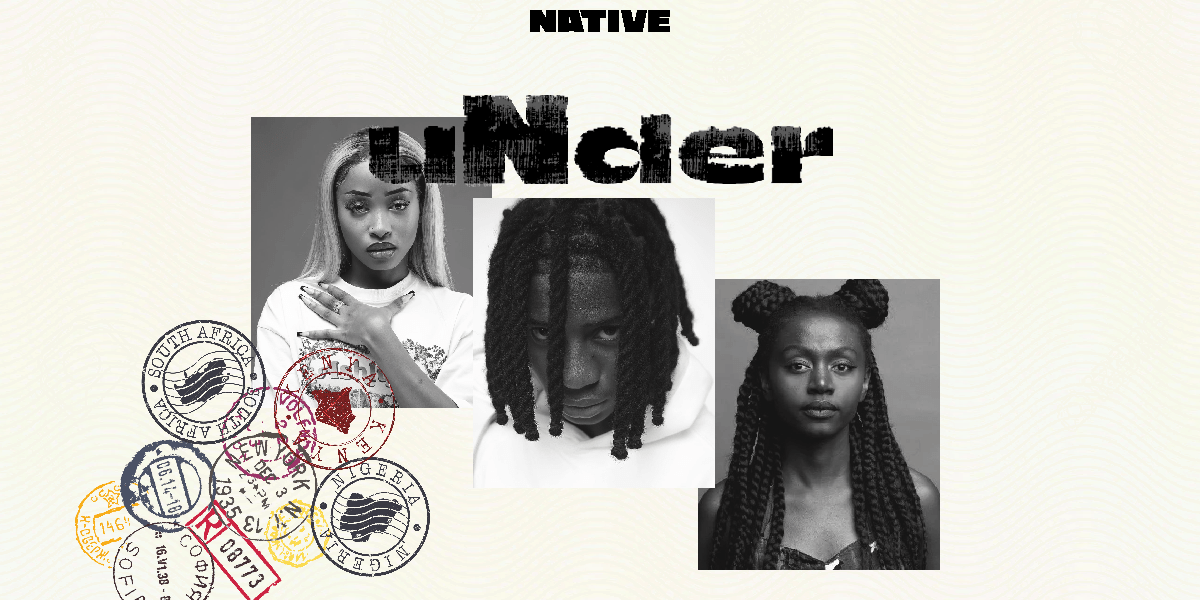 uNder: Best New Artists (March 2022)
Featuring Uncle Waffles, Babbz & more
Re-evaluating something is to find new ways to understand its purpose. For almost two years, The NATIVE's editorial team has committed to spotlighting new and nascent artists that have either picked up widespread attention, or we believe are on the cusp of a profile, or are darn good artists adding to the inventiveness of African pop music. We titled the column 'Fresh Meat', but that name is being revamped, as is our commitment to our mission to both be on the pulse of popular music and, also ahead of what's happening today.
This edition of our monthly selection of Best New Artists will be titled 'UNDER' henceforth, a play on the word underground. Usually, the trope attached to underground music is its distance from mainstream success, however, the Internet has revolutionised music streaming and success at the click of a button. As such, the artists featured in this column are far from "under the radar," each month, we'll be introducing a talented spate of artists, from around the continent and diaspora, including those that you may have heard of before, and others you might never have heard of, but are on the cusp of their biggest moment.
'UNDER' is a celebration of young African artists who create without fear, of boundaries, of unacceptance, of the perception of what African music should sound like. This month's edition, in addition to being dominated by talented women, celebrates the musical diversity of Afropop, including artists that make earworm pop tunes, silky R&B-influenced music, and an experimental electronic producer. The column name is new, but the purpose has only been renewed. Tap in if you wish to be that friend putting people unto good music or if you're an A&R, looking for the next best thing, this is the group of artists you want to be paying attention to.
Solana

Solana's music brings together a fusion of exciting sounds, executed through the luscious sheen of her voice. The 24-year-old received her early musical education in church, singing in choirs around Lagos. The 2000's blog era was especially influential, as she listened to artists like Nicki Minaj and Drake who went on to inspire her seamless movement between genres.
Speaking to the NATIVE, Solana spoke about the period before the release of her debut EP. "I was just recording and stuff," she says. "I was just trying to put stuff together basically. I wanted something to put out." 2019's 'Fire' turned out to be a noteworthy introduction to Solana's skillset, a dazzling immersion into ten songs. Emblazoned on the cover is a close shot of her face, her pearl eyes intense. That mood follows into the music, whether on the boisterous "Bad Energy (Japa)", where she bigs up her paper chase with a skittering cadence familiar among versatile rappers, or on the affecting "Love Song", which begins with a Spanish guitar solo and segues into an expressive, hair-down song about living her life to the fullest. "If you feeling down, you tap into this higher life," she sings with the purposefulness of a street preacher.
Demonstrations of Solana's brilliance are abound elsewhere; "Far Away" is a dreamy-eyed account of young, lost love, uniting on wax with fellow emPawa artist Joeboy. Her lyrics engage everyday expressions, but the energy comes from her vocals, a voice as luminous as water crystals shimmering under the moon. Last year, she released a two-pack single, collaborating with Killertunes and Victony on "Badder" and "On My Way" respectively. "Because it is coming from me," says Solana when asked about the peculiar quality in her music. "I have a lot of things to say and there are people that want to listen".
Emmanuel Esomnofu
Uncle Waffles

Except you've been off all social channels for the past few months, you'd have at least one clip of a young female DJ thrilling a gathering of young sweaty bodies swaying and rocking as though under the grip of a spell. When performing she alternates suavely between spinning disks and punching keys on her deck, entertaining the crowd with smooth dance moves and working the crowd into a frenzy with spirited hype-chants. This DJ is Uncle Waffles.
Since the start of her career, her popularity has exploded exponentially. As the days unfurl, her presence burgeons, sprawling steadily like a wildfire. Even global superstar Drake has taken note of the South African artiste and endorsed her— he followed her on Instagram last year and recently appeared on her Instagram live session. Recently, Uncle Waffles announced her official foray into music with the release of her debut single, "Tanzania" and her debut EP which will be released this weekend.
"Tanzania," is a self-produced Amapiano number that sees the performer singing in her mother tongue, over an infectious production, giving listeners and fans an insight on what to expect on the talent's debut. Outside music, the show-stopping icon does some modelling work and is a strong voice advocating for mental health issues. She's particularly passionate about mental health advocacy given that she has suffered anxiety disorder in the past.
Chibuzo Emmanuel
Babbz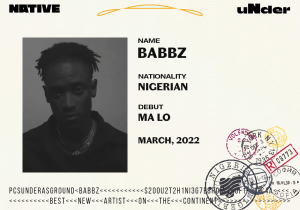 In a soundscape defined by boisterous percussion, elaborate melodies and braggadocious lyrics, Babbz is among the elite spate of nascent voices putting their spin to Afropop and pushing for the diversity and inventiveness of the sound. In 2019, he made his official dip in the water with his debut single "Ma Lo". "Ma Lo" transposes the thrill of hearing an inspired work-in-progress. Even on the raw production, his distinctive style is immediately obvious— he rallies shimmering guitar melodies, sparse punchy drums, pixelated bass underscores and furnishes these with his lustrous vocals.
Two years later, he doubled down with his second single, the KD assisted "Lagos". On the song, his outré disposition becomes even more lucid. He fuses his archetypal sound with bouncy Dancehall influences, masks his vocals with billowing robot-like auto tune effects, and constructs an elaborate montage of the bustling Lagos City with piquant melodies. This year, he took a step towards the powerhouse he is capable of becoming, after he released his debut EP 'Pineapple Juice,' under the auspices of Dr Sid's Zero Gravity Records.
On this project his growth is palpable, he strikes a delicate balance between raw experimentation and a future-facing refined sound. Staying true to his core he creates an exciting amber-hued salacious tableau. Rallying an eclectic gamut of sounds and melding them with his quintessential soulful guitar-inflected sound, he explores themes ranging from love to lust and the grey in-between, using astute storytelling and impassioned crooning to this effect.
Chibuzo
Kenah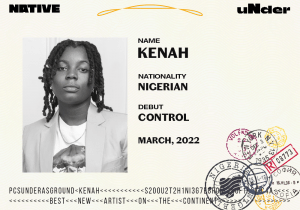 Rap might be a lyrical genre, but ingenious musicians are finding ways to rope in the melodies. 21-year-old Kenah is inspired by musicians like Juice WRLD and Nasty C, but her first love was Justin Bieber, whose lucid songwriting and vocal approaches made her want to create songs. She was born in the southeastern state of Enugu, but moved to the bustling city of Lagos when she was around fourteen years old, expanding the music she was exposed to.
In 2018, shortly after enrolling into the University of Abuja as an undergraduate of Theatre Arts, Kenah formed bonds with other musically-inclined people. "That was when I decided that I wanted to do music professionally," she said to the NATIVE. Her first song was released with the assistance of producer friends, acclaimed around the campus community. Her trajectory fast-tracked in the next couple years, and in 2020 a number of excitable freestyle clips got her a record deal with JustJojo Entertainment, a UK-based company owned by a woman.
Making the most of 2021, Kenah released her debut body of work, titled '3:05 Musing.' With seven songs, its themes of self-confidence, romantic love, denial and luxuriating ease will be familiar to anyone who has lived through early 20's life. Her voice has the refreshing quality of warm milk, contributing to every song's appeal. "3:05am" has all the markings of a centrepiece record, capturing visceral shades of young expression. Over bouncy production Kenah alludes to her come-up, how she's defying the odds. Her bars are remarkably vivacious yet introspective. "Been here for so long, now they detecting my flaws/ I'm not insecure, but I'm pushing them out of the door," she raps. On the brooding "Closer," she alternates between singing and rapping, hitting exciting peaks with her vocal runs and lyrical precision. Later that year she put out "Player", flaunting her ability to shine on percussive Afropop production. Kenah's working on new music, which will no doubt be "unique," she says, "because I connect with my lyrics, I connect with hearts with how I put out my songs. Every single song I write, it comes deep from my heart."
Emmanuel
Khaid
Only a few months ago, Khaid was relatively unknown, releasing only a handful of singles and freestyles on his social media. These freestyles, all of which are averaging around 200K views on his Instagram, were bold and daring collages of his eclectic music style ranging from Hip-Hop/Rap to Trap, R&B and more, delivered with crisp lyricism and clear-cut delivery. While they introduced listeners to his style, Khaid's sparse canon of work also placed him front and centre in the eyes of industry insiders, including some of its biggest names such as Don Jazzy, D'Prince, and more. Eventually, this landed Khaid his breakthrough when he signed a deal with Sydney Talker's newly minted record label, Neville Records, becoming the first artist under its roster.
Currently, the Lagos-based singer has only one official release in his discography, his breakout single "WITH YOU" which has garnered over 980k plays on Spotify alone. The mid tempo Afro-trap record finds the artist chanting romantic lyrics to his love interest, lyrics such as "Having fun times with the girls but I just wanna be with you/I'm riding in my new escape say baby let me die for you". In a similar fashion to his freestyles, the record peaked on TikTok and became a viral hit. Khaid's social media savvy is another welcome string to his bow.
Speaking with the NATIVE, he shares of his music: "I think my story basically, the struggles that I've been through. and mood, and the environment also inspires me but if it comes what inspires my writing, it's my story." Already, Khaid is teasing new music, sharing teasers and clips with his followers on social media including his recent Instagram post which features a snippet of him putting his unique spin on Rap by fusing it with a range of other genres including Afropop and R&B. This method of testing new material with his day one fans seems to be paying off, as anticipation is rife for his new single and his debut project, which we're told is already in the works. With promise of new music, sometime soon, Khaid shares tells us, "My EP is more of trap songs. I'm trying to make trap music an essential part of Nigerian music so people won't be afraid to do it and I believe releasing this tape will do it."
Wonu Osikoya
Coco Em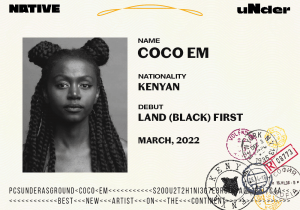 East Africa's Electronic and Dance music scene is teeming with innovators and boundary-pushing creatives. At the end of the previous decade, Coco Em emerged as one of the high-flying mainstays of the scene, making a name for herself as a DJ capable of enveloping mixes and with a wide-ranging musical taste. The latter is due to her formative years, which exposed her to disparate influences like Koffi Olomide, Madonna, Missy Elliott, and more. Also, before taking to the decks, Emma Mbeke Nzioka was a photo-journalist and budding filmmaker, giving her a widescreen flair she applies to her musical endeavours.
Having established her DJing bonafides, Coco Em is letting audiences in on another layer of her creativity with the impending release of her debut EP, 'Kilumi.' Created during the peak pandemic lockdown of 2020, the 7-track tape will introduce listeners to the producer's inventive take on the electronic fusion of influences like Rap, Grime, Amapiano, Afro-house and more. The sample of what to expect is small but enticing, with Coco Em's compositions on pre-release tracks proving to be sparse and searing.
Lead single "Land (Black) First" sets a caustic groove beneath politically-charged quips, while "Winyo Nungo" is Drum N Bass-inspired. Featured on last year's Place: Nairobi, a compilation album featuring leading lights of Kenya's electronic scene, "2021" is more abstract, a Glitch track with a sequence of streaking synths and white noise in multiple loops. There's some serious range in just those three tracks, making it impossible to not be excited by what Coco Em's catalogue will mean for African electronic music as it continues to grow.
Dennis Ade-Peter
Layzee Ella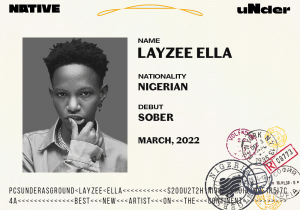 One of the surest ways to get your music to the right ears in the music industry today is by turning to social media. Across the years, we've seen social media act as a powerful tool to bring artists closer to their audience, by passing industry gatekeepers and garnering organic attention. Singer, songwriter and rapper Layzee Ella began releasing freestyle covers in 2017 and a year after, she released a freestyle to Burna Boy's "On The Low" which garnered the attention of many. This inspired Layzee to release more covers and along the way, she delivered her first official single, "Sober" in January 2020.
Last year, she shared with listeners her debut EP 'When The Lights Go Off', a 6-track collection of love songs which sees the artist making a rather defining statement and visualising the experiences of a Gen Z artist, trying to make sense of situations which may arise. The EP gives listeners a feel of a distinctive sound, where she speaks on matters such as love, romance and more, as she draws production influences from Trap, fusing it together with Soul and Afrobeats. The tape features standout tracks "Body On Me" and "Somebody", both of which are mid paced, catchy numbers which finds Layzee expressing her most intimate desires. The artist also draws inspiration from other soundscapes, including R&B, TrapSoul and more. Layzee Ella is currently working on another project, 'Girls Don't Need Love' which is set for release later this year.
Wonu
Featured image credits/NATIVE
---
Editors note: Uncle Waffles' nationality has been corrected to Swazi. We apologise for any inconvenience.