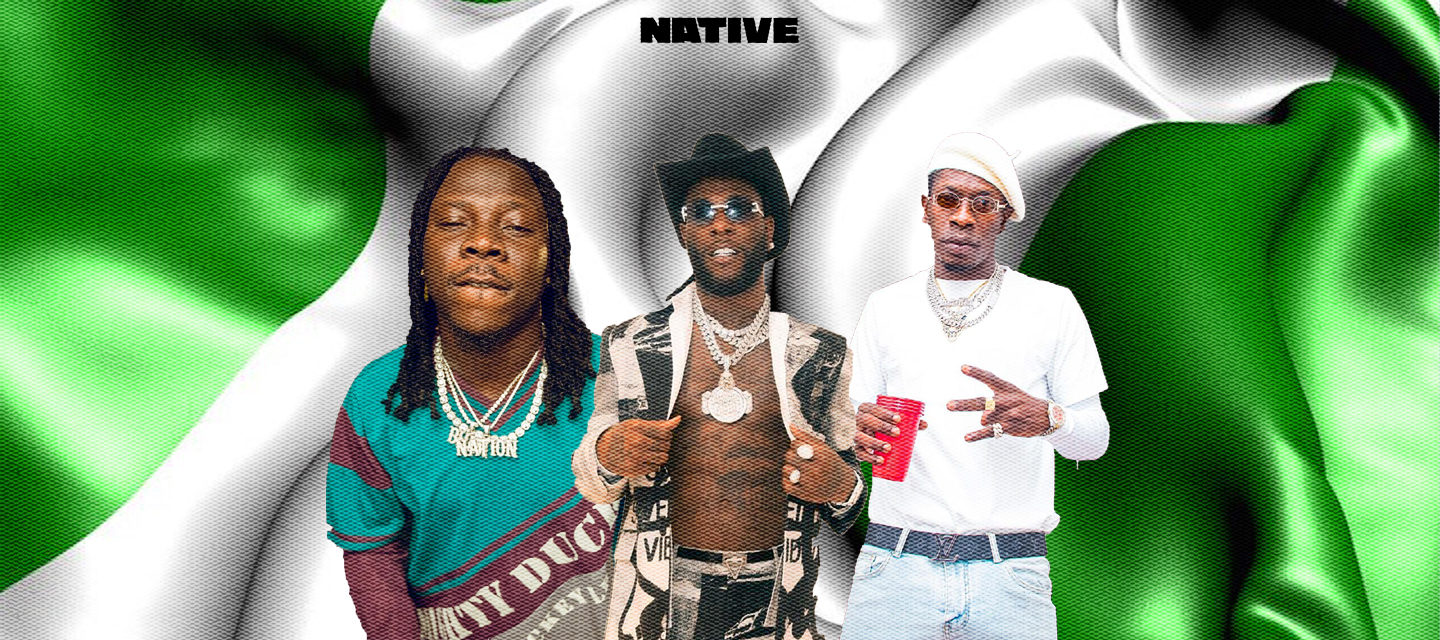 Afropop revolves around Nigeria, for better or worse
Afropop's most recognisable hotspot must grapple with its dominance
Of the ten artists nominated for Best African Act at the 2021 MOBO Awards, eight were Nigerian. The other two nominations were for Ghanaian singer, King Promise and UK-based Afro-swing boy band NSG. Essentially, in its thorough survey of urban African music over the previous year, the MOBO's pretty much determined Nigerian Pop music as the only consequential scene on a continent with 54 countries.
It's quite the common theme: At the upcoming NAACP Image awards, Ghanaian singer Kidi is the only non-Nigerian artist out of five nominees in the Outstanding International song category; and two out of the three nominees up for Best Global Music Album at the coming Grammys are Nigerian artists. There's the useful argument that awards aren't the best gauge for what's happening in the music zeitgeist, but they are a useful reflection of the music receiving a lot of attention. Especially in the context of the increasing global reach of music out of Africa, there's an obvious attention landslide in favour of Nigeria.
It would be ingenious if anyone claims the attention is entirely undeserved. Over the last two-plus decades, modern Nigerian Pop music has evolved at breakneck pace, growing out from its initial form as a kitschy and inventive parody of Hip-Hop and R&B, into a boundless organism with wide sonic range and a groovy identity. Just at the dawn of the middle of the 2010s, that constant evolution coincided with the advance of globalisation, through the increased permanence of social media, as well as an auspicious mammoth collaboration between the country's premier superstar, Wizkid and Drake, arguably one of Pop's global stars.
To simplify the spike in attention through this particular period, though, would be underselling the fact that Nigerian music has been crossing borders years before. In the mid-2000s, P-Square, 2Face Idibia, the Don Jazzy-led Mo' Hits, and a handful other acts prominently exported Nigerian music on a continental level, pulling off arena-size live shows across Africa, and dominating awards held on a pan-African level. By the late '00s and early '10s, artists like Naeto C, 9ice, Chidinma, Wizkid and a slightly wider cast furthered that incursion, helping to service and expand the incremental demand for Nigerian pop music within and beyond Africa.
In terms of pure impact, Afropop has revolved around Nigeria for the lion's share of this millennium, and that dominance continues to expand with each calendar flip forward. Last year, three Afropop songs made it to the U.S. Billboard Hot 100 singles chart, two of them—Wizkid and Tems' "Essence", and CKay's "Love Nwantiti"—by Nigerian artists, and the third, Amaarae's "Sad Gurlz Luv Money (Remix)" with Kali Uchis, is by a Ghanaian artist often referred to as a honorary Nigerian due to her popularity and early bond with Nigerian listeners. Nigeria's ranking at the top of the popularity chain, and by such a significant margin, has become a source of discomfort for several non-Nigerian artists on the continent.
As a glorious 2021 for Nigerian pop music was winding down, Ghanaian Dancehall superstar Shatta Wale went on a tirade via Twitter, condemning the Nigerian music industry for its lack of support towards non-Nigerian artists, specifically Ghanaians. The singer's accompanying point is the prominence of Nigerian artists in Ghana, claiming a disparity in standing across the border. Not too long after, fellow superstar and frenemy Stonebwoy released a wordy statement, proselytising African unity as a way of agreeing with his colleague rhetoric.
If Shatta Wale, through the combative tone of his tweets and incessant clapbacks, was being didactic, Stonebwoy was being diplomatic. Neither of them was met with kind comments by Nigerian Twitter users. The replies were vitriolic, ranging from sarcastic retorts to straight-up insults, another example of just how loud, tenacious and deleteriously funny Nigerians are on social media when collectively expressing displeasure. It was also the perfect setting for an ever-combustive Burna Boy to enter into a war of words and threats with Shatta Wale, which somehow devolved into sexual assault accusations from each camp.
Within all the noise, the obvious takeaway is not just the dominance of Nigeria on Afropop, but also Nigeria's awareness on their influence on what gets and stays hot. It's been said many times, but it's difficult to overstate the importance of Nigeria being the most populous nation in Africa, as well as the teeming number of first-generation immigrants all over the global diaspora. That alone is an integral part of the unassailable advantage, but it's worth noting that Nigerian music itself had some work to do to get those numbers in its support.
Even with the forward steps, the '00s and part of the '10s was marked by the common rhetoric that Nigerian music was inferior to the music from outside, more specifically from the U.S. and the UK. Having a listening diet that was light on Nigerian music was the cool thing to do, until it wasn't, and the situation reversed. The music has always been great, but it became much cooler to loudly love Nigerian music as a lifestyle. These days, there's an obvious pride Nigerians everywhere have in the music being made by its artists, and it's had a profound effect on the external interest from the last couple of years.
For Nigerian music to have to prove itself to its own parochial audience, shows how difficult it can be to coral the collective acceptance of Nigerians. Also, now that the music is a rallying point, controversial statements like Shatta Wale's and Stonebwoy's are sure to meet the ire of Nigerians, because of the work it's taken for Nigerian music to reach local reverence, pan-African supremacy and global popularity.
Around this time last year, Cameroonian entertainment figures Pancho C.Y International and Stanley Enow made claims similar to Shatta Wale, comparing the popularity of Nigerian music and artists in Cameroon with the lack of reciprocal representation in Nigeria. Of course, the reactions from Nigerians was anything but favourable, quickly dismissing those comments as an exercise in entitlement. Conversely, both these situations highlight Nigerians' understanding of what crossover into Nigeria means for non-Nigerian artists, and it's an exercise in flexing that power without interrogating some of the responsibilities that come with it.
Nigeria is the most recognisable hotspot of pop music in Sub-Saharan Africa, and that cultural value could be more significant than it currently is to its continental neighbours. With priorities set on music from home-grown artists, Nigerians often approach pan-African music conversations with an aura of supremacy. In early 2017, when Mr Eazi noted the storied influence of Ghanaian-originated styles of music on Nigerian music, the ensuing reactions made it seem like he had committed a cancellable offence. As Amapiano began impacting Nigerian pop in 2020, there were misguided takes on eventually owning the South African-originated sound, a constant attempt with every musical trend that starts off elsewhere.
Knowing very well that music with vested Nigerian interest is amplified in reach, that bullishness casts a negative shadow on Nigeria's dominant stature in Afropop. It's near impossible to demand Nigerians pay attention to many artists from every country, or be entirely reverent of every musical style that graces our ears, but that acceptance bandwidth could be widened. That solution looks simple on paper, but it's far more complex because music is a subjective experience and it's near impossible to tell everyone what to pay attention to and like.
Nigerian music's popularity all over the world is often couched within Africa's increasing cultural impact, however, that context isn't fully realised when there's just one country hugging the overwhelming share of visibility. In the last year, Ghanaian singer Gyakie, South African 'Piano rapper Focalistic, and Mozambican trio Yaba Buluku Boyz gained some level of popularity in Nigeria, through collaborations with Nigerian superstars. Those looks undoubtedly elevated the pan-African and international visibility of these artists. That's the type of impact-sharing Nigerian music should be looking to heighten, a true flex befitting of their dominance in African music.
---