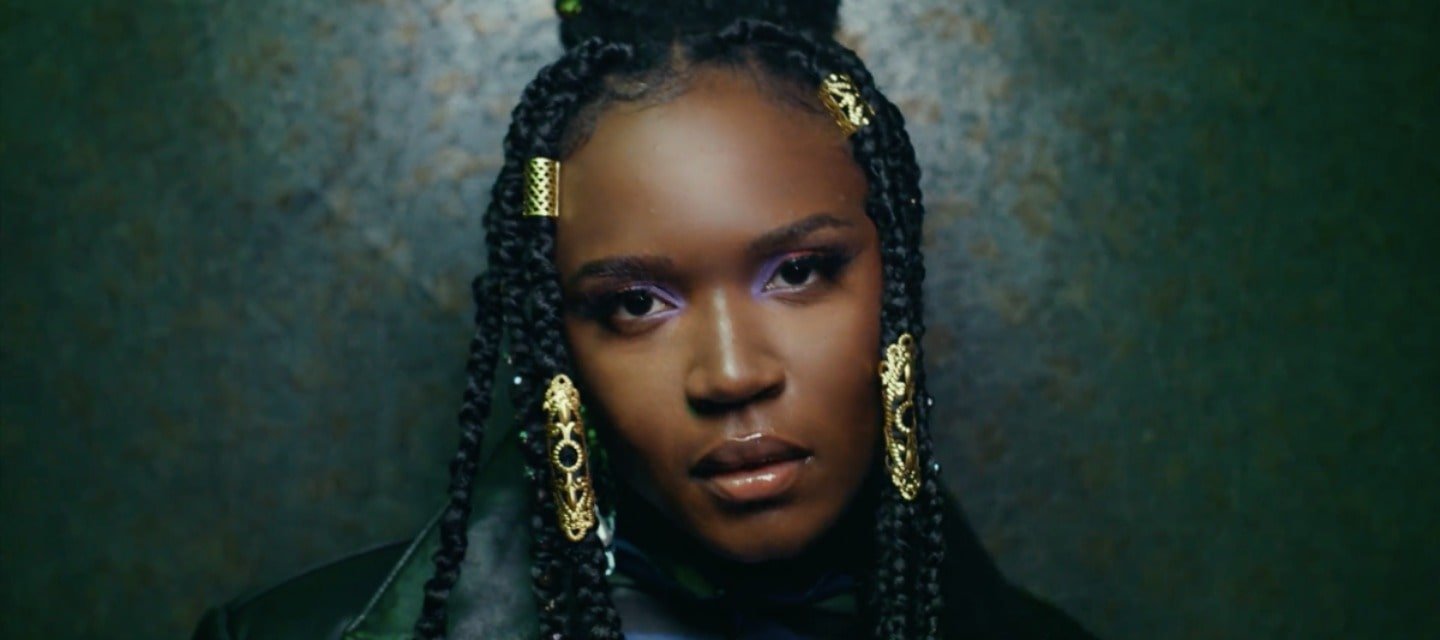 Why Amaarae deserves to top global charts
the moment
A year on from the release of her glittering debut, Amaarae 's music is topping charts globally. In the past week alone, her genre-defying debut album 'The Angel You Don't Know' has gained her new levels of recognition days from celebrating its one-year anniversary. While it's a warming moment for the genre-bending singer and rapper, for many who have been paying close attention since 'Passionfruit Summers', this current moment has been imminently approaching for while now.
View this post on Instagram
This week, Amaarae's expansive catalogue of music have been all the rave. Off the back of her globe-throttling appearances, which found her live at the Pitchfork fest and gracing stages from the United States to London and Europe for her CRAZY WURLD tour, the Ghanaian-American singer and rapper is now reaping the rewards of years of hard work, which have only been made more feasible due to her gargantuan ambitions.
The remix to her standout single "SAD GURLZ LUV MONEY" ft. Moliy and Kali Uchis is steadily gaining traction on charts around the world, months from its initial release. Over the past few days alone, Amaarae has moved up from a few thousand videos using her song on TikTok to racking in over a million videos. Alongside this, she's shot to the summit of the Shazam US charts this week after making her debut on the chart only a few weeks ago. To sweeten this moment even further, the record has gone to top other global charts including No.1 on the global Spotify Viral 50 chart, No. 12 on the Billboard World Albums chart and No.5 on the Billboard Bubbling Under Hot 100.
In one single day, the Kali Uchis-assisted number did a clean sweep across streaming platforms, garnering over 2 million streams on Spotify alone, a sizeable amount of streams for an African artist, particularly one who is operating independently and without any major label backing. This feat is certainly one worth celebrating, particularly as a female African artist operating outside the tenets and boundaries of a male-centred music industry. Already, listeners and loyal fans are already calling for Amaarae's blueprint to be followed to a tee as she embarks on this new stage of her career, but what these comments fail to take into account is the fact that success rarely happens overnight.
— Fountain Baby (@amaarae) November 9, 2021
Three years ago, the alternative scene was buzzing with some of the newest and brightest stars in the current Afropop vanguard. From Lagos to Accra and Johannesburg, an emerging class of new acts were bypassing industry gatekeepers and making music that met the demand for something new and different. Amaarae was one of such names making headlines, alongside the boys of La Même Gang from Ghana. At the time, her melody-driven sound and fettered authenticity were both ammunition used to fuel polarising conversations against the validity of her music, but these debates have only quelled as she's risen to the top, off the back of her own distinct sound.
Amaarae has always been an adventurous artist and a risk-taker. Right from 'Passionfruit Summers', the singer and rapper has set a vast tone for where she is able to go sonically and lyrically. She carried this on throughout the years, first delivering a string of unmissable singles and collaborations such as the Cruel Santino-assisted "Rapid Fire", "LIKE IT" and "Spend Some Time" featuring Wande Coal to the release of her genre-defying debut 'The Angel You Don't Know,' her most cohesive and coherent effort to date.
Similar to Omah Lay who has established himself as one of Nigeria's most promising contemporary artists all within the space of a year to Tems who continues to break boundaries unknown to many women in Afropop to even CKay whose smash hit "Love Nwantiti" is making head waves across the world, it is ostensibly clear that Afropop is witnessing its defining moment, all bolstered by its new vanguard of hitmakers. Amaarae is definitely in great company as she now joins the ranks of African artists who have topped global charts this year and introduced a new template of authenticity and self-confidence to the current soundscape.
Perhaps Amaarae's crowning moment was destined all along–it was only a matter of time. Anyone who knows their salt on the music industry is aware of the reach and impact that Latin artists have on music with their English-speaking counterparts. The Latin-English collaboration pipeline is one that has been tried and tested to produce colossal results as we've seen from artists such as Bad Bunny, Luis Fonsi, Rosalia and more, however, Amaarae's use of this formula now points to the future of transcultural collaborations that favour African artists on a global scale. Whatever the case, it's hard to imagine any of Amaa's contemporaries more destined for a moment like this than her, she's been teetering the lines of an international crossover for a while now.
With the Yinka Bernie-produced single "SAD GURLZ LUV MONEY," Amaarae's music is finally collecting real estate and reverence as it rightly should. Currently, she's one of the few African artists operating in a lane entirely of their own making. With the visibility that this traction will offer Amaaraee, it's clear that the singer is being ushered into the next phase of her career, one where she sheds her rookie status for veteran tendencies.
Featured image credits/Youtube
---