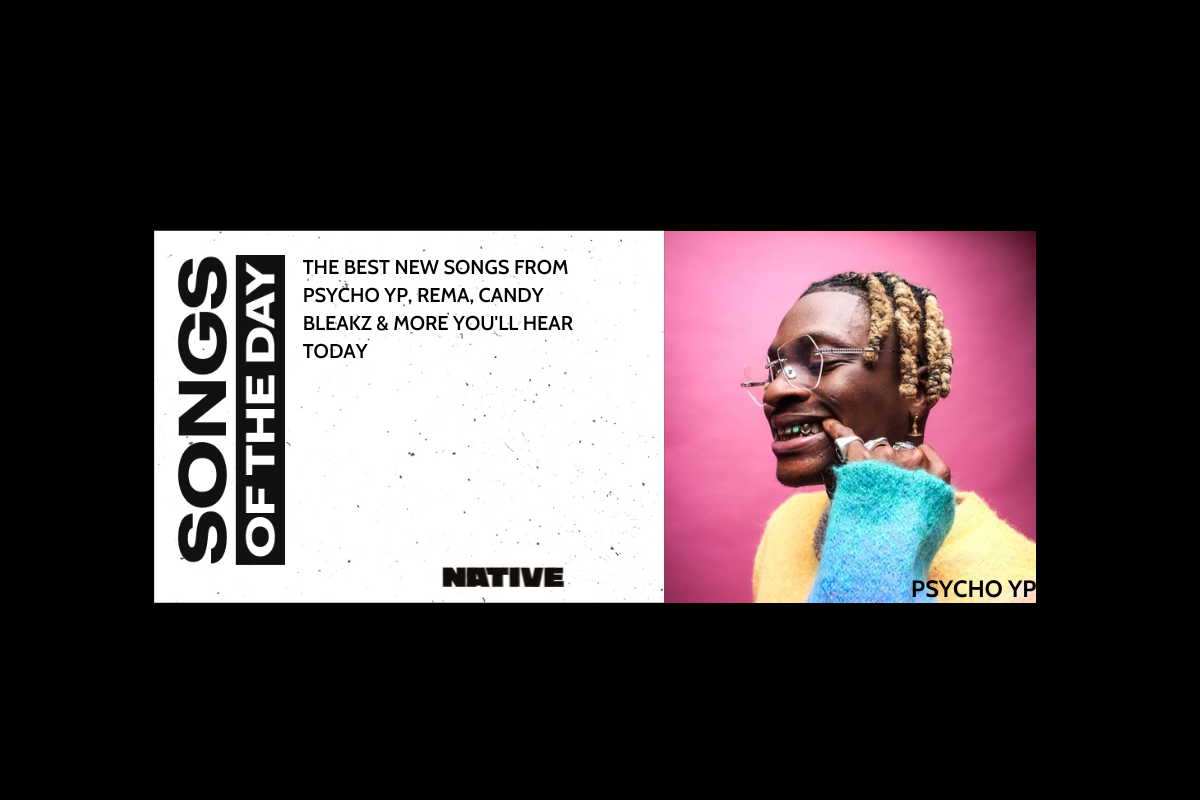 Songs Of The Day: New Music from Psycho YP, Zlatan, Candy Bleakz & More
mid-week tunes
2022 is winding down, and it's been an eventful year for Afropop. There's been a torrent of great new music, spawning a massive stack of inventive smash-hit songs. From Highlife-infused Ghanaian pop, to the unrelenting force that is Nigerian street-pop to South Africa's indomitable Dance scene, to tantalising Drill explorations in East and Central Africa, and much, much more, we're living through abundant and musically expansive times.
Every week, many songs from African artists make their way to digital streaming platforms, and wading through them can be intense. That's where The NATIVE's Songs of the Day column comes in to help. We go through as many new releases as possible, spotlighting them here, two to three times every week. Today, enjoy new music from Bella Shmurda, Candy Bleakz, PsychoYP and more. Lock in!
Bella Shmurda – "No Other" ft. Victony
Street pop heavyweight, Bella Shmurda shares his 15-track debut album 'Hypertension' following the release of hit single "Philo" featuring Omah Lay. This counts as his first project since his 2021 release, 'High Tension 2.0' in collaboration with Dagbana Republik which features standout tracks like "Party Next Door" and "Far Away". Closing out the new album is the Victony-assisted "No Other" which features rousing vocals on a mid-tempo melodious track. Produced by Krizbeatz, Bella serenades his love interest on the tuneful hook with lyrics such as "I only want you girl no other/No other girl just my mother."
Mr Eazi – "Patek (Remix)" ft. Falz, Major league DJz and Dj Tarico
Just weeks ago, Mr Eazi released "Patek" and "Patek(Extended)", enlisting Joey B and stellar production credits from DJ Tarico, more popularly known for "Yaba Buluku(remix)" featuring Burna Boy, Preck and Nelson Tivane. For the track's remix, Mr Eazi brought on industry heavyweights, Falz and Major League DJz, elevating the track to new heights. The track which creates a perfect blend of Afropop and Amapiano while retaining the tracks enthralling instrumentals paired with a Falz's witty lyricism. "Write to the rhythm and finish like shakespeare", Falz sings as he reminds us of his masterful penmanship. 
Rema – "Dirty"
Clips of Rema on his 'Raves and Roses' tour have been making several rounds across social media platforms. Physically present or watching from the comfort of your bedroom, Rema's star power and ability to connect with his audiences is undeniable. For his recent release, Rema takes us to the beach in the visuals for "Dirty" the third track of his debut album, 'Raves and Roses'. The tracks sexual theme easily translates into its visuals, as Rema and his love interest don't shy away from physical intimacy on this melodious number.
Candybleakz – "Dragon Anthem"
Fresh Meat (now known as uNder) alumni, Candy Bleakz is out with another track following the release of her 6 track EP, 'Fire' and a slew of singles including "Tinuku" and "No Pressure" assisted by Rexxie. On new single, "Dragon Anthem", Candy Bleakz who often refers to herself as a dragon brings her usual fire energy to the empowering track. She sings empowering affirmations over the bouncy number with a befitting video where she's surrounded by several beautiful women.
PsychoYP – "Stronger" ft. Zlatan
From BackRoad Gee's "Under Attack(Africa Remix)" and "IC3" to his 2-track EP, 'MIDLIFE CRISIS/WYDTM' and a couple of singles, Abuja-based rapper PsychoYP has been stacking up a steady string of releases this year in his usual prolific manner. For his latest release, he enlists fellow Nigerian Rapper, Zlatan, to deliver his fierce flow on the track accompanied with his infamous adlibs. The pair go back and forth on the groovy, Amapiano infused beat, delivering hard-hitting bars about getting their shit popping.
Davolee & Zlatan – "West African Time"
Zlatan also features on new single, "West African Time" which enlists Nigerian singer-rapper, Davolee. This acts as a fellow up to tracks he dropped through the year including "Festival of Barz", "Choose Your Hard" and "Bank Alert". On "West African Time", the duo deliver memorable lyrics to accompany the urgent and catchy beat.
Arkxd – "No Hook"
Arkxd is blazing a unique path with his trap bops. Slick metaphors and a gruff-inflected delivery are some of his standout qualities, and on new singlem "No Hook" he bares them for the world to see. This standout cut features on the artist's latest project, 'Failure Got Tired of Me', and sounds cut from the lush perimeters of a Pop Smoke record. True to its title, Arkxd unfurls bar after bar, riding the production with graceful balance.
Featured Image Credits/NATIVE & Instagram:PsychoYP