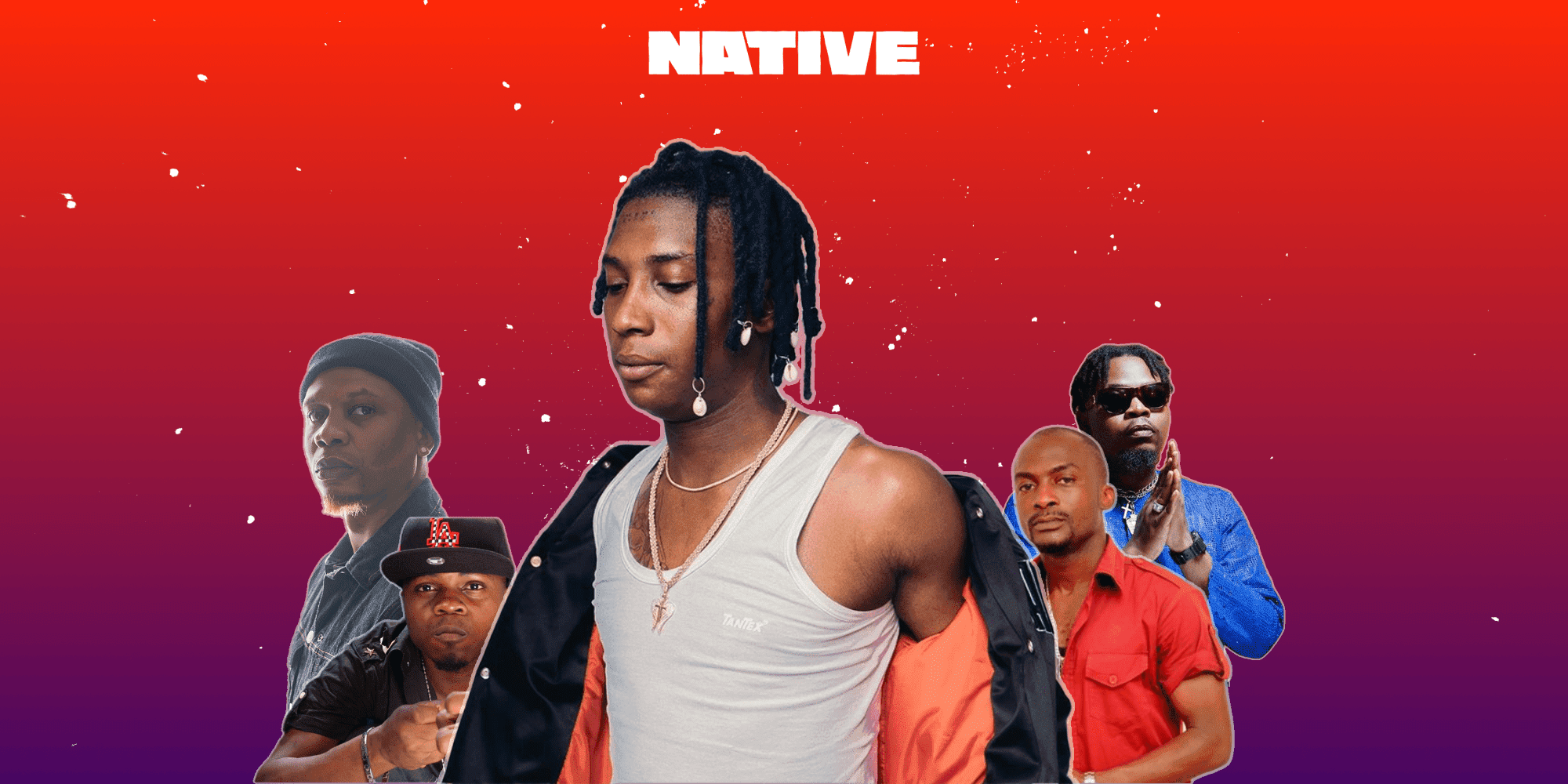 Bella Shmurda Is The Voice Of The Streets
streets ti takeover
The music that we consume are aural repositories of history as much as they are enjoyable tunes that soundtrack our experiences. Whether regaling you with the exploits of a person, the circumstance of a place or basking in the glow of an event – fictional or otherwise – music continuously offers a first-hand account of the places and people it springs forth from. In Nigeria, no form of music offers that palpable connection to its circumstance and origin like street-bred music does. Whether just by the sheer boisterousness of its adherents or the unique cadence adopted by these artists, these experiences demand to be felt.
Stitching together the old works of masters like DaGrin, Lord of Ajasa, Olamide, and Reminisce, you can piece a tapestry of the fears, doubts, hopes, joys, and perspectives that powered them, and, inadvertently, from their own stories tap into the state of mind of the people from their birthplaces. When DaGrin, on "Ghetto Dream", off his iconic album, 'C.E.O.', rapped, "Aimoye many times ta wan eyan ti ni pe kin lo give up, pe mo local, pe ona mi on se hip-hop," listeners can be instantly translated to the othering of indigenous Hip-Hop for most of the 2000s. Or when Olamide vociferously declared himself the voice of the streets, definitively stepping into the leadership void bestowed on him by DaGrin's tragic passing, music enthusiasts can acknowledge a changing of the guard for indigenous music. 
Musicians sometimes distance themselves from distinct regionality in favor of appealing to everyone however, the marker of a good (read: great) Street-pop artist has proven to be one who meticulously crafts worlds we want to be a part of, or at the very least intently observe.
Of all of today's Street-Pop stars, no one presents a more factual representation of the incidents that have marked –and continue to shape – them as Bella Shmurda does. The Olamide-assisted remix of "Vision 2020" that brought him to fame was a thought spiral on feeling abandoned by the government in the ghetto, and seemingly resorting to illicit means to live a good life. Many have, and will continue to, call it fraud-glorifying music at its most addictive, but it is also an unfiltered perspective that can help us understand the mindset and perspective of the average joe effectively trapped in a vicious cycle of lack.
One could argue that is not necessarily glorifying the fraud culture as it is speaking to the nuance that inspires its proliferation. Fictional or not, the stretch in the remix when Shmurda raps, "Mama call me say Chinedu is balling, what are you doing, son?/You are dulling/Four years in LASU is really nothing/Bella get that money, son we are starving," is instructive of inter-generational struggles and the subtle pressure to blow up that many young people in 21st century Nigeria are confronting. There really is no hyperbole in Bella Shmurda's music and that is why he's been able to build such a dedicated fan base built around people of a similar ilk who see their struggles in his struggles and take encouragement from his wins. From front to back, his debut project 'High Tension' has a distinctively autobiographical feel: whether it's the growling search for motivation on "Ginger Me" or the hood love tales of "Amope", there's a feeling of authenticity that pervades Shmurda's music and by the time he arrives at "Upgrade", it is clear that he is on an upward trajectory. 
The Bella Shmurda that made 'High Tension' no longer exists, at least not in an artistic sense. In the over 18 months since he dropped that project, his life has changed in more ways than imaginable. A relative sense of comfort has been achieved, and direct proximity to the street bends that raised him has been greatly reduced by his soaring success. Starting with a feature on Runtown's "Body Riddim", Bella has been summoned to the high table of Nigerian Pop, where women, weed, and hedonism are supreme drivers of what moves the nightclubs and the raucous culture that Afropop thrives on.
"Fade", the penultimate track on Davido's 'A Better Time' is set up to be a spiritual experience but, despite Bella's best efforts to stay conscious within the elder popstar's orbit, Bella's delivery defaults to Davido's direction – that is, powered by lust. Through this all, there are moments of recollection, when muscles memory of his struggles and life story sets in, as it did on "Triumphant" off Olamide's 'Carpe Diem', and his own the monster hit "Cash App". Yet, both these songs, especially the latter, lack the lived-in intimacy of those seven songs from 'High Tension', forgoing some of the nuanced standpoint and empathetic pull for greater commercial appeal.
For one to attain Pop superstardom, the rules are pretty simple: make music with ideas and motifs that appeal to the most paying consumers. In Nigeria, that crowd is definitely not in Bella's home community of Okokomaiko. So, as Bella Shmurda becomes a progressively bigger musician, his music is gravitating towards generalism, singing about random topics that he carries through in that glorious almost-drawl of his.
His latest project, 'High Tension 2.0', bears evidence of this approach, songs like "Party Next Door" and "Champion" are brilliantly crafted, would-be Pop anthems that sound brilliantly crafted but lack the withering swagger of his previous efforts. For all of the polished sheen that this project presents, the best songs are those when Bella is tenderly looking up at things to come, singing about his hopes and joining his tensions to the wider history of the people that he is amongst. He does so palpably on "World", where her belts that "prophecies coming to pass/mami revelation is coming to pass," with the "pass" sounding very much like "past." Those instinctive slurring of words are part of the charm of Bella Shmurda, they are why kids chant his name, and why he is the radiant child of Street Pop music. 
All of this isn't to say that Bella is a worse musician while he attains greater heights. Far from it, he's becoming a more capable one. What this project really signifies is that he's a changed man. Life is changing and the proximity to lack and devastation that inspired his earlier art has given way to a more evolved existence, underpinned by comfort and luxury. No one can begrudge Bella Shmurda the chance to bring his music to a wider audience, only that in stretching himself he does not overstretch the authenticity that makes him a brilliant street poet. The roads to Pop superstardom in Nigeria are better paved now, so I can imagine that the cache of verses we are getting from Bella Shmurda now are the last of an era before he evolves from the street into a full-blown Pop fixture that thrives in the middle of philistine excesses of love, hedonism, and narcotics.
But maybe it doesn't have to be like that. Olamide kept touch with the biggest Nigerian popstars of the 2010s by making Pop songs that clung to the ideals and ethos of his Bariga origins, however, supersized or, these days euphonious, his offerings became. Pop's pivot to hyperrealism from the middle point of the 2010s has paved the way for the emergence of artists who climb to the top of their crafts, however murky and unsavoury the details of their ascent might be. Bella Shmurda's rise to popularity sits at the nexus of these two factors: A third-wave descendant of indigenous Pop's rise to ubiquity at the dawn of the 2010s and a beneficiary of the Internet's connectivity, which means more and more ears had to listen to music from those parts of town after the relentless mainstream successes of his elders. 
'High Tension' captured the anxieties of a ghetto kid with a golden drawl who wanted to make a success of himself via music after allegedly trying out a bunch of options – legal and illegal– that didn't quite come off. '2.0' meets an ascendant superstar in a vortex of sorts, trying to balance commercial expectations with artistic candour. It is a delicate balancing act to carry out, but if anyone can do it, Bella can.
---
@walenchi Is A Lagos-Based Writer Interested In The Intersection Of Popular Culture, Music, And Youth Lifestyle.
---