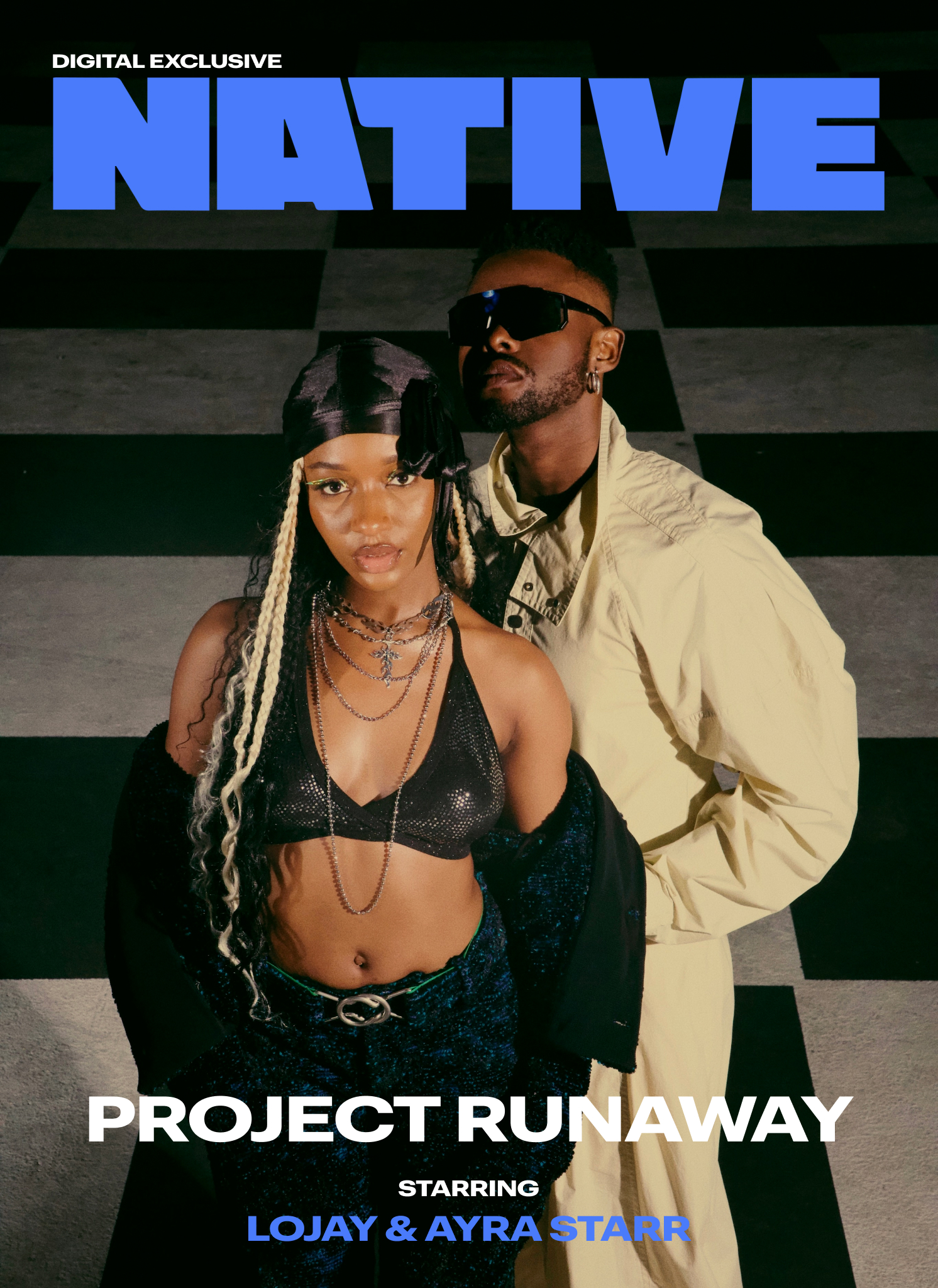 Credits: 
Starring Ayra Starr and Lojay in Bottega Veneta
Editor-in-Chief: Seni Saraki
Managing Editor: Tami Makinde
Words by Wilfred Okiche
Photography: Victor Elochukwu
Styling: Morinsola Hassan-Odukale
Personal Styling for Ayra: Patience Ezeogo
Make-Up: Onome Ezekiel
Hair: Kehinde Are
BTS Photography: Torty Ikechukwu
BTS Videography: Ayo Odunsi
Production Assistants: Wonu Osikoya and Moore Wright
Cover Design by Shina Ladipo

Starring Ayra Starr, Lojay and NATIVE Sound Sytem 
With support from Sholz, Adey, Lido, New World Ray, Forevatired, Monster Boys, Dafe Oboro, MOMO Lagos & more.
HACKNEY, LONDON – In the summer of 2020 when Lojay laid down the vocals that would eventually become "Runaway" – the lead single off the NATIVE Sound System's debut album – the verse from his collaborator, Mavin Records' crown jewel Ayra Starr, had not yet been conceived. Initially conceptualised by Nigerian-born, London-based rapper and producer New World Ray during a recording camp at an AirBnB in West London, the song's initial elements consisted simply of: a magical beat and a breezy freestyle from the 26-year-old Afropop savant, who just the previous year, had wrestled his way into conversations around the new vanguard of Afropop hitmakers. "Once I heard the melody, I just started recording because it felt right. Within 15 to 20 minutes, my part of the song was done," Lojay shared with the NATIVE a few weeks after the single's release.
The first few versions of "Runaway" were undoubtedly good – masterfully evoking emotions of longing and infatuation over an equally mesmerising beat that gave way to Lojay's emotive and honest songwriting. Yet, a few months later, when Ayra Starr was pulled into the studio to lend her sweet-sounding voice to other tracks on the album, it was "Runaway" the singer connected to straight off the bat. She wrote and recorded her verse that same day alongside producer and engineer for the day, LMBSKN and her brother and songwriter, Milar.
"I heard Lojay's verse and I thought to myself 'I have never heard anything like this before'," Starr says of her instant pull to the song. "So, when it was time for me to write my verse, it was so natural, I didn't have to force anything. It just came, kind of like a freestyle." As fate would have it, her bubbly personality and ethos, paired with Lojay's silky, timeless vocals, were a resounding success — a detail that appears so scripted, in hindsight, that it may well have been divine orchestration.
On "Runaway," each word carries a profound sense of emotional depth and nothing seems out of place. The sexy, yet mysterious track is not necessarily the type of sound one would immediately associate with either of its performers. To understand better why "Runaway" feels like a departure for both Lojay and Starr, consider this: Lojay, the singer, songwriter and producer born Lekan Osifeso Jr is best known for delivering radio-friendly Afropop tunes, as typified by his massively successful single, "Monalisa", one of the biggest dance anthems of 2021. Its housing EP, 'LV N ATTN,' masterminded by hitmaker extraordinaire Sarz, scored a high-profile guest appearance by Wizkid and quickly set his global ambitions.
Ayra Starr (born Oyinkansola Sarah Aderibigbe), one of the breakout stars of the past year, is among the leaders of a new generation of Afropop stars doing things their own way. Signed to Don Jazzy's Mavin Records, Starr exploded onto the scene in early 2021, in a similar vein to her label mate Rema, with a self-titled debut EP which showcased in clear terms her precocious range. Seven months later, Starr ran it back with her stunning debut album, '19 & Dangerous,' which has generated dance-floor anthems such as "Bloody Samaritan" and "Beggie Beggie" with fellow new school torch-carrier, CKay. With the shared accolades between them, it seems that 2022 is only the tip of the iceberg for both stars.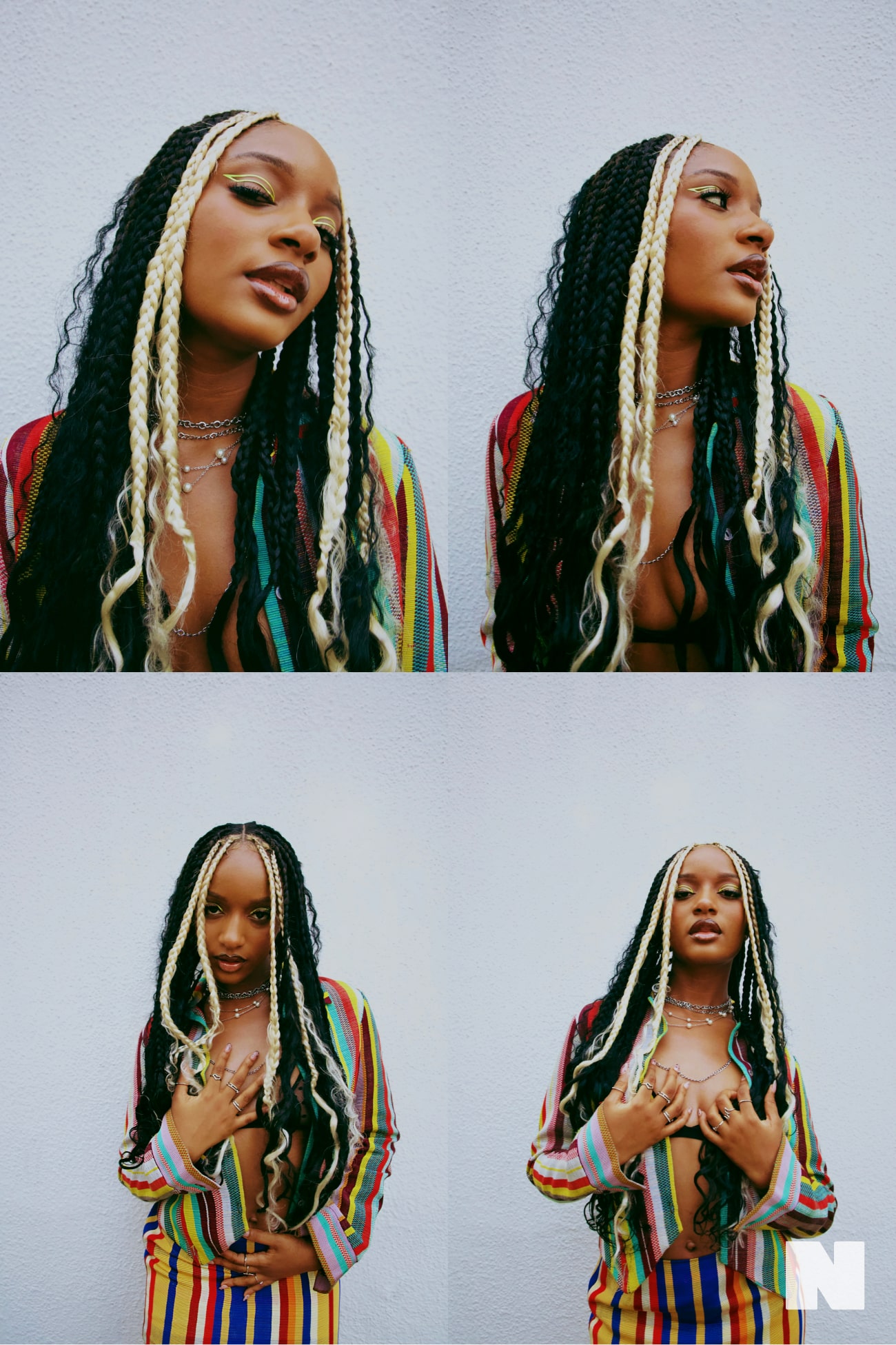 photo credit: Victor Elochukwu

The welcome pairing of Lojay with Starr on "Runaway" leads audiences gingerly into the world of experimental sounds that have been curated specifically on the NATIVE Sound System's album, the music division of the NATIVE Networks, which is also the parent company of this very publication. The forthcoming album is the product of nearly a decade's worth of collaboration across several projects  – a natural evolution of The NATIVE industrial complex. The company's five year old media and experiential behemoth has, through several digital and physical iterations – including art exhibitions, music festivals, parties, football tourneys and an iconic jersey collaboration with Nike – played a central role in documenting not only the blossoming music scene across West Africa, but also Black, African culture globally. 

Across the entire company, The NATIVE Way has always been about taking the road less travelled and disrupting the mainstream from the ground to the top. Since the magazine's "BIRTH" Issue in 2017, preceded in elaborate fashion by its first annual NATIVELAND Festival in Lagos, the NATIVE continues to champion the voice of the underground and make way for those who the industry and its gatekeepers might typically overlook. The NATIVE Sound System evolved out of this dichotomy, at first with fiery set-lists by the talented DJ duo of Addy Edgal and DJ Sholz, but in its three short years, graduating to conquer spaces such as London's Boiler Room and Afronation Portugal while, at the same time, growing into a celebration of musical talent and championing fresh sounds of tomorrow: today. Lojay speaks to the NATIVE Sound System's central fabric, highlighting that the producer and A&R supergroup is all about "furthering Afrobeats and opening people's ears to alternative genres and sounds."

"Runaway" is the perfect distillation of this defining ethos, with Lojay and Starr, the perfect youthful avatars straddling the familiar and the forward facing at the same time. In the first verse, Lojay sings plaintively about loving his muse from a distance and sending Facetime messages to bridge the gap – a reminder of love in the age of the COVID-19 pandemic. In the next verse, a pensive Ayra Starr is asking for some clarity, confused by the mixed signals coming her way from a love interest. The writing, especially the verse by Lojay, is markedly vivid, sharpened by an intensity not usually encountered on the average Afropop hit. According to NATIVE Sound System's Project Manager, Kulupsy Ogunbanjo, this was purposely done to ensure that listeners were confronted with "new and familiar sounds" throughout the album.

Helmed by Addy, the resident DJ of the group; Sholz, executive producer and DJ; Teezee, executive producer and artist in his own right; and Chubbz (as co-founder Seni Saraki is commonly known in music circles), executive producer and A&R, NATIVE Sound System is now ready to (re)-introduce themselves to the world. Each one brings their own experiences and sensibilities to the project. "This album is an organic evolution of our relationship. Just us merging the kinds of sounds we want to hear and hopefully cementing the fact that there is no separation between alté and the mainstream," Chubbz says.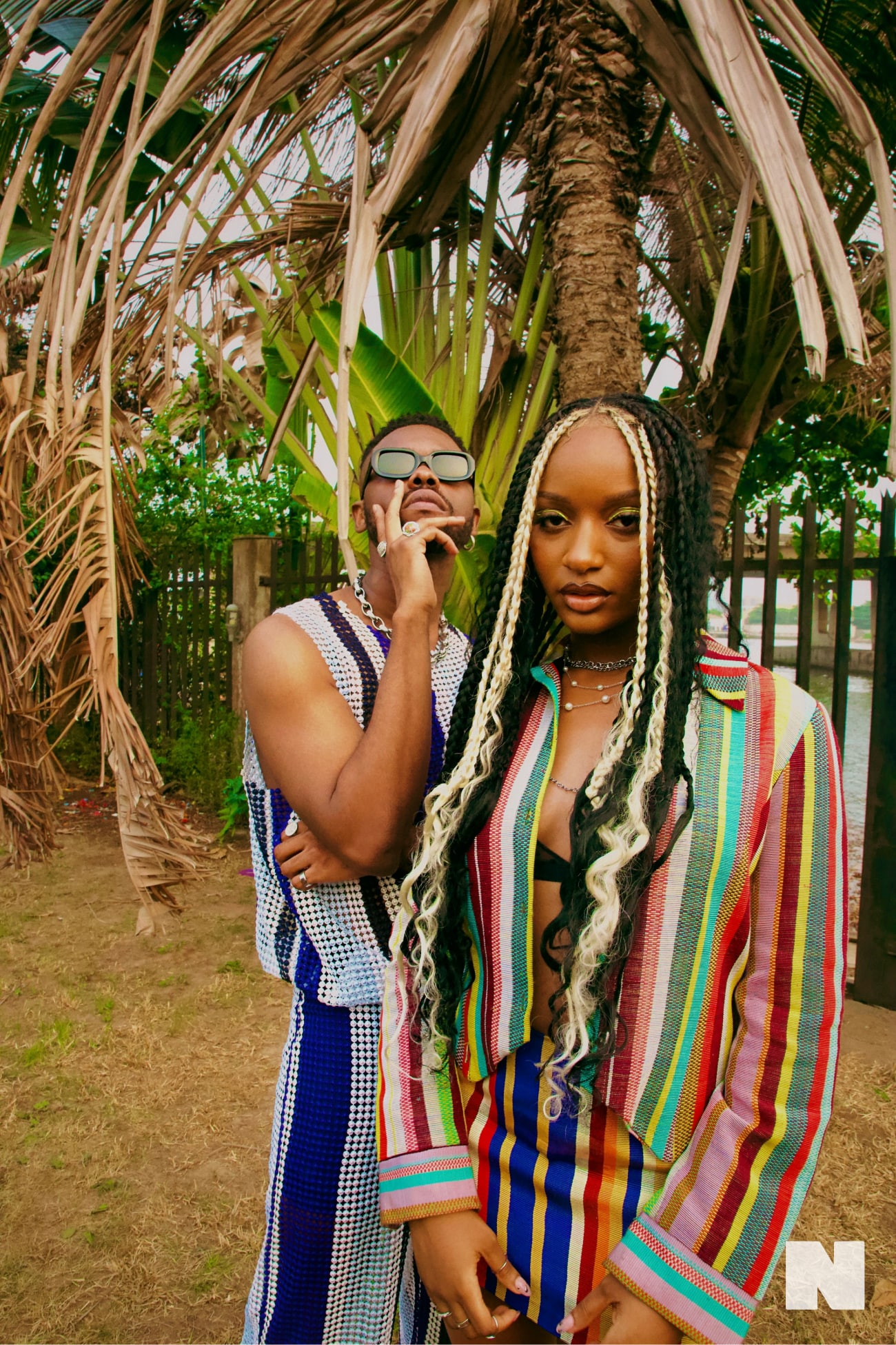 THE SOUND IS COMING…
LAGOS, NIGERIA – While the journey to "Runaway" began at a sound camp in London, the record did not take full shape until it had passed through the hands of several highbrow producers including Lido (A$AP Mob, Chance the Rapper), NATIVE Sound System's Sholz, and finally Adey. Executive producers on the album, Monster Boys (Genio Bambino & GMK), and the uniquely talented group Forevatired, also touched the record along the lengthy road to perfection, with New World Ray even adding a verse to the record – though their versions of the song have not been heard (….yet). What had begun as an initial trappy experiment laid down in London, gave way to a mature ballad featuring some of the strongest vocal and written work in the impressive catalogue of both co-stars, and dare one say, in the country. 
"Runaway" was initially imagined  for Teni The Entertainer, Chubbz divulged to me via a zoom call from his living room in London. However, once Ayra was on board, her expert contribution made the song's direction immediately clear. Sholz echoes this, adding that "the turning point was getting Ayra on the record. It felt like they were singing to each other. We knew then it had to be a ballad." The 19-year-old singer keeps up with Lojay in both departments, demonstrating her magnetic pull which has only grown stronger since recording one of the most momentous breakouts in Afropop history. She brings to the record, that uncanny mix of talent, presence and branding that has placed her on the fastrack from a cautious newcomer to a globe throttling superstar just under the space of two years. As Lojay shares, "Her vocals are immaculate, and it was almost like her perspective brought a feminine energy that completed the story."
Indeed, no better duo could have been tapped to lead a project that has promised this much dynamism.
The forthcoming album is centred around four of the climatic and cultural seasons that make up a typical year in Lagos. The eclectic sounds range from hard hitting Hip-Hop beats bringing on the heat during the rainy season, to the dance tunes that soundtrack the nonstop bacchanals of the festive period. There are songs that provide the calm, balmy antidote to the scorching dry season days and those that work best when the cool winds of Harmattan arrive, offering something for every listener. The lead single, "Runaway" started off as a Harmattan song, but went through several rounds of development, before it was ultimately deemed a better fit for the rainy season due to its plaintive chorus and sharp verse.
Nowhere is "Runaway's" core message captured more accurately than in the song's noir-inspired music video, written and directed by Dafe Oboro ('Black is King'), a filmmaker and photographer whose work often makes the connections between identity, culture and community. Oboro was commissioned to imagine a visual treatment interpreting the song in a fluid and artistic way. The resulting video – shot in two locations in Lagos – wears a certain mystique that is envisioned by Oboro's deployment of shadows and striking imagery. The visual feast boasting compelling performances by Starr and Lojay tells a story of young love foiled by hubris. "I wanted to explore being frightened by our shadow even though the shadow is only the reflection of ourselves," Oboro outlines.
The video for "Runaway" opens like a movie, with the shadows of two young children playing a nostalgic Nigerian game. The kids are miniature versions of Lojay and Ayra Starr, lovers pulled apart in the early stages of their relationship, only to find their way back to each other in their later years, now ready to give into fate's wishes. The film ends with a triumphant shot of the shadows with Lojay and Starr riding off into the night sky, enamoured by their shared connection. In between these sequences, Oboro unspools a narrative that is both real and imagined, with imagery like water, a burning telephone, and a life-size chess board assuming some significance. Who can forget the striking image of the model giving Lojay what may perhaps be the sexiest haircut in music video history? The story at its core is one of love lost then regained and both superstars telegraph the aching loneliness and despair at the centre of their love affair.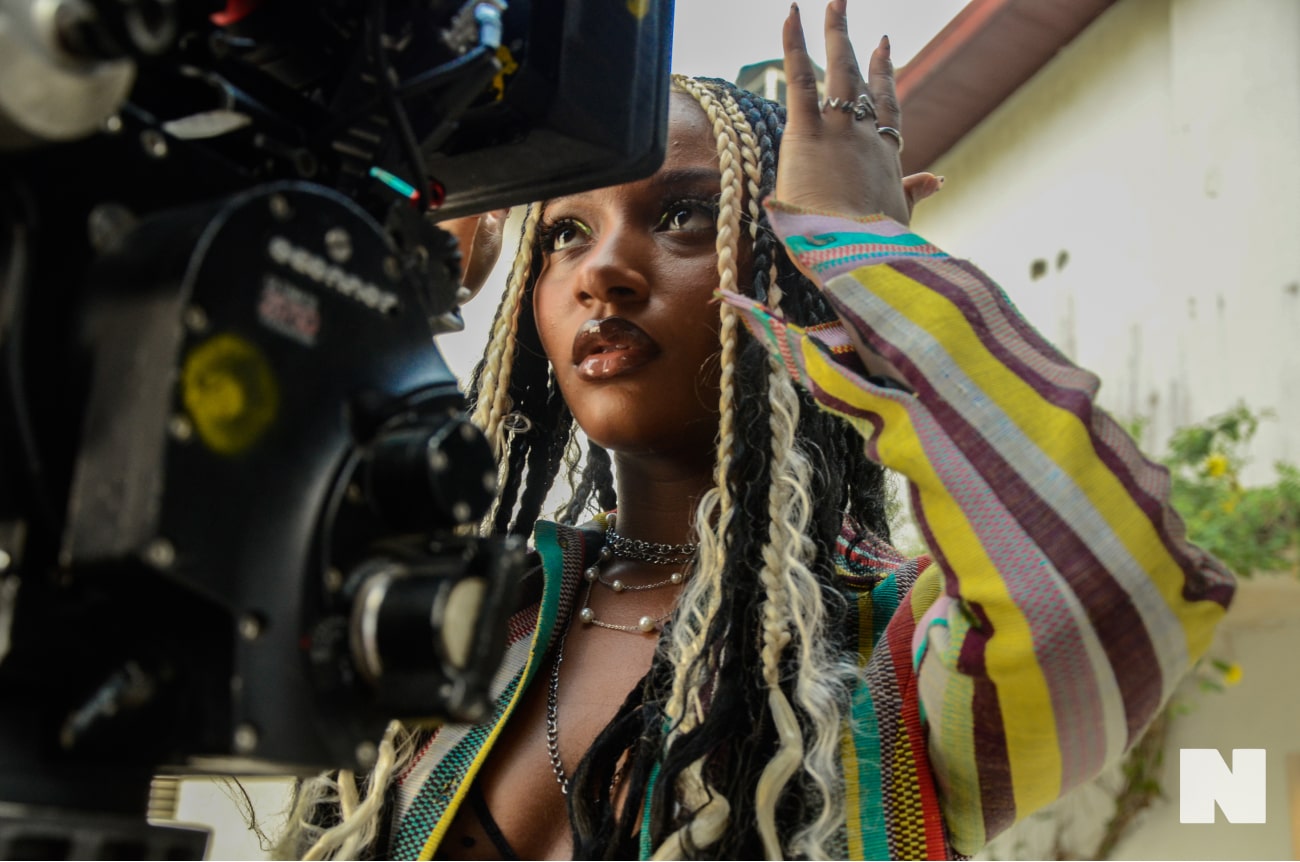 "My work usually arises from lived experience; both mine and people around me. My visual motif was based around the fear of self and how we often run away from our true identity." Oboro reveals.
The film for "Runaway" also pulls in a stunning crew from in and around Lagos' diverse creative scene including Momo Hassan-Odukale, the visionary behind MOMO Lagos, and the project's lead stylist. Highlighting the work of contemporary African creatives such as Kenneth Ize and the Ivory Coast's Lafalaise Dion alongside exclusive items from Milan based powerhouse Bottega Veneta, Momo shares that her styling approach was based on the emotions the song evoked and Dafe's expert vision. "I wanted Ayra and Lojay to be comfortable so I had to blend my [ideas] with their personal style. When I am styling, I want to introduce great brands that I believe in."
As Chubbz and Oboro were putting together ideas before the first treatment, they both agreed she was the only one that could style the film. There seems to be a shared sense of admiration on both sides, as Momo herself tells me she has "always wanted to work with Dafe. 
MOMO is not the only one enamoured by Oboro's vision. Ayra Starr was equally complimentary of the filmmaker "As soon as we were presented with the concept of the song's lyrics about distant lovers, it was like a giant light bulb went off in Dafe's head." Oboro manages to elevate the song's message in a tasteful way, delivering a viewing experience that allows viewers to see themselves and their experiences on screen. He stays in line with the NATIVE Sound System's overarching ethos of delivering left-field content, drawing inspiration from the song's title. It is clear that speaking for many is a central theme for the NATIVE and for those who have come to work with them. They have over the years grown into the role of tastemakers of the Great African art renaissance. 
To retrace the two-year process that led to the making of perhaps the most unexpected song of the year, I tracked down some of the key players involved in the making of the single and video. From Lagos to London, Abuja to New York, this is the oral history of "Runaway", as told by the people who created the magic.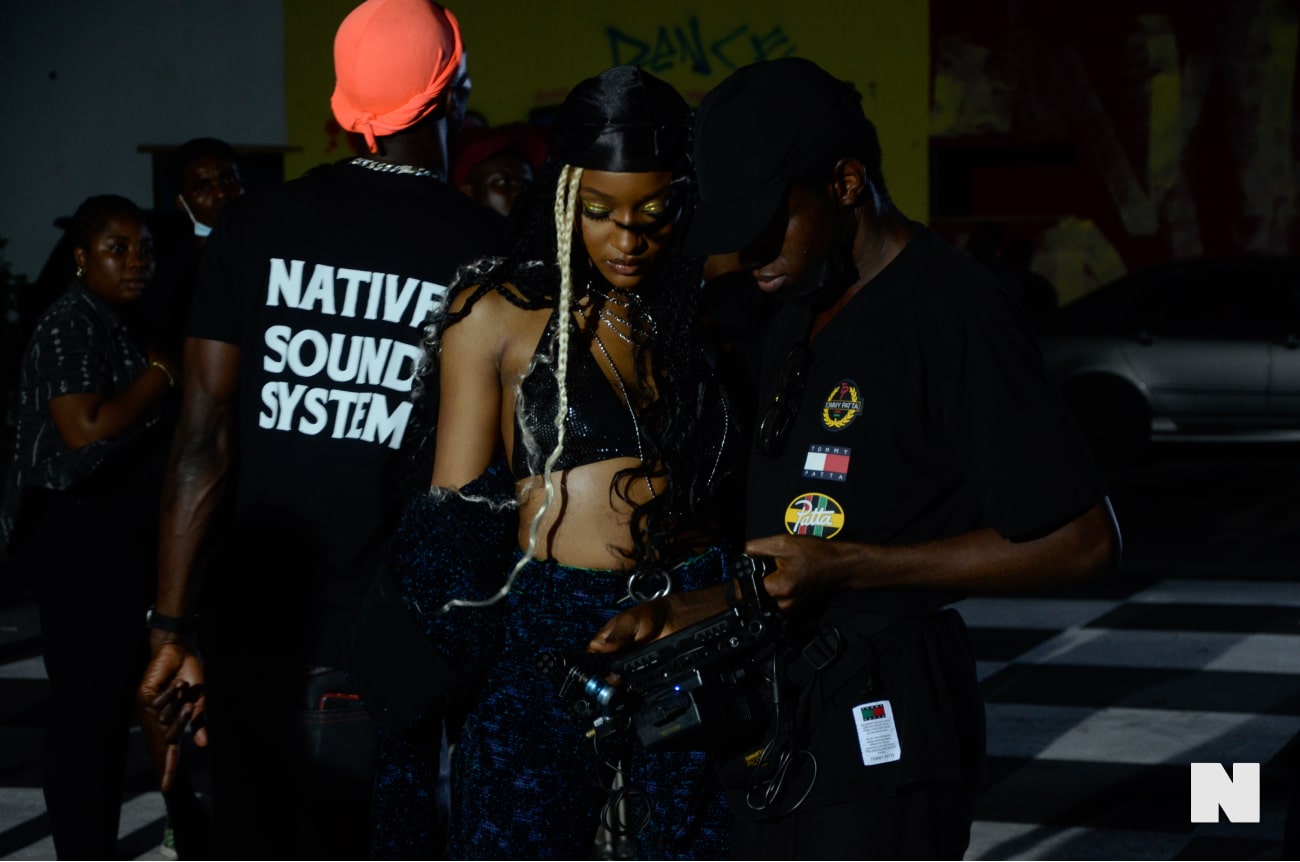 Lojay – Lead Vocals
"I was in London at the time and was invited by a friend of mine, Teezee, to a sound camp they [NATIVE Sound System] were organising. It was a worthwhile experience as I got to share space with artists from different backgrounds. I started "Runaway" by playing the keys. Once I heard the melody, I just started recording because it felt right. Within 15 to 20 minutes, my part of the song was done. I wanted to communicate the emotion I was feeling – a long distance love. I usually do not write on paper. I hear a beat and when it hits, I express myself. If I feel like I am having to put in effort, I take a pause and come back to it. They sent me a new version months later and told me Ayra Starr had jumped on it. I don't know when or how but I loved what she did. Her vocals are immaculate, and it was almost like her perspective brought a feminine energy that completed the story. The NATIVE Sound System is basically about furthering Afrobeats and opening people's ears to alternative genres and sounds. This is one song I feel can help push the boundary as to where we can take Afrobeats."
Ayra Starr – Lead Vocals
"The guys at NATIVE Sound System reached out to my A&R. We all thought it was a great idea, so we linked up in the studio for a couple of days and worked on some amazing records, "Runaway" being one of them. I wrote and recorded most of my verse in the studio with my brother and songwriter, Milar. We all exchanged ideas and pieced it together. Afterwards, I finished the verse alone in my studio at Mavin. I listened to Lojay's music and absolutely loved his sound. I literally had 'LV N ATTN' on replay and I just kept thinking to myself that this guy is too talented and I need to collaborate with him.  For "Runaway", I wanted to tap into my soft, mushy side. The thing with ballads is that everyone can relate it to their lives; presently or in the past, so let's just say this came from a place of emotion. The friendship with Lojay felt natural. I'm a vibe and he's a vibe, so it's all vibes on vibes right? Huge shoutout to Dafe Oboro for the incredible visual direction, as well as Kenneth Ize for the stunning costumes. As soon as we were presented with the concept of the song's lyrics- about distant lovers- it was like a giant light bulb went off in Dafe's head. It was incredible, being a part of the NATIVE Sound System album. I am grateful for the chance to have my sound recognised and championed by this platform. I think we made something special. And I am pretty optimistic it is going to touch a lot of people. Big shout out to NATIVE for always doing culturally redefining stuff. This will certainly be one of them."
New World Ray – Producer
"On the third or fourth day of the first sound camp, I had set up my production equipment downstairs in the dining area. Lojay came up to me asking to use my laptop to record. He liked to use my presets because they are great for vocal chains. He started playing these notes, it was mostly freestyle. I liked the hook so I added some stuff to the beat; the baseline, tweaked the compression and EQ; that type of stuff. I made his vocals clearer and added some trap inspired drums, plenty of 808s. I also recorded a verse over the drums. It isn't what it sounds like now at all. At the third camp, someone suggested I record an outro. It was a little bit ethereal because that's my whole vibe. Like my name, when people listen to me, I want to take them to a different world. My outro isn't on the final version anymore, just my production and there's still a lot of my baseline, some of my drums.
LMBSKN – Producer
"I had been speaking with the NATIVE Sound System about collaborating for some time and the album was a great opportunity to jump in. The NATIVE team reached out to ask if they could have a session with Ayra Starr at my studio. We played with a few ideas, but "Runaway" was the first song we decided to work on. The first thing that caught my attention was the instrumental. Sholz did a great job without adding on too many layers. The song also helped show a new side to Lojay and Ayra; they had to explore new motifs that we haven't yet heard from them before. I recorded and produced Ayra's vocals, helped get the best out of her vocal performance, and we decided to re-arrange the instrumental to give her more room."
Sholz – Executive Producer
"This was the first time we had done a camp and "Runaway" was one of the first songs that came out of the camp. Lojay was an unknown talent at the time, no one had heard of him but from the moment that he walked in, the thing that stood out was his work ethic. Lojay was steady disturbing me for beats, he was annoying. I can't even lie. "Runaway" was initially a trap song. When I heard it, the first thing I did was take out the drums. We had maybe 16 or 17 versions total. Somewhere along the line we were having conversations with Ayra Starr. She really liked "Runaway" and once we had her vocals, we tried to lay drums on it. I was in Los Angeles and the team did a camp in Ghana where "Runaway" was identified as the lead single. I got Lido to add additional instrumentation to make it more of a ballad. Me and Adey then sat down to make the drums that you hear now. It wasn't like sitting down to make a beat like I would normally do. This was actual Quincy Jones style production, sourcing instrumentation from various collaborators and building the record organically. I think Lojay has this great Nigerian hustle spirit in him and Ayra is kind of the opposite. She is like this pop princess, so it is a marriage between this up-and-coming hustler, and this anointed princess. Like beauty and the beast. The turning point was getting Ayra on the record. It felt like they were singing to each other. We knew then it had to be a ballad."
Faith, Forevatired – Producer
"I remember being in the studio with Sholz and Lojay, this was sometime last year. They were running through beats and loops and then they played "Runaway". It was just Lojay on the record over this loop that they had made. It sounded gorgeous and fresh, like something I would play for hours. Then Ayra Starr came through and glided through the whole thing. When I was sent the song, I was chatting with my friend and longtime collaborator, Tyler. I thought it was something he would go crazy on as it was exactly his sound. He sent back his contribution- drums, programming and bass- and I just basically mixed the whole thing and sent it back. Seni brought me on board and has treated me like family since the first day I started working as the sound engineer for the NATIVE Sound Radio shows. This collaboration is something the culture needs and honestly it couldn't be happening at a better time."
Adey – Producer 
"Sholz had called me to meet up in the studio. We hadn't seen each other for a while. He played me a bunch of records including "Runaway" and kept asking me for my input and I added things I felt like would elevate it a bit more. I added extra percussion, changed the bounce of the drums so that it could be livelier. This brought the record back down to the roots which is what I feel like it needed at the time. I really liked how the song came out the gate with a lot of emotion that can be missing from Afrobeats records these days. I feel like this kind of song will raise the bar. It is important that we own this Afrobeats culture so no one can come and take it from us or gentrify it. So that people who want to explore or understand the sound have to come to the source. I feel like this record is a start of us owning and elevating the bar."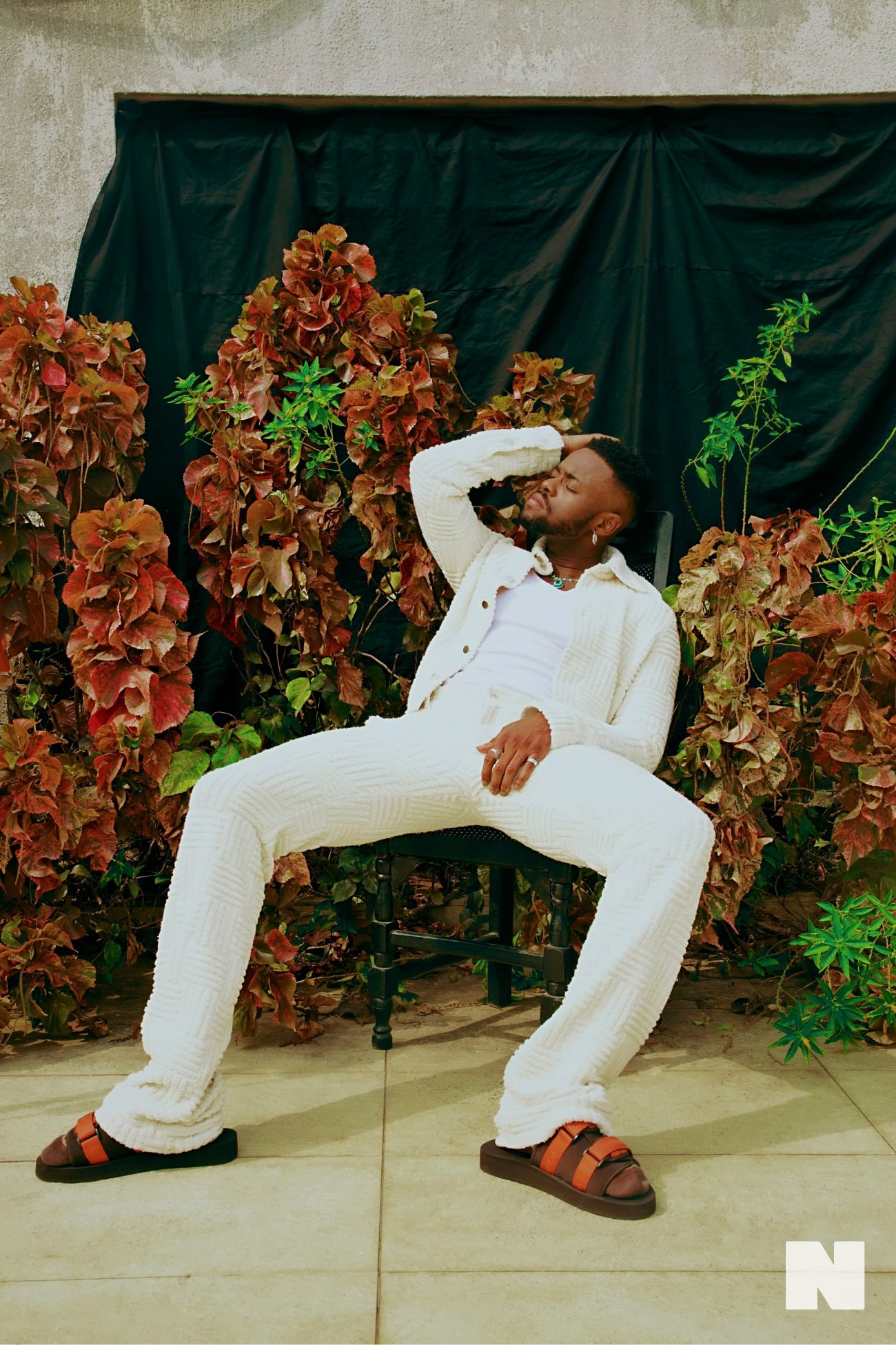 Kulupsy – Project Manager, NATIVE Sound System
"When I joined the project, "Runaway" wasn't one of the songs that anyone was paying any attention to. We sent over a couple of songs to Ayra Starr's team, and she specifically picked out the ones with Lojay who had recorded about four songs across two different camps. Ayra Starr came to LMBSKN's studio in Ikoyi to record with her team. After flicking through the records that we originally had in mind for her, LMBSKN whimsically played "Runaway" and Ayra's attention was arrested. The result was a stunning, raw freestyle-type track that we thought would be the outro. When we decided to make it a single, the executive producers thought we should explore additional production, to take it from the world of deep cuts, to the galaxies of ballads. The process took almost two years. For the Sound System's first project, we wanted to combine familiar voices with sounds you may not have heard before."
Chubbz – Executive Producer, A&R
"Our very first sound camp was in August 2020. That was where I first met Lojay. I had covid so missed the first week of camp but when I arrived, I was going to the different rooms to hear what they were cooking and every room I entered, I was hearing Lojay and I am like "who is this Lojay guy?" We went through four camps between Lagos and London while recording everywhere from Paris to the United States and Ghana. For the album we were in this mindset of trying to create the seasons of a year in Lagos- Rainy, Dry, Harmattan and Christmas seasons. "Runaway" actually started as a harmattan song when everywhere is dry and you are hustling and was meant to be the outro to the album but eventually became a rainy season song. It was being considered for Teni the Entertainer. As we progressed, the soundscape began to change. This album feels like we are bringing you into our world."
Genio – Lead A&R's, Monster Boys
"Seni came to GMK and I with the idea of the NATIVE Sound System in 2019 and asked us to be involved. It wasn't that hard to convince us truthfully. We thought it was a good idea and it would be nice to try something different. I am one of the lead A&Rs on the album and have been involved from inception. I engineered sessions, produced songs and helped organize camps for the album. I was asked to add production to one of the previous versions of "Runaway". It made sense working with Lojay and Ayra Starr as they are both really talented and are at the forefront of the new wave of Afrobeats artists."
Kulupsy – Project Manager
"Chubbz was very firm from once we had a workable demo of the song, that he wanted to work with Dafe on this. We wanted it to be artistic and tell a story and Dafe shared his mood board and his vision and we were satisfied. He was a professional. We shot it this February. I would like this song to be an introduction to what we can do with regards to A&R, production, talent liaison, music management and marketing. The selection of artist's is quite peculiar. I want it to be a statement that you don't have to do things the way people expect you to."
Dafe Oboro – Director & Producer
"Chubbz sent me the "Runaway" audio file via DM at 3am one morning and I was feeling it. He said he would potentially want visuals, so I started writing to it. Chubbz did not want a typical romance video and I didn't want that either. We also did not want a basic performance video. During scouting the location manager sent a couple of options and this private home in Ikoyi, Lagos was striking to me because it had this interesting living room area with golden curtains. It was a one-day shoot with a budget typical of that. We were well prepared for production day but as usual we encountered some delays. Some of the equipment arrived late, and someone (read: Lojay) was stuck in traffic but because we were stationed in one location for the first half of the shoot, it was not so bad. Our second location was an outdoor space, the old GET Arena in Victoria Island. I don't like doing too much movement while filming so the camera is handheld and fixed with the subjects moving instead. I had never worked with both Lojay and Ayra Starr. Lojay did not perform to the camera but Ayra did. His acting skills surprised us. Until then he had not done the kind of shoot where he didn't have to sing to the camera. I wanted them to tell the story and show that emotion in the video. I do hope that when people watch the video it feels personal because that was how I felt when I heard the song."
MOMO – Stylist
"I became involved with "Runaway" quite early on. I always wanted to work with Dafe so it was great. My styling approach was based on how the song made me feel and also the director's vision. I wanted Ayra and Lojay to be comfortable so I had to blend with their personal style. When I am styling, I want to introduce great brands that I believe in. I worked with Lafalaise Dion from Côte d'Ivoire on two of the looks.  It was also great being able to put Ayra and Lojay in Bottega pieces that I love. Styling preparation is a lot of admin work. You have the ideas, but you have to get all the clothes from different sources. We went through quite a few styling decks over the two weeks before shooting. On the day, things mostly went to plan. The scene where Lojay is with his muse, Sheila and she is cutting his hair came out as envisioned and is probably my favourite scene."
Chubbz – Executive Producer, A&R
"I have followed Dafe's work for a while, and it speaks for itself. We wanted something different, not Lojay and Ayra Star singing to each other on some Nollywood type shit which can be great sometimes, don't get me wrong. We wanted something a bit left field that introduces the artists to that realistic world. It was interesting watching Dafe lead us through the journey. Even though the Lojay who is at the video shoot is now a huge star, his personality hasn't changed one bit. He is the one making people laugh. I want NATIVE Sound System to always be a safe creative space where artists can come and try new things and take the risks to express themselves. And that doesn't mean being experimental just for the sake of it. We want to tour the album and connect with people everywhere and on a wider level, we want to bring in all our products and services together."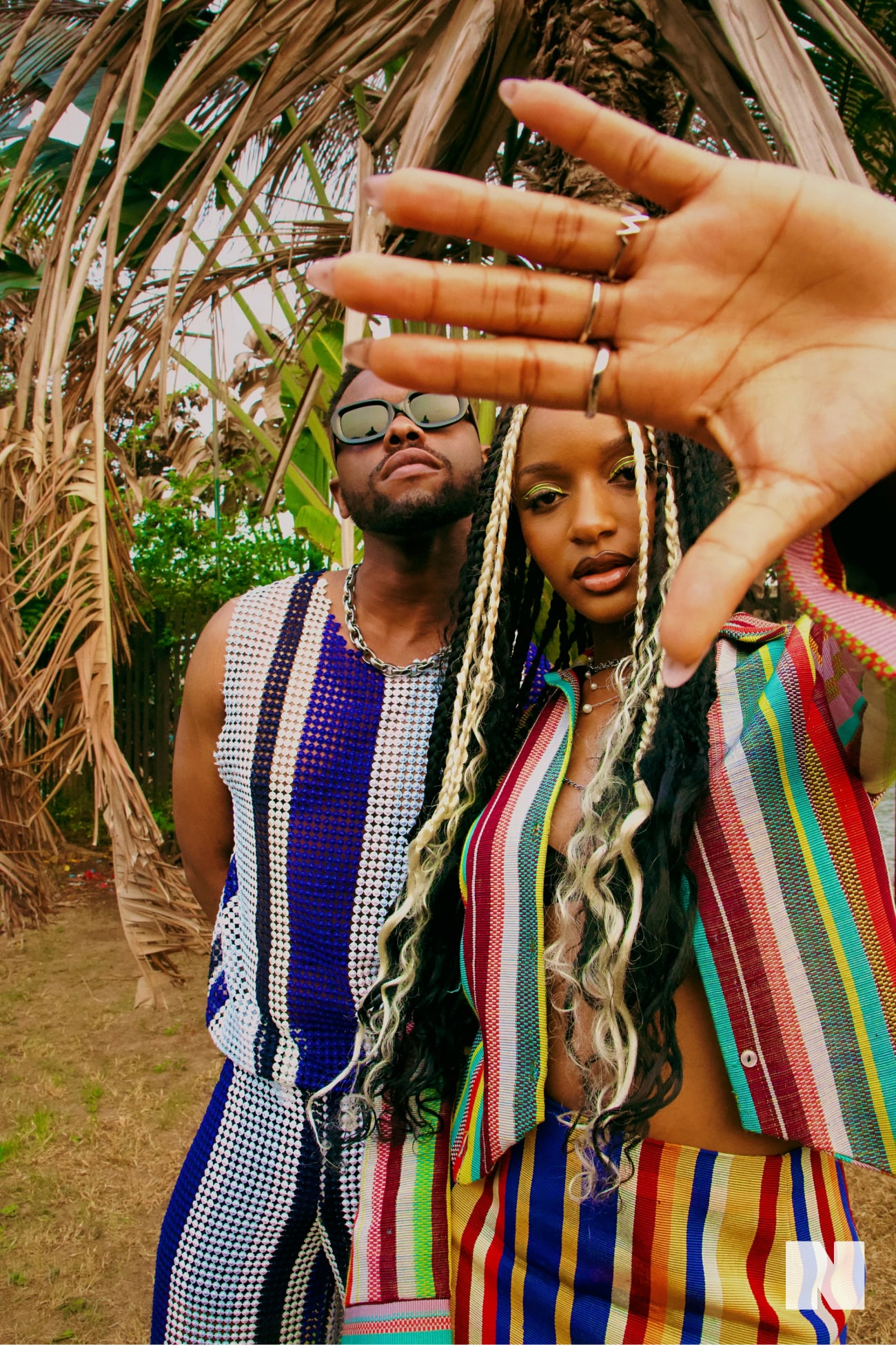 Image Credits
Cover image – Victor Elochukwu
BTS – Torty Ikechukwu