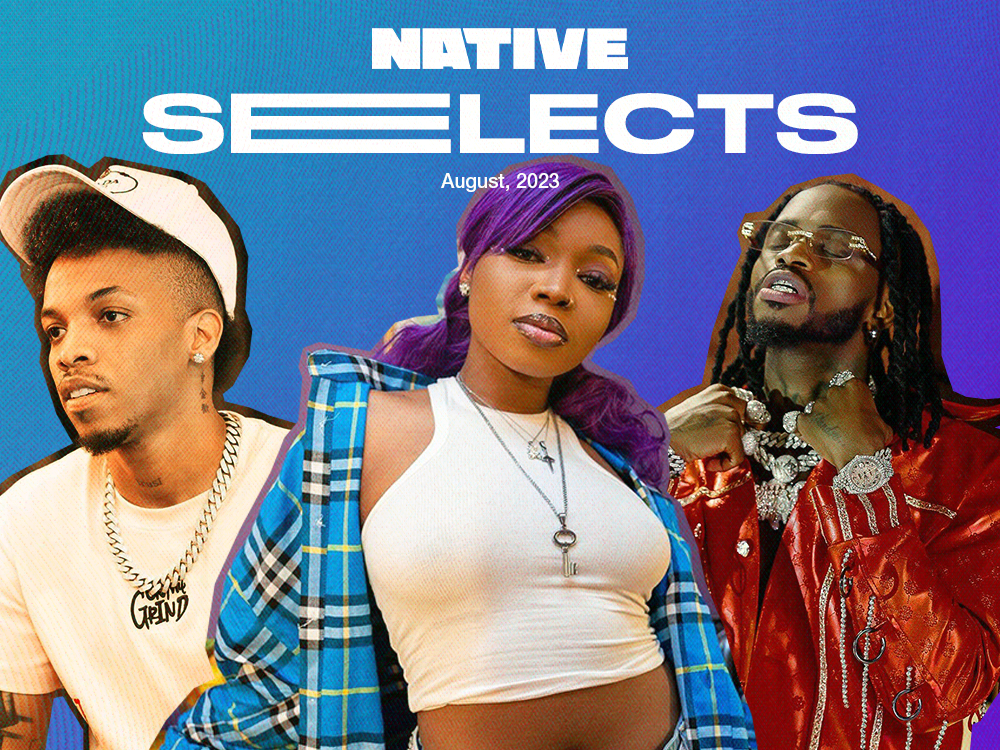 NATIVE Selects: New Music From Tekno, Diamond Platnumz, Guchi & more
kickstart your weekend with new tunes
Every week, new music shows up, sweeping fans and music lovers off their feet while artists gauge reactions to know the effect of their creativity. At the NATIVE, we are committed to keeping our ears on the pulse of the music scene and bringing the best sounds to your doorstep. In our last edition, we brought you new releases from Major League DJz, Efya and more. Today, we have songs that move from Afropop to Amapiano to R&B, with our select artists showcasing their unending talent and passion for creativity. Lock in!
DJ NEPTUNE & INTERNATIONAL BOY – "LAGOS"
Fast-rising R&B and Afropop artist, International Boy teams up with the talented DJ Neptune for an undeniable chemistry on "Lagos." After seeing International Boy's cover of "Count Your Blessings" which featured Spyro, DJ Neptune graced the young talent with his production skills, aiding in opening him up to a larger audience. The song captures the hustle and bustle of the city of Lagos over the catchy tunes with lush Amapiano embellishments. 
TEKNO & SHALLIPOPI – "SO WHAT" 
Tekno teams up with Shallipopi to deliver a fresh new single "So What?" This Amapiano-laced hit centres around minding one's business as Tekno sings in the intro and at many points in the song, "Check, you see me dey complain?" Shallipopi also embodies his verse, adding flair to the overall outcome. 
REMY BAGGINS & YKB – "FIRE 4 FIRE"
Talented artist and producer, Remy Baggins partners up with YBK to deliver an electrifying new single "Fire 4 Fire." Impressively produced by Remy himself, the song perfectly syncs elements of the early 2000s R&B with modern sounds making it nostalgic yet fresh to the ears. Both singers express their burning desire to ignite a passionate and intimate relationship with someone special.
TEKNO – "POCKET"
With "So What?" freshly out in the music space Tekno graces us again with a new release "Pocket." With the multi-talented artist dropping a new album, 'The More The Matter' on September 1st, "Pocket" serves as a sneak peek into what we should expect from the album. In his new single,  Tekno highlights the power and influence of money as he sings, "When money pocket no go dey dull your body/shey you no know money dey ginger body," The mix of Afrobeat and Amapiano in this masterpiece is balanced and enjoyable as it carries the message of the song. 
GUCHI – "NOTICE ME" 
Following her previously released songs "All Over You" and "Mon Bebe" the talented Nigerian singer collaborates with Loud Behaviour to grace us with another song for the year "Notice Me." The Afro-pop singer confesses her love to her romantic interest, "I don't want to fall in love but for you I will/ I don't want to waste no time but for you I'm free."  Who she has been trying to get along with but he doesn't seem to notice her. From the title, we can tell her goal and aim. She emphasizes this in the chorus where she shows off her vocal prowess, "Na today you go notice me/ Since I don dey show green light" 
DIAMOND PLATNUMZ – "OVERDOSE" 
The multitalented Tanzanian Bongo Flava recording artist has delivered a lot of songs this year including "My Baby" which featured the Nigerian talent, Chike. Diamond Platnumz delivers yet another single, "Overdose" in which he showcases beautiful use of his mother tongue, Swahili. His vocals layer effortlessly over the log drums and percussion instruments. 
MOËTT & SCUMIE – "BANK ACCOUNT" FT. K.KEED & BUZZI LEE
Scumie, K.Keed and Buzzi Lee stand to be powerful and talented South African female rappers who together create "Bank Account" a heavy-hitting trap single produced by the renowned Moët The Goat. In celebration of Women's Month, these talented women rise to the occasion to give women yet another song to empower themselves. K.Keed leads this trap banger with Scummie adding an intro and verse and Buzzi Lee wrapping it up. Each one of them brings in their unique style and showcases their heavyweight verses in this banger with just bars from top to bottom. 
10TEN, BLAQBONEZ & TAR1Q – "DEALER" 
Producer and songwriter 10Ten releases "Dealer" with help from Blaqbonez and TAR1Q. The artists sing about how when life comes tumbling down, the dealer is the person they turn to. They all hop on the chorus which is emphasized throughout the song, " When I'm in the zone I call all my niggas/ When I'm in the mood I call all my bitches/ When everything wan kill me I call all my dealers." 
FRIDAYY & FIREBOY – "YOU" 
American-Haitian singer, Fridayy, joins forces with Nigerian talent Fireboy to release "You" which sits as one of the songs on his album 'Fridayy.' The love song showcases the vocal prowess of both artists as they reassure their love for their lover. Fridayy in the chorus makes it clear, "They be on my line but I only want you / ooh-ooh I'ma press decline when they tryna drive through, ooh-ooh."  
ENAKY – "FAMILY"
As the message of Afropop vaunts even higher, so does the desire for more original voices. Luckily, there's been no shortage of ascendant stars as social realities have been blurred into sound, in language so intriguing and lived-in. "Family," the new record from Enaky, reveals an artist deep into their craft. The earthy production sets her on the introspective path, as she sings of little things bothering her and the need for her family to cover her. It's an honest song whose feeling is amplified by her striking vocals. 
---
Words By Chigoziri Ezeaku.
---
Featured image credits/The NATIVE