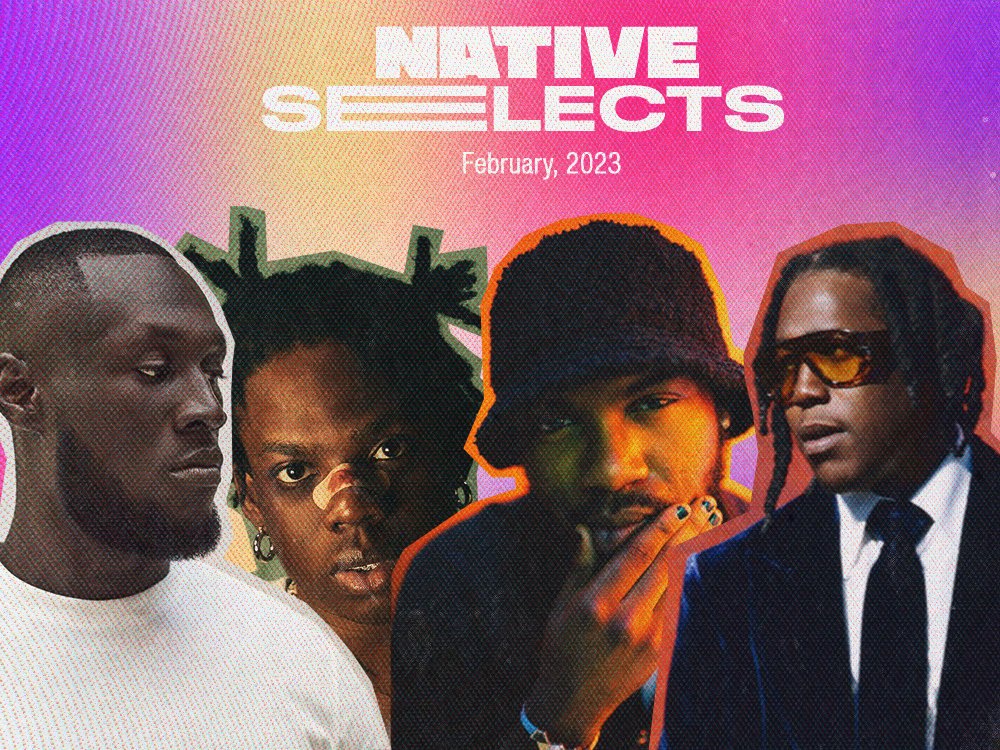 NATIVE Selects: A List of Best Songs This Week
excellent records to groove into the weekend
It's that time again. Every day, new music shows up, sweeping fans and music lovers off their feet while artists gauge reactions to know the effect of their creativity. At the NATIVE, we are committed to keeping our ears on the pulse of the music scene and bringing the best sounds to your doorstep.
Earlier this week, we highlighted exciting new releases from the likes of Patoranking, Niniola and Beautiful Nubia. To close out the week, we've selected from a broader range of genres and countries, indeed covering the vast soundscape of Afropop through the newest and fresh iterations of its diverse musical traditions. Lock in!
FALZ FT. TEKNO – "OWA"
Nigerian artist Falz's first single of the year "O Wa," which features Tekno, follows the thread of political commentary that started with "This Nigeria" and the 2019 album 'Moral Instruction.' In the Nigerian context, owa—a Yoruba word—is spoken by passengers in public transport when they are about to alight at their destination. Falz and Tekno are advocating that citizens should not be afraid to step away from and cast out any government that doesn't respect their rights to better and inclusive policies. "Why you no give me change (Change) I para/I curse the driver, I tell conductor say "waka"/Stop the motor I need to come down, I tire," Falz sings. With the presidential election a day away, "O Wa" possesses a timely message as it urges citizens to use their votes at the polls to create the kind of Nigeria that they want to live in.
Uzoma
TAY IWAR – "HEALING"
Tay Iwar is one of Afropop's most soulful musicians. Long accustomed to stripping the excesses of his heart, he's created records with raw vulnerability. "Healing", like the title suggests, is a purging of one's soul after the encounter of a toxic relationship. Waxing poetic and warm over the serenading breaks of the production, it's a performance which advances the sensitive direction of Iwar who, in recent times has been lending his gifts to his contemporaries such as Wizkid and Omah Lay, through songwriting or features. Another year looms ahead, and it'll be interesting to observe Tay's journey over the course of it. 
Emmanuel
MPHO.WAV – "INYANISO" FT. BUKEKA 
A formidable South African producer, Mpho.Wav casts layered spells with his takes on electronic music. "Inyaniso" is no different—built from the mystical pairing of sped-up drums and ominous chords, Bukeka makes the record come alive in the most interesting ways. Her vocal contribution is stellar, but so are the accompanying turns of the production, all together instantly capable of coaxing delicate dance moves from a listener. 
STORMZY – "HIDE & SEEK" [REMA VERSION]
A few months ago, Stormzy arrived with a new studio LP titled 'This Is What I Mean.'  The body of work featured the standout record "Hide & Seek" which caught the attention of listeners as soon as it was released. Arriving today is the Rema remix of the record. In typical Rema style, he adds in heavy melodies to the track and breathes a new life into it, ushering in pop elements into the song while letting his love interest in on his intentions for her.
Wonu
DON TOLIVER – "SLOW MOTION" FT. WIZKID 
The last time we got this effortless pair on a track was on the Juls-produced number, "Special" off Wizkid's highly anticipated studio album, 'More Love Less Ego.' Closing out the chart-topping project, the pair go back and forth explaining why their love interest stands out from the crowd. For their new track, Wizkid extends the favour as he lends his vocals on "Slow Motion" from Don Toliver's recently released album, 'Love SIck.' Sitting amongst features from Brent Faiyaz and Glorilla, "Slow Motion" offers a standout cut for a number of reasons. The track leads in with an instantly captivating and heavy bass accompanied by Don's melodious vocals. Swooping in mid-way, Wizkid offers a unique rendition as he delivers his brief sensual verse in Pidgin. 
Nwanneamaka 
SUTE IWAR & TIM LYRE – "SPACE COWBOY"
Musicians who blur the lines between rapping and singing are a rare find in Afropop. Sute Iwar and Tim Lyre are two such musicians, so it's only fitting they'd collaborate over the years, often to stellar effect. "Space Cowboy" sounds as atmospheric as you'd expect, with soft drums polished by piano notes warm as baby coos. Their deliveries are distinct but aligned, with urgent flows on the verses paired with the gliding ease of the hook. With subtle takes on sociopolitical reality, it's a record that flexes its genius with relative simplicity, a quality that makes their forthcoming album 'ULTRALIGHT' such an enticing prospect. 
Emmanuel
MAJEED & TIWA SAVAGE – "GBESE"
Closing out the year on a high note with stellar releases like DJ Maphorisa and Major League DJz-assisted "Koo Koo Fun" as well as "Loading" featuring Asake, Tiwa Savage joins Majeed on the Maskerkraft-produced "Gbese." Fusing Afropop and Amapiano, the mid-tempo track leads in with a captivating blend of log drums and flutes as the pair's vocals glide effortlessly back and forth, delivering a noteworthy rendition. 
Nwanneamaka 
GROUND UP CHALE – "ON THE ROAD (FAR GONE)"
Over the years Ground Up Chale has established itself as a most trusted incubator for Ghana's best budding talents. Associated with names such as Kwesi Arthur and Kofi Mole, the duo of Kimati and Albabwoy are staking a claim to a piece of GH's musical cake. "On The Road", a fitting demonstration of their distinct skills, follows the familiar but still relevant aspirational path. Over bubbly production, the qualities of their charge towards mainstream relevance is discussed, with confidence and fine doses of introspection, endowing the song with thematic balance. 
Emmanuel
FANCY FINGERS – "ONE IN A MILLION" FT. KARUN
It is undeniable that Fany Finger's voice is ubiquitous. With a strong vocal range and knowledge of instruments his songs are filled with experimental tunes as he croons over stellar productions. In his latest offering Karun joins Fancy Fingers for the serenading ballad "One In A Million." Karun's soft but powerful vocals and Fancy Finger make a perfect intersection, working to create a warm record which does justice to both their distinct abilities.
Tela
T'NEEYA – "PRETTY MIND"
German-Cameroonian singer and songwriter T'neeya's displays an effortlessly special performance on the record "Pretty Mind." Over the mid tempo production of the record, she's as honest as she can be as she confesses her love for him and how she makes him feel. On the record, she quips the standout lyrics "Truth is I really like the vibe that we've been getting on/when it's getting so cold, I can keep you warm," opening up her mind to her love interest.
Wonu
DJ SEMTEX – "FLOOR SHAKE" FT. BACKROAD GEE & KWESI ARTHUR
DJ Semtex's latest single "Floor Shake" operates on high energy. The legendary English radio veteran, producer and author delivers a Drill-inspired banger featuring British–Congolese rapper BackRoad Gee and Ghana's Kwesi Arthur. Over mean-faced chords and hypnotic synths, Kwesi Arthur drops an infectious hook and BackRoad Gee goes at the beat with an energetic flow. "Last autumn whilst touring with Lil Tecca, and doing shows with Joey Badass and Black Sherif, I played this instrumental each night, and it went off every time," DJ Semtex says. Listening to "Floor Shake," it is understandable why this song will be a fan favourite.
Uzoma
SERGE IBAKA, ARIEL SHENEY & DAPHNE – "TATA NZAMBE"
NBA player Serge Ibaka also holds his own as a musician. Having started exploring the nuances of East African sonics in 2021, the citizen of the Republic of Congo has vaunted himself deeper into musical experimentation. "Tata Nzambe" progresses with the colourful overtones of Rumba, but with a percussive base that shares more alignment with contemporary Pop than many Francophone records. The other artists introduce a vocal range that works to enliven the atmosphere, ultimately creating a song charged with the characters of a personal ode and a more immersive call to communal living. 
Emmanuel
MAU FROM NOWHERE – "I LIKE"
The build up to Mau From Nowhere's album is definitely worth the hype. His capability to jump out of a simple nostalgic tune into a serenading tune reflects the width of his artistry. In his latest release "I Like," Mau moves from his minimalistic box and jumps into an experimental upbeat. Using happiness as his subject matter the new song is a flip from Mau's sad and dejected personality. As he sings to his muse of their young love, the purity of his adoration similar to the first days of love gleams through out the song. The single is accompanied by the Tyse Visuals directed video that are dreamy with a lot of color similar to the excitement love brings you in its early days. 
Tela