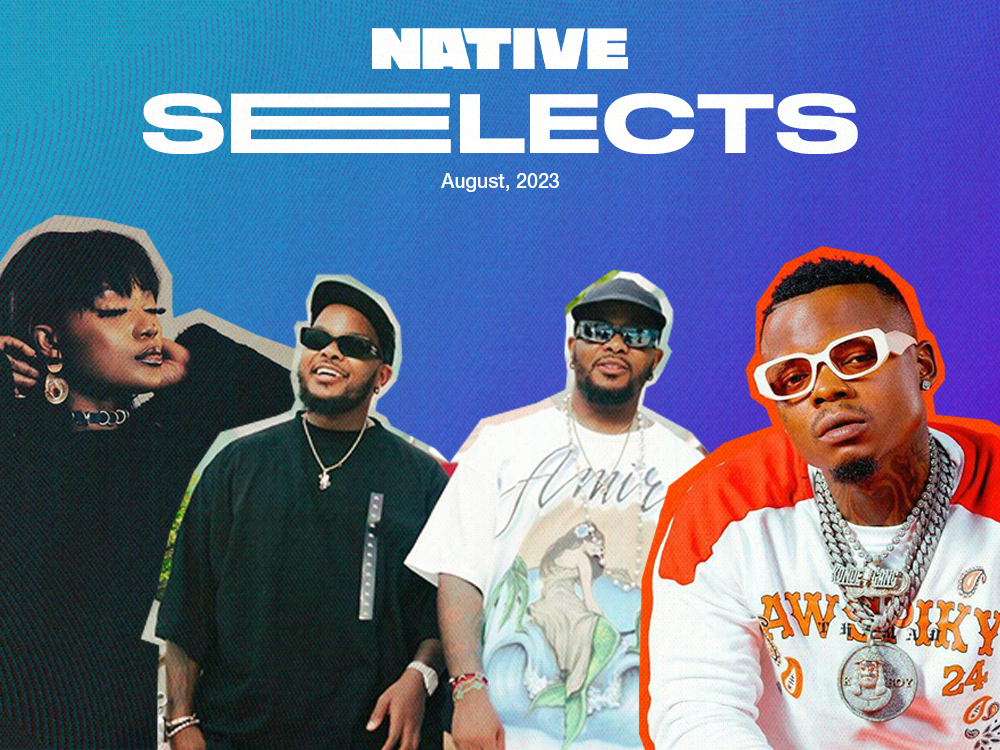 NATIVE Selects: New Music From Efya, Major League DJz, Harmonize & More
Some new releases to get into this mid-week
Every week, new music shows up, sweeping fans and music lovers off their feet while artists gauge reactions to know the effect of their creativity. At the NATIVE, we are committed to keeping our ears on the pulse of the music scene and bringing the best sounds to your doorstep. In our last edition, we brought you new releases from Davido, Karun and more. Today, we have songs that move from Afropop to Amapiano to R&B, with our select artists showcasing their unending talent and passion for creativity. Lock in!
EFYA – "JARA JARA"
Ghanaian songstress Efya has been around for about a decade. Yet her acclaim stands on her consistency, which is burnished by her colourful takes on afropop. "Jara Jara," her latest record, is made bubbly by the drums and zesty horn playing, while Efya uses her commanding vocal presence to wax poetic about a lover's intimacy. It's a song that carries the listener into the fullness of her heart, while serenading as a bop. 
BENIE MACAULAY & DRESHIE – "KANAYO"
Both artists are in scintillating form on this brooding number. "Kanayo" is titled after the iconic Nollywood artist, and its hook also references the infamous sacrifice jokes that's been going around in recent times. Asides this connection to popular culture, the song is indeed its own affair, with the vocal tones of the artists especially delivering the message of a love perfectly. With fine touches of electronic music, the song manages to flirt with explosiveness without completely giving into it, a choice that contributes to its enjoyable mystique. 
HARMONIZE FT. RUGER – "SINGLE AGAIN (REMIX)"
On this affectionate record, the talented duo of Harmonize and Ruger chart the tumultuous progression to being in love and falling out of it. Amidst the vibrant clash of 'Piano drums and choir-esque vocals, it's Harmonize who sets things off with a story-laden verse which depicts why he's unable to love. On his part, Ruger extends the bad boy aesthetic he's created with his songs, his svelte vocals melding perfectly with his host's. A fine record, it's prime to further stretch the ubiquity of its original. 
JOSIAH DE DISCIPLE FT. MALINE AURA – "AMANGA"
On this captivating record, Josiah De Discipline layers the bewitching production which Maline Aura coasts over. Over time the South African DJ has mastered that role of tastemaker, linking up with some underappreciated albeit talented musicians from the country and beyond. Maline does evoke the aura of her name, impressing her lithe vocals with memorable allure over the the knocking 'Piano drums and soulful loops. A song to keep for all times.
TIPSHAN – "ALL OVER YOU" 
Nigerian artist Tipshan got his musical knowledge listening to the greats like 2Face Idibia, Fela Kuti and Burna Boy. His latest song "All Over You" bears traces of those influences, from the Afrobeat-evoking production to the fullness of his vocals. A feel-good affair, it accounts for the memories shared between a man and his lover, wanting to extend its goodness for the foreseeable future. 
PABRYMO FT. ODUMODUBLVCK – "DEY PLAY"
Releasing 'City Boy' just last weekend, a standout from that EP is this sizzling collaboration with ODUMODUBLVCK. Operating from a gritty rap perspective, it's a haunting record that paints life as it goes underneath the glossy frames of popular culture. Both artists are in scintillating form, with PaBrymo's aspirational direction perfectly complemented by Odumodu's short but poignant verse. 
MAJOR LEAGUE DJZ FT. ELAINE & YUMBS – "ALL NIGHT LONG" 
One of the most consistent figures in South Africa, the duo of Major League DJz have released a new song. They pull from their vast network as they feature Elaine and Yumbs, whose vocal contributions enliven the soulful 'Piano production. Their dreamy voices interweave around each other, creating a warmth the song benefits from.
---