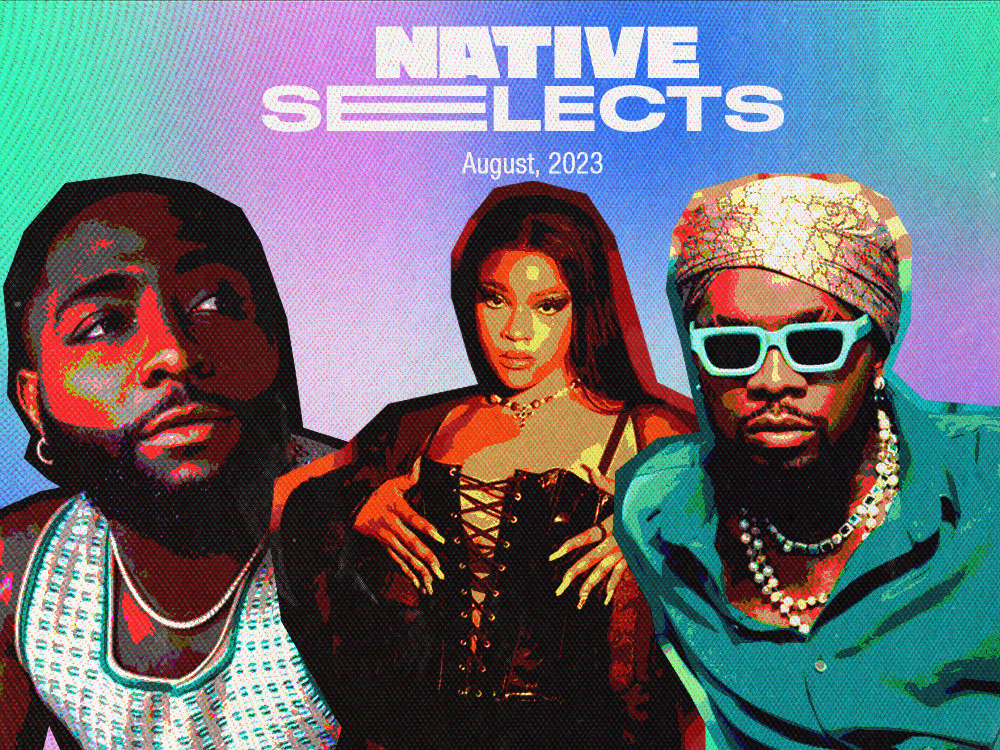 NATIVE Selects: New music from Davido, Abidoza, SGaWD & more
kickstart your weekend with new tunes
Every week, new music shows up, sweeping fans and music lovers off their feet while artists gauge reactions to know the effect of their creativity. At the NATIVE, we are committed to keeping our ears on the pulse of the music scene and bringing the best sounds to your doorstep. In our last edition, we brought you new releases from Tochi Bedford, Cruel Santino and more. Today, we have songs that move from Afropop to Amapiano to R&B, with our select artists showcasing their unending talent and passion for creativity. Lock in!
DAVIDO & MUSA KEYS – "UNAVAILABLE (REMIX)" FT. LATTO
Davido's Afro-House chart-topper is the gift that keeps on giving. After the release of his fourth studio album, Davido dropped a series of cross-continental remixes including Major Lazer. He takes it one step further to tap American rapper, Latto, for a new remix. The iconic introductory verse and hook remain unchanged while Latto taps to match the track's energy in the second verse. She effortlessly rides the wave of the beat in rap as she reminisces on the toxic traits of a previous relationship. An admirable attempt. 
ABIDOZA – "DON'T WANNA LOVE YOU" FT. XENIA MANASSEH & JAY SAX 
After a fairly silent year, mainstay Amapiano DJ and producer, Abidoza, has released a new project dubbed 'Phola.' Right in the middle of the album, he taps Xenia Manasseh for her sweet-sounding vocals on "Don't Wanna Love You," a stellar contribution to the rhythmic Private School Amapiano hits emanating from these parts. Her soulful vocals hold a stark vulnerability as she confesses of being scorned by love over a mid-tempo production gleaming with saxophone chords and funky basslines. 
PATORANKING – "HIGHER"
Patoranking added to his catalogue this year with an upbeat Afro-House-tinged single called "Higher." The track immediately leads in with a bass-heavy drum pattern stacked with melodious strings. "If e no be God, tell me no where I wan dey," Patoranking croons in the first line, attributing all praise to his successes thus far to God. He sustains a joyful and appreciative tone as he thanks God for protecting him from his enemies, accompanied by choir chants in the background. 
REMINISCE – "WHY?" FT OXLADE
"Why?" is a solemn confessional by Oxlade's instantly recognizable notes on, carried along by Reminisce's braggadocious flow. The reigning oja flute draws listeners into the track with its hypnotic notes accompanied by Oxlade's soothing vocals. He addresses his love interest, begging her to stick beside him despite his shortcomings. Reminisce elevates the track with a laid-back flow reiterating his dedication to the muse despite the questioning of several naysayers. 
BAD BOY TIMZ – "LOTTO"
Bad Boy Timz's newest single provides a comical sample from an iconic poem meets monologue by Nollywood mainstay character, Paw Paw. It lays the foundation for a story of love as Bad Boy Timz compares the feelings of joy his love interest provides to that of winning a lottery. He seamlessly transitions between singing and rapping, armed with bars in Yoruba and English over a mid-tempo, drum-heavy soundscape. 
SGAWD – "DUMP ALL YOUR WORRIES ON THE DANCE FLOOR"
Any fans of Azealia Banks or perfect infusions of dance and rap would love SGaWD's new single. She sets the scene with a brief self-affirming message to her listeners, reminding them that she is the hottest in the room. SGaWD commands attention over the track's ethereal production, chanting lyrics such as "Roll a blunt then I move my hips some more," charged with undeniable feelings of euphoria. "Dump All Your Worries On The Dancefloor" inches us one step closer to her highly anticipated project, as she continues expanding the scope of her artistry with other-worldly genre fusions.
KAYODE – "TO THE TOP"
After releasing 'STILL FIGURING LIFE' earlier this year, Nigerian act Kayode returns with a new single. On "To The Top," he narrates his struggles as a rising musician and the ways he kept his belief alive. "I was hustling the money wasn't coming in/In Akoka with my brothers we were struggling/Oh my God I knew I had to level up," he sings. Kayode sees himself on an upward trajectory and celebrates his journey and accomplishments.
KARUN & BLOCKA BEATS – "LIE TO ME (KENZA REMIX)" FT. KENZA
Kenyan alternative R&B star, Karun, returns for a remix of her hit single with Kenza. The single which originally had a gleaming production with underpinnings of SA's dance scene now takes the shape of a futuristic electronic track with Karun's same honeyed vocals. Her vocals hold a raw vulnerability as she beckons on her muse to reaffirm her despite knowing the realities of their failing relationship. Across the single, Karun drifts in and out, allowing Kenza's glowing production to shine through.
---
Words By Nwanneamaka Igwe & Chigoziri Ezeaku
---
Featured image credits/NATIVE