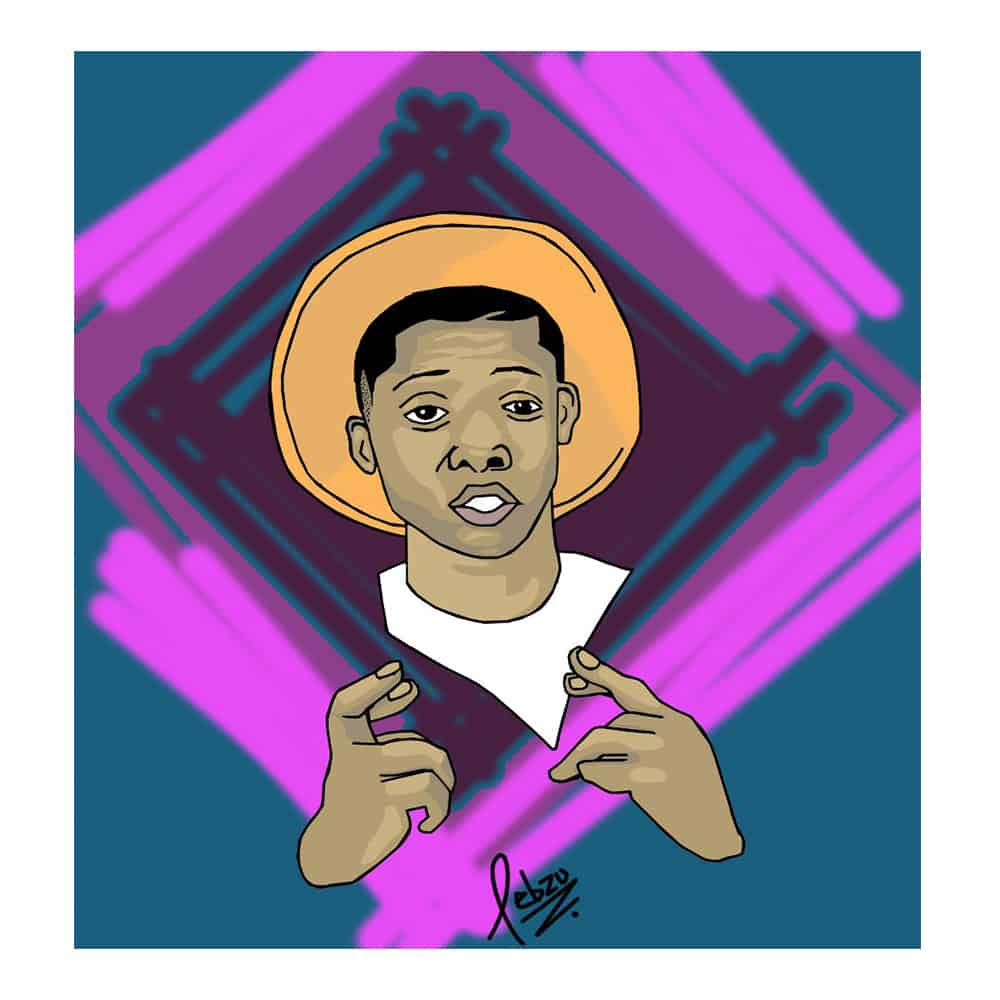 Small Doctor: Storyteller, street ambassador and the last of his kind
He might just be the last great street artist
Words by Ehimenim Agweh
When you first hear Small Doctor's "Gbera", you're not exactly sure what you are listening to. In fact, you would be certain that this music although vibe-y, is meaningless. But, what it really takes to understand where he is coming from is a second listen and a thorough interpretation of Yoruba pop. This is where you begin to see that Small Doctor's song is actually the story about gambling, a social norm deeply interwoven with the poor solitary grime of the ghetto life.
Born Temitope Adekunle, in Ilaje, Ondo State, Small Doctor spent his teens hustling in Agege, Lagos. According to the singer, he took to the streets at an early age. It's unclear why, but as Small Doctor often likes to recount, he attempted a series of odd professions to the disdain of his parents. From hawking drinks and snacks in traffic, to being a bus-boy that plied heavy-traffic routes; from the notorious violence-prone Oshodi to Marina, where the slums met high-rise corporate office buildings. In an interview with GlobalExcellence magazine, he revealed that he juggled these odd jobs alongside music during these years on the streets and recorded his first single "Parapomi" with producer, Penny Wise in 2002.
Small Doctor didn't blow up until maybe 12 years later due to the infamy of his raunchy single, "Mosquito Killer", a street anthem that got him nominated for HipTV's annual Headies award, for Best Street-Hop Artist. Today, Small Doctor is credited to two solo albums that has made him a favourite among the Yoruba and non-Yoruba speaking crowd. As Small Doctor's newest single, "Penalty" brings him on the cusp of mainstream greatness, let's look back and examine what has pushed him into the limelight.
Small Doctor the storyteller
We tell ourselves stories in order to live _Joan Didion, writer and journalist
Crafting a good story is at the basis of good songwriting. But the soul of a great song is in how well that story is told. And this is where Small Doctor excels. His method of weaving lines to become a story hardly follows convention. Sure, it has a beginning and an end but that's just about where it stops. What comes in between is pure madness.
On "Gbera", he seems to be pushing multiple storylines at once. From the retelling of a bet which led to a fight and the arrest of the persons involved, the entire story is told in fits and starts, like a hiccupping car. Each plot line is delivered in a randomised order. Decoding the story is not hard; you just have to fit the pieces together correctly.
But unlike other songwriters who would prefer minimalist lines, Small Doctor goes out of his way to clothe his songs in figures of speech.
Applying suspense and metaphoric expressions to his lyrics is a staple of his songs. It would hardly be a Small Doctor tune if he didn't delay answering the central question of the story while spinning a metaphor and turning a cliché on its head. One neat trick of his is to turn a metaphor into a metaphor of something else, transforming entire songs into story, social commentary and artwork. He literally splashes imagery across the imagination as vividly as possible. There is no subtle teasing or 'have-at-thee' way around it. Because he has lived the life he describes in detail, there is nothing to hide.
Small Doctor the sound maestro
Small Doctor has described his music as FujiPop. Fuji? Yes. Pop? Somewhat. A more accurate description would be a blend of everything Fuji is and is not, mixed with Afrojuju and served on a platter of Pop vocals. His appeal to the mainstream psyche comes from that 'jollofness' which is present in his singing despite the seriousness of his message.
As sub-genres of Yoruba popular music, Afrojuju and Fuji come with their own set of rules and expectations. Fuji for one, is expected to praise and flatter people especially in social gatherings, while Afrojuju presents stories with attached morals and life lessons. Both genres come into play in how Small Doctor sounds.
But one of the more shining parts of Small Doctor's sound is his emphasis on melody. Instead of relying on something ready-made, he moves into harmoning on his own vocals on different keys, replicating his voice on different layers and mixing them into one track. What he does is to essentially  create the feeling of multiple persons going 'Hain!' –as seen more notably in his songs, "Penalty" and "Gbera"– just like the back up of a Fuji live band.
His signature call sign 'Hain!' is a leftover from the days of Fuji bands with dancing girls at owambe(s). This is one call sign which means nothing and everything; an adjunct melody which adds panache and style to the lyrics it follows. His use of this monosyllabic word with no meaning falls back on the very essentials of a great Fuji/Afrojuju set: a gruff yet melodic singing voice, a set of lighter back up vocals and a throwaway word for effect. He has mastered his craft in simply an upgraded version of old-style Fuji, a blend of everything Fuji is is not and will ever be.
Small Doctor the street ambassador
Small Doctor is a descendant of a long line of street musicians. From Daddy Showkey to African China in the early 2000s to Olamide and Lil' Kesh, He is only the latest in the long line of artists who 'rep the streets.' For him, the sad and danceable lyrics of the past assert themselves in his words; singing of the realities of the streets while dropping a wholesome tune.
Nevertheless, Small Doctor is no sugar-coater. What he does is to tell the story of the harsh realities facing the denizens of the hood, tapping into that psyche and immersing himself in a narrative he understands. In "Gbera", his close-up into what goes on in betting houses gives an explanation for how people survive on what they make after placing their hopes on chance. Gambling might be a problem but Small Doctor is only showing you the human side of it. On "You know", Small Doctor describes an interesting neighbourhood, where saint and sinner mix expressly and oddities like dwarf sex-workers are norm. For "Story" one of the feature tracks on his debut album Street Ambassador, Small Doctor reminisces running away from home, and problems with parents who wanted him to do everything else but take to the streets or make music for a living.
Small Doctor champions the ideals of the street without embarrassment. Like any truly great writer, he has put his vices and follies up for display. He examines them in great detail as he offers insight into the everyday life of a man of the streets. He does it in the most glaring way possible without mincing words or skimping on the details. It's a rare feat for someone who is from the streets, a move which not even Olamide has pulled.
Sadly, Small Doctor might just be the last of his kind, the last of the great street artists. His ability to recreate for his listeners the typical hood lifestyle can be recalled in the music of African China's expositions on the common man's suffering. He relates to the world as he sees it as he weaves the narrative around himself. At no point does he cease to be a part of it and it adds to his credibility as an artist.
Small Doctor has begun to lay a foundation for a steady mainstream run with each 'Hain!' he bellows. He might seem incomprehensible now but the beauty of an artist like this lies in his simplicity. The bare yet deceptive phrases, the electronic melodies and a story worth telling. What his legacy to music might be in the long run is yet to be determined. But for now, let us echo the effect "Omo Iya Teacher" has on us in the words of a YouTube commenter: "This crazy song has been in my head for the past week……lmao." 
---
A journalist by training, Ehimenim is a lover of history, good books and Game of Thrones. For her, the real world is just another Westeros and everyone is a supporting character. Read and repeat is her motto. Give her a wave on Twitter @EAgweh.
---