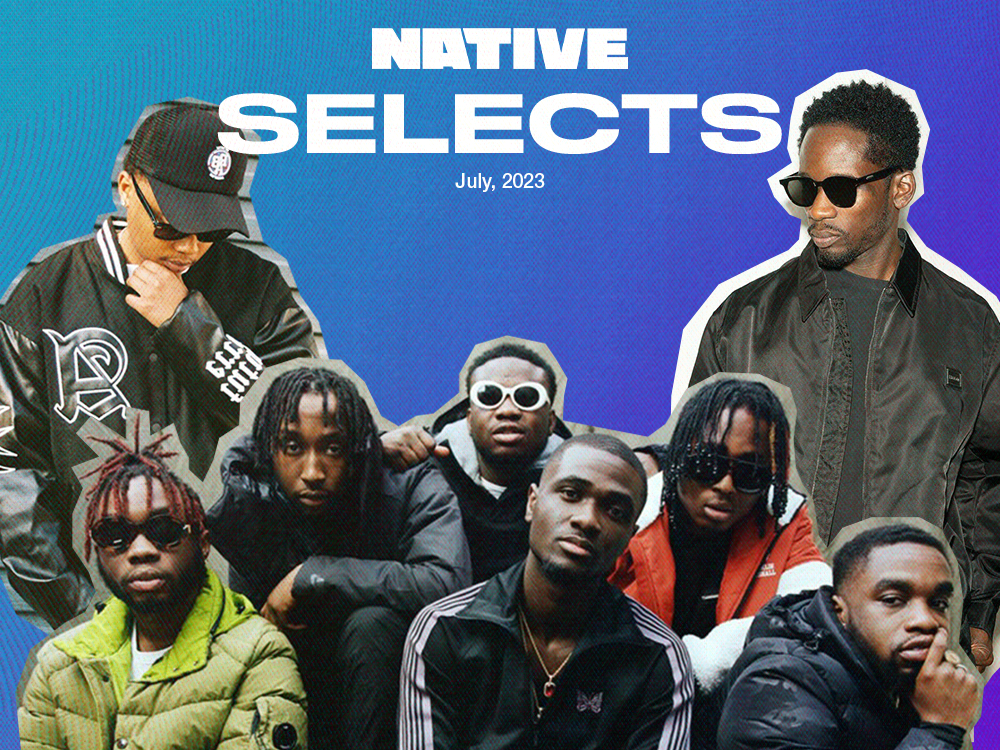 NATIVE Selects: New Music from Mr Eazi, A-Reece, NSG & More
start your week with new tunes
Every week, new music shows up, sweeping fans and music lovers off their feet while artists gauge reactions to know the effect of their creativity. At the NATIVE, we are committed to keeping our ears on the pulse of the music scene and bringing the best sounds to your doorstep. In our last edition, we brought you new releases from Anything With Young Jonn, LIYA, Burna Boy and more. Today, we have songs that move from Afropop to Amapiano to R&B, with our select artists showcasing their unending talent and passion for creativity. Lock in!
MR EAZI – "CHOP TIME, NO FRIEND" 
Mr Eazi announces the release of his long awaited debut solo album on October 27th, 2023 alongside the release of his new single "Chop Time, No Friend." Andre Vibez is the producer behind this playful return to the Banku music sound reminiscent of Mr Eazi's "Skin tight" and "Leg Over" from early musical career. He emphasises the need for focus as on ones grind as he croons, "If I dey chop my mulla/ I no dey look another man face," reiterating that we should ignore all the haters and keep going. 
KING PROMISE & YOUNG JONN – "TERMINATOR"
For the past two-plus months, King Promise has dominated the Ghanaian airwaves with his latest single, "Terminator," a Killbeatz-produced slapper where the singer prioritises his happiness over external opinions. "Who are you to judge me like say you be holy pass?" he questions over the vibrant, log drum-filled beat. Alongside its recent video, the song has been reupped with a new Young Jonn verse, whose verse is similarly centred on his own pleasures. The video is colourful and casts King Promise as a man of the people, fitting for a song where he expresses easily felt sentiments.
NSG & NINES – "RIDE" 
NSG is on it again with another song for the summer. For their recent release dubbed "Ride," the duo taps North London rapper, Nines, for a groovy track accompanied by animated storytelling visuals. The track infuses the organic UK rap with subtle Afropop embellishments and Caribbean influences to push a message of their brotherhood and a slow but steady rise to the top. Nines' effortless flow over the slow-tempo instrumentals is immediately apparent as he raps, "They say it's lonely on top/ I got rich with the gang." The pacing picks up with the entrance of the duo, reiterating the tracks message of looking out for one another. 
BELLA ALUBO – "PARTY GYAL"
Bella Alubo's new release "Party Gyal" serves as a follow up to her previous hit track "Sober." On "Party Gyal," there's a reassurance from Bella to her lover that she'll always be there when she's needed as long as the feelings are reciprocated. The call and response becomes clearer on the melodious hook as she croons, "Party Gyal – E dey for you." 
G'AZA – "SABI DEM"
"One blow, one die, use your number 6/I go give you half caste, you be lebanese," G'aza raps on his new single, "Sabi Dem." Over floor-shaking 808 bass and ominous samples, the Lagos-raised rap artist spits irreverent bars, toting his street cred and bragging of the very Nigerian fuel behind his burning ambition. Every line is rapped with a mix of hunger and poise, a biting approach that also works to strengthen the song's appeal.
A-REECE – 'PARADISE 1.5′
For the last three years, South African rap veteran A-Reece has been teasing the sequel to his highly-rated debut album, 'Paradise'. While a release date has yet to be announced, there's a feeling that the long-awaited project will be out soon, bolstered by the recent drop of the 3-pack single, 'Paradise 1.5'. All three songs culminate into a showcase of A-Reece as a standout lyricist and dynamic rap artist, moving from boisterous to heartfelt to introspective. His skill-set is already proven and, amidst his continued prolific streak, this new drop is only warming fans up for the eventual main event.
BELLA SHMURDA – "DND"
On his newest single, the effervescent Bella Shmurda joins forces with Lil Kesh. "DND" is a song about many things, folding a mischievous rhythm into its percussion while Shmurda croons about being left on his own. His guest however evokes the pomp of outside, giving the record the flamboyant quality that Pop music thrives on. As a precursor to his 'DND' project which is expected tomorrow, it's a sweet tease and an unrestricted invite into the incoming sounds of Bella. 
DANDIZZY – "MORALE"
One of the more consistent rappers operating from Port Harcourt, DanDizzy has the streets on lock. From establishing his cred as a brilliant freestyler, he's released songs cut from the ethos of those spaces, and the mood behind his new single "Morale" is no different. Set by an omniscient beat with menacing vocal chops, he unfurls bars with razor sharp storytelling and punchlines. It's the kind of song to make you say Hip-Hop's back, even though it never went anywhere. 
REEKARH – "OMO DADA"
A most talented artist, Reekarh has been honing her sound over the years. Now she's here, a signee of Parabellum Entertainment. Her debut single "Omo Dada" harkens to the beauty of her voice; over sparse, soulful strings, her luscious vocals are brought into full form as she sings about the trials of life and becoming triumphant over them. It's a powerful performance, one which situates her sonic genesis within the plains of R&B but also contemporary afropop and folk, particularly the stirring invocations of her native Igbo people.  
Featured image credits/The NATIVE
---
Words by Chigoziri Ezeaku, Emmanuel Esomnofu, Dennis Ade-Peter & Nwanneamaka Igwe
---