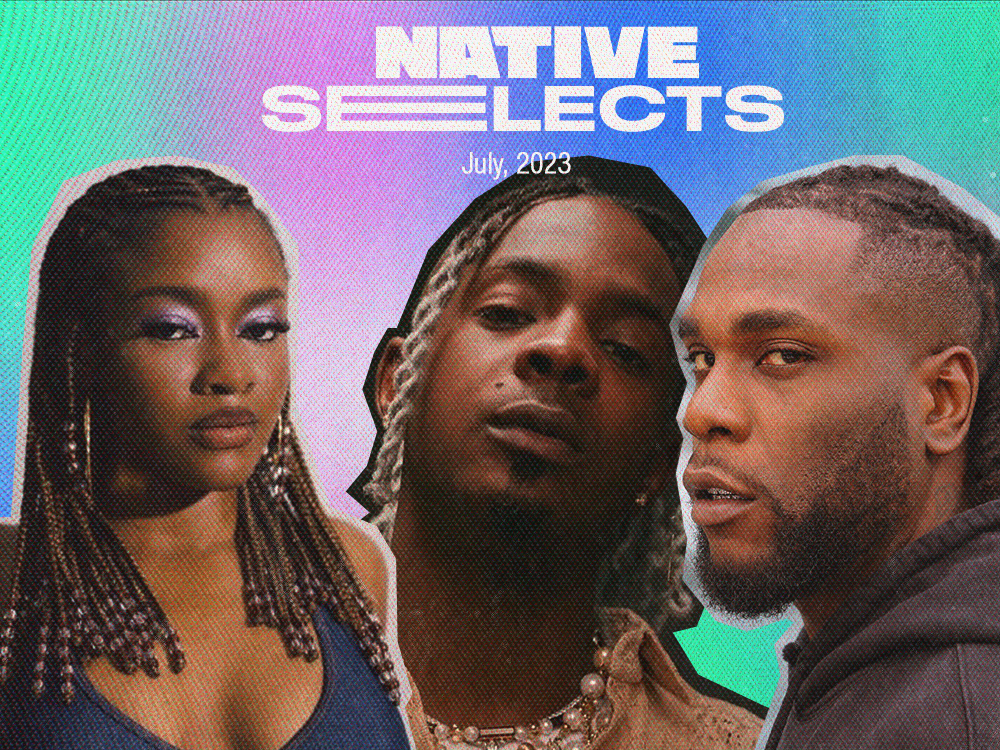 NATIVE Selects: New Music from Burna Boy, Young Jonn, LIYA & More
Top picks from new music Friday
Every week, new music shows up, sweeping fans and music lovers off their feet while artists gauge reactions to know the effect of their creativity. At the NATIVE, we are committed to keeping our ears on the pulse of the music scene and bringing the best sounds to your doorstep. In our last edition, we brought you new releases from Anything With Yusef, BOJ, Oxlade and more. Today, we have songs that move from Afropop to Amapiano to R&B, with our select artists showcasing their unending talent and passion for creativity. Lock in!
BURNA BOY & BRYON MESSIA – "TALIBANS II"
Bryon Messia's "Talibans," from his project 'No Love', has been enjoying massive success. For the remix, the Jamaican act taps Nigerian star Burna Boy for a gripping tune about the rough patches of life. Burna Boy, who recently performed at Apple Music Live, injects the track with grit as he fires shot after shot at his detractors. He and Bryon Messia take "Talibans II" up a notch with convincing and memorable performances. 
YOUNG JONN – "SHARPALLY"
Young Jonn has been on a roll this year with gems like "Stamina" and "Aquafina," and his recent release is evidence that he is far from slowing down. The Chocolate City signee on "Sharpally" expertly transforms a love-themed track into a party with the aid of the captivating log drums commonplace in Amapiano. He charms his love interest with smooth lyrics as he tells her the just how hooked he is on her love, "You dey high me like I'm on colos, on colos." His unreplicable production style shines through on the tracks hook as the subtle flute chords aid him in serenading his love interest. 
LOGOS OLORI – "JAYE LO"
Last we heard of Logos Olori, he was delivering his smooth vocals on the standout R&B-tinged track off Davido's 'Timeless.' Now a DMW signee, Logos Olori's "Jaye lo" arrives with an upbeat and instantly rhythmic soundscape. The Magicsticks-produced track holds subtle Afro-House embellishments as he anticipates great success in the near future. He smoothly dabbles between Yoruba and English with the backing of intoxicating log drums as he croons "When I get this money, all of them go dobale." He is preparing our ears for what's to come with subtle indications of what the future hold. 
QING MADI & BNXN – "OLE" 
uNder alum Qing Madi and BNXN collaborate for a Pop-infused number. On "Ole," they consider their romantic attachments as well as their struggles with self. "Everybody's fine but they can't be you/Even if they wanted to do," Qing Madi sings as she comes to terms with her imperfections and strengths. BNXN complements her performance with an introspective peek into his lifestyle as a star and its straining demands.
KIZZ DANIEL – "COUGH (REMIX)" FT BECKY G
For the greater part of 2023 "Cough (ODO)" was rocking the airwaves in these parts with its upbeat, jovial beat. Kizz Daniel is not shying away from international collaborations as he taps Becky G for an equally captivating remix. The track leads in with the signature cough intro as Kizz takes the first verse in a similarly groovy rendition. Her light and mellifluous vocals take over half way through the track as she smoothly dives in armed with lyrics in Spanish and English.
CRAYON – "NGOZI" FT AYRA STARR
Off his debut album 'Trench to Triumph,' Crayon and fellow Mavin Records act Ayra Starr appreciate the benefits of a romantic connection on "Ngozi." "Wetin you put for dis your jollof/You've gat my heart and my soul on lock/And I wanna go crazy with you/Through the night till the sun come up," Ayra Starr sings. Both artists, with Sarz's production, make "Ngozi" one of the best songs off Crayon's album.
IDAHAMS – "WETIN NO GOOD (REMIX)" FT. ELTEE SKHILLZ & DANDIZZY
Idahams' "Wetin No Good" borders on the territory of sweet lamentation as he sings of his lover's effect on him. On the remix, he invites Eltee Skhillz and DanDizzy to join in his lamentation-cum-praise. Both Eltee Skhillz and DanDizzy keep their verses lighthearted and in line with the message of Idahams' song. With its Amapiano-influenced production, "Wetin No Good (Remix)" makes a fun, enjoyable track.
BIMS – "IFE" & "FIRE"
Rising Nigerian singer Bims kicks off his 2023 with a two-song pack. While both songs are love tunes, Bims approaches the songs from different sonic directions. "Fire" is a mid-tempo tune as Bims highlights his smooth vocals to serenade a love interest. On "Ife," the rhythm is uptempo, with Amapiano leading the way for Bims to speak his mind to his lover. Both songs show Bims as a promising artist.
VUSIC – "HISTORY"
New artist on the block and Marlian music signee, Vusic, has started a good run with "History." In his first single, Vusic sings about his humble beginnings, bidding farewell to pain and sorrow. He smoothly acknowledges the days of darkness and gives gratitude to God. Vusic starts his music career on a promising note. He has a lot in store. He's just beginning. 
LIYA – "I'M DONE" & "POWERFUL"
Ex-DMW songstress Liya arrives with two singles, "I'm Done" and "Powerful." In "I'm Done," Liya sings about difficulties that come from leaving a love interest. However, she holds an optimistic tone as she looks forward to the blessing that a new day might hold. While Liya talks about her love gone sour in "I'm Done," for "Powerful," she takes on another course as she sings about her strength and gratitude. In smooth vocals, Liya restates her strength and establishes herself as an artist to look out for. 
Featured image credits/The NATIVE
---
Words by Nwanneamaka Igwe, Uzoma Ihejirika, Chigoziri Ezeaku & Alex Omenye 
---