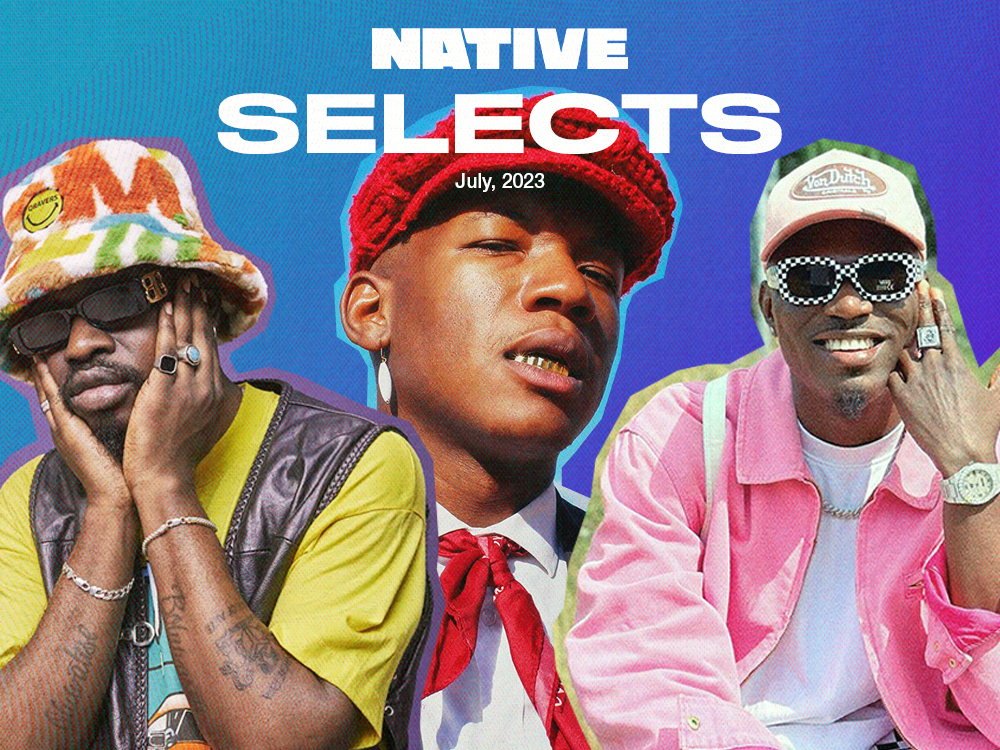 NATIVE Selects: New Music from Anything With Yusef, BOJ, Spyro & more
new week, new tunes
Every week, new music shows up, sweeping fans and music lovers off their feet while artists gauge reactions to know the effect of their creativity. At the NATIVE, we are committed to keeping our ears on the pulse of the music scene and bringing the best sounds to your doorstep. In our last edition, we brought you new releases from DEELA,  Adekunle Gold, The Cavemen and more. Today, we have songs that move from Afropop to Amapiano to R&B, with our select artists showcasing their unending talent and passion for creativity. Lock in!
ANYTHING WITH YUSEF – "STUCK IN MY MIND" & "FEEL SOMETHING" 
Off a two pack release dubbed, 'Chaos Theory,' "STUCK IN MY MIND" offers an upbeat groovy record with Anything with Yusef's melodious vocals addressing the hold his love interest has over him. He seamlessly rides the wave of the beat with baritone background vocals that complement his lush melodies. His bares his heart on the track as he repetitively croons on the tuneful pre-hook "You still stay stuck in my mind." Similarly, on "FEEL SOMETHING," he holds a warm vulnerable tone over more low-tempo instrumentals characterised my rhythmic drums. Veezo View assists the track with a captivating verse where he raps over the trap-leaning beat.
BOJ – "CAN'T BE STOPPED" 
The first iteration of 'Gbagada Express' presented a staggering roster of guest features over Boj's unreplicable soundscape. He followed up with 'Gbagada Express Vol 2: Moving Mad' with an equally impressive tracklist, showcasing the Alté pioneer's skilled penmanship over 9 love-themed songs. He recently combined the two for a deluxe version with a new track, "Can't be stopped" serving as the project's intro. He taps into the wave of Afro-House inspired tunes currently dominating the sounds from these parts. The Adey-produced track features prominent log drum embellishments accompanied by subtle whistling sounds. His sonorous vocals croon across the track's length about focusing on his grind, "I just dey pray that I don't lose my way, I just dey pray that I don't go astray." 
JHUS – "MASCULINE" FT. BURNA BOY 
When you see these two on a track, it already promises to be a good time. Going as far back as "Sekkle Down" off Burna Boy's 'Outside' or "Play Play" off Jhus' 'Big Conspiracy,' the pair have proven to be a match made in sonic heaven. So when the Gambian-British rapper prepares for a resounding comeback after a three year hiatus, it only makes sense that his long time collaborator. "Masculine," which sits at the top half of Jhus's 'Beautiful And Brutal Yard,' leads in with lush low-tempo chords produced by Lexi Lennox and TSB. The daunting instrumental at the introduction creates the perfect atmosphere for Jhus' smooth bars. Burna takes over shortly, picking up the pace with a seamless flow between rapping and singing. 
OXLADE, DAVE – "INTOXYCATED" 
Oxlade and Dave join forces on this brooding low-tempo track "Intoxycated." Led in smooth piano chords, the melodic drum pattern takes over accompanied by Oxlade's harmonious vocals. He addresses his love interest driven by heavy feelings of sadness and longing. He imagines what their life together could look like as he croons, "I for take you overseas, me and you for be like 5 & 6."  He critiques her non-committal attitude towards him after realising she was only with him for financial gains. Dave takes over mid way through, equally stressed by feelings of regret attributed to unreciprocated feelings of love. 
SOUND SULTAN – "MONEY RACE" FT. SPYRO
It's been two years since Sound Sultan passed. The man is a legend of Nigerian music and his influence on the culture is never in doubt. In this latest posthumous release featuring Spyro, Sound Sultan delivers a catchy and relatable tune. "No dey bring me trouble/I dey face my hustle," Spyro sings, complementing Sound Sultan's call for listeners to face their journeys and strive to succeed. "Money Race" exalts dignity in labour.
SIGAG LAUREN & RIC HASSANI – "COACHELLA"
Sigag Lauren is a pioneer of electronic dance music in Nigeria, remixing tunes from Johnny Drille to Chinko Ekun. On 'Wish You Were Here(E),' his collaborative EP with Ric Hassani, Lauren, also a DJ, producer and singer, creates a soundscape of electronic rhythms with an African identity. Ric Hassani is the vocal star on "Coachella" as he tells a love story about the happy memories forged between lovers. It is a bubbly music that tugs at the heartstring.
EESKAY & MOJO AF – "DOMINATION"
Eeskay and MOJO AF continue to strengthen their synergy. The last time that the pair collaborated on "No Excuses," they showcased incredible wordplay and flows, resulting in a solid rap song. Here, on "Domination," they change gear, putting their rap styles into a dance tune. Over Baniclava's Amapiano-influenced track, they rap about their dominating certain areas of their lives and being on top of their worlds. They also keep things light and fun, making "Domination" fit for the dance floor.
JHUS – "MILITERIAN" FT NAIRA MARLEY 
As the sounds from these parts continue to cross over, we are seeinf more outstanding collaborations between acts we know and love; the UK rap and Afropop scene being a crowd favourite. This has recently expanded to include Street Pop key players like Naira Marley for captivating renditions like that of "Milietrian." The Stuart Hawkes & P2J-produced track holds an Afropop-leaning soundscape, laced with a rhythmic drum pattern and lush saxophone chords. The pair glide effortlessly back and forth with sex and love-themed bars. 
Featured image credits/The NATIVE
---
Words by Nwanneamaka Igwe & Uzoma Ihejirika. 
---