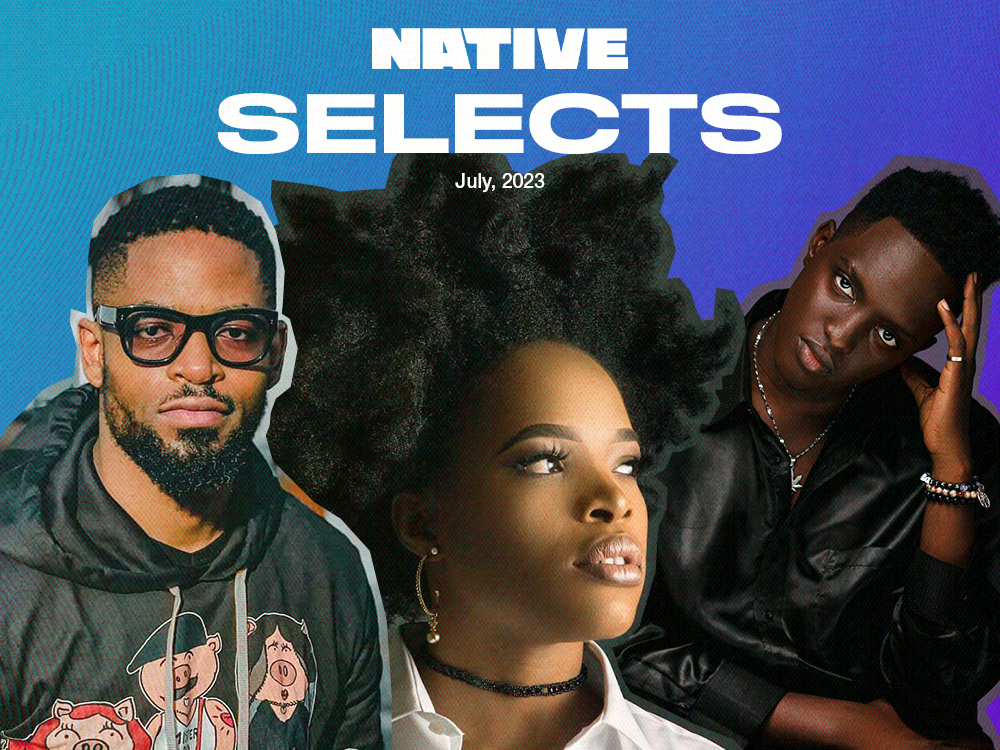 NATIVE Selects: New music from Prince Kaybee, Spyro, Joshua Baraka & More
Essential new releases from across the continent.
Every week, new music shows up, sweeping fans and music lovers off their feet while artists gauge reactions to know the effect of their creativity. At the NATIVE, we are committed to keeping our ears on the pulse of the music scene and bringing the best sounds to your doorstep. In our last edition, we brought you new releases from Blaqbonez, SGaWD, Shallipopi and more. Today, we have songs that move from Afropop to Amapiano to R&B, with our select artists showcasing their unending talent and passion for creativity. Lock in!
PRINCE KAYBEE – "CATHEDRAL"
Prince Kaybee is the gift that keeps on giving. A few short weeks ago, he shared an 11 track project dubbed 'Music Theory', laced with ethereal house and electronic elements paired alongside hypnotic African percussion embellishments. Now, he returns with "Cathedral" with a high-tempo production free of vocal accompaniments. The pace of the track gradually builds up with the inclusion of a lush drum pattern and mellow keys. All the while, a deep chant drifts in and out of the track as the piano's low cadence contrasts its EDM details. 
JOSHUA BARAKA – "NANA (REMIX)" FT. KING PROMISE, BIEN & JOEBOY
Joshua Baraka is Uganda's bonafide breakout star of the moment. The singer has been releasing music for over two years and he scored his biggest song yet with "Nana" earlier this year. He followed it up with a pan-African remix featuring Ghanaian superstar King Promise, Kenyan icon Bien and ubiquitous Nigerian singer Joeboy, the trio of guests adding their own flavour of charisma to the sleek, dancehall-indented slapper. The remix now has a colourful video to go with the song, which should further its reach as Joshua Baraka seeks to become a continental phenomenon.
SPYRO – "FOR YOU" FT DIAMOND PLATNUMZ, TENI & IYANYA
Spyro has enjoyed tremendous success with "Who's Your Guy?" and its remix with Tiwa Savage. For his latest single "For You," Spyro takes the route of a pan-African collaboration as he recruits Nigerians Teni and Iyanaya and Tanzanian superstar Diamond Platnumz. "For You" is a love song where all artists take turns delivering affectionate lyrics to their lovers and the endless romance they aspire to. With its uptempo production with Amapiano elements and crowd vocals, "For You" might be Spyro's next hit track.
OKIEMUTE – "NO DRAMA"
Since releasing her debut single "African Woman" in 2018, Okiemute has been steadily refining her craft and sound. The Nigerian singer, who won the music reality TV show Project Fame West Africa in 2016, also put out her 'A Star' EP in 2019. On her newest single "No Drama," Okiemute informs her lover she wants no part of chaos. She makes this clear with a detailed evocation of the sex-filled and pleasurable life she imagines for both of them. With her sultry vocals, "No Drama" is a total pleasurable experience.
SAVAGE – "MAJO" FT. BLXCKIE & DJ MAPHORISA 
Savage's newly released album, 'That Uzere Boy' taps an impressive list of talents across Africa including Victony, WurlD, PsychoYP and more. A standout from the stacked 13-track release would have to be Blxckie and Maphorisa assisted, "Majo." The Afro-House infused number interestingly leads in barely audible whispers and the infamous log drums. As he addresses his muse, Savage brags of being the life of the party. He openly admits his admiration for her as he croons on the tracks pre-hook "Girl I swear, I'm obsessed with your waist/Girl I wan taste your body."  A smooth arrangement of mellow keys close out his verse and queue Blxckie's paired perfectly with Maphorisa's effortless production. 
LOTI- "CLOSURE"
Nigerian R&B singer Loti digs into the rollercoaster of romantic intimacy with a lived-in approach, employing a first person approach that gives his songs a relatable feel. On "Closure," he ruminates on the aftermath of a crumbled relationship, reminiscing on his initial hopes and the multiple ways his partner stretched and eventually broke his heart. Over a soft groove, his sorrow is overt, every melody coloured by the tangible dourness in his voice.
ALPHA OJINI – "APAPA"
Alpha Ojini is one of Nigerian music's hardworking acts out there. The rapper, songwriter, producer and sound engineer has had his hands on tunes from both established and up-and-coming acts. Off his three-track 'The Efeleme Pack', "Apapa" is a standout song. Over a Drill beat, Alpha Ojini recounts his experiences as a young Nigerian who faces the threat of poverty. He vows to stack the money, rapping, "I'm trying to be a rich nigga with no manners." "Apapa" is a tune for those hustling to escape the jaws of poverty.
WANGECHI & BURUKLYN BOYZ – "MBIZO"
On the Drill-influenced "Mzigo," Wangechi and Buruklyn Boyz converge to toss around braggadocious lines about their indispensability. The Kenyan rappers, who are part of the country's blooming rap scene, grab the beat by the scruff of its neck and each act flows verse after verse with a clear hunger and swagger. "Mzigo" is instantly catchy as the artists look out for payday and demand street cred.
Featured image credits/The NATIVE
---
Words by Dennis Ade-Peter, Nwanneamaka Igwe, Uzoma Ihejirika & Emmanuel Esomnofu. 
---