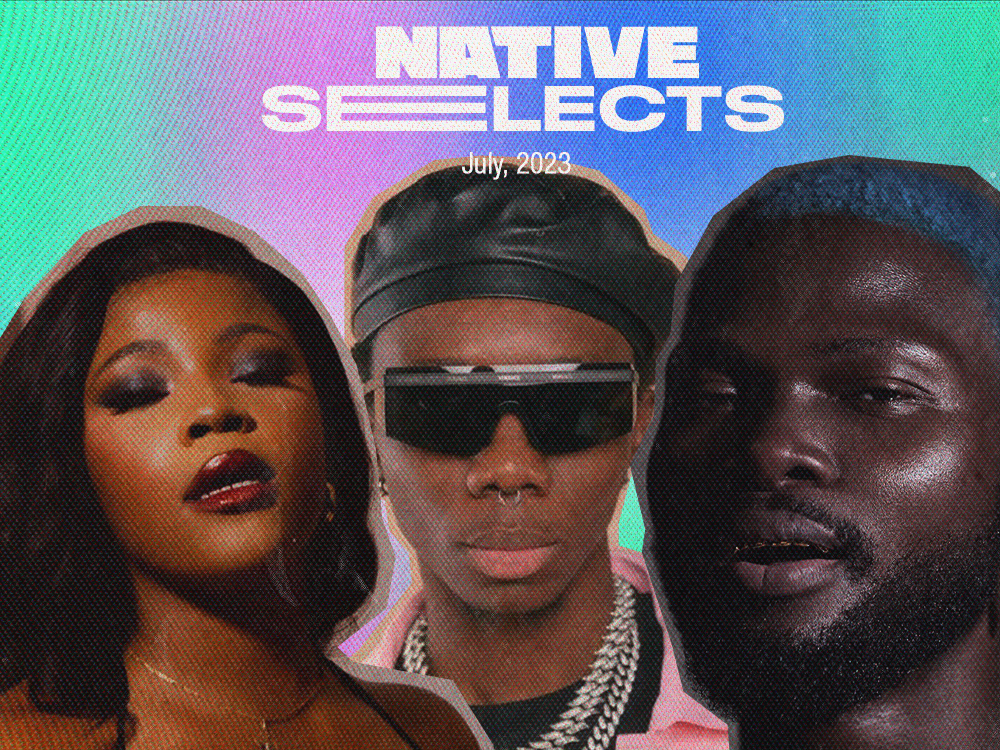 NATIVE Selects: New Music from Blaqbonez, SGaWD, King Promise & More
new tracks for the weekend
Every week, new music shows up, sweeping fans and music lovers off their feet while artists gauge reactions to know the effect of their creativity. At the NATIVE, we are committed to keeping our ears on the pulse of the music scene and bringing the best sounds to your doorstep. In our last edition, we brought you new releases from Maya Amolo, KCee, AYLØ and more. Today, we have songs that move from Afropop to Amapiano to R&B, with our select artists showcasing their unending talent and passion for creativity. Lock in!
BLAQBONEZ – "LIKE ICE SPICE" & "LIKE BEZOS"
Nigerian rappers love talking about two things, money and women. When the snippet dropped, many fans -myself included- thought Blaqbonez was attempting to shoot his shot at the people's princess but after a couple of listens, "Like Ice Spice" has no relation to the rapper, Ice Spice. However, he does mention her in the chorus with the comparison "When she go down, do like Ice Spice." While he isn't talking about Ice Spice, he is talking about unapologetically going for what he wants even if that is your girlfriend. The rhythmic beat supports his glaring rhyme scheme as he raps with several backup vocals. "Like Bezos," as you'd expect, is about just how long Blaqbonez's money is. He brags of a lavish lifestyle filled with diamonds, partying and travelling every other night. 
Nwanneamaka Igwe
WURLD & SARZ – "LOCATION" 
Following their standout chemistry on joint EP 'I LOBVE GIRLS WITH TROBUL' back in 2019, Sarz and singer-songwriter, WurlD are a match made in heaven. Sarz creates a gleaming atmosphere with a captivating Afro-House beat and when WurlD comes in, his vocals are nothing short of airy and exciting. He playfully serenades his love interest with an earful of promises, "Anywhere you dey my love, I'll be on my way my love," assisted by flute embellishments. 
Nwanneamaka
LIL KESH & YOUNG JONN – "FEELING FUNNY" 
Since making the pivot to being a recording artist, Young Jonn has been on a great run. He teams up with Lil Kesh on "Feeling Funny," in anticipation of the latter's 'Rhythm and Tunes.' Lil Kesh and Young Jonn, whose histories tie to the magic moments they wrought during their time at Olamide's YBNL, create a banger of a track as they serenade their love interests with adulation. 
Uzoma Ihejirika
JAZ JONES & FIREBOY DML – "ME & MY GUITAR"
Fireboy has had a busy year. To name a few, he lightly dabbled on an experimental House sound with "Someone" -oddly reminiscent of Drake's "Texts Go Green"– then joined Zlatan for another remix of Shallipopi's "Elon Musk." He continues to expand the scope of his sound as he taps British House-Electronic producer, Jaz Jones for his recent release. We receive Jones' rendition on high soprano notes with the assistance of a mid-tempo drum pattern and guitar strings. Midway through, Fireboy takes over singing about chasing his hopes and dreams. 
Nwanneamaka
BELLA SHMURDA & LIL KESH – "DND" 
Ahead of his upcoming EP, 'DND,' Bella Shmurda continues to use acronyms in his names, adding "DND" to his catalogue of songs. The upbeat song explores a variety of topics, especially those pertaining to women, while showcasing the distinct styles of Bella Shmurda and Lil Kesh.
Alex Omenye
SGAWD – "BOY TOY" 
On this Tochi Bedford-produced track, SGaWD taps her seductive side as she sings and raps about a relationship with a sexual partner. She clearly establishes her non-committal intentions and sheer focus on her grind over a mid-tempo instrumentals driven by an enchanting drum pattern "Get litty, get paid that's commandment number 1/This is time to hussle this is time to have the fun."
Nwanneamaka
KING PROMISE & YOUNG JONN – "TERMINATOR" 
Ghana's King Promise is one of those artists that have promoted pan-Africanism with singles and collaborations that crisscross the continent from either producer to featured artist. For the remix of his single "Terminator," he taps Nigerian music star Young Jonn; both acts sing about their refusal to let life's obstacles keep them away from reaching their wins. They compel themselves to the film-inspired protagonist in how they dismantle all challenges.
Uzoma
JOHNNY DRILLE – "THE BEST PART"
For most of his career, Johnny Drille's reputation as a crooner of love ballads has been cemented time after time. Even when he tenders to friendships or appreciates his father's care, there's always an emotional softness to the songs. On his newest single "The Best Part," the Mavin Records act hits closer to home. The song is a celebration of the love between Drille and his wife, as he promises her the best parts of himself.
Uzoma
SHALLIPOPI – "EX-CONVICT"  
Shallipopi's "Elon Musk" has been one of 2023's defining tracks. With features from mainstream acts Zlatan and Fireboy DML, the track has put a spotlight on Shallipopi's street-smart, catchy lyrics and intriguing personality. He keeps the fire on with "Ex-Convict," an Amapiano-influenced track where he drops nuggets about the daily hustles of the Nigerian youth and how they indulge in different acts to make money or keep themselves sane.
Uzoma
JUJUBOY – "SPACEMAN" 
On "Spaceman," Afropop act Jujuboy is both a loner and in need of companionship. Over production by Canadian duo Banx and Ranx, Jujuboy debates about his place in the heart of his lover interest; he seeks clarity while also revealing he can be alone and still be happy. "Spaceman" sparkles with elements from Pop and R&B, which he garnishes with his melodious vocals. 
Uzoma
SHADDY JAY & FEELINGZ – "NEW"
Music producer-cum-artist Feelingz pairs with Shaddy Jay for "New" as they contemplate the ups and downs of life. "New life/New everything," they sing whilst reminiscing on the pressures and obligations they must cater to. For them, being alive is a chance to make use of the opportunity to be the best version of themselves.

Uzoma