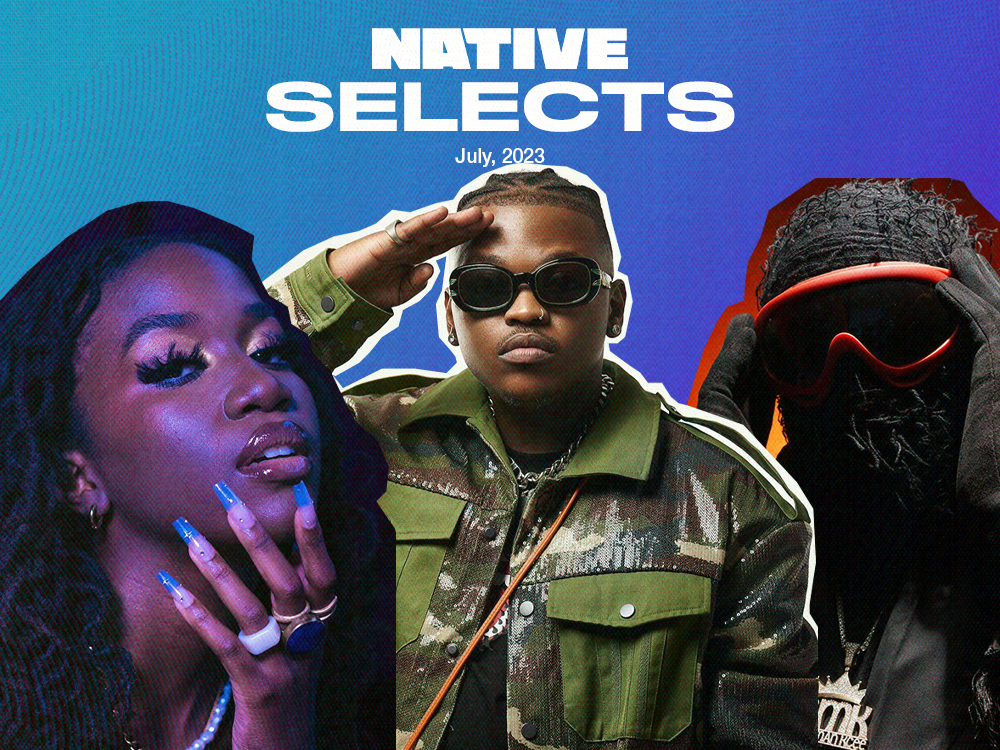 NATIVE Selects: New Music from Maya Amolo, KCee, AYLØ & More
new songs for the week
Every week, new music shows up, sweeping fans and music lovers off their feet while artists gauge reactions to know the effect of their creativity. At the NATIVE, we are committed to keeping our ears on the pulse of the music scene and bringing the best sounds to your doorstep.
In our last edition, we brought you new releases from Wizkid, Nasty C, Tekno and more. Today, we have songs that move from Afropop to Amapiano to R&B, with our select artists showcasing their unending talent and passion for creativity. Lock in!
KCEE – "OJAGINGER"
Kcee made a resounding comeback to the scene with his recently released "Ojapiano," successfully solidifying a decade-long relationship between Nigeria and South Africa. With the local spiritual flute still at the forefront of the record, Kcee returns for another iteration on "Ojaginger." The Oja flute leads in the upbeat track accompanied by a rhythmic drum pattern and subtle whistling sounds commonplace in Amapiano. Kcee briefly addresses his muse with undeniably joyful, high-tempo vocals. For the remaining run time, the instrumentals take centre stage, closing out the track on an energetic note.
AYLØ – "CATCH UP!" & "LIGHTS"
Soul-fusion singer AYLØ has built a significant portion of his catalogue on exploring the preciousness of intimate connection between two people, how incredibly fun it can be and the unquantifiable joy of reciprocated attention. On his new two-pack release, "Catch Up!" and "Lights," AYLØ's words are flowery, even when the situation isn't entirely wholesome. On the former single, he serenades a cutty buddy over tropical guitars, an ode to the time shared and the time spent apart without any emotional obligations. On "Lights," he's joined by Minz over Higo's iridescent groove, and the pair sing to love interests that make them "lose myself to you."
MAYA AMOLO – "COTTON CANDY"
Mayo Amolo has mastered the art of sultry alternative R&B that seeps into the psyche with mellifluous vocals. The Kenyan artist whose project 'Asali' was on the NATIVE's Best R&B Projects of 2022 list continues to dig deeper for melodies that mirror situations in contemporary times. On "Cotton Candy," the singer is in wonderland as she appraises a love interest while spilling her desires. The SirBastien-produced track bounces with mellow log drums that maintain harmony with Amolo's vocals and affection-laden lyrics. 
FOCALISTIC & MHD – "FIRE"
Off his acclaimed 2022 album, 'Ghetto Gospel', South African rap artist Focalistic has shared the video for "Fire," the collaborative effort with French rapper MHD. Over a colourful Bacardi-tinged Amapiano groove, courtesy of Felo Le Tee and Mellow & Sleazy, the pair are in boastful form, proclaiming that they're "never gonna miss." In the new video, Foca and MHD match their raps with excited performances, passing the mic back and forth in one scene, while dancing side by side in another scene as they're surrounded by a hype crew.
LAIME – "7 IN THE MORNING" FT. LOJAY
Following the release of his Odumodublvck-assisted track, "Where Dem Dey," Laime taps Lojay for his second release of the year. In alluring production by Dami Rore, "7 in the Morning" builds up with an acoustic drum pattern and lush saxophone chords. The pair ride the mid-tempo wave of the beat with sensual vocals addressing their love interests. They glide back and forth across the track reiterating the feelings of being lost in love. 
OLAKIRA – "ILEKE" & "KISSES"
Ever since the hit song, "In My Maserati," Nigerian act Olakira hasn't slowed down. He has consistently kept up his standard, winning loyal fans along the way. He ventures into the two-song-pack row to showcase his talent with "Ileke" and "Kisses." Both songs are Amapinao-tinged tunes Olakira employs to address matters of the heart and the female anatomy. "Ileke" and "Kisses" are feel-good songs for lovers and to ignite dancefloors.
EESKAY – "RECOVERY"
Menacing sonics are a mainstay in Drill music, but the potential for novelty within that template is very possible. "Recovery" embodies those motivations, its striking drum loops and scratchy synths establishing a grimy feel. The Abuja-based rapper Eeskay is in prime form throughout its run time, oscillating between flows which switch from boastful Pidgin to suave rapper, and then to Apala—all without losing its bite and coherence. Basically, it's a song that highlights his peculiarities as a rapper while reiterating his zest to keep hitting at the highest levels. 
HOTKID – "ON COLOS"
Emerging from that humorous world of TikTok, "On colos" has been one of the year's most enduring catchphrases. On the exactly titled record, Hotkid paints a riveting image of a youngster who gives in to the drug and its storied manifestations. Even with the weighty theme, Hotkid's approach is cool and collected, presenting the narrative in sonic balance with the breezy 'piano-inflected production. Ultimately it's a song that would make you groove, but also give you a bit to laugh and a lot more to think about. 
IDYL – "PRETTY BIRD"
In 2017, Idyl—born Daniel Diongoli—won the second season of the music competition The Voice Nigeria. Since then, he has released singles, with last year's EP 'Indulgence' marking his debut project.  Although "Pretty Bird" was part of 'Indulgence,' it's been re-released as a single. It is a track about the longing for companionship as Idyl  pins for his lover's presence, singing, "Pretty bird/Don't fly away." The rhythms are soft but the piercing clarity in Idyl's vocals is enough indication of the song's passion. 
MOORE DH – "ON ME"
Last week, rising artist Moore DH released a new two-pack. Both affirming his knack for dreamy-eyed romance, the accompanying production swirls with spacey elements. "On Me" has a bit of everything in that regard, boasting Amapiano drums while ceding space for horn playing in the background. This vibrant soundscape coerces a memorably energetic performance from Moore, whose inflexions also carry distinct effervescence. "La Familia" being the other song from the release, its mood hints at broodiness, a sonic antithesis to what's on offer here. 
WAPO – "BLOOD FOR BLOOD" 
The levels of sonic experimentation across African music are at a mesmerising high. Blending eras and sounds, the amorphous quality isn't grasped with caution but rather flamboyantly, with total confidence. "Blood For Blood" showcases such talent; Wapo's heartfelt record has shades of mid-2000s R&B, the stuff of P-Square and Bracket, but the soundscape also soars with psychedelic influences, carried by a simple, menacing drum base. Its arrangement of background vocals also contributes to its ominous atmosphere. 
SAMUEL KAIZAR – "YUSROH"
R&B remains the ideal conduit for passionate expressions of romantic yearnings, that's why its influence can never be understated in a Nigerian pop scene that's love and lust-crazed. On his debut single, "Yusroh.," Samuel Kaizar is consumed by his feelings of infatuation towards the titular muse, the drawl in his voice wringing out every last bit of feeling from his plain lyrics. "Yusroh, you fill me with desire/for you I roar," he sings, his lovestruckness apparent in every slightly ludicrous line.
Featured image credits/NATIVE