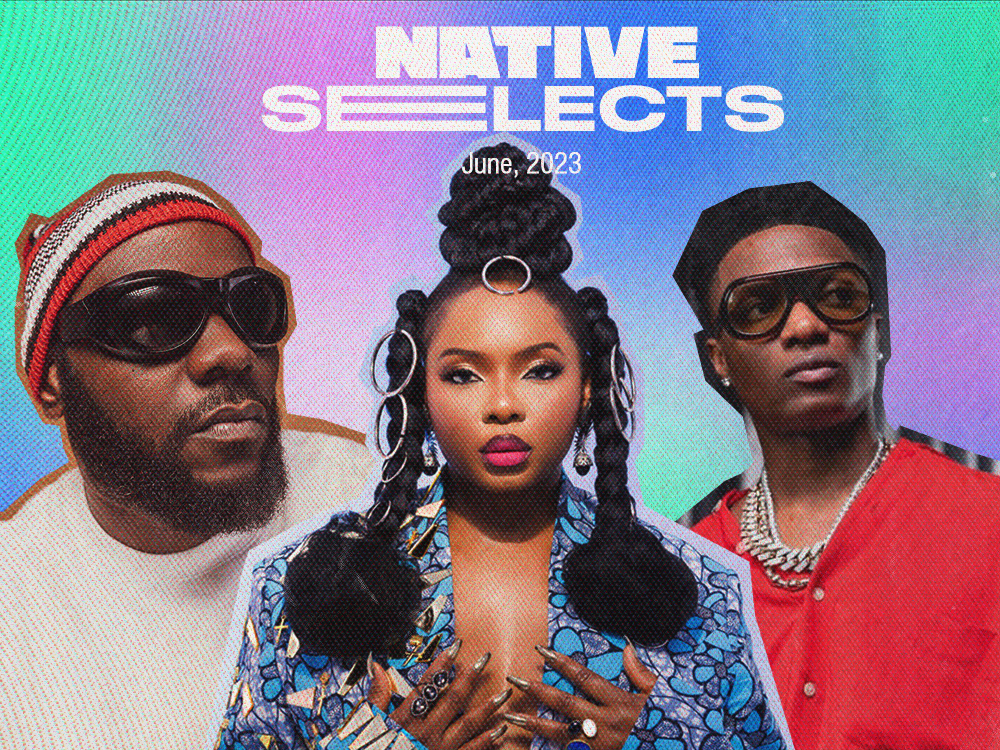 NATIVE Selects: New Music from Wizkid, Nasty C, Tekno & More
new releases for the weekend
Every week, new music shows up, sweeping fans and music lovers off their feet while artists gauge reactions to know the effect of their creativity. At the NATIVE, we are committed to keeping our ears on the pulse of the music scene and bringing the best sounds to your doorstep.
In our last edition, we brought you new releases from Burna Boy, Fireboy DML, Lady Donli and more. Today, we have songs that move from Afropop to Amapiano to R&B, with our select artists showcasing their unending talent and passion for creativity. Lock in!
WIZKID & DJ SPINALL – "LOJU"
Heavy log drums and light shakers have become commonplace in Afropop in recent times and I'm not mad at it. For the recently released "Loju," DJ Spinall and Wizkid join forces with one of the most sought-after producers at the moment, Blaise Beats, for a magical rendition with Wizkid. The track is introduced with intoxicating instrumentals, accompanied by whimsical adlibs by Wizkid. He expertly rides the wave of the beat as he smoothly serenades his love interest, "Tonight I want you, only you// Na only you I wan dey run back to."
Nwanneamaka Igwe
ODUMODUBLVCK – "FIREGUN" FT. FIREBOY DML 
Ever since making his entry on the scene, ODUMODUBLVCK has been intentional about his musicality. He sings as well as he raps, while his continuous homages to popular Nigerian culture have proved a winning formula. On "FIREGUN," it's the bounce of early to mid-2000s music he channels, stacking sensual innuendos into the mid-tempo groove. Fireboy DML turns in an evocative shift, his R&B roots more visible than he's shown in recent times. The result is a song true to its creators, while its stylistic revelry reaches a colourful and groovy effect. 
Emmanuel Esomnofu
TEKNO – "PEACE OF MIND"
Nigerian singer-producer, Tekno, is in a self-reflective mood for his new single as he preaches about trusting the process and shutting off all exterior noise. He is assisted with lush guitar keys and a steady, rhythmic beat as he explains the benefits of patience in a journey like his. The song holds a strong message with a captivating hook that goes "Peace of mind is underrated, that's why I'm patient because I know my time is now."
Nwanneamaka
YEMI ALADE – "FAKE FRIENDS (IRÓ ÒRE)"
The concept of fake friends is quite popular in Nigerian circles. People aren't what they seem, and everyone should selfishly guard their hearts and interests. On that note, Yemi Alade's new song adapts the trope to deliver a typical groove. Fast-paced loops and a buttery drum base provide the landing for her assured singing, as she unfurls old tales about being slighted. It's a trite theme, but she makes good of the vibrant production, her vocals effervescent and delivered in good measure. 
Emmanuel
NASTY C – "NO MORE"
With a recent appearance on the freestyle platform Fire in the Booth, South African artist Nasty C has been making plans for his forthcoming studio album. He offers a peek into what he has in store for his audiences with the latest single "No More." The song is a grass-to-grace tale of Nasty C's rise to stardom and his determination to be one of the best rappers of his generation. With "No More," courts and heightens attention for his album.
Uzoma Ihejirika
CRAYON – "MODUPE"
It's been a while since Crayon released new music, but for sure, the talent's never been in doubt. In the presence of any naysayers, the Mavin Records artist's new song culls in light 'piano drums to reflect the oneness of his existence. Thankful and boastful in equal emotiveness, it's a cherry-toned song which reiterates Crayon's distinct approach to crafting bangers. As much as we can hear, he's still got it.
Emmanuel
ZORO – "GOOD LIFE" FT. MAYORKUN
On "Good Life," Zoro and Mayorkun toast to the easy pleasures of life. "Suffer no fit me/Hard life no fit me at all/Struggle no fit look good on me," Mayorkun sings. Over Blaisebeatz's mid-tempo production, Zoro raps about the challenges he has surpassed and how enjoyment is the current thing on his mind. Mayorkun's hook further colours "Good Life" with a motivational tinge for a track that is the opening chapter to a forthcoming LP.
Uzoma
SHALLIPOPI, ZLATAN & FIREBOY DML – "ELON MUSK REMIX"
Like the track was not thrilling enough, Shallipopi taps Fireboy DML for the remix of remix for his hit song, "Elon Musk." The track, as expected, still retains its catchy instrumentals paired with Shallipopi's sonorous vocals and Zlatan's boisterous rap. On this version, Fireboy DML takes over following the first rendition of the chorus backed up by warm, choir-like vocals. He sings of everything from getting high, being proud and interactions with his love interest in a few short seconds. Shortly after, Zlatan takes over to close out the track on high notes.
Nwanneamaka
BOYBREED & MAMBA SOUNDS – "ENTA"
Nigerian duo BoyBreed collaborate with talented artist and producer Mamba Sounds for the enchanting single "ENTA," which infuses elements of Afropop and R&B. It is BoyBreed's third track of the year following "Again" and "Priscillia" with Dj Dynamiite and Minz. On "ENTA," they sing about their undying devotion to their love interests and the mushy feelings they elicit in them.
Uzoma
SUPA GAETA – "DON'T LEAVE ME ALONE"
For his first single of 2023, Ghanaian UK-based act Supa Gaeta pins for the affection of a woman. "Don't Leave Me Alone" tells a story of yearning and passion as Supa Gaeta confronts his love interest to be honest about his feelings for her. In his own words, the song "explores the vulnerability and pain that can arise from unrequited love." It features production from Yung D3mz with co-production by David Acekeyz & Supa Gaeta.
Uzoma
RAYTHEBOFFIN, 3KENE & TIM LYRE – "LIFELINE"
As he prepares for the release of his debut EP 'Freckles,' Abuja-based artist-producer Raytheboffin gives a taste of things to come with "Lifeline," a groovy tune that borrows blends R&B, dancehall and electronic music. Alongside 3kene and Tim Lyre, Raytheboffin creates an experimental yet bubbly track that is meant for a slow night after a hard day's toil. 
Uzoma
BR3NYA – "OUTSIDE"
Ghanaian-born, London-based singer and rapper Br3nya flaunts her pedigree on "Outside" as she fires shots at those who dare to compare themselves with her. Sampling Tic Tac's Tony Tetuila-assisted "FeFe Ne Fe," Br3nya, with sharp lyrics and efficient delivery, curates a summer anthem for the girls and their friends. The Melody Berkery-directed music video is an ode to Nollywood films Mean Girls and Girls Cot.
Uzoma
Featured Image Credits/NATIIVE