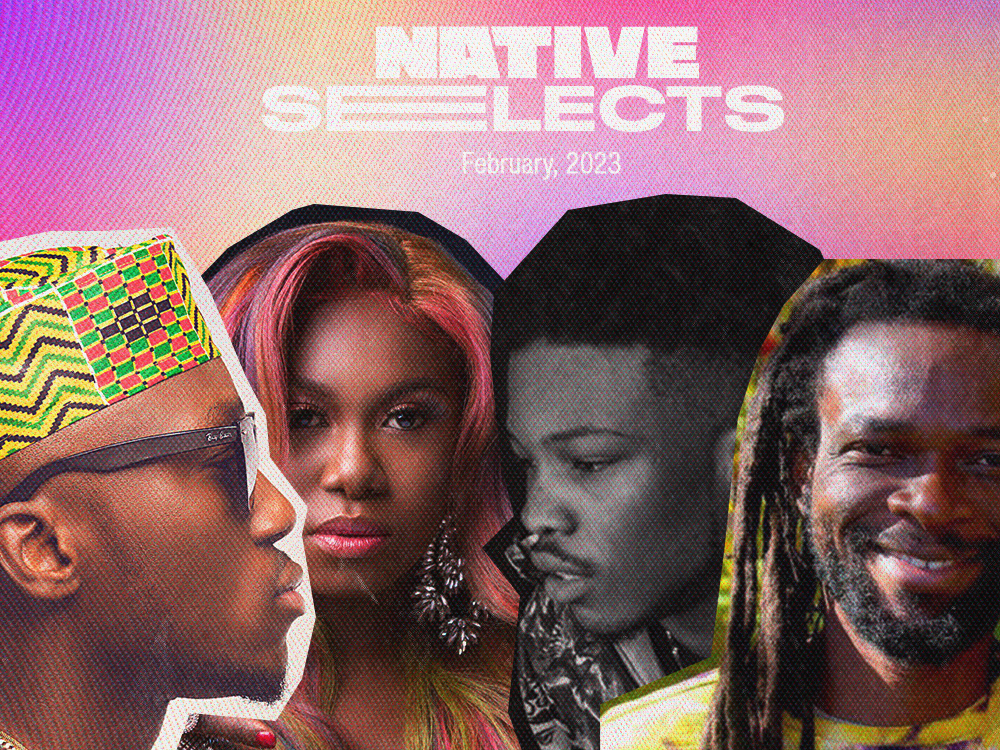 NATIVE Selects: A List of Best Songs This Week
mid-week jams
It's that time again. Every day, new music shows up, sweeping fans and music lovers off their feet while artists gauge reactions to know the effect of their creativity. At the NATIVE, we are committed to keeping our ears on the pulse of the music scene and bringing the best sounds to your doorstep.
To close out your week, we brought you a double release from Rema and a slew of singles from BNXN featuring Kizz Daniel and Seyi Vibez, Enny and more. Today, we have songs that move from Afropop to Amapiano to R&B; these artists—from Nigeria, South Africa, Kenya, and more—showcase their unending talent and passion for creativity. Lock in!
DJ SPINALL- "JUST TO BE" ft. JESS OF VANJESS 
Leading up to the release of his sixth studio album, superstar DJ Spinall piqued our appetite with hit singles such as Asake-assisted "Palazzo" and "Bunda," featuring Olamide and Afropop newcomer, Kemuel. 'Top Boy' brags of musical range and expertise as showcased by some of the biggest names in Afropop today- Niniola, Amaarae and more- sitting alongside international hitmakers like 6LACK and Summer Walker. However, a standout cut from the project is the smooth-sounding "Just to Be," with Jess of VanJess. Immediately led in with soothing saxophone chords and hypnotic drum patterns, Jess offers up her mellifluous vocals as she harmonises the lengths she would go to be in the presence of her love interest. 
Nwanneamaka
SUPERJAZZCLUB – "WICKED"
Ghanaian music group, SuperJazzClub have been orchestrating some of the most eclectic productions to come out of West Africa. On their latest single "Wicked," the group weaves tales about their come-up and the industry through futuristic production. With no holds barred, they sing "Fuck the opps, make dem sing this song" over an infectious hook with a propulsive bounce that finds the trio admonishing the naysayers who have looked down on their abilities.
PATORANKING – "ABOBI" 
No stranger to political and societal conscious songs, Nigerian artist Patoranking's latest release "ABOBI" is an Afrobeat-style record from his forthcoming album. In the song, the name Abobi is a pseudonym for the ordinary Nigerian citizen living under dire conditions, caused by political and societal ineptitudes. The song calls attention to police brutality, inter-neighbourhood wars and tribal and religious conflicts.
Uzoma
CASTRO – "EASIER"
The mellow saxophone opening up to "Easier" creates a vivid image of the complexities of love, creating the perfect backdrop for Castro. Crooning over the stealth production creating an undeniable groove to the song, he reminisces over the comfort alcohol brings when declaring your emotions or dealing with trivial issues. The compulsive snares reflect the sorrows and intensity of relationships. 
Tela
THA BEATSMITH- "YEMOJA"  
Known for frequently collaborating with Ogranya, the producer known as Tha Beatsmith is an accomplished purveyor of sound. He proves this on the just released 'Ywme' which means 'Youth Was My Excuse,' a nine-track project that takes on identity and the young individual. Varying perspectives enliven the direction, and on "Yemoja" he arrives a fitting closer. Bright percussions meet the floating tenderness of piano keys, giving the record a House vibe, amplifying the mystic suggestion of its title. In the end it's a pleasurable song, exuding good vibes as the vocals build around the beat. 
Emmanuel
FRESCOOL – "MAGICAL (MORIMIWU)"
uNder alum, singer and songwriter Frescool is back with another rhythmic number titled "Magical." The mid tempo record sees the artist switching between his Yoruba dialect and English as he professes his deepest feelings for his love interest. Over the melodious Alhaji Tunga-production, he chants on the chorus "O n mori miwu o, omo yen mori mi wu o" which translates to "this girl is making my head swell." 
Wonu
NINIOLA – "MEMORIES" 
A valentine's special, Niniola taps into her vulnerable side for the Niphkeys-produced slow tempo number. On "Memories," her first single for the year, Niniola's soulful vocals shine through the ethereal strings as she glides between Yoruba and English to deliver a heartfelt rendition of heartbreak. Different from her usually upbeat Afro-house numbers, "Memories" serves as an official introduction to her new album slated for release next month. 
Nwanneamaka
DJ WICKED & POSI – "APART" 
Posi's honeyed vocals have an appealing allure that draw you in when listening to her. Her vast vocal range has seen her music get increasingly hypnotic with each release. Proving her artistic genius, she teams up with DJ WICKED releasing her debut album 'Trouble Of The Heart.' Posi's graceful vocals earnestly soar over the gentle violin strings and soft keys on standout number, "Apart," immediately drawing you into a world of unrequited love. "Don't know if we will be together even if I say we will," she chimes flirting with the thought of commitment.
Tela
BEAUTIFUL NUBIA – "A LE TENTE" 
Beautiful Nubia embodies the pure quality of roots music. For over two decades the folk musician has released albums of refreshing wisdom, pairing his signature storytelling with live grooves. 'Olumuyiwa' was created to honour the memory of his mother and the majestic scope of "A Le Tente" sets the ball early on. It's a riveting account of the duo's relationship, sung in the warmth you'd expect from such a virtuosic performer. A sweet ease into the album, the record never fails to leave an impression even after repeated listens. 
Emmanuel
JANELLE MONÁE – "FLOAT" FT. SEUN KUTI & EGYPT 80 
American singer and rapper Janelle Monáe taps Afrobeat act Seun Kuti and his Egypt 80 band for "Float," the lead single off her forthcoming fifth studio album. "Float" is a shimmering Jazz/Pop-influenced song, which draws inspiration from a host of influences including Muhammed Ali, Mary Poppins and Aladdin. It is anthemic music that shows Janelle Monáe's growth and self-confidence as she levitates over her doubts and fears.
Uzoma
Featured Image Credits/The NATIVE