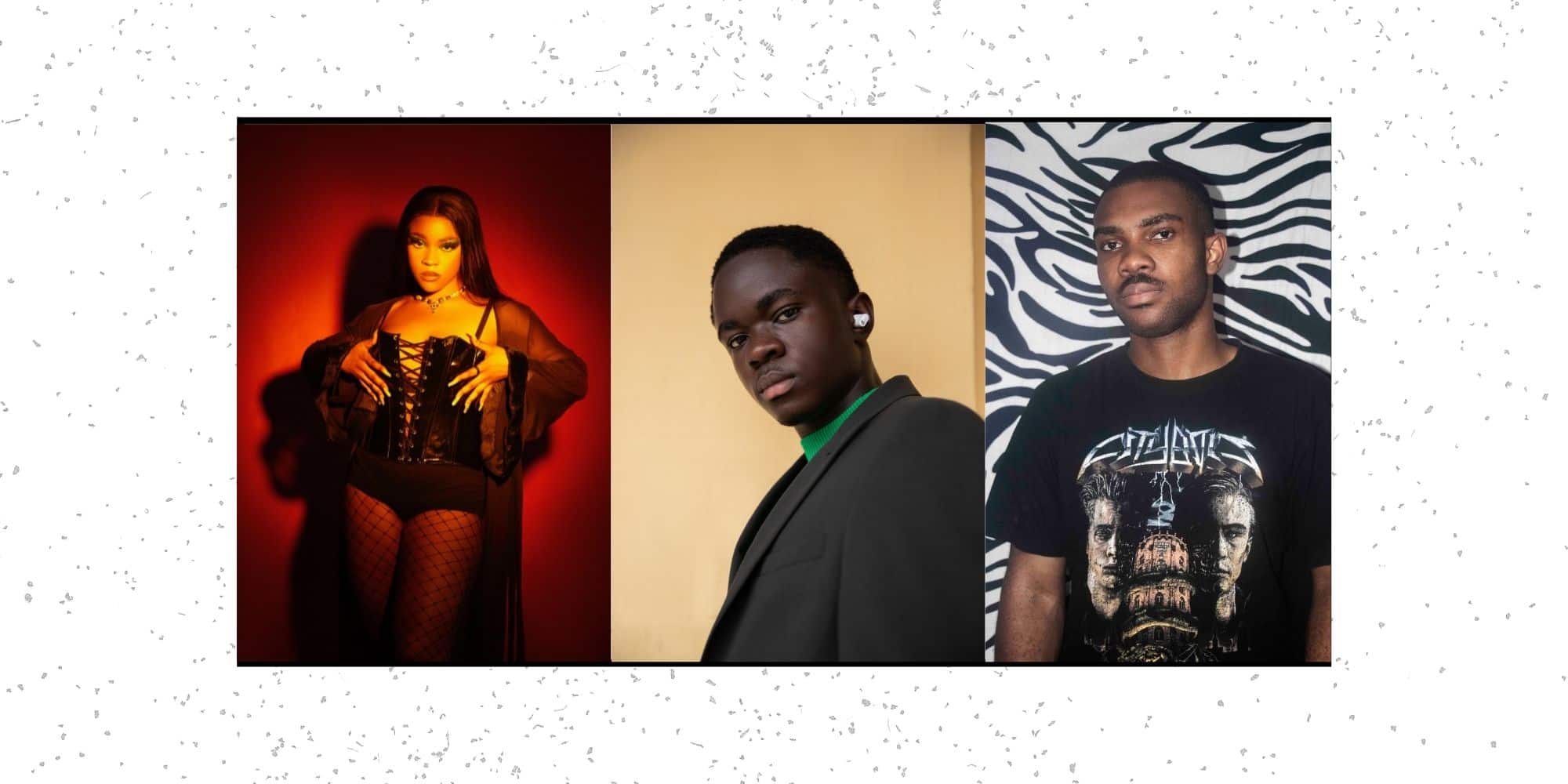 Songs Of The Day: New Music From SGaWD, Yaw Tog, Tochi Bedford & More
new music
As the year winds down, the sheer number of music we receive at The NATIVE keeps growing at an exponential rate. With live shows back in full swing and Afropop hits such as Wizkid's "Essence" and CKay's "Love Nwantiti" climbing the charts both home and abroad, there has never been a more exciting time than the present for the ever-evolving sonic landscape. Through it all, we remain committed to the ideal of music discovery and sharing that is a big part of what we stand for.
That's where our Songs of the Day column comes in. We're doing the work to stay on pulse with all the music coming out from across the continent and beyond, bringing you exciting songs of tomorrow: today. Last time out, we had exciting music from Mayorkun, Wande Coal, The Cavemen amongst others. Today, we're bringing you new music from our NATIVE'S August Digital cover, Yaw Tog; sounds from SGAWD, SESS, Tomi Thomas and many more.
Sess – "Cover" ft. Psycho YP
Multi-genre producer, singer and songwriter Sess is here with his sophomore project 'Spotlight.' On the 7-tracker, he is joined by Teni, Falz, Simi, PsychoYP and more. On the self-produced PsychoYP-assisted standout track "Cover", Sess sings over the mid-tempo production of the track "Je kin toju re baby je kin toju re/Cover you baby, cover you", he quips on the hook of the track. PsychoYP follows in briefly and delivers a stellar rap verse on the track.
SGaWD – "Ain't No Way" ft. Princess Mami
After a series of freestyles, singles and features, SGaWD is here with her debut EP 'Savage Bitch Juice'. The 16-minute long 6-track EP shows off the singer, songwriter and rapper's ability as an artist. The standout track "Ain't No Way" featuring Princess Mami has both artists talking about being in charge and remaining at the top in an audacious tone over the heavy production of the track, creating a feel-good track. "Bitch ain't no way, nigga ain't no way/ Bitch ain't no way, nigga not today" she quips on the chorus of the track. 
Yaw Tog – "Sei Mu"
Ghanaian drill rapper and NATIVE's August Digital Cover star Yaw Tog is here with his new single "Sei Mu". Since stepping into the limelight and gaining attention, Yaw Tog has easily gained an audience always looking out for him. On the uptempo track, the artist sings "wo di me kaaa ah/Send me my money, I need it right away" in an audacious tone.
Saint Austiin – "Rather Be"
For his post-Lethal Emotions release, 44DB producer, singer, and songwriter member Saint Austiin collaborates with Manuel Cole & Veen to deliver the single "Rather Be". The mid-tempo trap track has the artists singing to their respective muses about where they have them placed in their lives. On the chorus of the track, the artist sings "I'm here in dark and I keep searching for you, Counting the stars and I know you feel it too/All of your energy, Don't take it away from me, there's no place i rather be, I'm telling the truth". All artists deliver a stellar performance over the heavy production of the beat.
Tamera – "Good Love" ft. Tay Iwar
Tamera, on this track, teams up with Tay Iwar to deliver the sonorous and influential track "Good Love". On the Tay Iwar-assisted track, she uses her powerful and audacious voice to sing "I'll give you something you won't ever find in no one else/You tell me you know but you don't even know yourself", expressing her emotions for her muse and what she has to offer. Tay comes in shortly after and delivers a smooth and melodic verse. Both artists compliment each other perfectly.
Tochi Bedford – "Benjis" ft. Odunsi The Engine
Founder of producer collective 44DB, Tochi Bedford debuts his debut 7-track EP titled 'After Eternity'. The 17-minute long tape features artists such as Bratzbih, $hadow, TAPZ GALLANTINO and more, as Tochi showcases his artistic ability. On standout track "Benjis", he teams up with Odunsi The Engine and delivers a stellar performance as he sings over the heavy production of the self-produced track
Tha Boy Myles – "Get Loose"
For his newest release, Myles is here with the single "Get Loose", an Amapiano infused track that has the artist delivering a romantic number to his muse, explaining how he wants to be with her and do all he can for her. He sings on the hook, "I wan dey with you my baby/Black melanin she dey burst my speakers"
Fuse ODG – "Booze Anthem" ft. Quamina MP & Kofi Kinaata
The British-Ghanaian hitmaker Fuse ODG, popularly known for his hit song "Antenna" has linked up with singer and songwriter Kofi Kinaata and Quamina MP to release the new record "Booze Anthem". The award-winning musician drops this track since his last work with Dr Cryme on the song "WOW" but his last official song before the release of "Booze Anthem" is "One in a million" which was released back in August.  "Booze Anthem" is traditionally an Afrobeat song with a dance hall vibe as the artists fill the track with their individual tones and native language. The song speaks on living your best life and enjoying the benefits of your labour. 
Ladipoe – "Afro Jigga" ft. Rema
Ladipoe has just dropped his latest EP 'Providence', a 6-tracker that sets out to encapsulate this moment in time in his career. On the Rema-assisted standout track "Afro Jigga," both artists make a worthy showcase of their rapid-fire musical abilities. Ladipoe's mellow and somewhat soulful rap and Rema's high-pitched unique vocals blend effortlessly with the euphoric yet catchy production. 
Cross & Ajebutter – "Feeling Funky"
Cross d boss, an ex-Big Brother Naija housemate from the 2021 shine ya eye season, has decided to fill his fans with love and entertainment as he Teams up with the musical artist and close friend Ajebutter to release the much anticipated single "Feeling Funky". Cross D Boss is known for his never-ending energy and constant nightlife routine it's no surprise that the reality has decided to create music that highlights his vibe and love for Amapiano music. The TMXO and Spinall-produced track is filled with an up-tempo Amapiano beat which was inspired by his funky approach to life and partying when in and out of the Big Brother house. Ajebutter's deep and smooth voice merges well with cross' humorous and repetitive lyrics. 
DJ AB – "Supa Supa" ft. Mr Eazi
DJ AB has just released a new EP titled 'Supa' which hosts the catchy titular track known as "Supa Supa." In this track DJ AB taps Mr Eazi for an upbeat Afro dance sound which will certainly get listeners on their feet this weekend. Mr Eazi did not disappoint with his raspy deep voice which comes in seamlessly with the beat in such an ear-pleasing way and the hook is extremely catchy. This is definitely a song that deserves to be on your playlists. 
Tomi Thomas – "Hopeless Romantic Remix" ft. Wale
Back again with his hit single "Homeless Romantic" but this time the multi-talented Nigerian artist Tomi Thomas links with world-renowned American rapper Wale, who just released his latest project 'FOLARIN'. This remix gives everything and more you expect with such talent from both artists. The level of chemistry, vocals, sound and melody brings back a nostalgic feeling from the first single with the reggae style beat and sound but in an elevated way with the addition of Wale's Verse. 
Midas the Jagaban – "Harley2Joker"
Closing out the summer and initiating the coveted "cuffing" season, London-based mcee Midas the Jagaban has released her long-awaited single "Harley2Joker." Aptly released on Halloween, the new romantic number finds the masked singer crooning about a love interest that she is unable to let go of. Serving melodic vocals and harmonies on a fun bouncy Afropop beat produced by PB, the self-proclaimed Joker herself gives us the perspective of both characters on the record with a fun back and forth throughout. With "Harley2Joker," the rapper is already whetting appetites for what's to come on her debut mixtape out next year.
Featured image credits/NATIVE