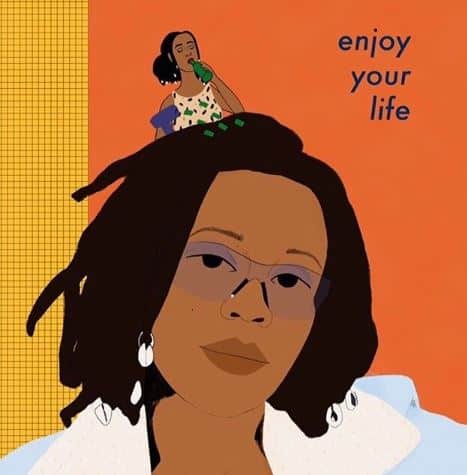 Lady Donli Is Ready To Enjoy Her Life
A timeline showing the evolution leading up to Donli's debut album
For the better part of this year, singer-songwriter Lady Donli has been stoking the hype for her upcoming debut album, 'Enjoy Your Life', due this Friday, August 9th. While official debut LP releases often come with some rookie jitters, the Abuja-raised artist has been strutting around with a palpable sense of confidence. And why wouldn't she; she's padded her résumé, releasing several singles and projects leading up to this momentous point in her career.
In the grand context of Lady Donli's career, 'Enjoy Your Life' is the singer's fifth project. The projected retro-inspired lean of the coming album highlights her commitment to fine-tuning her abilities over the course of her four previous projects through intriguing reinventions with each subsequent release. This evolution-based path showcases how widely varied her music is/can be, while also reemphasizing the core elements of her arsenal: a freakishly distinct vocal texture and a penchant for expressive songwriting.
Donli released her first two projects before she had even discovered the full potential for distributing content online as only her last two tapes are available on digital streaming platforms. Though this leaves little context to go by for speculating on the quality of both mixtapes, they are foundational releases with impressionable features.
In 2014, the singer dropped her first project, 'Love or War', a 12-song mixtape that traversed a wide array of music choices, plenty of which hasn't aged too well but ultimately shows promise. "You A Learner" recall's Brick & Lace's uber-smash, "Love is Wicked", with its electro-reggae beat and vindictive jeering at an ex; "Queen of Hearts" channels '90s shiny suit era R&B; while final track "Nothing On Me" is a sassy kiss-off set to a New Jack Swing groove, given extra pomp provided by its EDM fervour.
As a singer, Donli was clearly still working out the kinks of her vocal delivery on the tape, with her melodies tumbling and flowing in equal measure. In comparison to her latter work, she sounded like she was trying a bit too hard. On a far more positive note, though, her writing was steeped in realism, giving the songs their soulful core. Bouncing between odes to self-discovery and love songs fixed on the frayed end of messy relationships, 'Love or War' relied heavily on its being relatable.
Most representative of that period is "Mr Creeper", the third song on the tape, and her first song to gather substantial attention and radio spins in her Abuja locale. Produced by Tay and featuring an outstanding rap verse by Suté, the song is a glassy-eyed diatribe against trifling lovers, over a warm combination of lightly threaded piano riffs and groovy, mid-tempo Afropop drums. "Mr Creeper" highlighted Lady Donli's burgeoning pop sensibilities decently.
Her second time around, though, the music was sonically focused. By contrast to the paint by numbers output of 'Love or War', 2015's 'What is Perfect?' is far more stripped down and showcases Lady Donli's improved vocal control. Relying on an earthy mix of contemporary R&B and Soul-inflected Afropop, the 10-song mixtape is an intimately crafted set brimming with smouldering, subdued grooves. Kyrian Asher's blinding spoken word performance on opener "Ne Plus Ultra" is scored by chipmunk samples and hip-hop drum breaks; the Odunsi-produced "Dead Roses" pairs a lead acoustic guitar with clattering percussions; while the Tim Lyre-assisted "Love on the Moon" is set to sombre piano strings and booming 808 bass.
In the same vein as her debut mixtape, her writing remains grounded in a lived-in ideal on 'What is Perfect', this time around with an emphasis on the inquisition. Spliced in between personal musings and love songs closer to the blue centre, voice notes from friends attempting to reply the album's titular question is scattered around for coherent, cinematic effect. Adding up to a wholesome experience, the tape signifies the curatorial nous Lady Donli has continued to brandish and sharpen with every project since.
By her third project, Lady Donli was becoming a bigger deal. The emergence of SoundCloud as the main digital space for music discovery, at the time, was organically helping artists build a community of supporters. Being a notable face of the rebellious Alté generation that was using SoundCloud as its breeding ground, the singer began to amass wider interest. In late 2016, she'd release her 'Wallflower' EP, a breakout project that effectively sealed her status as a supremely talented prospect.
Opting for an astral Neo-Soul vibe, 'Wallflower' cast Lady Donli as a more evocative singer, beyond the Erykah Badu influences. Over its six tracks, Donli possessed a stronger perception of self, expressing a mood board of emotive subjects grounded in honest introspection, and heightened by scented production. The AYÜÜ-assisted "ALICE" is a self-reassuring cut that emphasizes the superpower in being different, over Tay's shimmering guitar chords and slow rolling percussions; Odunsi features on "Lie to Me", a song on which both singers evaluate and expel bad energy from their surroundings, buoyed by Mvgicsoul's soulfully robust beat; and on "BOBBY BOBBY", Donli gets superficial, detailing her imperial need to stack her chips.
'Wallflower' instantly became Donli's magnum opus. But to avoid being pigeonholed by the EP's widespread acclaim, she decidedly made a pivot on her next trickle of singles. Towards the middle of 2017, she'd release "Ice Cream", a colourful, sun-soaked song about the addictive sweetness and ephemerality of new love, with vocal assistance from Tomi Thomas. As "Ice Cream" quickly became her first low-key hit single, she put out the infectious, ebullient "Poison" in November of the same year, further stressing the efficacy of her pop abilities.
In December 2017, she'd throw another curveball, releasing 'Letters to Her', a 6-song set with a narrative centred around a romantic heartbreak. Linearly sequenced, the EP follows Moonchild, the story's protagonist, as she comes to terms with the reality of losing her partner. Impressively crafted, each song lands on subsequent points of the Kubler-Ross grief cycle, supported by the immersive, alternative soul soundscape Garvie entirely produces. On "Spell", her devotional lyrics over aqueous guitar harmonies and hip-hop drums elicits denial; the astringent groove and Lady Donli's vindictive quips on "Roses For K" lands on the anger stage; and acceptance comes on "Candy", a gorgeous, bittersweet acoustic ballad with Tay.
In the twenty months since 'Letters to Her', Lady Donli has been taking dedicated measures to nurture her career into full bloom. Creating her own performance spaces, the singer embarked on 'The Living Room Tour' in the first of half of 2018, literally performing in people's homes to small groups of fans. During that same period, she'd perform at her very first headlining concert at Lagos' Freedom Park, subsequently going on tour at several intimate venues across Canada and USA.
With her busy schedule, the singer was only able to release two loose singles for the entirety of the year. First came "Games" featuring GJTheCaesar, a cut that straddles the line between heartfelt soul and premium dance music, then "Classic" with Kida Kudz, a spat between two lovers, delivered over sleekly produced acoustic Afropop. In between both singles, though, was an important feat: her collaboration with Mr Eazi on "Lagos Gyration", the intro song to the superstar's 'Lagos to London' project.
Clocking in at less than a minute, "Lagos Gyration" is painfully short. But with its vintage Afro-Funk groove and quaint vocal filters, it was a clue as to where Lady Donli was headed for her debut album. Influenced by storied styles of Afropop, her singles so far this year, have showcased a clear sense of direction. Lead single and hustle anthem, "Cash" sits on a delightful Highlife-fusion bed; loose single "Comforter" taps inspiration from the kitschy, early '00s-era of Nigerian pop; and poverty rebuking jam, "Suffer Suffer" features nostalgic Afro-Folk instrumentation, and is accompanied by early '00s Nollywood-inspired lyric video.
In the last six months, Lady Donli has been effectively marking out territory with each rollout hint, laying a charming precedent for a potentially peculiar opus. With her propensity for context-inspired project titles, it seems valid to infer that 'Enjoy Your Life' will be Lady Donli at her most jovial. While a heavy dose of tension is present on a lot of her best work so far, her proven ability to follow through and evolve while experimenting, points to a reinforcement of the features that make her an increasingly compelling artist.
Over the last five years, Lady Donli has passed around HulkShare links, made the customary transition from rapper to singer, and become one of the most inventive artists around. It's time for her to enjoy her life.
See the tracklist for 'Enjoy Your Life' below.
Here's my declaration to you all as I drop our album tomorrow. Also heres the tracklist 🥂#EnjoyYourLife pic.twitter.com/b5GmGpN17q

— Z. (@LadyDonli) August 8, 2019
Featured Image Credits: Instagram/ladydonli
[mc4wp_form id="26074″]
---
Dennis is not an interesting person. Tweet Your Favourite Playboi Carti Songs at him @dennisadepeter
---