The popular saying goes, "art imitates life", and regardless of their varying levels of self-awareness, artists tend to reflect who they are in their music. When we pay enough attention, we gain some insight into their personal traits – as well as the experiences and biases which shaped their worldview – through their choice of content and lyrical execution. By extension, the songs that dominate our headphones, radio stations and club dancefloors are a reflection of communal values, since they imitate society's acceptable standard of living.
In comparison to this time last decade, Nigerian music has become far more heterogeneous in musical style and thematic range, which has left room for the reflection of increasingly liberal ideals of a younger generation. Regardless, the music is still a bit reliant on the acceptance of a wide audience, which is why a significant portion of what we're getting is geared towards appealing more viscerally. To meet these expectations, artists tap into what they think audiences can easily identify with and often pull from society's values to inform what they're singing about.
Given that the music we get is mainly dominated by male artists and caters to dancefloors and communal events, it's no surprise that many songs by Nigerian artists revolve around love and lust. Some are occasionally profound, but more often than not, settle into the intersection between banal and playful hedonism. In this indulgent dynamic, which is aided by our society's deeply patriarchal value system, it has become the norm for women to serve as "objects" of desire and affection, more or less reinforcing the unideal ways men have been conditioned to view and communicate with women.
The last few weeks have brought about a frustrating and long-overdue conversation about gender-based violence targeted at women everywhere from workplaces to places of worship. The unrelenting stream of reports and accusations has sparked outrage, heightened awareness, and has only emphasised the need for everyone to unlearn and relearn not just biases, but also behaviours. The latter part, especially, has increased the stakes in terms of collective reckoning, pushing more people into re-evaluating our moral fabric, which is where music—as an imitator of society—comes in.
As a product of a casually sexist and misogynist society, Nigerian music can be very sexist, misogynistic and casually harmful towards women. There's a really long line of examples, but in the thick of these ongoing conversations, an easy one to exhume is Kizz Daniel's 2017 smash hit, "Yeba". Weeks after release, the otherwise phenomenally crafted song became infamous for a conversational adlib in which a lady admonishes a guy for "touching" her in the club. Even though the problematic nature of that exchange is clear to anyone with a basic understanding of consent and personal space, there was a counter-response which deemed those criticisms as overbearing—a strong reflection of our club culture, aided by the music that serves as its soundtrack.
I'm not an avid partygoer, but from my few experiences and by personal accounts from friends, Nigerian clubs are an avenue where the agency of women is casually disrespected in the name of fun. In a damning extension of "tapping current"—a foolish conduct which exists everywhere from commercial buses and bank queues – girls and women are touched and groped without any regard for boundaries. While it is important to note that dancefloors are an appropriate space for people of any gender  bask in carnal euphoria, it doesn't absolve you of you the basic duty to respect women and their agency, which is something Nigerian pop music needs to reflect going forward.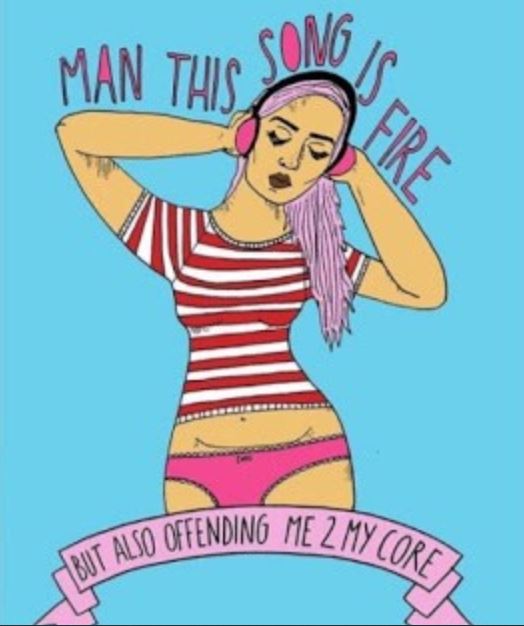 In his attempted PR save, Kizz Daniel explained that the adlib on "Yeba" is meant to be a cautionary tale of "no means no", when, ideally, a woman doesn't have to say no after being harassed. Zooming out a bit, there's something of a dissonance to a song like "Yeba", because it's a great song and it's also problematic, but since the former trait will likely overshadow the latter, women often have to find a way to accommodate/enjoy it despite the unwholesome parts
Having to balance that a song is problematic but also kinda fire presents a conundrum that's intensified by how these issues have been normalised. So much so, that a significant portion of listeners won't even take offence or realise that some things being said are offensive to them. In much the same way we are urging each other to know better and do better, it's time for artists to start taking greater care to make sure that their writing doesn't project or promote problematic ideals, especially those relating with sexual harassment and violence of any kind.
Of course, a primary aim of music is to entertain while ensuring the artist's autonomy isn't tampered with, however, artists need to start phasing out the standards that enable them to maintain sexist and casually problematic tropes. While I'm an advocate for not looking to celebrities to say and do the right things, there's no grey area when it comes to sexual violence, and music should constantly reflect that. It doesn't mean that the music should be tame or beige, it just means that they should be more respectful of women's agency when exploring sexual tension, both overtly and covertly.
Opening his verse on Show Dem Camp's classic song, "Feel Alright", Ladipoe raps, "I got an itch and baby you gotta scratch that/you and that palm wine, you know I gotta tap that/maybe this one time you can put it in my jeans, though it's something you never tried but Henny is a bastard". Rapping in his trademark confident cadence, you can almost miss the fact that he's basically describing an encounter that doesn't take the agency of his interest into. "The thing with writing is, with a switch of a word or two, the interpretation of a line changes," Ladipoe explains via text, admitting the fundamental flaw in his verse and even giving an update to what a better-written verse would've sounded like: "I got an itch, *she told me she wanna scratch that*/you and that palm wine, you know *I wanna* tap that/maybe this one time you can put it in my jeans, *cos it's something we both like* cause Henny is a bastard"
Ladipoe's update shows that, for artists who are genuinely interested in ensuring the dynamics of their writing is wholesome, all it takes is self-awareness and the willingness to self-edit, two things that should always be a given during the writing process. In his latest song, "Know You", this growth is clear when he says "we can go there if you want to". On that note, it's a positive step in the right direction that Ladipoe isn't the only artist who is this thoughtful. On Blaqbonez's 2018 album, 'Bad Boy Blaq', there's a song tellingly titled "Consent", and although it's not the most nuanced song, his intentions and plaintive execution are impossible miss.
Afropop breakout stars of this year, Oxlade and Omah Lay, are also great examples, especially via their respective Best New Music entries "Away" and "Damn". In the former, Oxlade serenades his love interest without invoking the wanton clichés of Nigerian pop music, and on the latter, Omah Lay indulges his flaws without diminishing the value of his devoted partner or treating her terribly, as is the stereotype amongst men.
While we tend to overestimate the power of music in triggering change, it's still a tool for social awareness all the same. Artists might not be the ideal role models for our society, but they have a huge role to play in the fight to stamp out gender-based violence—all it takes is for them to be a bit more conscious of women's agency (yes, the bar is that low). In this way, listeners can (in)voluntarily internalise the changes in their music and proceed to do better.
We don't just want music that imitates the current way of life; we need music that reflects the fight for a better present and serves as a beacon for far more wholesome future where songs project and promote healthy club cultures and overall communication with women.
---
Dennis is not an interesting person. Tweet Your Favourite Playboi Carti Songs at him @dennisadepeter
---