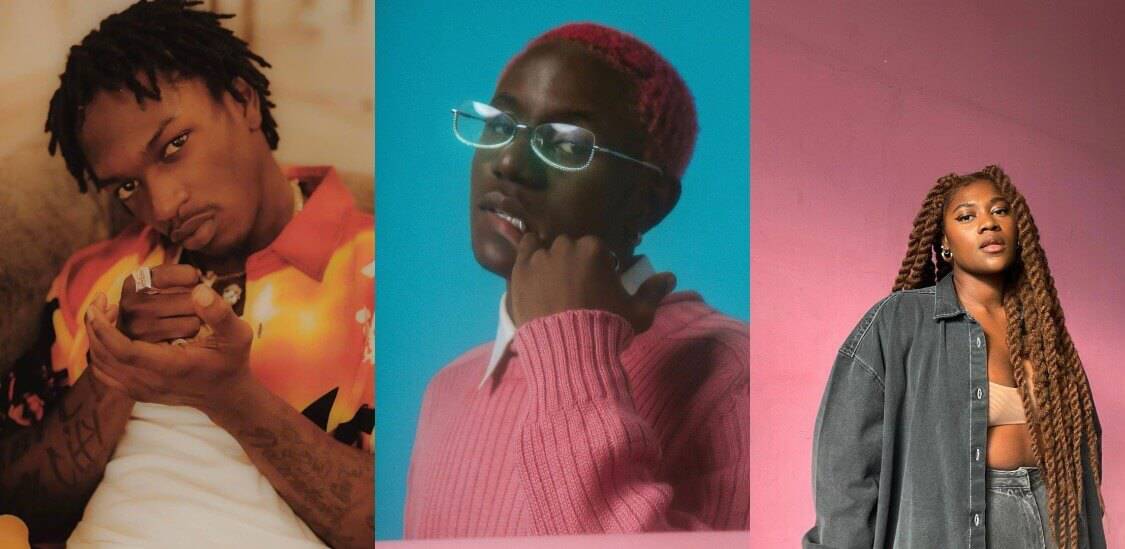 Songs Of The Day: New music from Kida Kudz, Victony, Olayinka Ehi and more
new music from around the continent
Music has served as the life force connecting people and communities around the world in these unprecedented times. Though the pandemic has denied us live shows and concerts, where the magical bond between artists and fans unfolds in real-time; artists have remained committed to sharing music with fans, so we continue to honour their art and create space and visibility for them.  Last year, The NATIVE created our 'Songs Of The Day' column as an avenue to curate some of the best and biggest songs from around the continent.
In the time since its creation, the column has served as a means to discover music from niche, rising acts, while also spotlighting releases from the biggest artists on the continent. As artists continue to share their music with us this year, it's only right that we continue pointing you towards as much great music as we possibly can. After a week-long break, we're back to putting you into new releases, with today's curation including recent drops from Blaqbonez, Amaarae, Buju, Cheque, Fireboy DML, Kida Kudz, Victony, Tomi Thomas, Sute Iwar, Olayinka Ehi and more. Dig in and enjoy.
Kida Kudz – "Animalistic"
Kida Kudz is on a mission to shine a light on the atrocious ways that his people are treated within the prison system. His latest single "Animalistic" finds him exploring mass incarceration, its societal implications, and the harmful effects it has on prisoners and their families. "Can't solve the pain wey we don face/Animalistic, I'm a beast from within" he quips in the songs opening moments, using his words as solace for all the lives that have been drastically changed by the prison system both home and away. The song's accompanying video directed by iO Filmworks finds Kida performing in front of a burning yellow bus as he delivers his verse, with visible anger and irritation.
Blaqbonez – "Bling" featuring Amaarae and Buju
Blaqbonez is gearing up for the release of his latest project titled 'Sex over Love'. After sharing the promotional sex-positive single "BBC" earlier this year, he's quickly followed it up with a new release "Bling" which features Ghanaian pop princess Amaarae and Buju. "Bling" is a slinky uptempo number that finds the rapper flexing his singing chops, going into great detail about his exuberant living which has all the women swooning. "Everyday they telling me Bonjour/because the money sweet like Banku" he quips, clearly amused by how much money has changed his life. He's also joined by Amaarae and Buju who make the song a pleasurable listening moment by adding their ethereal touch to the number.
Victony – "Broken"
After making the change from skilled wordsmith to heartthrob Afropop singer earlier this year, Victony has been showcasing more of his knack for vocal delivery and his stellar penmanship. His latest single "Broken" is a heartfelt number that finds the singer directly addressing a lover who has hurt him beyond measure. Over the soulful mid-tempo number, Victony sings "Girl I am so frozen and my lungs been frozen/I can barely breathe right now" using the imagery of ice and cold to represent just how much he's been heartbroken by his crush. This is definitely one for the sad songs playlist.
Cheque & Fireboy DML – "History"
For their latest single, Cheque and Fireboy DML have linked up for a groovy uptempo number titled "History" which finds them taking a walk around memory lane. Decades after coming up together, the pair share the lessons and advice that they have picked up along the way. "Only thinking about victory, can't fuck with anything that's contradictory" Cheque sings over the song's hook, telling listeners that it's possible to make it in the world despite where they are coming from. As two artists at the forefront of the new vanguard of Afropop hitmakers, this collaboration is important for a number of reasons; we get to see two young artists at the brink of their breaking point collaborate with each other after years of coming up together in the industry.
BOJ – "Emotions"
BOJ's latest single "Emotions" will certainly have you thinking about your significant other this weekend. Over the uptempo production by Spax, the singer showcases his strongest songwriting yet as he explores the complicated and sometimes toxic emotions felt during the course of a relationship. "Tell me baby why your heart is so insecure/You are messing with my emotions" he sings over the song's hook, addressing a lover directly and informing her about the innumerable ways their relationship has disintegrated. In the song's accompanying video, we see shots of BOJ and a love interest in a heated lover's spat which inevitably ends in her setting his car aflame and ending his life.
Tomi Thomas – "Again"
For his first official single of the year, Tomi Thomas has just released the groovy-sounding romantic number titled "Again" which finds him singing about a muse who has him coming over again and again. Over the mid-tempo number which vibrates from percussive rhythms, he sings "Here we go right back once again/swear I love you like I love my best" on the song's hook declaring his commitment for this woman who he's aware is bad for him. At the song's end, he promises that they can be frenemies and explore an intimate relationship once again.
Rexxie & Bella Shmurda – "Back2Back"
Rexxie and Bella Shmurda are a producer-artist pairing made in heaven and they know this all too well. For their latest single "Back2Back", the pair celebrate their formidable workmanship which continues to spin hits for listeners to enjoy. "On a roll, giving it back2back" sings Bella Shmurda over the song's hook, with lyrics tracking how he has risen from underdog status to Afropop hitmaker capable of buying all the bottles in the club and getting all the girls. It's a hit by every metric and one that will surely get you dancing this weekend.
Jay10 – "SAFARI" featuring Zilla Oaks
Ibadan-based rapper, Jay10 has just released a new three-pack single titled 'Dm2', a succinct collection of singles which is a  follow up to the mini-EP 'Deleted Memories' he released last year. On the tape, the Zilla Oaks-assisted single "Safari" is an instant standout for its clever wordplay, quippy lines, and symbiotic braggadocio. "Welcome to the new jungle, we've got serpents in abundance/I run the game and still walk it/My mother told me be cautious" Jay10 raps over the song's first verse, taking disses at the snakes and opps in his city who endlessly doubt him. Rather than let this deter him, he links up with Jay10 to trade verses about getting shit popping and ruminating on the source of their scars.
Olayinka Ehi – "Shake Remix" featuring Khadijat, Six & Sudxn
For her latest musical offering, Olayinka Ehi has updated her bouncy, uptempo single "Shake" with a befitting remix featuring an all-female cast including Khadijat, Six, and Sudxn. Over the song's exuberant production, each artist performs their verse while talking their shit and packing on an onslaught of wordplay as they make the song instantly memorable from the jump. "Dedicated to the rhythm who no fit waste time/Girl you hot hot hot" sings Olayinka Ehi on the song as she's joined by the other women who deliver rap verses which elevate the listening experience of the song. This is the bad bitch anthem we deserve!
Featured image credits/Instagram
---