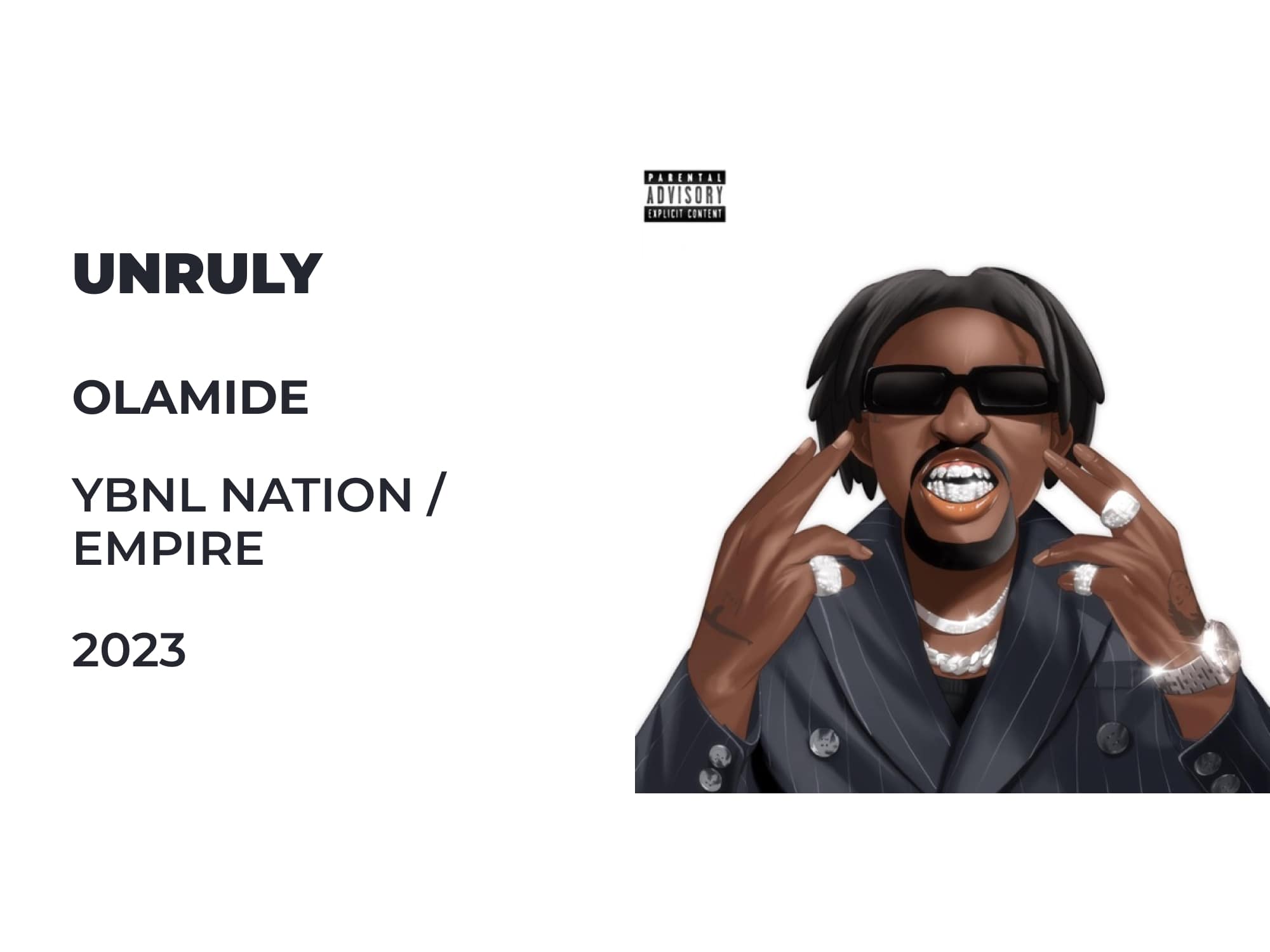 Review: Olamide's 'Unruly'
A sterling body of work, it's hard to imagine this as his last album.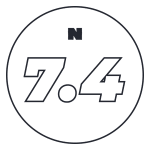 For the uninitiated ear, providence might make it seem that Olamide was born a legend. His lengthy discography and charismatic demeanour already reveals a legacy contented with itself. It would take a graceful retelling to underline the rapper's rise to the top, to show that it wasn't always written in the stars. As a young kid growing up in Bariga, there weren't many templates for the kind of superstar that Olamide currently is. If his generational quality was visible in one move, though, it was this: after becoming nationwide famous with his second album, he established the record label known as YBNL, giving a voice to many young kids like himself, at a time when few artists were doing so.
That label has blossomed into a most fruitful tree, readily contributing leaves to the pages of Nigerian music history. Removed from his second arc as a serial pop hitmaker, which before then was preceded by his zesty rap personality, Olamide has doubled down on his role as a music executive. The duo of Fireboy DML and Asake are his prized signees, and behind their every move, on the paper and in the studio, is the boss' wizened aura that has been a recognisable feature.
View this post on Instagram
Still, what makes Olamide so entrenched in the popular imagination almost fifteen years after his introduction doesn't completely hinge on his business acumen. Rather, it is his relentless search into the pockets of his artistry, emerging with sonic gems. Sometimes they're unformed, too rough at the edges ('999') and other times, they reach for refinement, as on 'UY Scuti', but there seems to be some important missing element. Regardless of the initial reception to his albums, however, some records do find a way, in the dogged style of their creator, to creep into the public consciousness and remain there, an avatar for one of Nigeria's most profound talents in the modern era.
When the artist shared that 'Unruly' would serve as his last album, it was quite surprising, even though audiences took it with a pinch of salt. From JAY-Z to Prince and Michael Jackson, artists have announced their supposedly last albums, and then returned years later with a propulsive new project that eclipsed those sentiments. That didn't seem like an Olamide concern, because his recent releases have revealed willingness to grow, and spawned credible hits like "Motigbana" and "Rock," both offering distinct sides to his artistry. Considered with the cult classic 'Carpe Diem', this period of Olamide's career has offered sparse releases—relative to his prolific tear for most of the 2010s—but largely successful ones.
Olamide first mentioned the word 'unruly' on the remix of "ZaZoo Zehh," the uber-popular hit from the quasi-controversial street-pop singer, Portable. One must however recast their attention to his breakout period, when a swathe of established acts readily associated with his brand, which can be considered an indirect way of making theirs seem more gritty and in touch with the streets. It was, however, a reigniting of old flames for Olamide, who was influential in positioning Street Pop on the radar of contemporary Nigerian audiences. With his current style focused on establishing groove over disrupting the status quo, the street jam-evoking song was like meeting a former lover in a strange land.
That was when he must have begun thinking—if he were to make 'Unruly' his last album, or convincingly sell the idea that it was his last, then he'd have to leave the scene with his guns blazing. It's like how the closing scene of a movie has to be resonant and with his music having cinematic promise since forever, Olamide must have crystallised that vision over the years. Released earlier this month, the album bears the result of that patient contemplation, which has been the most visible character trait of the man born Olamide Adedeji.
Opening records are a chance to lay down an album's values. From the militaristic machismo of 'Street OT''s "Oga Nla" to the tropical luxury of "Another Level," off 'Carpe Diem', there's been no shortage of memorable album openers from Olamide. However, he's honest not to shortchange the listener, so that the first song is very rarely the best song on the project. "Celebrate" dissolves that implicit urge by being one of the best records on 'Unruly', whose jazzy progressions matched with 'Piano log drums makes for a grand listen.
Accounting for his wins while sketching the motions for celebrating them, it's an easy ride into the album. "I want to pop champagne for my pain, many things dey wey dey drive me insane," he sings in the record's opening line, accompanied by sizzling horns and faint touches of crowd vocals. As a person, Olamide is one of the most introverted artists in Afropop, and thus, the second line of that progression carries its own tension. However, the album's intent remains clear and focused; that tension is masterfully retained in the background, so that zesty and victorious airs are maintained.
That emotion of forging ahead through personal tests is captured on "No Worries," which is one of the most triumphant songs on the album. Rinsing razor-sharp flows over the most impressionist production, legacy comes to the fore of Olamide's considerations, as he constantly reiterates "I no dey worry, God go do am." For as long as he's released projects, a piercing sense of optimism has always been the message of Olamide. Even in his earliest arc, when he had little of the reverence he's accorded today, the artist always moved with the assurance of someone who recognises their unique potential.
The classic status of the decade-old 'Baddest Guy Ever Liveth' was hinged on pop-rap moments like "Turn Up" and "Durosoke" as much as it was on straight-out rap records such as "Anifowose" and "Sitting On The Throne." Here, "Celebrate" and "No Worries" are among the songs that summarily chart the evolution of Olamide from the streets to becoming a cultural icon, and his recent albums have attempted to capture that graceful perspective. Featuring a swathe of rising acts on '999' and toning down his sound to a breezy lull on 'Uy Scuti', it seemed that he was too focused on legacy to give a stirring account of it. 'Unruly' works out those narrative flaws, mostly because he's having fun while taking stock of his legacy. At this point, it's already set in stone, so in the words of the legendary Muhammed Ali, he floats like a butterfly and stings like a bee.
'Unruly' indeed benefits from the directness of perspective. Olamide sounds the most inspired he's been in a minute. From this angle, records like "Gaza" and "Supplier" emerge. A poignant back-and-forth enlivens every bar in the former, supplying a communal energy that's been present in Olamide since "Abule Sowo" and "Lagos Boys." In many ways, this project throws it back to that era of Olamide; a brave lyricist whose novelty stems from relaying experiences too familiar, that not many artists have attempted to bring them into sound. "Supplier" is a more lived-in record; starting out with a rap cadence, Olamide switches up the flow mid-verse, attempting a patois inflection around the second he says, "Give you headache like the Naija ganja; I be thoroughbred, don't call badman rasta."
From top to finish, there's a lot of such moments. As Olamide himself reminds us, "[he] don't give a flying fuck." On the mellow-framed "Jinja," he's still lyrically edgy, not so much in the bars as much as the delivery. Each line flows with a kind of alcohol-induced revelry, imbibing the message of the song in sound. "Doom" and "Street Jam" move some levels above on the same sonic metre, although to varying success. The former's scattershot flow is in good taste, and flows well into the boppy quality of the production, but it doesn't affect the listener as poignantly as some other songs on the same metre. On the other hand, "Street Jam" immediately ranks among some of Olamide's best records. The song's ancestry can be traced to the music the YBNL honcho created before the 2010s, its communal energy derived from its Hip-Hop swag and street-evoking perspective that's evident in records like "First Of All" and "Goons Mi."
Among the signifiers of this album's success is how it incorporates features. Throughout the several stages of his career, Olamide has eagerly stretched his collaborative ethos to include different facets and eras of the industry. From collaborating with modern-day greats like himself (Don Jazzy, Tiwa Savage, Wizkid) to joining hands with rap savants (Reminisce, Phyno, Chinko Ekun) and even sampling traditional music icons, most popularly K1 De Ultimate, his career has been a masterclass in reaching out within one's industry.
On 'Unruly', he takes his most popular route yet, featuring five bonafide Nigerian pop stars. Quite interestingly, all five features play a similar role—providing the hook/chorus, as well as other attendant peripherals—and all the songs follow themselves, creating an intriguing movement within the album, like it was an EP enclosed within an album. The sound never goes out of his grasp, though."Trumpet" features one of the most engaging hooks CKay has delivered in recent times, his svelte showcase infusing a mellow ease on the record. As far as pop-rap songs go, it's perhaps the most successful on the project. Which isn't to say the other acts underdelivered, although to an extent, BNXN's output in "Come Alive" is hackneyed, utilising an approach he's used too often previously.
Fireboy DML on "Shibebe" is surely more evocative, his breezy expressiveness mirroring the movement of a vehicle cruising past the Lagos highways when it's past 2AM, and the city's night life becomes the most poignant it would be until the realism of morning emerges. What happens then during such moments is the stuff of Rema's output on "Mukulu," with the Mavin artist again demonstrating the sultry appeal of his lyricism. With the verbal manipulations he's mastered, a word like kunu becomes something more, a metaphor signifying something larger than its liquid nature.
Asake shows up on "New Religion," one of the pre-released songs from the album. As we've seen on "Omo Ope" and "Amapiano," both artists are like sonic twins, tapping from similar strains within the Yoruba consciousness. While Asake reflects his through the combative sphere of Fuji, his label boss turns more often towards Hip-Hop, and in some ways "New Religion" merges both sensibilities. It's a fine record, however, beyond its individual brilliance, it's indicative of the direction Olamide turns towards on 'Unruly.'
Since making his entry into the nucleus of the Nigerian mainstream, Asake's pairing of Fuji lyricism over Amapiano sonics have seen him become unarguably the most influential artist around, and with the close working relationship he shares with Olamide, it's no surprise that the latter adapts some structural and sonic styles from him. The most evident is the progressive 'Piano rhythms across the album, also delivered by the inimitable Magicsticks, whose work across 'Mr. Money With The Vibe' remains a most memorable showing in modern Nigerian pop. When Asake's sophomore 'Work of Art' seemed to draw from the same well of South African pop music, the conjecture was that he was too obviously rehashing the sound, even though the vocal deliveries were essentially different.
Likewise, Olamide makes 'Unruly' distinctly his. The narrative across the album cannot be evoked by anyone else, and certainly not in the same style. More than a decade into his career, he's still relaying the perspectives that made him so beloved, seemingly digging deeper into his bag to make its telling worthwhile. 'Unruly' is a cohesive album, but with the subtle shifts within its delivery, it's unarguably one of the most sterling projects of his career. It's hard to imagine this as his last.
---