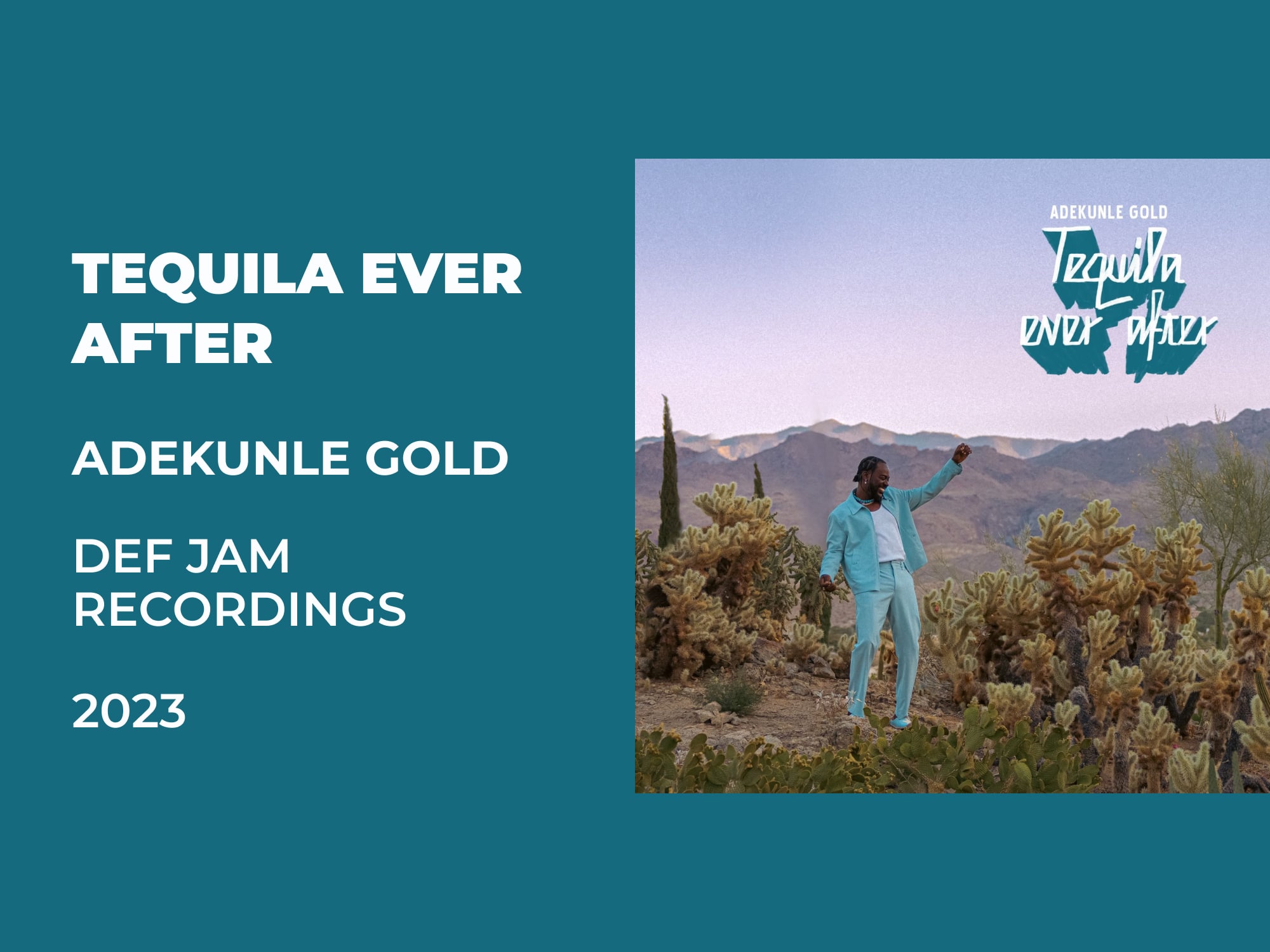 Review: Adekunle Gold's 'Tequila Ever After'
a fine showcase of penmanship With Adekunle Gold, nothing is ever out of place in his sonic world. Each Adekunle Gold project is marked by intentionality, further burnishing his artistic mosaic. His 2016 debut album 'Gold' was a collage of traditional Nigerian music influences and the dreams of stardom he held as an up-and-coming act while 2018's 'About 30' showed his maturity as an artist and gave glimpses of his appetite for bold experimentation. 'Afropop Vol.1' (2020) was a watershed moment for Adekunle Gold as he settled into a new sonic journey, exemplified by the moniker AG Baby. On 2022's 'Catch Me If You Can,' AG Baby declared his supremacy and, on his latest album, 'Tequila Ever After,' Adekunle Gold—or Tio Tequila as he currently identifies—is establishing the mastery of his own lane, his style and his legacy.
View this post on Instagram
'Tequila Ever After' was born after Adekunle Gold, in Los Angeles, discovered his love for tequila, an alcoholic drink which hails from Mexico. "It made me feel good," he said in his NATIVE Now! Cover story in July. "I wanted to describe the feeling of tequila. The way tequila made me feel that one time; I wanted people to feel the same way with the music. The songs that I made for this album are lighthearted and conversational; they're conversations you have with friends when tequila kicks in." In true fashion, the recently released album shepherds Adekunle Gold in a new creative direction, bonding him with new collaborators who bring more colour to his vibrant world and further cement his stardom. For any artist with almost a decade of experience, unearthing new creative sparks is a blessing and AG Baby doesn't waste that moment.
A few weeks leading up to the album's release, AG Baby was on a stellar promotional run, inviting audiences into his sonic world by sharing intimate clips of the album recording process. The intentionality of the Adekunle Gold brand isn't only restricted to the music we hear but also to the music videos and the singer's fashion choices. To promote 'Tequila Ever After,' Adekunle Gold curates "A Shot of Tequila Ever After," a series that offers behind-the-scenes coverage of how the tracks on the album were made. The series captures raw moments of Adekunle Gold and his collaborators—featured acts and producers—conceptualising ideas and finalising them into songs. While it brings attention to the album, it also shows Adekunle Gold's comfortability in his craft and his confidence in letting the audience into the unpolished processes of making music.
He sets the mood for 'Tequila Ever After' with "Chasing Peace of Mind," opening with the lines: "My therapist don try/No remedy for my mind/One smoke, I'm alright/Too many lows and no highs/Life is a joke, don't cry/Who get joy? I wan buy/One shot, I'm alright/One smoke, I'm alright." His previous album ended with "Catch Me If You Can," where, with a weary tone, he dared his detractors to match his exploits if they could. "Got a couple blessings on the way/'Cause all I do is work hard and pray (I work hard and pray)/They say I made it over night/But I hustled till I got it right," he sings on that song. When he sings "I keep chasing peace of mind" on "Chasing Peace of Mind," the lyrics serve as exhalation—words condensed with so many emotions and experiences; perhaps, it's his way of stating that he would rather focus on his business than pay attention to the opinions that seek to stop from him prospering. "Chasing Peace of Mind" is also an indicator of AG Baby's pan-African and global ambitions, which first shone through on 'Catch Me If You Can.' It merges Gold's Nigerian identity with that of Ami Faku's South Africa-dipped vocals and Habib Koité's golden guitar strumming.
Before the release of 'Tequila Ever After,' Adekunle Gold had prepped for the album with the three-song pack 'Tio Tequila.' One of the songs, "Party No Dey Stop" with Zinoleesky, had served as the opening act for his deal with Def Jam Recordings. Previously, AG was under Platoon with the release of his last two albums and his newly inked deal with Def Jam signalled further sonic expansion. On "Party No Dey Stop," Gold and street pop disciple Zinoleesky performed the track with panache, bringing the best of both their worlds in a celebration of jubilant moments. "Do You Mind?" is a pop track where Gold plays a lover man tending to the romantic and sexual needs of his partner. On "Omo Eko," he pays homage to the vibrancy of Lagos as regards its people and music. Those three songs—which also appear on 'Tequila Ever After'—are snapshots of the themes captured on the album in the way they revolve around his Yoruba identity, love and self-belief.
Since his days as an artist under Olamide's YBNL Nation, Adekunle Gold's projects give careful thought to their guest appearances to maximise their contributions. "No Forget" with Simi on 'Gold' was a love duet that represented both artists' understanding of emotions and vocals. The likes of Flavour, Seun Kuti, Dyo, Jacob Banks and the Lagos Community Gospel Choir on 'About 30' showed Adekunle Gold's willingness to try new sounds and fusions. On 'Afropop Vol. 1,' Tekno, Nailah Blackman, Yinka and Patoranking were propellers in AG Baby's reach for pop stardom, and on 'Catch Me If You Can,' Davido, Lucky Daye, Fatoumata Diawara, Stefflon Don, Ty Dolla $ign and Fousheé were the star cast of the Adekunle Gold show. Despite welcoming so many into his world, AG is also well-versed in keeping the spotlight squarely on himself as he shirks stylistic expectations and widens the scope of his arsenal.
On 'Tequila Ever After,' Adekunle Gold invites his guest artists to infuse emotion and lyrical depth into each new track. None of the visitors strays out of line; instead, they run with the baton passed to them with precision and skill. ODUMODUBLVCK's confrontational tone is a fitting addition to "Wrong Person," where Adekunle Gold flings disinterest at the gossip of his detractors. Coco Jones matches Gold's earnestness for a romantic connection on "Make It Easy." Singer and wife, Simi, like Adekunle Gold, is neck-deep in love on "Look What You Made Me Do." Khalid and Gold both rue the mistakes made in a past relationship and on "Falling Up," Pharrell Williams (alongside Nile Rodgers) reecho Gold's sentiments that failure is one of the steps to success. The execution of these features tells of the considerable deliberation behind the scenes to select the right songs and the right artists for those songs.
View this post on Instagram
Save for "Party Never Stop," "Ogaranya" and "Omo Eko," other songs on 'Tequila Ever After' do not take the pattern of dance-ready anthems like "High" (with Davido) from 'Catch Me If You Can.' But this observation is no indictment on the album; here, Adekunle Gold is more concerned with the feelings behind a song than to cater to the demographics setting the dance clubs alight. "Not My Problem" shares subject matter with "Damn Delilah" from 'About 30' as Adekunle Gold refuses to be undermined in love, choosing peace of mind over the pain of convincing a disinterested party. "Wọn sọ pe mo kere/But dem dey copy my way," he sings on "Kere," revelling in his wins, and on "To My Own," he finds pleasure in his longevity and in moving at his own pace.
A majority of the lyrics on the album are motivational. At the time Adekunle Gold came with "Sade" and "Orente," the Nigerian music scene was firmly in the grip of anthemic songs. Gold's labelmate Lil Kesh was destroying dance floors with "Shoki," "Gbese" and "Efejoku." Their boss Olamide was doing the same with "BOBO." Farther afield, Kizz Daniel's "Woju" and "Laye," Tekno's "Duro" and "Wash" and Harrysong's "Reggae Blues" were impacting the soundscape on astronomical levels. Adekunle Gold slowed down the tempo of his songs, opting for deep lyricism over Highlife-influenced production. Still, he was able to command the attention of listeners who sought his relatable, nostalgic music. He again showed his inventiveness with 'About 30,' taking audiences by surprise with his experimentation of pairing the fundamentals of 'Gold' with electronic influences.
"It was until I dropped 'About 30' that I started to get criticised. So, for the first time, I just learnt to take the good from criticism and not dwell on it," he revealed in his NATIVE interview. "Wọn sọ pe mo kere/But dem dey copy my way," he sings on "Kere," Steadily, Adekunle Gold has positioned himself as a mainstay in the conversation about Nigerian pop music. The success of his 'Afropop Vol. 1' and 'Catch Me If You Can' has cleared any doubts about his methods and iterations. In some way, Adekunle Gold remains an outlier: he has morphed into new forms without losing the essence of his sound—down-to-earth observations on groovy melodies—that have served him well since "Sade." On 'Tequila Ever After,' he finds pleasure in his longevity and in moving at his own pace.
In addition to Adekunle Gold's charismatic presence, the album's producers are also the winning formula in the entire equation. Michael Bakare and Blaise Beats are the only producers from 'Catch Me If You Can' that reappear on 'Tequila Ever After.' While there is palpable influence from Western producers like Pharrell Williams, Michaël Brun, The Elements and Fridayy populate the project, African producers such as Blaise Beats, Kel-P, Mannywellz, Michael Bakare and Tony Duardo ensure that the album retains its African flavour and doesn't stray too far from home.
Kel-P, in particular, is instrumental in this regard, producing more than six songs and establishing a fine chemistry with Adekunle Gold as he did on Burna Boy's 'African Giant' (2019). His productions on 'Tequila Ever After' are some of the closest to an instantly recognisable Nigerian feel. They serve as a tether to Gold's roots to the homefront, ensuring he doesn't stray too far from the local audience. But when Adekunle Gold is called to negotiate new terrains, though, he jumps on the opportunity with glee. Pharrell Williams' four-count loop is the curtain-raiser to a production that adds steady beat thumps with high-octane chants. Labrinth and Michael Bakare elicit a dreamy feel on "To My Own," as Adekunle Gold sings the brilliantly-written lines: "Long as my heart drumming (Drumming)/And my red blood running (Running)/There's no cloud over me ('ver me)/Could stop this light of mine shining (Shining)."
'Tequila Ever After' is Adekunle Gold's finest moment yet. With the help of tequila, he has caught lightning in a bottle and, using it as inspiration, dug into his well of experiences for varied perspectives on life as a man and superstar. "There's so much more, there's so much more that I have to offer," Gold told the NATIVE. "I'm not done; I'm definitely not done, there's so much more coming." There's no doubting Adekunle Gold—or AG Baby or Tio Tequila. Whichever moniker he assumes next, there's only one constant: quality music that is both fresh and bold in experimentation and relatable content.
Stream 'Tequila Ever After' below.
Featured image credits/