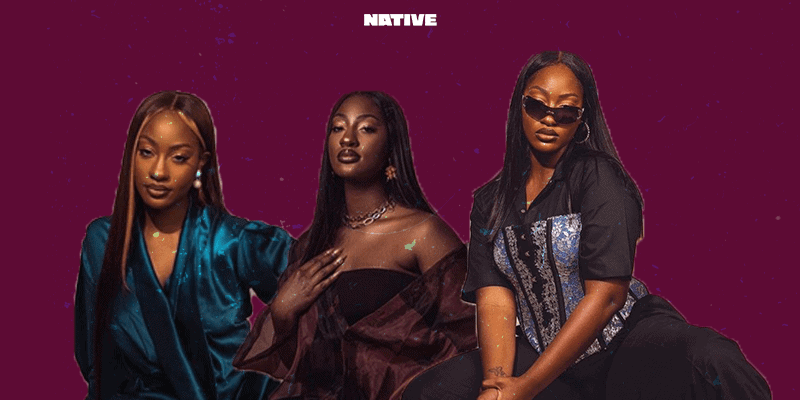 Ahead of her new EP 'If Orange Was A Place', Tems continues to evolve
the girl on fire is evolving
This time three years ago, Tems had only recently emerged as the latest shining star of Nigeria's then tightly-knitted alternative community. Barely a year later, her mainstream breakout hit, "Try Me" was just making the rounds ahead of its eventual mammoth impact. Last year, she was still furtive about her debut EP which would eventually drop to critical acclaim in a few weeks, unknown to the singer and many of her loyal Rebel gang at the time.
Today, Tems' voice is being heard all around the world, through delightful contributions to Wizkid's song of the summer contender, "Essence," and on Drake's "Fountains," a mellow cut off the Canadian rapper's recent album which has just debuted in the top 30 of the U.S. Billboard Hot 100. Not too many careers progress at such an exponential rate; not too many artists can claim to have had their lyrics screamed back at them by Adele (!)—a different level of public stanning she shares only with Beyoncé. The events in Tems' career, especially in the past year, may read as flexes being ticked off a wish-list, but it's almost impossible to overstate the fact that the multi-talented artist presented herself to listeners only fairly recently.
In music, broadly speaking, three years is a long time. An entire era of music can be folded into that timeframe, sonic fads and entire movements can either dissipate back into obscurity or fight their way into mainstay prominence. For context, the summer of 2018 was locally dominated by the Shaku Shaku window and internationally ruled by Drake's "In My Feelings"—which both feel like a lifetime ago. Within this hyperactive framework, artistic growth has been relatively fast-tracked, but it mostly depends on the purpose exuded from the artist's style of music and their output pace.
Within the first two years of her debut single, "Mr Rebel," Tems only followed this up with three singles, ostensibly playing the longer game. While it would be disingenuous to discount the impact of hype and mass marketing—she was all the rave in the alté scene when she debuted, and the searing video for "Try Me" was funded by Jameson—her initial breaks were hinged on the emotional openness of her music. "Music is the way I relieve my feelings," she told The NATIVE shortly after "Mr Rebel" came out.
From the narrative excellence of "Looku Looku" to the defiant triumph of "Try Me" and reflective candour of "These Days," this ethos rang louder. Filling the space between these far-flung singles were phenomenal feature appearances, each one confirming the uniquely riveting appeal of her warm, vigorous and soul-reaching voice. It all coalesced on her debut 'For Broken Ears', packed with emotionally resonant songs and centred on a heart-warming sense of self-affirmation. Largely self-produced and solely written and sung by her, the project placed an even sharper focus on the singularity of Tems' artistic powers.
Personally, I have a theory that, at her core and arguably most compelling, Tems is a Hip-Hop Soul artist. Popularised in the '90s by the artists like Mary J. Blige, Faith Evans and more, this subgenre combined the raw honesty of R&B with copious influence from Hip-Hop's sonic ticks, a musical style that Tems leans into with her own tact. Co-produced with Remy Baggins, "Try Me" pairs a whistling, evocative piano chord with rhythmic elements from contemporary Hip-Hop—explosive bass, rapidly ticking hi-hats and loud snares. Her voice rumbles along with the beat, heightening the catharsis in her writing and performance.
Even the first half of 'For Broken Ears' artfully coins in on this musical approach. Taking listeners through the making of "Ice T" on NATIVE's Bruk-It Down series, Tems details layering several vocal samples—a prominent practice in rap music—she recorded herself, with the sunny chords and thudding drums. Standout track, "Free Mind," also involves a prominent, pitched-up vocal sample and imposing drums, forming a buoyant backdrop for Tems' admonishing lyricism and buttery melodic flow. Later on, the EP does hone in on the artist's eclectic palette; the lightly euphoric "Damages" leaning into Afro-Dancehall and "The Key" combines Afropop and R&B.
Tems is an adventurous artist and a risk-taker. In her Issue 004 cover story, the singer categorically rejected the idea of making another "Try Me," confident that she will continuously draw in eager ears by expressing herself authentically. Even with her global exploits as a song-transforming collaborator, her willingness to create how she wants at every point in time is the consistent context for the music she will release going forward, especially as she's set to release a new EP tomorrow. Recently announcing its title, 'If Orange Was A Place', Tems dropped the lead single, "Crazy Tings," last Friday to mixed reactions.
Produced by Ghanaian producer Guiltybeatz, the new song breaks from the expected norm of Tems producing her own songs. It also shows in the highlife-inspired guitars and bouncy drums that she's willing to push the boundaries of her artistry as she comes closer to Afropop's centre than she's ever been. Even though "Crazy Tings" has not garnered the sort of instant, rapt acclaim her previous singles are typically greeted with, it signifies a subtle reset, one that reiterates Tems' willingness to experiment. A break-up song written from a hysteric perspective, "Crazy Tings" continues Tems' preference for affecting themes, staying true to her core while (maybe) working her way outward.
According to the tracklist, Guiltybeatz has produced three of the four yet-to-be-heard songs on the new EP, with one of them featuring American R&B singer Brent Faiyaz. This lead single adjusts and shakes up expectations for 'If Orange Was A Place', affirming the fact that we've watched Tems grow and shouldn't expect her to make the exact same style of music she was delivering three years ago.
With the EP's release imminent in a few hours, it's pertinent we give Tems her flowers and usher her into this next phase of her career, one where the music is unperturbed by outside influences and the oil is overflowing.
View this post on Instagram
---
@dennisadepeter is a staff writer at the NATIVE.
---