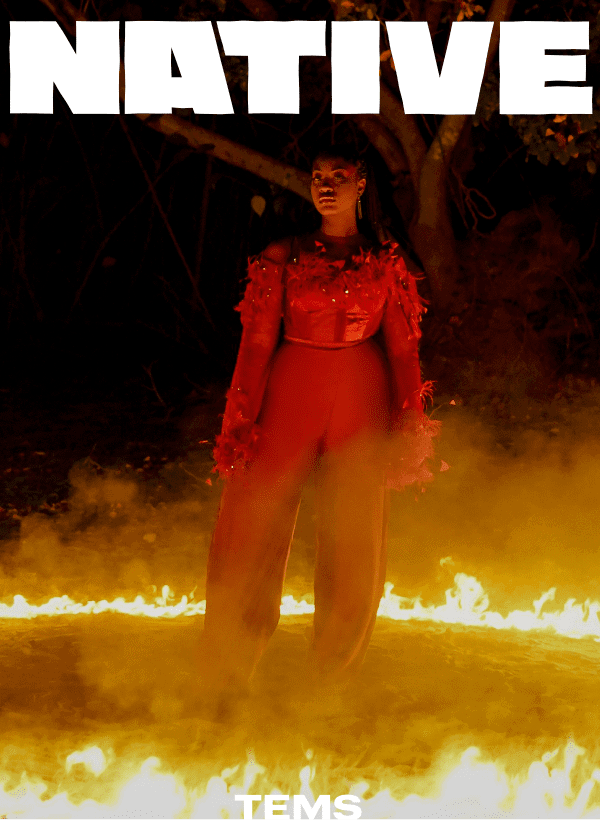 CREDITS
Photography: Isabel Okoro
Photography Assistant: Omofolarin Omolayole
Styling: Momo H-O
Clothes: Andrea Iyamah, GETO,
Make-Up: Ayopo Abiri
References: Emma Ehimaghe
Set Design: ANTI
At the start of 2018, a message from her daily devotional drove Tems to quit her day job as a digital marketer to pursue a career in music full-time. Two years later, Tems has unlocked society's cage and set herself on fire to light the way for a new vanguard – she's ready to ascend to her destined position as the leader of the rebel gang.
This is how a young girl went from singing in her classroom, to becoming the brightest starlet the country has seen in years.
Badagry, Lagos – After 8 hours of outfit changes in a serene private residence in Badagry, our cover star – dressed in a fiery red couture ensemble she selected herself – steps into a ring of fire. As the flames roar, the natural light is diminishing by the minute, and the production team is sweating, literally, to make sure we get all the shots we need. Amidst all this, Tems sitting calmly with her legs crossed at the centre of the inferno, gives photographer Isabel Okoro the nod and declares:
"I'm ready."
This decisive, unrelenting attitude is characteristic of the Tems we know and love today. Unphased by her surroundings, and totally committed to reaching her goals, regardless of the obstacles. But before she became the leader of her Rebel Gang – the name given to her loyal fanbase – the woman we know today as Tems was just Temilade Openiyi, a withdrawn young girl, struggling to find her voice. Like most Nigerian women, she was forced at a young age to hammer down any part of herself that didn't fit the status quo, lock it in a cage deep within, and leave it there until she forgets who she really is. Today, she's crafting her own flame, and she's been fanning and nurturing it since the playground at The Rock Montessori where she never felt welcome, all the way to the music room in Dowen College where she learnt to express her emotions through song and accept herself for who she is. She hasn't always been ready, and to form her flame, she had to get to know herself.
Born in England, and raised there for her first few years, at four years old, Temilade moved back to Lagos with her mother and brother following her parents' divorce. Accosted with this familial uprooting at such a young age, left her archives of fond childhood memories bare, and forced Tems to grow up much quicker than many of her peers did. Home didn't feel like home, thanks to her "horrible" stepdad, and school wasn't any better. "I wasn't a cool kid, I wasn't popular – at least not for good things," she remembers. "I used to cry a lot, and people used to call me names. I didn't have friends so I spent a lot of time in the music room to practise singing. I didn't like using my real voice, so I would sing really soft. I thought my real voice was ugly and it was too loud. I wanted to sound like other girls whose voices were really soft and flowery." But amidst the unrelenting bullying from her peers and teachers alike, Tems found an unlikely mentor who would offer her a place of refuge.
It's very rare to find a young Nigerian who grew up in the noughties to speak fondly about a teacher from school, let alone one who pushed them to hone in on a creative talent, which is typically seen as a distraction from "real school". However in Mr. Sosan, Tems' music teacher in secondary school, she found someone who truly believed in her for who she was deep within. "I've never seen someone so talented at such a young age," he tells me over the phone. "She sings from the heart, and her voice is special. When I see her now on TV or hear her on the radio, I'm so proud of her, but I knew it was bound to happen sooner or later. 120%, I knew she was destined for great things." Tems recalls her time with Mr Sosan with great fondness, admitting that things got much better for her while she spent her time in the music room. During breaks and after school, she would sing songs with Sosan playing the piano. After he left the school, Tems had gained enough confidence in herself to make four friends in senior school. However, things went awry again after a tragic and very public depressive episode played out in front of her peers.
Music is one of the most effective tools to pull you out of a funk when the black dog comes around, and without her bout of depression as a teenager, Tems' purpose wouldn't be what it is today. In 2011, her mum had just got married to her stepdad; she tried to run away from home and ended up in some "crazy situations", so she looked to translate all her emotional turmoil into a physical pain. "I just looked at my life, and I felt worthless so I was like I want to end it. I was lost in my emotions. I was like 'why am I even here? If I'm here to suffer then just kill me because how much more of this can I take?' I didn't actually want to die, I just wanted it to end."
Between pauses and side glances at her manager who was sitting adjacent to her, she seemed nervous and triggered recounting a story that clearly impacted her greatly. Nearly a decade later, the thoughts and feelings of that particular day probably feel like a lifetime ago, but she manages to convey her exact emotions so vividly, a skill she showcases regularly in her music, which is what makes it so unique and relatable. Afropop is laden with happy-go-lucky, dance-driven songs, and it takes a critical listening ear to hear any pain when it's present. Harrysong's inescapable 2015 hit, "Reggae Blues" comes to mind, where he repeatedly sings "after the Reggae, play the Blues" on the catchy hook. This line is probably dismissed as a mindless bit of wordplay, however, you could also interpret that he's saying it's best to dance and be jolly when "the blues" show up. With Tems' music, our proximity to her true and authentic feelings reminds us that it's okay to embrace ours, and this is what sets her apart by so much at such an early stage in her career. She's felt rock bottom, made it back, and turned it to art.
Although she struggled to come into her own early on, it wasn't all bad for her growing up. She fondly reminisces about writing and making music as a child with her older brother, who she hasn't seen in three years since she moved back to Lagos full time after University in Johannesburg. When they were younger, he was gifted an elaborate guitar by their father, and they would spend a lot of time making up songs and hosting concerts to a pretend audience in their room. Now, it's no pretend game for Tems. Starting the decade with feelings of doubt and depression, she ended it barely being able to walk around her own estate without being recognised, and sharing stages with global superstars like Wizkid and Megan Thee Stallion.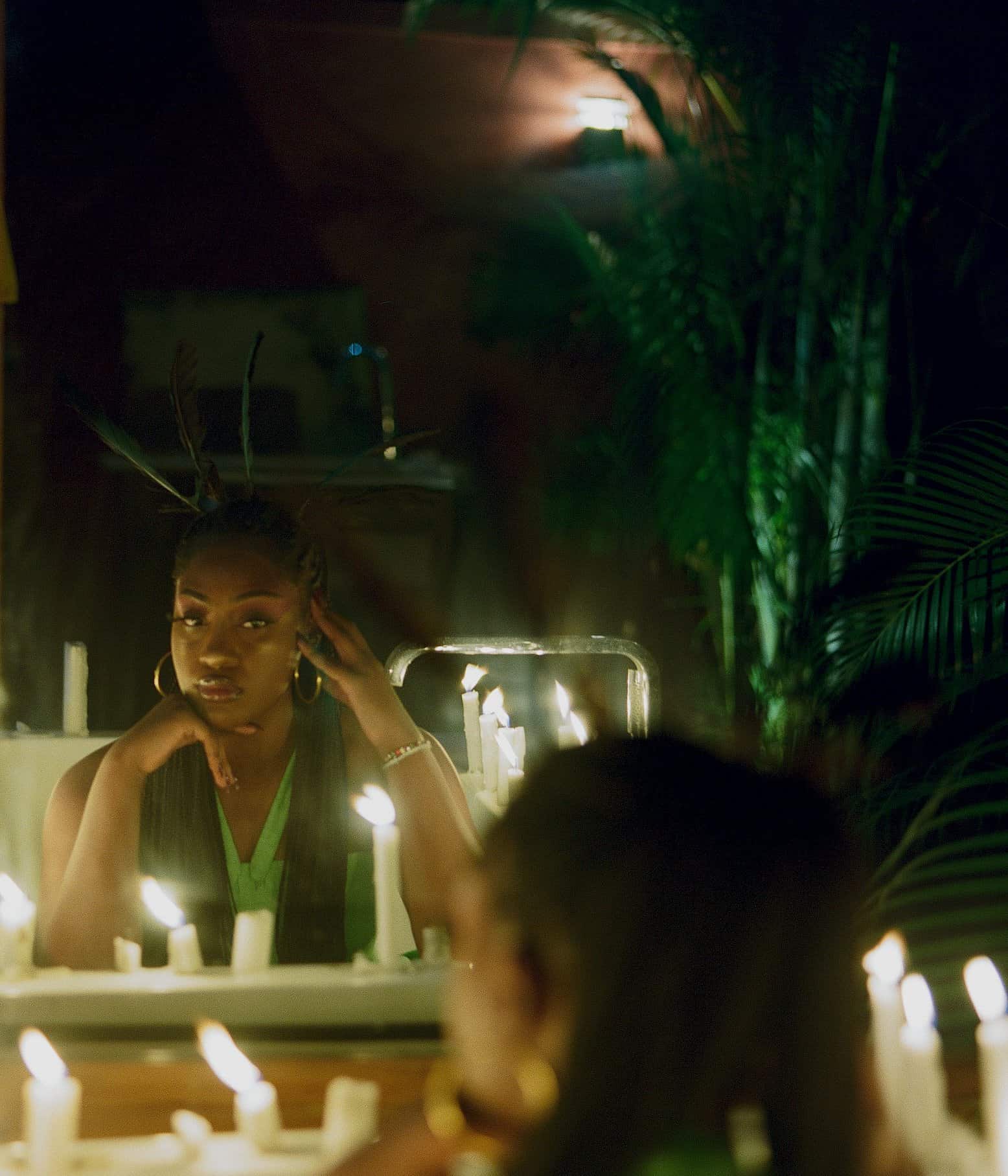 I get recognized by my estate security, and every time
I just go to the shop to buy something they'll play
"Try Me" over and over again until I leave the store.
They'll be saying 'Hey Ms Tems'.
Have you always wanted to make music?
"I have. The difference was just finding the courage to actually do it considering where I was, where I come from, my family and just who I was in society. I wasn't anybody that had any kind of opportunity, I didn't have connects and I couldn't figure out how to do it."
 Throughout our day together, Tems remains self-assured and confident in what she says about herself and her experiences. Moments of doubt creep in every now and again, but like a true Gemini, the twin shows up very quickly after to remind me, and possibly even herself too, of exactly who the fuck she is. "You know sometimes you think you can sing but you can't actually sing. I didn't know if it was worth all the trouble," she reveals candidly. " But I knew deep down that this is what I wanted to do and worst-case scenario, I'll end up on the streets begging for money and I was willing to do that for the music". She says this half-jokingly, but completely deadpan. Tems truly believes music is her one and only calling in this lifetime, and she's willing to go through anything to make it her reality. 
A lot of rappers confess to using their music as a means of self-therapy, and are only able to tap into their deepest feelings when they're in the booth. They often use their lyrics to inspire other people in situations they remember being in themselves, and this seems to me to be a part of Tems' mission. She's not a rapper, but she draws some of her biggest musical inspiration from Lil Wayne – if you dive deep enough into her Instagram feed, you'll find a riveting cover of Tha Carter II standout,"Hustler Musik". "I just wanted to be like him. I've learnt to accept myself in a lot of aspects and I needed to get to that point for my music to be what it is now."
 To get the music right, Temilade had to get right with herself. The late '90s and early 2000s gave birth to a new generation of young Africans. Thanks to the rapid technological developments during our formative years, we grew up with more access to information than our parents did, becoming more malleable with our choices as a result. Where older generations find it harder to break free from what's considered the norm, we tend to create new norms in order to remain true to ourselves. In order to stay true to herself, Tems quit her job as a digital marketer at a firm in Lekki, after she got a message from a daily devotional which told her to use her gifts to serve others. "I knew that after uni I wanted to focus on my music but there was a lot of family pressure to get a job so I just said I would and save up for the music. I didn't end up saving because I had bills to pay, and after a while, it got to a point where it was either/or for me, so I quit."
 This snap decision is what birthed "Mr Rebel", the song that introduced many listeners to everything we have come to love about Tems today. Her voice – the inescapable focal point of her music – is distinct, rich and nothing like you've ever heard before; her delivery is clear and audible with inflections that let you know she's Nigerian, if the unique sound made you doubt it. While you're bobbing your head to the brooding production, the calm disposition with which she declares that she's "the leading vibe" steals your attention immediately. This is a sentiment shared by her manager, Wale 'Tec' Davies, who, immediately as he heard the track, requested an introduction to her by a mutual friend.
"Mr Rebel" took off purely off the back of Tems' talent, and the reception to it gave her more faith in her ability. The confidence she gained in herself after moulting off the uncomfortable skin she wore during her depressed days began to pay dividends, and she was finally ready. She maintains that there was no spectacular reason for dropping the song, she just felt ready. 
"Within the week that I put it out, I met Tec from SDC at a studio with Spax, Poe, Funbi and Tomi, and we've all remained friends since then". 
In 2018, the youth-led underground scene, popularly known as the Alté movement was picking up steam, and there were a crop of artists who were gaining a cult fan base off of the back of them staying true to themselves and making different music to what was popular on the airwaves at the time . Artists like Lady Donli, Santi and Odunsi were at tipping point, and there was no better time to come onto the music scene with your own unique edge. Tems' superpower was her voice – the same voice she didn't find until she was three years old, the same voice she tried to quieten to sound more like other girls in her school year. And whilst it was "Mr Rebel" that got her into the building,  her triumphant follow-up "Try Me", demanded a seat at the table. 
 Tems is intentional about filling her songs with expressions of her own reality, and she's intently focused on a target audience who have experienced pain like she has. In 2016 while she was studying Economics at Monash University College in Johannesburg, Tems made "Try Me". At this point in her life, she had overcome her anxieties, and was confident and comfortable enough with who she was. With nearly 12  million plays across various  streaming platforms, "Try Me" shot the girl who was afraid of using her real voice right into the mainstream, and gained the attention of the entire nation. The song we know and love today is a product of her experimenting many years ago, trying to figure out if she was even good enough to pursue music as a full-time career. 
 During our conversation, I asked her whether she feels pressure to make another hit song like "Try Me", and in an illustrative response, she lined up all the crockery on our table around a teapot, and poetically explained that no matter what all of the other utensils decided to do outside of the tea pot, the tea bag is just brewing inside, doing it's own thing. She likened herself to the tea bag, and said she's built a barrier which does not let any unpleasant external force in, because she "cannot come and kill herself". This analogy was somewhat lost upon me back when she and I had this conversation, but I have since learnt about the still calm that comes when you've successfully ridden a turbulent wave, and come out of the other side with all faculties of yourself intact. 
Here in Nigeria, the importance of a relationship with oneself is hardly stressed enough, from my experience at least. Outside pressures from authoritative figures who have raised us – be it parents, stepparents, or teachers – often make up the voices in our heads, and there's a disconnect between the way we're taught to behave and who we truly are. One doesn't find this inner peace without connecting to who they are at the core, and it's very easy to let the outside noises penetrate and bury your true essence, if you're not even aware of what it is in the first place. I've lost count of how many cups of tea she has poured herself when she continues saying "I can never make another song like 'Try Me' again. It's everybody else [that's] feeling the pressure for me, but I'm not feeling pressure for myself. I'm not worried, this is a positive thing for me. Now I know that my message will be heard by all the people who liked "Try Me" no matter what I'm saying."
It's hard work, I don't get any days off but I like it. I like to keep myself as pure minded as I usually am when I'm making songs.
I have to be so real with myself and say things that people are scared to say and I have to tap into myself a lot.
Although Tems finds herself in a better position than she was in 2011 and even in 2019 when she dropped "Try Me", those feelings are still very real to her. "I sit down sometimes and think about all the shit I've gone through and it's just too much." She says in between sips of her tea, seemingly replaying events in her head. "I shouldn't be alive. For me to now still be here, making something of myself, it's insane. When I quit my job, I was expecting to be begging in the streets. Not in a million years did I expect all of this in only ONE year."
Young artists all over the world are earning their stripes very quickly, and are doing so purely based on their talent and the audience's reception of them. Five years ago, Megan Thee Stallion was working as a waitress, and a mere two years ago, Roddy Ricch was sitting in county jail, praying to make it out and never return. Now, their songs are topping charts, and are two of the most recognisable voices not only in hip-hop, but also in mainstream music in general. In a world where the younger crop of talent are representing their peers on a global stage and ensuring that our true and authentic voices are being heard – through a pure representation of their state of mind in song –Tems is holding it down for us in these parts.
The music world moves very fast today, and all over the globe from the Yaahjects to Benin City, the quiet time before the rush of fame for a new musician is becoming a lot shorter these days. One can credit her voice and emotive subject matter for the rapid growth she's seen in the past two years since she dropped "Mr Rebel", however, the most important ingredient to her cocktail of success is her work ethic. She tells me that she has to remain "as pure minded as I usually am when I'm making songs. I have to be so real with myself and say things that people are scared to say." Her decisive, self-assured nature also comes into play: Tems is so sure of what she wants, it's near impossible for her to delegate or relinquish power, so she ends up doing a lot of things by herself. "It's a lot of work and I just have to remind myself why I'm doing it and it will always work out as long as I'm not doing it for the wrong reasons". An easy example of her unshakeable DIY work ethic is her journey to becoming a producer. When Tems moved back to Nigeria after university, she would spend her days looking for producers to sell her beats, but all she met were people who were trying to get her to hop on the next big hit, when all she wanted was someone to create the sound she had in her mind. Frustrated by not finding a beat she connected to, Tems took to YouTube tutorials to learn how to make her own beats by herself. "I wasn't hearing anything that was me in all those beats so I just decided to learn how to produce my music by myself."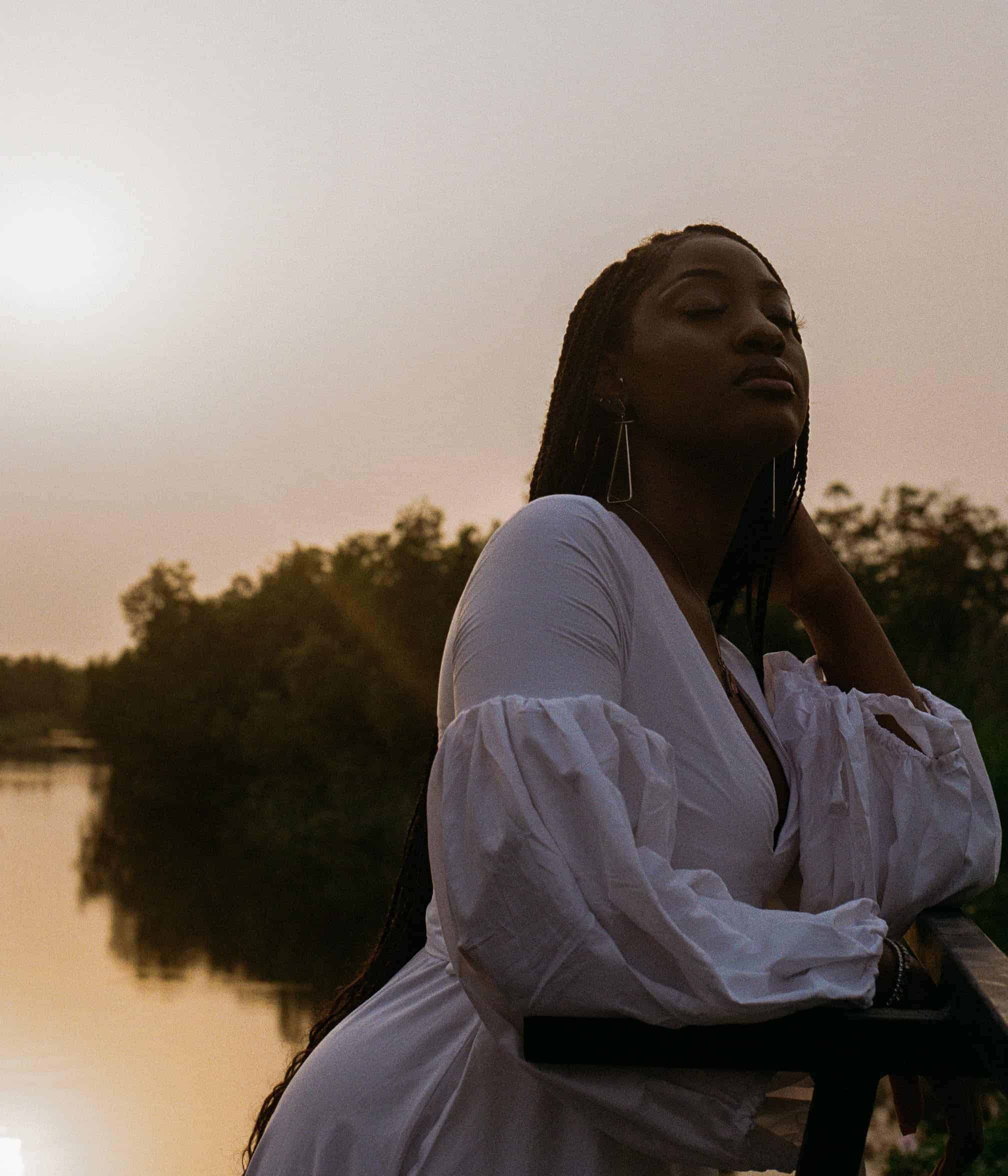 I thank God. Like I sit down sometimes and think about all the shit I've gone through and it's just too much.
I shouldn't be alive. For me to now still be here, making something of myself, it's insane.
Tems represents a new dawn. She is deliberate with everything she does. It means growing pains, but she's ready to take it all on and wouldn't have it any other way.
In 2018, a staggering report by The Recording Academy revealed that women make up only 21.7% of the music industry – 2.1% of them are music producers, and another 3% mix and master music. This percentage is definitely much smaller in Nigeria, and Tems' painstaking attention to detail has brought her into this league of women. In a male dominated space, it takes a lot of gall as a woman to disrupt the status quo, especially for the reasons she decided to pick up this skill. Tems refused to be fed what she was given, because she has a clear plan, that she simply won't compromise. She's been through too much already to not execute exactly how she envisions. Speaking to Remy Baggins, the co-producer of "Try Me", he remembers fondly: "Tems brought the stems of the original beat she made to the studio for me to touch up; she said she was going for a newer, energetic rock-trap sound on the record. I took out her drums and programmed new ones, then added 808s. All the organs, pads and synths were made by her, I just mixed them and made them sit well. Her voice is too special. At a point, she took over the recording session, because I was so stunned. She's a perfectionist, she hears things in her voice no one else hears."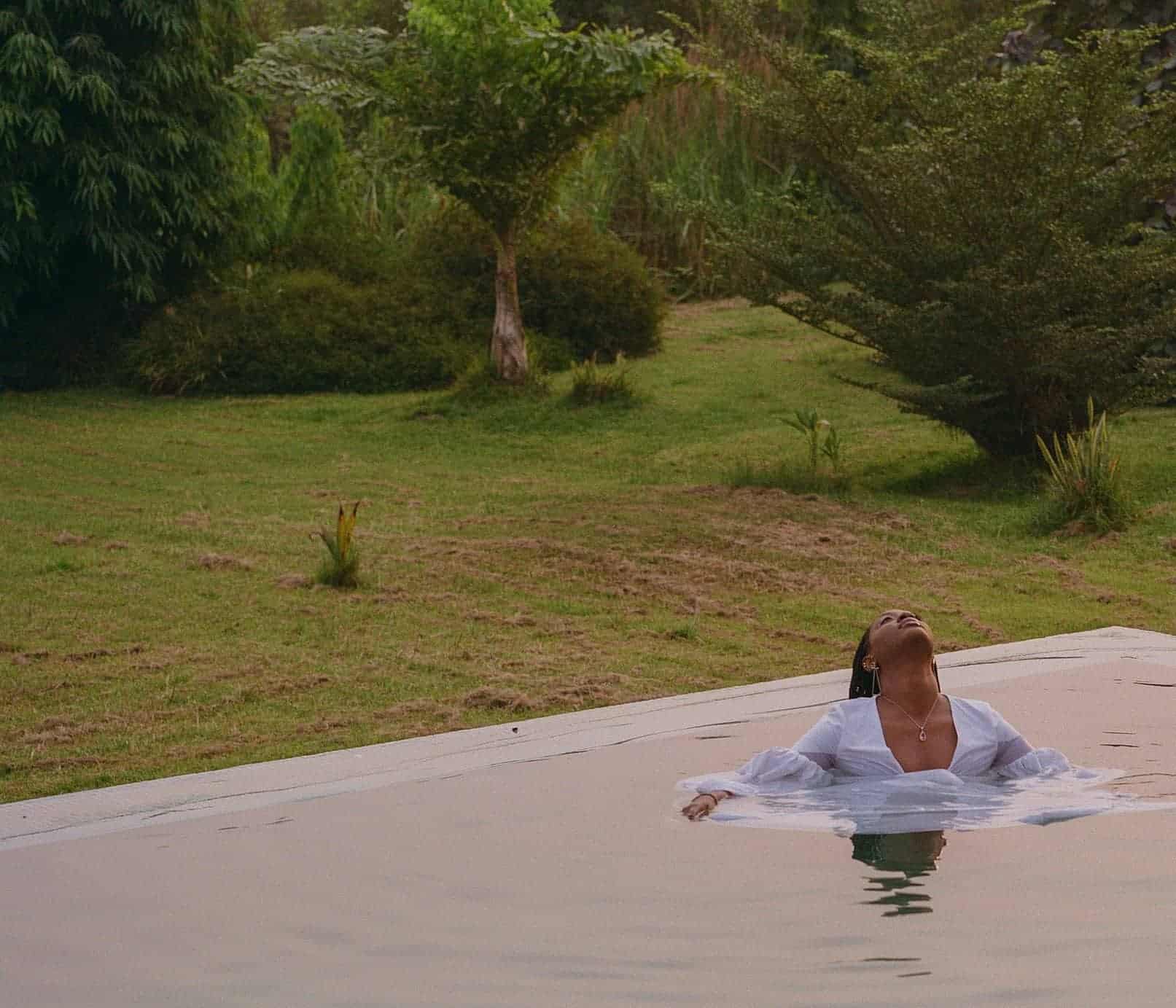 Andrea Iyama dress
Back in May 2017, Tems had the hit single to-be blaring through the speakers at a '90s Baby Kickback.
In an industry filled with gatekeepers who typically won't give you an audience unless they believe in what you're doing, in the second half of the last decade a group of young talents dedicated their rise to creating spaces for themselves and others like them to thrive. '90s Baby is one of such spaces, as is Femme Africa, where, at their first-ever showcase in 2018, Tems would once again perform the fiery single in a bid to test the waters, and ascertain the crowd's reception to the track. Those lucky crowds who heard "Try Me" before it was fully formed knew Tems had a hit on her hands; the founder of '90's Baby, Idris King confirms: "We all knew it was a hit when we first heard. We cheered for an encore. Her performances are a direct reflection of her genuine feelings based on her life experiences." Ayomiide Dokunmu, founder of Femme Africa echoes this saying "I'm in awe of how consistent she's been from 'Mr Rebel' to 'Try Me'. I strongly believe this year will be one for the books for her".
And that it is. It's a new decade, and Tems has started out being one of the members of YouTube's Foundry Class of 2020, a development program built to help independent artists "use music and storytelling to engage fans all over the world and build careers with a vision that is really unique to their own" . This program kickstarted the careers of now household names  like Dua Lipa and Kenny Beats. Snoop around and you'll find that her first single of the year, "These Days" is distributed by Orchard – a company who have previously worked with independent artists such as Jorja Smith, Skepta and Baby Keem. Tems' trajectory is clearly poised to join the  leagues of artists who are taking the sound back home all over the world, and it's testament to her talent and vision that she has managed to do this with only a handful of songs and features out. Over a glass of Shandy at a popular Lagos social club, her manager, Tec, tells me "Having someone like Temi on the scene is very important. She's all-inclusive and presents the perspective of an underdog, and that's very important in our society. It's about time in Nigeria that we give women the chance to speak, and actually listen to what they have to say".  
Even though she's in control of her music and her life, Tems has intentionally surrounded herself with a solid and trusted individuals,  which allows her to focus on her number one priority – using her voice. Her impressive trajectory in such a short period speaks to her being part of a well-oiled machine, which consists of a small, quiet yet effective  team who are just as dedicated to her success and passing on her message as she is. Tems is managed by Muyiwa Awoniyi who previously managed Nonso Amadi during his own breakout year, and Wale Davies (Tec) – one half of rap duo, ShowDem Camp – whom she describes as her sleeping beast, making sure all the "serious stuff" is done right – many people don't even know how involved he is in her career. 
Nigeria, and as a result the Nigerian music industry, has a complicated relationship with women. Quite frankly, it's extremely toxic. What we see on a wider level in society is unfortunately mirrored in the music world: women are undermined and underrated at every turn, having to do double the work to make half the progress. Tems has had to maneuver the minefield, and has managed to circumvent a lot of the norms that would typically be imposed on her only because she's a woman. She's actively tried to avoid being sexualised, whilst still maintaining bits of herself that appeal to her femininity. "I've been trying to balance being myself and being a woman in this industry" Tems says, sounding almost defeated by the amount of effort she has to put in to ensure that this is the case. "I like to look nice. I like girly things too, but I want my music to come first. I need people to understand the message behind the music, not just seeing one sexy, hot girl, who can sing". 
I can never make try me again, it's a once in a lifetime song.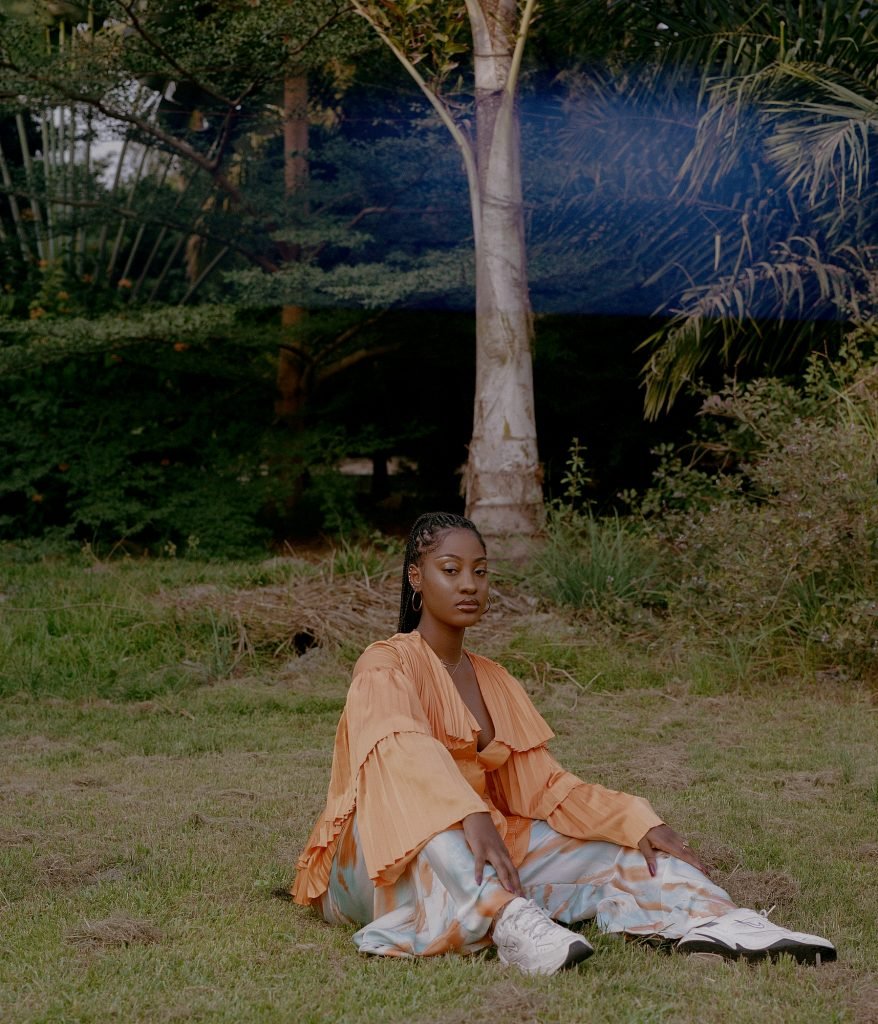 Andreah Iyamah top and GETO trousers
Ultimate success for Tems isn't tied to getting any accolades or being the most popular artist – in fact, she would rather not have any attention on her. What she does really want, however, is to be able to "open doors for other women rather than close them. I'm not going to be standing there being like 'no bitch no space for you'. I want to hold the door open for other women to come in, and be truthful enough to inspire other people – not to be me, but to be as free and honest.". This is probably born out of the fact that she didn't have this person who she wants to be growing up. In the last decade, we've been hard-pressed to name an artist other than Tiwa Savage for young Nigerian girls to look up to and aspire to. Even her image was constantly assassinated: whether it's by attributing the success of Tiwa Savage to the men around her, or castigating her for being a sex symbol. So, given the state of the industry and Nigerian culture, the chances are that Tems has encountered more women simply grateful to be in the room, than women putting in the work to make sure she's let in too.
This is a sentiment echoed by her close friend and artist, Dami Oniru, who speaks about their friendship being fuelled by their shared interest in breaking boundaries for other women who are coming after them. Dami is inspired by Tems' ability to blaze the trail on her own terms, she tells me: "If the goal is to be here for a long time, and have a good run, you have to be honest in the music. You can't fake those things. It gives the rest of us hope that we won't have to bend or sell-out to get where we want to go".
Tems and Dami Oniru met during a rehearsal for the aforementioned Femme showcase, and gravitated towards each other due to their similarities. Ayomide, Femme's founder, who was also present at the rehearsal, forms the third point of their formidable friendship triangle. Just as Mide had nothing but resounding praise for Tems, Tems and Dami, when talking about each other, are all parts supportive and loving. Tems, who could be speaking about herself, tells me of Dami: "she's very true to herself, she's real and she's really good. Her voice is really powerful, she can ACTUALLY sing. Sometimes I hear her singing and I'm blown away". Whilst Dami speaks of how dearly she treasures their genuine and uplifting friendship: "It's so hard in this industry to find friends who will genuinely root for you. For most people it's a competition."
I feel like I've tried to avoid being sexualised without like becoming a tomboy or looking like a gangster.
I don't want to look like a boy, so I've been trying to balance being myself – I like to look nice. I like girly things too, but I want my music to come first.
I need people to understand the message behind the music, not just seeing one sexy, hot girl, who can sing.
Tems is among a unique set of women who are breaking society's barriers as they come up (not coincidentally, at the same time) in the industry. Male artists – from Future & Drake to Olamide & Phyno – have figured out a way to tap into each other's audience for wider reach, owing to the fact that multiple men can and do exist at the top. This is not the case with women in music, so instead of trailblazing partnerships you'll find that women tend to want to stand alone in a bid to stand out. Coming together and collaborating has not been the norm for women in the Nigerian music industry, but Tems together with other female artists within this crop are defying this standard. The status quo is to pit women against each other, and create unnecessary competition for the one seat allocated to women at a table full of men. Female artists from older generations in the industry globally and locally, are often seen to be in conflict, hardly collaborate with each other and sometimes even play up supposed beef between each other for entertainment. Tems isn't buying into any of this.
"It's an illusion, it's just society politics and the mentality. I don't want to be the queen, there's no throne. We're all winning anyway so let's all just win together. There's only competition when you're selling the same thing and we're not, there's no way to replicate what say, Lady Donli or Somadina is doing." In short, Tems believes she and all the other girls occupy the spaces they do, because they're all authentically themselves and what they bring to the table can't be replicated.
Judging by her steady incline over the past year, it's clear that Tems is simultaneously learning and playing the game – she's writing her own rules, and is taking control of her trajectory. Tems suggests that perhaps women aren't used to being in full control of themselves, and out of fear, run back to a place of comfort; she understands this fear, she's lived this fear. "I've been there and even if the end result is death, I would rather take control of my life, find myself and be myself. That's when I'm most comfortable and I'm not going to apologise for who I am".
In the past two weeks, we learnt about allegations made against D'banj and there has been a deafening silence from the music industry. Tems, however, is one of the few artists who have spoken up about the situation, rallying her Rebel Gang to take action in support of his accuser, and taking a clear stance on the right side. Seeing her tweet reminded me of when she said to me :"I'm just real, I'm not forming, I'm actually just saying the truth. Picture everyone is in the same room and we're all being bitten by mosquitos and nobody wants to be caught out of character. I'm just one in the room saying "GUYS THIS MOSQUITO IS BITING ME OH" and everyone looks at me, and says me too." Tems is fine being the one that has to speak for many, and it is a role she has grown into over the years, which can only bode well for her career moving forward.
It's hard to say what comes next for Tems, and this is exactly what she wants. She doesn't want to be predictable, or remaking the music that got her to this point. What I'm sure we can expect from her, however, is that she will continue to be herself. Whether we hear that she's been signed to a big time label, or she's achieved her dream collaborations with Burna Boy or Asa, we can always just expect Tems to use her most powerful tool: her voice. This same voice she was conditioned to thinking was too powerful, and that she kept hidden within herself, is coming in handy, not only for her, but for anyone else who feels like they can't use theirs.
We're waiting for a crème brulee to round up our meal, when I ask her what's next. "I don't know. I just know I need to be a better person all the time, " she says very seriously. "I'm not even at my best currently." If this isn't her best, the world has something to worry about.