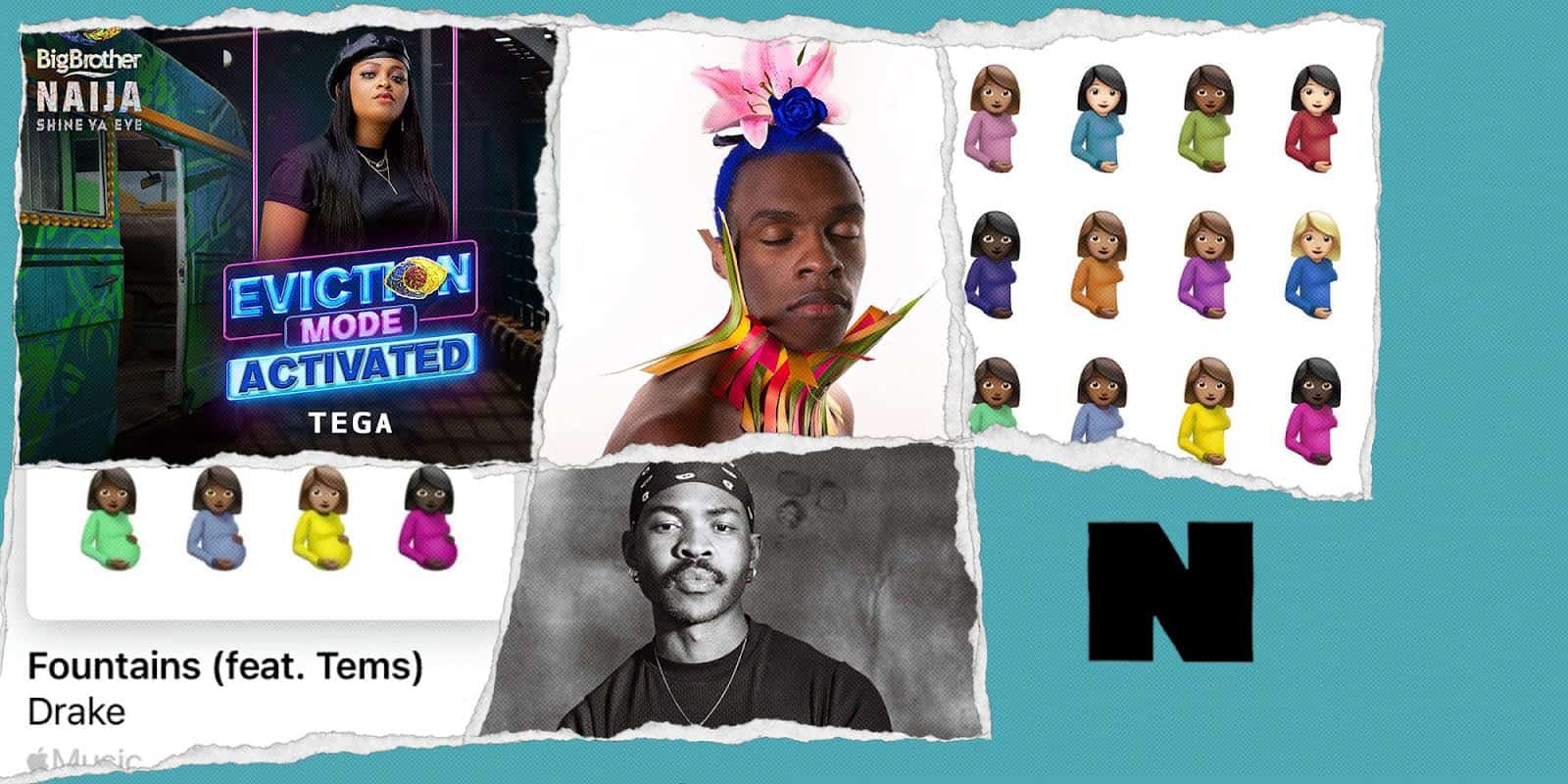 Hot Takes: Tems on 'CLB', Orange Culture, Lukhanyo Mdingi & more
Much ado about CLB
Summer is over. With September around once again, reality began to dawn as schools resume and workers return to the office. Even the weather has given up on being cheerful as we've been met with continuous showers and gloomy weather. Asides from this, we're still in the middle of a deadly pandemic that continues to take change life as we know it. 
On the bright side, vaccines are being made available worldwide, with over 1.5 million people vaccinated in Lagos state alone. As a result, in the city and all around the world, concerts and live experiences are beginning to pop up again the latest of which is the Made In America festival which saw Justin Bieber bring Wizkid on stage. 
Through it all, the wheels of pop culture have continuously spun, and over the past couple of months, the cultural moments that have collectively got us through the tough times have only become wackier and more bizarre with each passing day. Some things fade away quickly while others linger for weeks or months, taking space on our social media timelines and populating every conversation with friends, with the ability to change the shape of mainstream popular culture.
For this week's Hot Takes, I'll be taking the reins to work you through some of the most important cultural conversations happening at the moment. We'll be talking about the aftermath of the release of 'Certified Lover Boy' album cover art and the surprise Tems feature on the album. I'll also be looking into the reactions to the Tega and Boma eviction from BBNaija and more.
What I'm currently listening to
As always, there's so much music in circulation right now. From the deluxe edition of Wizkid's Made In Lagos' to Kanye's 'Donda', there's quite a lot to keep an eye out for right now and it's really so easy to miss out on the good stuff if you're not ears to the ground.  I'm currently hooked on Wizkid's "Mood," featuring Buju, who's on a hook killing spree. This song is a jam and a half in my books. It's got solid production from P2J and a really enjoyable listening experience from both artists despite the song's quite explicit lyrics. Everyone actually brought their A-game and it fits right into the groove of the other tracks on the album.
What I'm currently watching
I'm currently watching the long-awaited Netflix original 'King Of Boys: The Return of the King'. The 7-part sequel, which we finally got after waiting almost 2 years since its acclaimed first feature film. It was absolutely worth the wait. I'm not done watching all 7 episodes but the episodes I've seen have certainly been worth the watch. There's something about the storytelling that just makes you want to keep watching, It's very engaging and you just don't want to stop. Costuming was also another very interesting aspect of the movie. It's kind of like there's a certain outfit for every mood and they just seem to get it right. Looking forward to finishing this by the weekend.
Summer style trends I'm loving
As NATIVE's first-ever in-house Creative Assistant, it's my job to stay on pulse with the latest fashion trends around Africa and the world at large. This summer, so many trends are making their way into the mainstream and many others are going out of style. This week, I'm hooked on the fisherman hat which is sometimes referred to as a bucket hat. I don't exactly subscribe to the trend but I'm willing to accept some of the cuter styles. The particular style that comes with string dangling from opposite sides has become a regular accessory mostly for a sunny and/or beach day. There are various styles and colours and colours, all you need to do is choose your poison. I'd recommend getting your hands on the Jacquemus Le Bob Artichaut, an amazing find.
Tega and Boma eviction creates Social media uproar
Sunday was the king-size eviction night in the Big Brother House. Four housemates were evicted from the house including Peace, Michael, Tega and Boma. Although 4 housemates left the house, social media was awash with comments about two housemates, in particular: Tega and Boma. Over the past few weeks, both housemates seemed to have gotten conspicuously closer to each other as they engaged in intimate activities that had everyone talking and dissecting each minute detail of their interactions. The controversy stemmed from the fact that Tega was actually married with children outside of the show and was disrespecting her husband by frolicking with a fellow housemate. While I don't condone infidelity on any scale, I've learnt not to take these matters too close to the chest because it's never really as it seems. Since her eviction, the matter has only worsened as we've been given front view seats of her issues with her husband. I wish people would keep their matters off the TL.
Ebuka: "You and Boma were more than just friends"

Tega: "It's the script we decided to act, hope you guys enjoyed it"

Sorry oo, Kemi Adetiba lite.#Bbnaija

— Alhaji Beardless Smallie👳🏽‍♀️💦🇨🇦 (@SMiTHiE___) September 5, 2021
Boma has also been stapled as being offensive and harsh to women before his exit. He had been involved in several altercations with fellow female housemates in the house which had him using derogatory and extremely insulting words—he referred to fan favourite Angel as a "mental patient." With all these, Big Brother fans seemed to be happy that every housemate who had come to verbal blows with Angel had been evicted. 
Big Tems on 'Certified Lover Boy' 
Last week, the Internet was in awe when news broke that Nigerian singer Tems would be gracing Drake's long-awaited LP, 'Certified Lover Boy.' This year has really been amazing and rewarding for Tems, mainly on the back of her stunning appearance on "Essence," helping to power the Wizkid-collaboration into a Billboard-charting song of the summer. Now appearing on arguably the artist of the decade, alongside world-renowned big names such as Jay-Z, Lil Wayne, Kid Cudi, is another undeniable W for the Lagos-based superstar.
Guesting on the 16th track, "Fountains," Tems received praise for her contribution, however, the song elicited mixed reactions, especially with mentions of similarities to another well-known song by Drake, the Wizkid-featuring "One Dance". Many people, myself included, couldn't think of the old hit when listening to "Fountains." The Tresor co-produced beat and the song's chill but buoyant vibe brought back a form of nostalgia to the ears. It was like 2014 all over again.
Personally, it wasn't the sort of collaboration I'd expect from either of these two artists. I found the track to be subpar and a little boring. I was expecting a track that would transcend all odds and be as bigger or even slightly bigger than "Essence," which is still taking the Billboard charts by storm. Underwhelming in my books but let's hope that her EP which is slated for release next week capitalises on the current hype she's enjoying.
The plague of the CLB album cover
Never doubt Drake's influence, no matter how tacky it may seem. Since the Canadian rapper released his unique and unusual album art last week, the Internet has taken it upon itself to do the most and turn it into a meme worthy of emulating. At every corner of the Internet, you'll now find the odd brand or two creating their own spin on the album cover and fashioning it into a marketing technique.
So far, I've seen brands such as Neutrogena, FanYogo, Call of Duty and many more join the trend. And it's not hard to see why. Earlier this year, Drake was named the artist of the decade, an honourary title that's befitting of an artist who's continuously broken the ether and upped the stakes with each new release. CLB is no different. Within hours of its release, the album was already the most streamed project on Spotify in a single day and all 21 songs featured in the Top 21 on the Apple Music US charts. If that's not groundbreaking then I'm not sure what is. While I'm certainly tired of seeing the cover replicated on my TL, I can't exactly fault any brand that chooses to adopt a similar technique, anything in tandem with Drake will succeed so let the people do as they please. We're going to be witnessing the plague of the CLB cover for months to come.
Certified Refreshment ™️ pic.twitter.com/wAIcj3PPtN

— FanYogo Ghana (@FanYogoGhana) September 3, 2021
View this post on Instagram
Orange culture x Sophie Vermeulen create 'FLOWER BOY' 
To celebrate the coming together of fashion and art, Lagos-based designer Adeboye Oke Lawal of Orange Culture and Arnhem-based artist Sophie Vermeulen present to you 'Flower Boy'. 'Flower Boy' which is slated to exhibit from now till October is a celebration of androgynous identities. It questions the traditional forms of masculinity that are forced on men in society, making them conform to a certain standard. 
'Flower Boy' also links back to the latest SS21 collection by Orange Culture titled 'Honest' which represents the relationship between a father and son and the stereotypical ideology of what a traditional man is expected to be like or act like.  It speaks on Freedom to express one's masculinity in the way they feel and not to always conform to what society says is the norm. 
"I want people to feel connected, I want people to feel a sense of belonging, I want people to see a sense of beauty in letting people be themselves. I want people to celebrate Flower Boy. Flower Boy is me and you and all of us who have been outliers for so long," Oke Lawal says. Vermeulen also adds that "As humans, we are all the same and yet so different. The beauty is in both being the same and different. I hope to show people that if they take some time to look at each other, they will find similarities that they might not have seen in the first place. There's a place for everyone. No one needs to be, or to feel excluded."
This powerful duo aims to change the same old ideology on how we all expect the typical man to express their masculinity. All the emotive images from the collaboration will be exhibited at the African Artist Foundation (AAF) from now till October 2nd 2021.
View this post on Instagram
Lukhanyo Mdingi, LVMH prize winner
Lukhanyo Mdingi, a young South African fashion designer, is the creative director of the Lukhanyo Mdingi, a South African fashion brand that launched in 2015. The brand's aesthetics is an interpretation of a minimalistic approach with a hint of contemporary elegance and sophistication through the clothing. His talent has garnered a lot of recognition, recently being made as one of the 9 finalists of the 8th edition of the Louis Vuitton Moet Hennessy (LVMH) prize for young designers. The finalists will have the opportunity to present their final collection to the jury today, the 7th of September at the Louis Vuitton foundation where the winners of the LVMH prize and Karl Lagerfeld jury prize will be announced. The winner will be awarded a €300,000 cash prize and year-long coaching from experts of the LVMH.
This year, however, three designers have emerged victorious from the competition for the first time ever. Lukhanyo Mdingi is one of the three winners, alongside Kidsuper and Rui Zhou. This will be the second time that a young South African designer will win the award, with womenswear designer, Thebe Magugu winning the same award back in 2019. Speaking on the win, Mdingi shared that "I'm just super-stoked to be sharing this with two amazing designers. I think if you look at Africa as a whole, there are different corners and pockets where there's such a rich community of textile development and craft makers. We're fortunate enough to have been able to work with people who have such finesse with what they do, who are based in Burkina Faso, as well as Kenya and South Africa. Being part of that brings a sense of honesty to our label, and I'm incredibly grateful to be in the presence of them."
View this post on Instagram
---