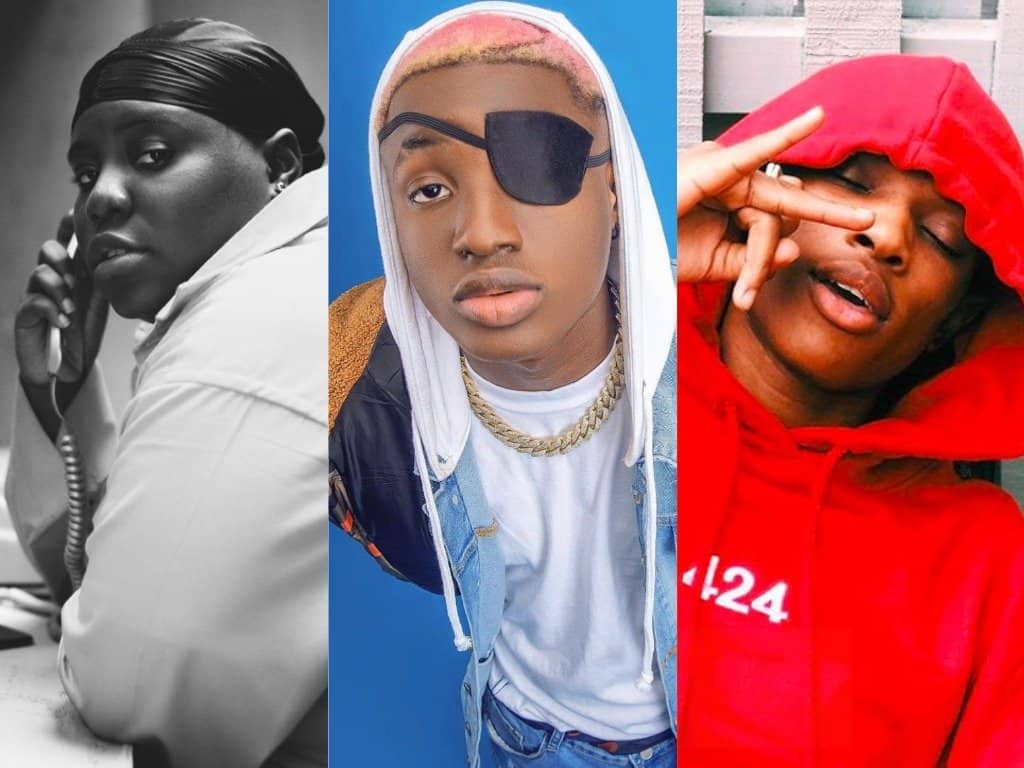 Songs Of The Day: New Music From Teni, Ruger, Maison2500 & More
Update your playlist here
More than most people, the team at The NATIVE knows that the sheer scope of music available to us at this exact moment in human history is mind-numbing but our goal is still the same as always: we don't want exciting music to be slept on. That's where our Songs of the Day column comes in. We try to keep our fingers on the pulse of music from across the continent and beyond, bringing you exciting songs from talented musicians who are continuously trying to bounds of artistry with their music.
Last weekend, we brought you new music videos from Yaw Tog and Omah Lay, the lead single from Ayra Starr's anticipated debut album, Dlala Thukzin's potential Gqom smash hit, and more. For our mid-week curation, we're bringing you new releases from Teni, Maison2500, Ruger, Joeboy, Mowalola and more. Tap in.
Maison2500 – "x2 Much Dope"
The blunt and edgy youthfulness of Maison2500's songs has earmarked the young rapper as one of the most experimental sounds out of the continent. Earlier in the year, the rapper came out as non-binary, a watershed moment that would open the doors for more queer and non-binary Africans to take centre stage. "x2 Much Dope" is their second release in 2021, following March's upbeat "Methamphetamine." In typically stellar fashion, Maison's prioritises exuberant lyricism and experimental cadences, sliding over a woozy punk-trap beat with unflappable poise.
Mowalola, Lancey Foux, Bby$lut & Mechatok – "WAWA"
A couple of months ago, Mowalola dropped her debut single "Truck," a notice that her creative abilities and interests go beyond the bounds of fashion designing. She is back with her latest single, this time featuring British singer-songwriter Lancey Foux, producer Mechatok and Bby$lut, popularly known as Igbospice, on "WAWA." Featuring her hazy yelps and Lancey's raucous raps, the song revolves around their evident ability to "ride over the beat," with both approaches matching the thump of the psychedelic Trap production. The single is accompanied by a visually hectic music video, packed with flashing lights and animated performances.
Jomiz – "WHY"
After making his initial mark on the music scene in 2020 with a handful of singles, Nigerian singer Jomiz is back with his first single of this year. Produced by BMH, "Why" is a confessional love song, in the same vein as his previous releases. He questions his love interest's suspicious actions towards him, repeating "why" on the song's chorus as a marker of the emotions behind his expressions.
Teni – "Dorime"
Self-acclaimed 'Sugar Mummy' of Lagos, Teni is back with a new single that taps into the "Dorime" craze, a hugely popular slang that initially originated from a 1996 single by E.R.A titled "Ameno." She'd shared the song's snippet on social media a few weeks back, clearly in-tune with local pop culture trends. The track embodies the artists usual melodious tone as she sings about how she's the life of the party in the chorus, "when we enter dem go play dorime/when we enter dem go play ameno"
Tim Lyre – "Real"
Afro-fusion singer and songwriter Tim Lyre is known for exploring various topics of general human experience we can all relate to. We've also heard him feature countless times with artists such as Prettyboy D-O, Fasina, Chop Life Crew and Loti, creating music we know and love. On his new single "Real," Tim Lyre is back again giving us lyrics in Yoruba, Pidgin and English with instrumentals heavy on the drums, assisted with the guitar. The four-minute track has Lyre reassuring a partner that their love is real and authentic despite the fact that he gets jealous all the time. 
Ruger & Midas the Jagaban – "Bounce (UK Remix)"
Off Ruger's Debut EP Pandemic, "Bounce" has emerged as its widely loved, consistently charting behemoth and its popularity doesn't look like it's waning anytime soon amongst Nigerian, African, and audiences across the world. The reach of this track is evident in the recent release of a UK remix featuring Midas the Jagaban. "Bounce (Remix)" retains its OG captivating beat and lyrics by Ruger, aided by Midas the Jagaban joining in before and during the chorus with beautiful symphonies. 
Tomi Owo – "Through The Never"
Tomi Owo has been around for quite some time, her well-received debut EP Pieces dating back to 2018. For the most part, though, she's only released music sparingly, consistently swinging for quality singles that prioritise her sophisticated sound and lived-in writing. Her latest drop is a cover of Metallica's "Through the Never," one of the multiple covers on the American band's 30th-anniversary compilation of their fifth, self-titled album. Drawn in by the song's exploratory theme, Tomi puts an endearing spin on her cover, singing the words with a soulful candour over a musical arrangement that shifts between Soft Rock and Hard Rock.
Joeboy – "Better Thing"
Earlier this year, Joeboy released his long-awaited debut album, Somewhere Between Beauty & Magic. The LP confirmed Joeboy's place as one of Afropop's most personable troubadours, mostly comprising songs dedicated to romantic love. In the months since the album has been warmly received, and the singer is still very much in the middle of his promotional efforts. He recently shared the music video for the celebratory track, "Better Thing," where he's palpably elated by his successes. The video is essentially a feel-good set, with Joeboy performing his set in a dimly lit location and shots of dancers working their bodies to the mid-tempo bop.
Kwesta – "Kubo" (feat. K.O, Focalistic & Bassie)
Earlier in the year, South African rap superstar Kwesta released g.o.d Guluva, his first album in five long years. It included the instant, groovy standout track "Kubo," an infectious fusion of Kwaito, Amapiano and rap with apt features from Shkanda Rap pioneer K.O, Amapiano-meets-rap specialist Focalistic, and vocalist Bassie. In support of the song, Kwesta has just shared a music video that splits the difference between glossy and artsy, featuring all four artists performing at a swanky set to emphasise their boastful and joyous lyrics.
---