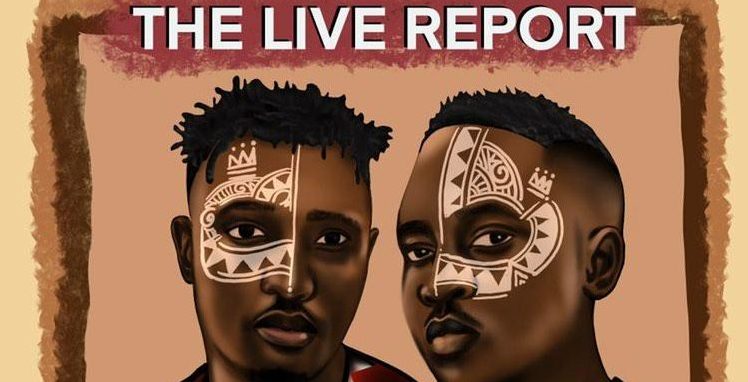 Essentials: M.I Abaga & A-Q's thrilling joint project, 'The Live Report'
Built off an already established chemistry between both rappers
At the beginning of this month, a joint project between M.I Abaga and A-Q wasn't on the cards. Just last month, both veteran rappers dropped their latest projects, 'Judah' and 'God's Engineering', respectively, so it was unprecedented that they agreed to a fan's request for a collaborative project. Beyond the proximity to their most recent work, though, what really mattered is that the pairing made sense on paper, and it ultimately translated into one of the more thrilling African rap projects in recent memory.
'The Live Report' builds off an already established chemistry between M.I and A-Q. While their striking guest appearances on each other's solo releases were a livewire act in contrasting styles, this 6-track project uses those differences to emphasise the similarities in their experiences and perspectives. "Tone of the Conversation", the opening song, is a good old lyrical outburst, with both rappers establishing their regal credentials. As much as it's filled with brags, it doesn't take much to see the diverging points if their candour: M.I's raps about his larger-than-life influence projects his slick conceitedness, while A-Q's threats of burying the hatchet into his rivals' skulls is a trademark offshoot of his raw pugilism.
While assertive rapping is what carries the project, thematic timeliness is its main sell. The pair address pertinent social issues in a manner that's provocative and a tad heavy-handed at times, but always finds a way to land in profound territory. At those points, 'The Live Report' is a time capsule for the dystopian reality we're all currently living in.
On the title track, they grimace at the conspiracy theories linking the ongoing coronavirus pandemic with 5G technology, disappointed with the absurdity of it all. Where M.I, in between his dense schemes and optimism, simply urges listeners to apply common sense instead of looking to influential figures who don't know any better, A-Q flips those theories into part-rant, part-satire that climaxes with the cutting, final lines: "The question is, where is Africa in all of this/we busy playing politics, on some corruption shit".
"The Live Report" is closed off by a soundbite from a tech expert who harps on the necessity of mobile networks in a time where many have to physically distance themselves from family and close friends. Bits like these are worked into 'The Live Report' as a means of building and easing the tensions of songs, as well as emboldening nuance. The lampooning of exploitive religious leaders on "Jesus Said Use Your Head" starts off with preachers quoting and explaining bible passages, while the morbid honesty of "When I'm Gone" begins with a matter-of-fact statement: "…it could be in a month, it could be tomorrow, it could be in a year, it could be in twenty years, but the thing is, you're gonna die".
Although M.I and A-Q are rapping on top form, the project's sole producer, Beats By Jayy, is the spine of 'The Live Report'. Jayy's production on the tape combines simple elegance and a vintage knock; soulful loops are girded by head-nodding drum patterns, creating enough negative space for both rappers to find different pockets on each song.
On a less impressive note, "Jesus Said Use Your Head" allegedly samples Daramola's "I Used To", without the singer's permission. Even though the flip is artfully done, and Daramola has since taken down the tweet in which he complained, it's noteworthy mentioning that artists need to respect the intellectual properties of their colleagues, no matter the level of prominence.
On the purely musical side of things, though, 'The Live Report' is a nearly flawless body of work, with two of Nigeria's finest rappers speaking truth to power over phenomenal production. The fact that this project was conceived and executed within all of five days speaks to the virtuosity of all parties involved. It's the result of purposeful spontaneity and points to the idea that sometimes, there's really no need to overthink.
Listen to 'The Live Report'  here.
[mc4wp_form id="26074″]
---
Dennis is not an interesting person. Tweet Your Favourite Playboi Carti Songs at him @dennisadepeter
---