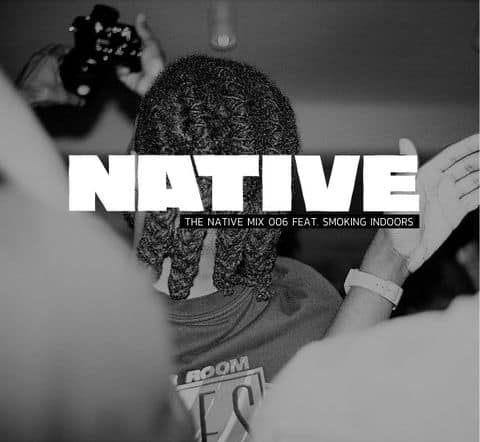 NATIVE Mix 006: featuring SMOKING INDOORS
The sixth instalment of the NATIVE Mix is a gem.
SMOKING INDOORS is back again hosting the sixth instalment of the NATIVE Mix. Seamlessly mashing up genres in his trademark style, he drops a new cut from Yonda and Burna Boy, a Lil Uzi Vert deep-cut and a hilarious Chris Rock skit.
However, the runaway scene-stealer in the mix is his edit of Ozzy B and Odunsi The Engine's "Gangster Fear". Blending the 2016 standout song with Smoke E. Digglera's "If U Say, Say U Scared" (famously sampled on Drake's "Look What You've Done") is a work of art.
Have a listen, and peep the tracklist below.
There is Hope for you Still – Misogi
No Sex – Chris Rock
Bad – Adey
Love and Death (feat Uhuru Yenzu) – Ebo Taylor
Danfo Driver – Mad Melon & Mountain Black
Boom Bye Bye – Rens
Yawa – Tekno
In the morning – Mr Eazi
Las Vegas Remix feat Burna Boy – Yonda
Chronic Sunshine – Cosmo Pyke
Lost – Kasien
Overdose – Da-P
Deixa Ela Envolvida – DKVPZ
Doe Je Dans – Ft. Adje, Jozo – Bizzey & Young Felix
Ronda – Lil Uzi Vert
I Cant Leave Drank Alone – Z-ro
Jiggle – Slow Thai
Big Ben – Donaeo
Iskaba – Wande Coal
Pattern -One Acen
No swag – Caleon Fox
Gngsta Fear – SMOKING INDOORS
Aqui No Baille – DKVPZ
Venus – Hypnotic Brass Ensemble
Gonna Change – Focus The Truth