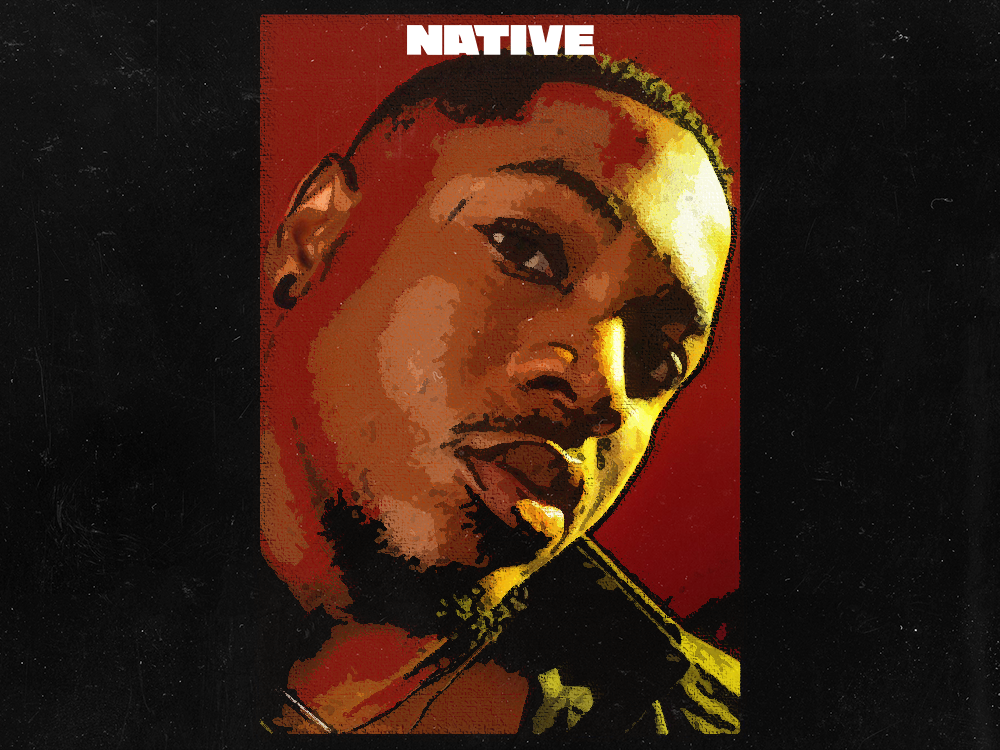 NATIVE Exclusive: Sheye Banks Is Transforming His Creativity
"At the end of the day, you cannot box greatness."
African entertainment is a thriving business. That much is clear from the convergent movement of industries like music, tech and nightlife, impressing unique hues on the consciousness of the modern global world. In recent years, esteemed personalities have sprung from this encompassing field, and Sheye Banks is one of the most vibrant personas the scene has yet witnessed. A radio personality and hype man, he's most recently become a recording artist, his few years of organised output culminating in his major-minted debut album 'Statement of Account', released last week. 
When The NATIVE spoke with Sheye, he was in considerably good spirits, eagerly unfurling tales from his decades-long career in the entertainment industry. For Sheye, his journey into such interests began with his father, who used to run a printing press. "That's how my love for journalism and broadcasting came about," he says. "And then, I was already surrounded with music—that's when the blend came". 
View this post on Instagram
Growing up in the Egbeda axis of Lagos—in Gowon Estate, specifically—Sheye Banks got into sounds by legendary artists like Fela Kuti, King Sunny Ade, Westlife, Michael Jackson. "You know, I just listened to a bunch of tunes," he says. That omnivorous mix of Nigerian and Western classics helped shape his broad palette, while the act of learning the records was an unassuming masterclass on utilising memory, skills he would come to traverse into his professional life. 
For a while, Sheye then worked in radio. He started in a broadcasting service owned by a hospital in the United Kingdom, and returning home to Nigeria for school, he worked at UNILAG FM. He then worked at the Kiss FM branches in Ibadan and Lagos, accruing invaluable multicultural experience, before moving to Soundcity TV. 
"I consider radio and TV my foundation, and then hype my growth," he says. "Everything else is like building from the foundation of being a vocalist. Even being an A&R is like the ceiling to the house that I've built over the years". As a radio presenter, Sheye's focus was amplifying the diverse range of voices embedded within afropop and even beyond. Inspirational, conscious messages were his forte. "Songs that would just motivate you to be a better version of yourself," he affirms. "That was how I started until I got to commercial radio, where you have to play hit music only. And there was a time I played music to just promote up-and-coming artists". 
Inching towards more practical sections within entertainment, Sheye Banks found himself, along the line, drawn to being a hype man. The ironic switch isn't lost on him; as an OAP, he was behind the scenes and being more of a curator. As a hype man, he was the centre of attraction, directly leading the audience towards a memorable event. At the time it was also the most financially sustainable, and before then, people always complimented his voice. The roots were even deeper. Sheye was always involved, early on in church, hosting parties at school, and at the time he started "It was the new crude oil," he says about going into hype circa 2013. "It was the fastest-rising craft in music and entertainment, and I wanted to tap into it as one of the foremost creators and hypemen".
These days, the hype man is one of the most divisive figures in the entertainment industry. Its recent detractors point to the lack of emotional tact showcased by hype men who broke-shame, which was especially rife during the Dorime craze; others would say that the music is enough, that there needn't be another voice booming from the speakers. For those who've kept an open perspective however, especially from its descendant culture of Hip-Hop, the hype man's role is inimitable—he is the link between the artist and the audience, and the better ones know to flow along with the ebbs of the music, not crash against it. Sheye Banks belongs to the latter category, a craftsman skilled in the intricacies of vocal technique and on-stage tenacity. 
"I feel like promoters are now starting to understand more how it operates," he says about the disrespect the craft was once subjected to. Likening it to the cryptocurrency wave, he makes the point that it was the new thing, but perhaps its commercial and brand prospects also lured personalities who wanted the quick cut and were complacent on the job. Luckily, that's not a Sheye Banks concern; much like everything he's done, he holds himself to very high standards, which is evident across 'Statement of Account', an album which belongs among a ground-breaking tier of projects that includes Basketmouth's 'Yabasi' and the Larry Gaaga curated 'Living in Bondage: Breaking Free' soundtrack album—all three are created by non-musical acts, inviting talented artists nonetheless, though their fingerprints are all over the sound, which becomes a true offspring of their creative identity. 
In Sheye Bank's case, even his 2021-released 'Party & Vybez Vol. 1' EP bore traits of that identity, parsed through the successful experiment of collaborating with producers rather than artists. The result was memorable records like "Get Down" and "Black is Beautiful," produced by Andre Vibez and Sigag Lauren. Both flexed his vocal strength, especially the latter which poses a positive notion amidst the birdy thrill of accompanying female vocals. 
For as long as he remembers, Sheye Banks has always fancied the creativity behind music. Before he began working on his debut album, he had five years plus under his belt as an A&R. He's worked extensively with Kizz Daniel ("Buga", "Lie", "Cough"), on Joeboy's 'Body & Soul' album, Reekado Banks' uber-hit "Ozumba Mbadiwe," and several others. That understanding of sound, on a deeper level than casual lovers, also has to reside with a lot of heart, as A&Rs have to communicate their ideas to the artist. We asked Sheye Banks how he handles this nuanced aspect to the job.
His response was illuminating. "It pretty much starts with understanding the talent you're working with, as a creative person," he says. "You need to understand how they communicate, how they express themselves. You need to understand that inasmuch as you're in a bid to express your idea, you shouldn't express it from a  place of aggression or control. Creatives don't like being controlled; they like to be guided. Understanding that would let you know what to say, and when to say it". 
Sheye Banks adopted a similar approach during the creative process of 'Statement of Account'. Packing an array of talented artists, it features CKay, Prettyboy D-O, Bella Alubo, and Philkeyz among others. With most of the artists he already had prior relationships, so that process of expressing his concept was as seamless as possible. "It was a case of respect, love, energy, support, vibe," he says. "There was no bid to control anybody. It was about just letting them be themselves".
'Statement of Account' aims for ambition and reaches it considerably. It begins with affecting spoken word on "The Game Is The Game," right to the mellow Dancehall-evoking "Fall". The plan was a cocktail of sounds, so there is something for everyone, regardless of taste. Crayon and Babyboy AV dip into distinct, sweet pockets of afropop on "Cranberry Juice" and "Roll" respectively, while Falz and M.I Abaga dust off rap flows on "Appy". Streaked with gems, the album's palpable high level of deliberation is its unifying quality. Sheye Banks even showcases his hype man side on "Ban Money" and "Change Your Style" respectively, with the former especially brilliant for how it flips the social perspective on Nigeria's currency and its limitations. 
The album creation process started in 2018, a culmination of a desire that Sheye Banks has had for a long time. "It's been a really inspiring journey," he shares. "I mean, it's the album that birthed a whole hype music genre, called Afro Hype, because at the time, a lot of artists didn't want to work with me on the project. But you know, it only just takes persistence and dedication to keep doing what I did, and shoutout to L.A.X also for encouraging me to go ahead and do this. If he didn't give me the first record, I don't think I probably would have been able to complete the album". 
Interacting with his musician friend helped affirm his desires as a creator. "He also just sort of showed me that you can create," he tells me, "You can be anything you want to be, because at the end of the day a lot of people just feel like you're just—you're a radio guy, you're a hype man, what do you need a record for? They didn't actually believe in the idea of just being a diverse creator". 
'Statement of Account' affirms all that Sheye Banks has been doing in the industry. He's baring all the wins and losses, the triumphs and tests, everything that has shaped him. To create its white-hued visual identity, he was the project's primary creative director, and each song has minute touches to their storytelling, such as remarks and transactional details, exactly like a statement of account provided by banks. 
Our conversation ends with the consideration of the Afrobeats scene, given the increasing number of personalities like Sheye Banks who are blurring the lines between creative fields. He thinks it's growth for the industry, and now it's about "the world accepting diverse creativity as a whole," he says. "At the end of the day, you cannot box greatness, and what I've been able to do is build a bridge between people who are scared to create and people who already create. That you can actually just create without limitations, without societal factors holding you back."
---