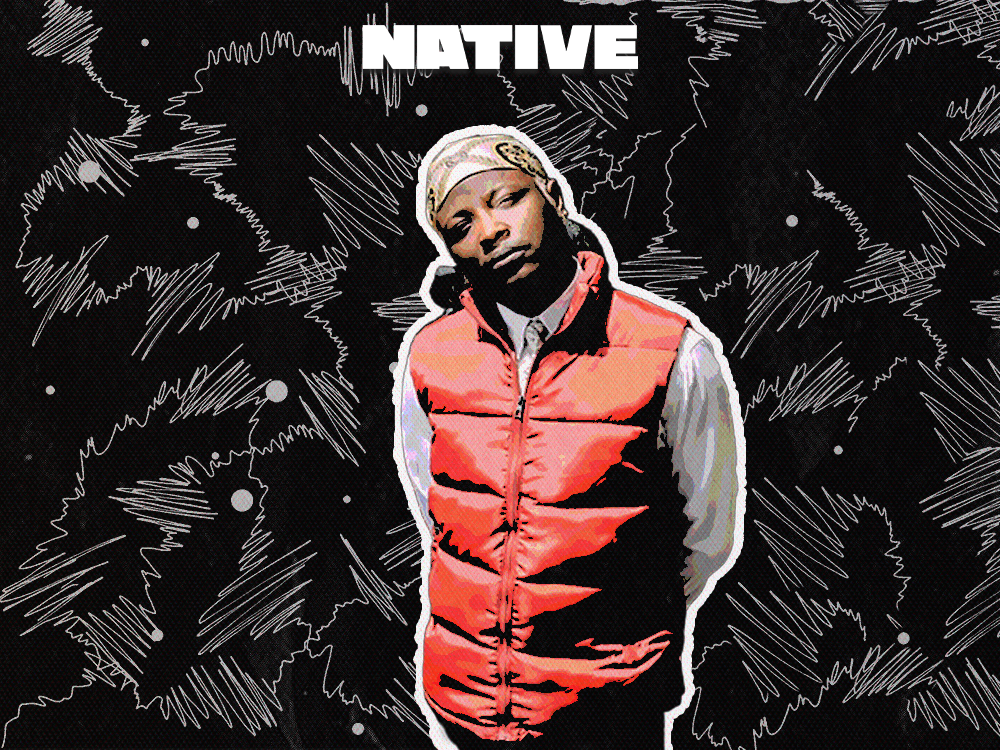 NATIVE Exclusive: Magicsticks Wants to be King of the World
The producer (and DJ) discusses current success and unyielding ambitions
Magicsticks cages his guard dog and leads me into his duplex in Ajah, an upper-middle-class area in Lagos, Nigeria. It was here, in his home studio, that he produced, mixed and mastered all twelve songs in Asake's debut album, 'Mr Money With The Vibe'. The album was released in September 2022, only a few days before I visited him. There are two of Magicsticks' friends in the living room, one of whom is Logos Olori, an up-and-coming artist. He and Magicsticks had first met at Lagos State Polytechnic (LASPOTECH) in Ikorodu, where the latter was admitted to study computer science in 2018; they have been inseparable ever since. It was also in Ikorodu, a city in the north-east of Lagos, that Magicsticks' career as a record producer took off. He has come far since then, winning many awards and producing one of the most commercially successful albums in Nigeria in 2022.
Born Kareem Olasunkanmi Temitayo to a Christian home—a fashion designer mother and a father who is into "oil and gas"—Magicsticks, the first of five children, was born in Alagbado, Lagos, but was raised in Sango Ota, Ogun State. Later, his family lived in Ifo, also in Ogun. But wherever they went they carried a ravenous appetite for music. Magicsticks recalls his father, a former disc jockey, playing all kinds of music in the house, "from old school to afrobeats to house music to jazz." "It's not like I was consciously paying attention to it. But in the house, it's boom boom every time," he says.
View this post on Instagram
His was an early entry into music. In his teens, he played the drums for a local church and, on occasion, the piano. Rife are tales of artists who faced disapproval from parents wishing for them white-collar careers. Far from having an apathy for the arts, these parents merely understand the financial perils such a career promises in the country. But such was Magicsticks's luck that a musical strain runs in the family, and with it, perhaps, an understanding of the futility of unheeding art's calling. His father would lead him by hand to a record producer in Abeokuta, Ogun State, where he was advised to learn computer engineering. He did; these days he can by himself repair his music production gadgets whenever they crash.
Magicsticks tells me that his relationship with his parents was mostly cordial, but it was sometimes spotty. One time, while in secondary school, he ran away from home. On finding him, his parents bound his hands and dragged him home, he says, the gleam of mischief in his eyes suggesting hyperbole. When he could legally leave home, he left right away and made Abeokuta his new haven; there he pursued his "personal hustle." It was while in Abeokuta that he got admitted to LASPOTECH, prompting his move to Ikorodu.
"I just don't buy the idea of living with your family for too long," he says. In many ways, self-sufficiency has defined his career; most of what he knows about music production he taught himself, an exercise in trial-and-error that began in 2013 when he bought FruityLoops software from Computer Village, a cluster of stores in Ikeja famous for trading electronics. And when he grew tired of sound engineers excising the "emotions" from his productions, he taught himself mixing and mastering. The first song he mixed and mastered, Ryan Omo's saxophone-rich "Belema," was released in the summer of 2020.
But before launching his career as a record producer, Magicsticks had donned his father's old robes, working as a deejay from 2009 to 2013. In 2013, while in Ikorodu, he caught the ear of the music producer Jay Pizzle, who would double as a friend and benefactor. With Jay Pizzle's help, Magicsticks moved from Ikorodu to the more urban Lagos Island, and in a sense, towards the pulse of Nigerian popular music, for most of the country's important music events are staged in that glittering part of town. "If you are not yet a big producer, artists don't really want to fuck with you," he says. "Jay Pizzle, with his industry influence, was able to help me. If an artist was in the studio, he would tell them to listen to some beats I made."
It was also through Jay Pizzle he acquired a taste for house music; it would mark Magicsticks' later records, playful pastiches of soulful pianos and violins and breathlessly percussive beats. Jay Pizzle would also urge Magicsticks to get a producer tag, introducing him to a friend who then coined the famous "Tune in to the King of Sound and Blues," a line delivered with a nasally cartoonish fervour at the start or end of every song produced by Magicsticks.
It was also through the record producer that Magicsticks met DJ Neptune in 2020 at a music camp organised by Mr Eazi. One of the beats he played to DJ Neptune and Mr Eazi's hearing would provide the sonic canvas for the former's "Nobody," featuring the latter and Joeboy. The high-energy single, with its age-old message of romantic jealousy, was released in March 2020 and was widely received as though it were the cure to the pandemic that had left most people home-ridden. It placed number 1 in a list compiled by TurnTable Charts of the 50 most streamed Nigerian songs in 2020.
Though the song introduced Magicsticks to the mainstream, it was his work with Asake that proved he was more than a tourist. He had first met the artist in a studio, in 2019, through the online comedian Sydney Talker; Asake and Sydney Talker had come to master the former's 2020 single "Lady." A self-professed introvert, Magicsticks is not wont to "letting people into my space," but with Asake it was different. Words desert him as he tries to explain why theirs is a producer-artist union conceived choate. "You know people connect. Sometimes you just meet and connect with them," he says. Perhaps realising his response tended to the abstract, he seeks to dress it in bone and flesh as he cites the divine. "Maybe it's just God in the middle of us," he says, an easy smile powdering his face.
Asake and Magicsticks' first work was the 2020 single "Mr Money," which Magicsticks produced, mixed and mastered. It was released with moderate success. Amapiano shakers and log drums, the raves that year, defined the song. With the release of the Olamide-assisted "Omo Ope" in January 2022, the duo had settled into the sonic identity they would carry into Asake's debut extended play and album. "I think 'Mr Money' was us trying to find our sound, and 'Omo Ope' was like, yes this is the sound," Magicsticks says.
In "Omo Ope," which was an instant hit, Magicsticks blends elements of South African house with Afropop sensibilities. Though there are hints of it in Ryan Omo's "Belema," it was in "Omo Ope" that Magicsticks would first prominently use the crowd vocals technique that has come to be associated with Asake, as much as with him. This layering of vocals has the knack of lending a religious feel to even songs with irreligious concerns, so that when Olamide raps about female derriere in "Omo Ope," Magicsticks' production gives it the veneer of a sacred subject.
Magicsticks reveals that the crowd vocals, a motif in many of his records, are not computer-generated but rather created by a real-life choir handpicked by Asake. He also reveals his preference for working with instrumentalists while making a record. His friend Goke had played the saxophone for "Organise," a song in Asake's album. But Magicsticks often has a hard time getting this ad hoc band to effectively recreate the sounds in his head. Nonetheless, he finds ways around it. "Somehow I find a way to let them understand where the vision is coming from," he says.
Seeing potential in Asake, Olamide signed the artist to his YBNL record label, and seeing potential in his partnership with Magicsticks, he allowed Magicsticks to produce most of the songs in Asake's debut EP, 'Ololade Asake' (three out of the four songs)—which was released in February 2022—and all twelve songs in his debut album 'Mr. Money With The Vibe.' Acutely aware of the label owner's influence on his career, Magicsticks says, "If it was not for Badoo (Olamide), I don't think we'll be having this conversation right now."
In "Sungba," a hit song off Asake's EP, Magicsticks bares his Fuji strain, which would even be more pronounced in "Joha," a track in Asake's album. He calls "Joha" the most difficult song he worked on in the album. A version of it had been released when Asake was still a student at Obafemi Awolowo University, Osun State, and was a favourite in the student community. Wanting to improve the original version and yet not wanting to bias Magicsticks' creativity, Asake let the record producer listen to only a fraction of the original record, and then the producer had to recreate the song using only the faint memory of the beat he had heard. In Magicsticks' hands, the original version of the song—a high-tempo cracker designed to excite exuberant undergraduates—lost some of its pace.
'Mr. Money With The Vibe' debuted at number 66 on the Billboard 200 chart. Also, Magicsticks has picked up several awards including plaques from TurnTable Charts for producing four songs which were the most streamed in Nigeria. The songs include "Omo Ope," "Sungba (Remix)," "Peace Be Unto You (PBUY)" and "Terminator," all Asake's songs. But perhaps the capstone of his achievement with Asake is how, by combining elements from popular genres like Afrobeats and South African house with those of niche ones like Fuji, he has been able to create what sounds primarily like Nigerian street music while exuding a mainstream appeal not common to street music.
The record producer, who turns 28 this month, continues to search for new sonic material. For "Yoga," Asake's first single of 2023, Magicsticks swaps Amapiano for Séga, sampling Michel Legris's "Mo Capitaine," replacing log drums with the deep rumble of the ravanne. Though a bulk of his work has been done with Asake, Magicsticks stresses the importance of artists working with as many producers as possible, if only to test themselves on a variety of sounds. "Normally I advise artists that they shouldn't be working with just one producer. I tell them to work with different producers and get different sounds," he says. He too has worked with a varied few: he produced Niniola's "I Did It (Bum Bum)," Olamide's "We Outside," and Tega Starr and Mr Eazi's "French Kiss," to name a few.
The success Magicsticks has had has not lessened his work ethic. He still wakes up at 4am daily and works until 9pm, producing no fewer than five beats. "There's always stuff to do. There's always stuff waiting for me," he says. Unlike other Nigerian producers like Young Jonn and the Grammy-winning Tejiri Akpoghene who have moved into singing and songwriting territory, Magicsticks expresses no such desire. He does not see himself on stage with a microphone singing a song; he sees himself on stage "with my big deejay mixer, controlling the crowd."
In a room in his Ajah home, there is a board on which the producer writes the names of the artists with whom he would like to work. Some of the names include the giants of Nigerian pop music: Burna Boy, Davido, Olamide and Wizkid. He has worked with all; one name, however, proves elusive. "I just want to produce that record for Drake first, then let's know what's next. Drake, I'm looking for you, man," he says, laughing. There is a sense that, for the producer, Drake is only a metaphor for global acclaim. The King of Sound and Blues, it seems, wants to be King of the World.
View this post on Instagram
---
Michael Aromolaran is a Nigerian writer and journalist. He is @michaelaromol on Twitter.
---