As an investigative journalist, it was an uncomfortable watch. As a woman and survivor of sexual violence, I had a lump in my throat watching this film. But these uncomfortable truths need to be told and that's what 'Oloture' did.
'Oloture' is a Nigerian Crime drama about a journalist who goes undercover to expose human trafficking and finds something bigger. A refreshing plot long overdue in the Nigerian storytelling space. For one, there's not a lot of representation of the investigative aspect of journalism on screen. More importantly, there's not enough documentation of the bad-assery that is Nigerian women committed to making a difference.
Enter Oghogho, a character created in 2013 by journalist, Tobore Ovuorie. No, it wasn't for a movie, it was for an undercover report by Premium Times. What does this have in common with 'Oloture'?
Tobore is a multi-award winning journalist who was motivated by the loss of a friend to investigate sex trafficking in Nigeria. Seven years later, Tobore still struggles with anxiety and PTSD from the horrors she experienced during her investigations (which can be found here).
Kiki: My discomfort watching this film must pale in comparison to seeing your story sprawled across the screens I Imagine.
Tobore: I am not regular on social media, my therapist advises that will to help my healing process.
From the trailer alone, I already looked forward to seeing 'Oloture', so it was a no brainer that when it was finally available to stream on Netflix, even my slow internet could not dissuade me. Every scene, every character, every plot twist spoke to me. This was probably the most impressive casting I've seen in Nigerian film, everyone clearly did their homework and ate up the script. All except the main character.
Sharon Ooja definitely treaded new waters in her role as 'Oloture' and there's a score for novelty. But at the very core, I found it difficult to connect with her as the lead character – in short, she didn't lead me into the story. This could be an acting flaw, a casting flaw or quite possibly a personal projection as I hoped to see myself, or at least any other investigative journalist I know in the lead character. Where she was described as naive, I saw spoilt instead. This is not a summation of her acting and I'd say overall, given the circumstances, she delivered beautifully.
Omoni Oboli delivered a convincing role of Alero, a sophisticated and experienced trafficker. Omoni has proven that there's no role she can't pull off. Alero is quite reminiscent of a very real Oghogho Irhiogbe, a very real trafficker who is still at large, encountered by investigative journalist, Tobore Ovuorie whilst walking the streets of Lagos disguised as a prostitute. "My lucky hunch was to tell her that my name was Oghogho too… She told me I looked like her kid sister and treated me like a favourite from then on" wrote Tobore in her 2013 investigative piece. From here on, it might become increasingly difficult to keep up with what is real life and what is a movie.
Of Orgies and Special Forces (Forza Speciale)
In one scene of 'Oloture', Alero has invited her girls to a "VIP Party" where she has instructed them to do as the VIPs please. All the men in the party, presumed to be politicians, have a sex worker on their arm or lap, or on both knees giving them a blowjob. It's a familiar scene if you've ever been to any Lagos or Abuja sex party. Oloture has been invited for this sex party after being called "Forza Speciale".
Forza Speciale is a term used in sex trafficking rings to separate the "wheat from the chaff" says an anonymous sex trafficking survivor. Women – or "product", as they are called – are classified based on their desirability. The bottom feeders, termed "road force" lurk the streets of European countries, while the higher classed women are chosen to escort important clients. These escorts are called Forza Speciale.
Tobore documents a similar experience at an orgy and explains the sinister process of choosing a Forza Speciale in this interview with Zam Chronicles. Just like in the movie 'Oloture', after the girls are classified into groups, they're taught a few skills that will supposedly help their journey. A lap dance and cat walking test are some of the dehumanising "trainings" these women have to go through.
They're made to sign contracts, after which they're given new passports with fake names. In the film, Oloture is given a Kenyan passport while the character Linda, beautifully played by Omowunmi Dada is given a South African name and passport. There are too many discomfiting similarities in this fictional film and the real-life accounts of Tobore's undercover travails
I reached out to Premium Times and they confirm that Ebony Life Media wrote to seek their consent on May 30, 2019, which they later granted on June 3, 2019. Tobore still feels alienated from the entire process. She tells me she wishes she was informed before filming had begun.
EbonyLife Media in an official statement made available to us stated that Premium Times, Tobore Ovuorie and all journalists that have gone undercover to tell the truth about human trafficking were credited for inspiring Oloture in the end credits. They further state that Tobore Ovuorie watched Oloture prior to its premiere on Netflix and was aware of its Netflix debut and supported same. EbonyLife has also pledged a contribution to Tobore's NGO as well as a number of other organizations championing the eradication of human trafficking. According to the legal representative of EbonyLife Media, 'Oloture', although fictional, will share similarities with other stories of sex trafficking as these are shared experiences that they gathered from their research and survivors of human trafficking.
"Our goal was to create awareness about the plight of millions of girls being trafficked in Nigeria and we hope with Oloture, we have done that."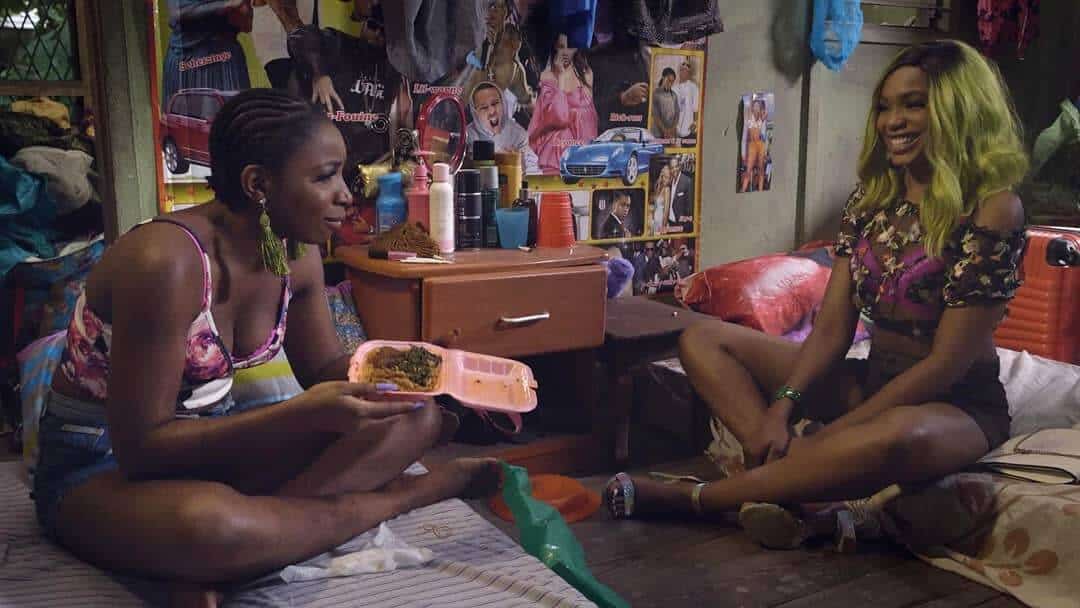 Celine – not real name – is one of more than 4 million victims of sex trafficking worldwide. She was 16, a Nigerian international student in Canada when she became a victim of sex trade. A study from the United Nations' International Labour Organization estimated 3.8 million adults and 1 million children were victims of forced sexual exploitation in 2016 around the world. 99% are women and girls. Isolation and blackmail were tools used to keep Celine "in check"
'Joy' is a 2018 Netflix film directed by Sudabeh Mortezai based on true life events experienced by the lead actor, Joy Anwulika Alphonsusis. This is another heart-wrenching story a lot of Benin people relate to right from the opening scene where a witch doctor performs rites on women about to travel to Italy. This scene is significant. Many women who are trafficked abroad are roped into a lifetime of modern-day slavery, working to pay back the devil's loan and shackled only by the fear of a "curse" placed on them by witch doctors in Nigeria. It would have been an incomplete Sex Trafficking story if this was not included, and 'Oloture' told it all, leaving nothing to imagination. This scene shows the main character, Oloture and the other women completely naked, chanting promises to the gods while being made to give a snip of their pubic hair after which they were made to lay down in a coffin accepting death as a reward for any promises broken – chilling scene.
Variations of this have been experienced by many victims of human trafficking, including Tobore – down to the gruesome murder in the abandoned compound, and she describes this horror as life-changing. Since her experience seven years ago, she's had several nervous breakdowns, checked into a psychiatry unit and later rehab. When asked if she ever followed up on the story, she replied that she's been too busy getting her life back together.
Kiki: So what does it feel like, seeing your story being played the way it was?
Tobore says she's happy she made it out alive because her luck was stretched to the farthest ends and she hopes no one has to go through that again. An unsettling end.
Just like everyone, I was rooting for the protagonist of the film to win, but real life plays out in sardonic ways. When I was done watching, I tweeted my frustrations about the end, not because it was bad, but because it was way too realistic and a little personal for me. That could have been me, or one of my colleagues. It could have been any one of us who went undercover to uncover sexual harassment in Nigerian Universities. When my investigative film 'Sex For Grades' was released, I got a lot of comments, including some putting down "other Nigerian Journalists" and that bothered me so much. Besides me actually being a Nigerian, local media is all the horror it's made out to be and more. For every Kiki Mordi or Kemi Alabi, there's a disturbing number of Olotures that didn't make it out and didn't have the backing to, that got shut down and this is the reality of local journalism. It's scary for anyone.
Then we have journalists like Tobore, whose publication cared enough to do a risk analysis, but many things still went wrong, and she still lives with that trauma until this today. There is no happy ending. Not in this film, not in real life.
The 'Oloture' story ends at Seme border, an expertly recreated set where viewer's catch a glimmer of hope that perhaps our protagonist might find her escape. Here, we see a glimpse of the porosity of the Nigerian border, another important moving part in the big trafficking picture. No checks, no questions, just a stack of passports and a wad of cash. Here, Oloture sees a chance and takes it.
As in the film as is real life.
Oloture is available to watch on Netflix.
Featured Image Credits: YouTube/Filmladen Filmverleih
---
Kiki Mordi is an Emmy nominated Investigative Journalist and a multiple award-winning broadcaster with over 7 years of experience working in various capacities as presenter, writer, voice-over talent, filmmaker and reporter.
---