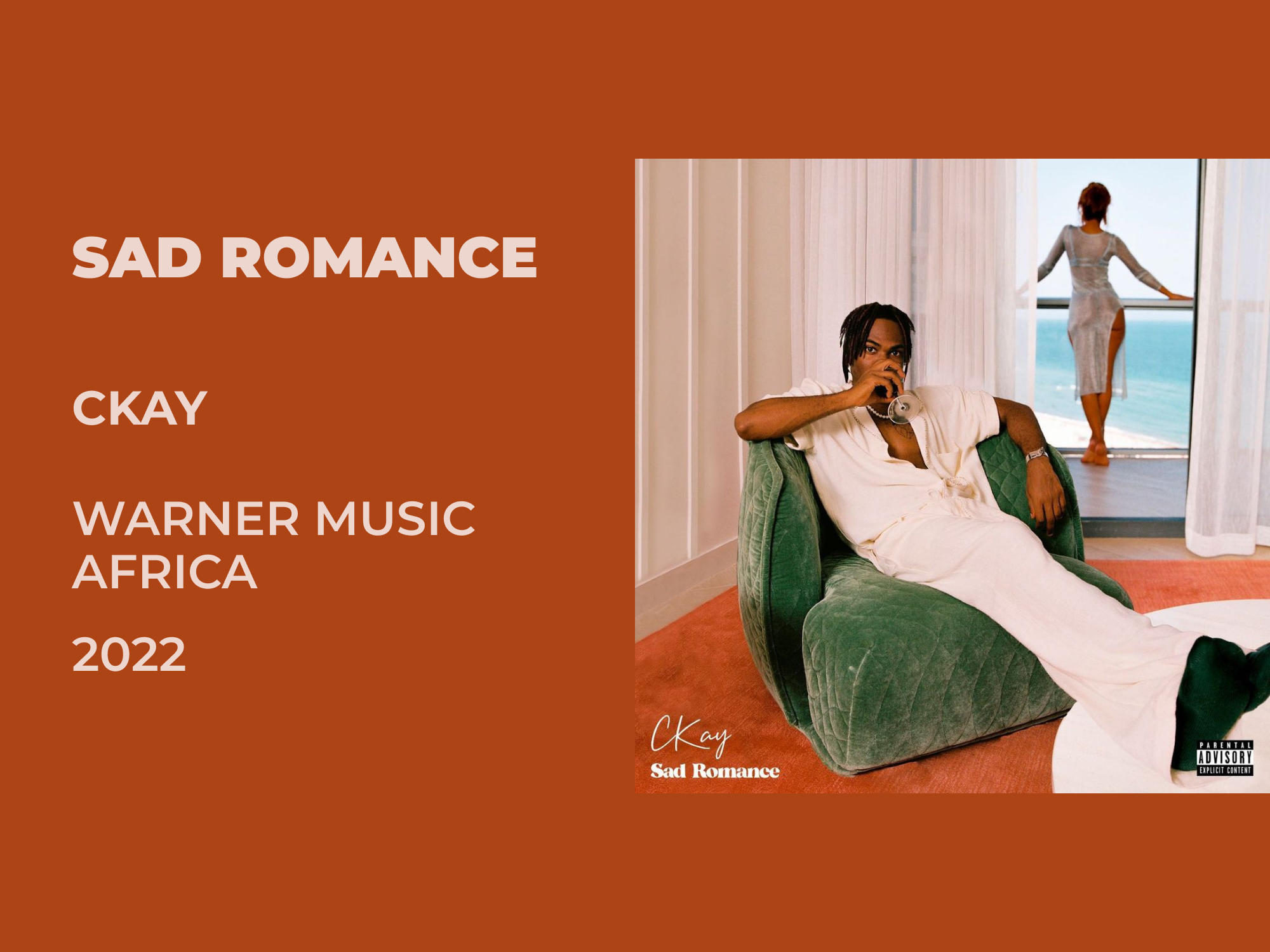 Review: Ckay's 'Sad Romance'
One of the most impactful troubadours of his generation turns in a befitting album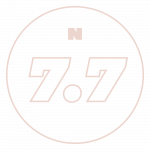 Around this time half-a-decade ago, CKay was dealing with the fallout of a controversy that had little to do with him in the first place. Then signed to Chocolate City, the artist's career was inadvertently ridiculed by a critic of his then label boss, the Nigerian rap great M.I Abaga, who was under fire for underperforming in his role as the head of a major Nigerian music label. With the supportive winds of social media behind him, CKay quickly retorted with his debut EP, 'WTFiCKay', an adequate but clearly rushed showcase of his abilities as singer and producer. Many Nigerian music listeners tuned in, but very few people felt there was anything too special in there.
Even when the moderately successful "Container" landed the following year, it barely elevated him beyond the guy who got accidentally picked on. It wasn't until 'CKay The First', his 2019 EP, that the singer began manifesting the peculiar ticks of his powers. The songs on the project ranged delightfully lewd to religiously reverent, tied together by CKay's improved presence as a songwriter and on-wax performer, as well as a colourful sound palette that matched his exuberance. Off the EP, "Love Nwantiti" found its way into rotation across local radio stations for a while and the Barry Jhay-assisted "Beeni" occasionally slipped out of speakers in hoods around Lagos where spiritual street-pop is the main soundtrack.
In early 2021, now signed with Warner Music Africa, CKay returned with 'Boyfriend', a romance-themed project exploring infatuation and yearning over a varying assortment of guitars, as well as percussive bases that ranged from Salsa-influenced rhythms to Afro-Cuban grooves. With the overly positive reception to the EP and its lead single, "Felony", growing into a bonafide hit song, it seemed like the singer and producer was finally inhabiting the stardom that had been eluding him.
Then, everything went from, say, 40 to 1000 within a few short weeks. Shortly after 'Boyfriend', the now two-year old "Love Nwantiti" began blowing up on TikTok via an unofficial remix and. Soon, with a mix of organic spread and strategic movement, the song became one of the biggest songs in the world. Very quickly, this set CKay up as a globally recognised star, complete with Late Night show appearances, packed arenas screaming his lyrics back at him and certification plaques still rolling in. This sort of success always impacts artistry—think Burna Boy making 'African Giant' after his global breakout, or Tems experimenting with 'If Orange Was A Place' at the zenith of "Essence"'s popularity—and it's evident in the advent of CKay's newly released album, 'Sad Romance'.
Around the time of his last EP, CKay was championing his style of music as emo-Afrobeats, a self-descriptive tag that fit the writing ethos of a large chunk of his catalogue, and embraced his more recent sonic inclinations. Growing up in Kaduna with a church choirmaster for a dad, CKay took to the piano at a young age, sparking his interest in other instruments and music in general. That foundation is integral to his ability as a double threat singer and producer combo, and it was evident in the broad taste he flaunted in previous years, ranging across the Gqom-influenced palette of "Container", M.I's Trap-indented "Your Father" and the groovy pop of 'CKay The First'. With the worldwide recognition of "Love Nwantiti" and follow-up single "Emiliana", he's now fully leaned into a particular musical mould, one that's recognisable but isn't too limiting.
On 'Sad Romance', CKay relies on ambience even as he ventures across a wide variety of music choices. Opening song and stellar pre-album single "you" leans into the log drum-infused R&B sound that's been gaining momentum in South Africa. Another previously released single and mid-album highlight, "WATAWI", wholesomely taps into Amapiano by tapping the distinct hands of Abidoza for his phenomenal powers at crafting incredibly lush and soulful 'Piano gems. Standout song "you cheated, i cheated too" is basically a ballad, prominently featuring gleaming keys and fingersnaps.
Significantly self-helmed, with assists from P2J, Sarz, Christer and a couple more producers, the soundscape for 'Sad Romance' is distinct, with porcelain keys, lots of guitars and buoyant percussion. Without any wild swings or sonic risks, it's all excellently executed—eclectic but somewhat calculated. It works well, a cumulatively immersive palette that's fitting for the overarching concept driving the album's writing. Across the 12-tracks of the project, CKay goes through the motions of how a past toxic relationship can affect future approach to romance.
View this post on Instagram
In chronological order, 'Sad Romance' can be interpreted in two ways: as a moving portrait of a young man going from the glow of being in love and the dramatic misery that comes with being wronged, to the toxic habits that follow and the eventual, redemptive bliss of finding new love to wholly give in to; or as a story of two lovers reconciling after a toxic stint breaks the Utopia of an initial honeymoon phase. Whatever narrative you think it is depends on personal perception, but broadly speaking, singers using fissures and unions in romance as a framework for an entire project isn't novel. It stretches all the way back to '70s Soul and R&B albums like Marvin Gaye's 'Here, My Dear', and there's even been a few of those in Afropop this year, including Nigerian singer WurlD's 'My WorlD With U' and South African singer Manana's 'But could the moments in between'.
For CKay, though, it's a well-worn mode of operation. After all, he's knighted himself Africa's Boyfriend and with this album, he's looking to claim his place as the ultimate auteur of emotionally charged Nigerian pop. He does that by coining in on a familiar narrative that allows him to be instantly relatable to the millions of people who've lived the same reality—or at least witnessed it first-hand.
Even in its slight unifying ambiguity, it's all very straightforward. "If you don't understand let me break it down for you/baby I'm in love with you, baby I'm in love with you/I loved you from the first day I saw you," he sings with that trademark nasal croon on "you", setting the tone with unreserved devotion to the love interest that joins him at the centre of the whirlwind romance. Because he constantly writes in first person, CKay makes himself equal parts narrator and protagonist, conveying happenings from a perspective that gives him high ground, even when he's complicit in unsavoury moments.
"I thought you were on my team/but you show me your true colours/and I no like wetin I see," he jabs at his partner on "you cheated, i cheated too", justifying his own fuck-boy behaviour. For what it's worth, this an eye for an eye practice seems warranted since he acted in retaliation, and his unwillingness to forgive indiscretions has already been laid bare on preceding track "leave me alone". Unlike WurlD, who briefly stews in the mess of his own narrative, CKay doesn't seem to fancy introspection, and that's where the 'Sad Romance' doesn't define whether its protagonist has moved on to a new situation or has found the grace to fix things with the muse who dealt him an emotional fade.
Over twinkling keys, gentle pitter-patter percussion and sultry horn lines, the Ayra Starr-assisted "come closer" is either a song about two people rededicating themselves to each other, or a devotional exchange between two newly-minted romantic partners. Regardless of how you think it plays out within the context of the album, "come closer" is a stunning highlight, the dulcet tone of the production perfectly shading the CKay's tempered tone and Ayra's typically assertive verve. The song is an inversion of the former "please, pick me" collaboration, "Beggie Beggie"; this time, the energy is "don't you dare pick anyone else."
Across 'Sad Romance', CKay is well beyond formidable when on his own. He's even utterly tantalising on more than a few occasions, like how he effortlessly glides over the gorgeous strings of the lustful confessional, "by now", and the sheer beauty of the lovestruck smash, "Emiliana". With features on this album, though, there's no song that doesn't warrant being described as blistering. When he briefly plays around with being noncommittal even though there's a situation going on, he brings in Davido and Focalistic for "WATAWI", two artists with an innate superstar candour that enables them play the Lothario part to great effect.
On the Kizomba-tinged "Samson & Delilah", he's joined by Cape Verdean singer Mayra Andrade, the delightful ring of the singer's soprano effortlessly conveying the type of siren energy that would have lovers and admirers awestruck. At the backend of the album, CKay taps French superstar Ronisia for the heartfelt "Lose You", whose part-smokey, part-sonorous vocals carries the sort of passion that communicates reciprocated enthusiasm.
In the era of EP's and preceding mixtapes, debut albums come with a pressure to consolidate on potential or further greatness. Following a year with previously unfathomable personal highs, that happened to be culturally momentous as well, 'Sad Romance' has been saddled with the expectations of improving his global ubiquity. If there's any jitters as to the weight of that task, CKay doesn't show it. If anything, he sounds like he's found his groove and he's relishing it. Beneath the emotions they're meant to convey, the melodies have an ease to them, a generally consistent hum that lends the album its cohesive identity.
While there will always be a question of whether CKay played it a little too safe on his debut LP, the ultimate context of the album is in its contribution to any mythos the singer and producer might hope to have, beyond the ubiquity of a few singles. 'Sad Romance' doesn't deliver the sort of romance-themed tragedy you might want to glean from the title, just a few tragic moments and more blue-eyed ones that help bolster CKay as one of the best troubadours working in Nigerian pop today.
---