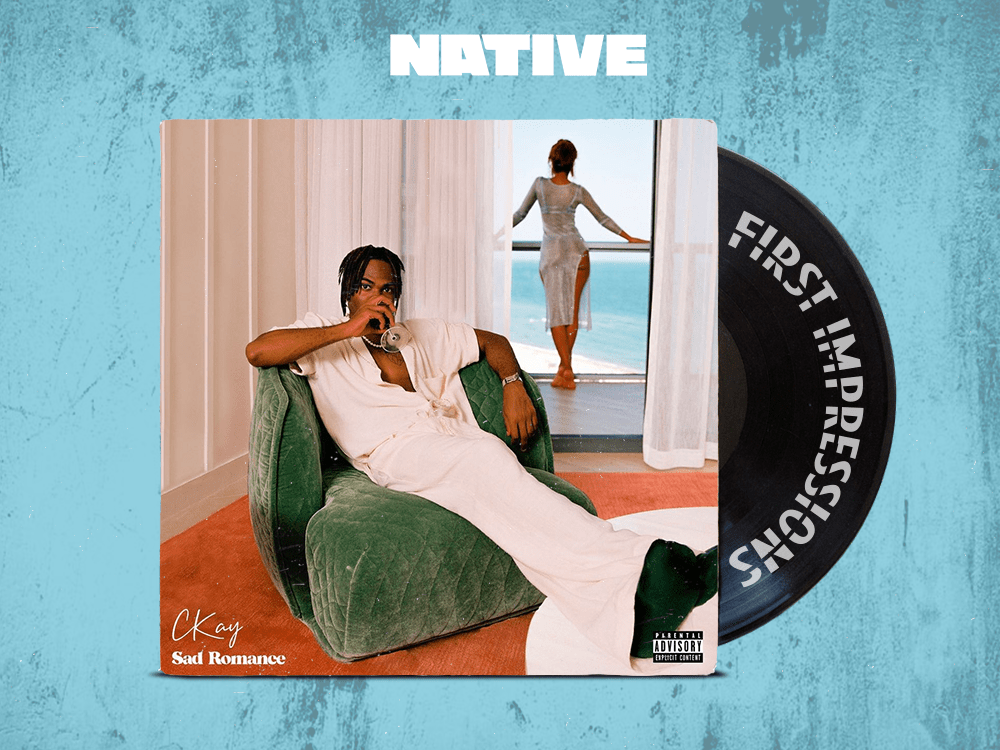 Our First Impressions Of CKay's Debut Album 'Sad Romance'
a charming collection of toxic anthems
Last year, CKay's "Love Nwantiti (ah ah ah)" from his 2019 EP 'CKay the First' took on new life when it went viral on TikTok. Buoyed by the fan videos on the social media platform and intercontinental remixes, the track became a global smash hit, debuting at No. 80 on the US Billboard Hot 100 and clinching No. 1 on the maiden Billboard US Afrobeats Songs Chart.
The success of the track transformed CKay into a global star, earning him a deal with Warner Music South Africa. This year, CKay consolidated his success with another hit song "Emiliana," which deepened the roots of his Emo-Afrobeats sound, replete with soulful and romantic lyricism.
In preparation for his hotly anticipated debut album 'Sad Romance,' he followed up "Emiliana" with both "WATAWI," which features Davido, Focalistic and Abidoza, "you" and "mmadu." Those tracks gave a taste of what to expect from CKay who has continued to refine his sound since his days at Chocolate City. 'Sad Romance' is here finally and The NATIVE's editorial staff steps into CKay's world to give our first impressions. 
View this post on Instagram
Favourite Song
Daniel: "you" is my favourite off the album, it's everything I love about CKay. Leaning into his strength with an easy repetitive hook and a distinct bounce on an amapiano beat. The lyrics speak of deep emotions and understanding of those emotions. "you" is the ultimate love song. 
Uzoma: I enjoyed "emiliana" and "you" when they came out. I still do. Now, my new favourites are "samson & delilah" featuring Mayra Andrade and "by now." CKay has cracked the code for deeply sensual, romantic tunes. I don't understand a word of what Mayra Andrade is singing but her voice is so calming. The instrumentals on "by now" are heavenly and it is another remarkable addition to CKay's intriguing catalogue of songs.
Best Production
Emmanuel: Being a producer, CKay is quite versed in the intricacies of sound. Coming into 'Sad Romance,' I was expecting nothing less than sonic treats, and I got exactly that. Production-wise, I'm in love with "leave me alone." There's just so many layers to it, from the whistling sound to the flute, and how minimal and purposeful the drums are. "by now" is another solid shout, with live-centric flourishes and really soulful violins. 
Maria: My pick for this is "WATAWI." Now this might be due to my Amapiano bias (sorry not sorry) but there's no denying that this song is ear candy. The signature shakers, repetitive piano chords and heavy hitting drums along with CKay's breezy vocals, Davido's braggadocios lyrics and Focalistic's distinct flow with lyrics in Sepitori make for such a pleasurable listening experience. By the way, CKay agrees with me. "WATAWI" is the only song written in uppercase on the album; now if that's not indication of a standout, I don't know what is.
Favourite verse
Damilola: Although I have a lot of favourites off the album, my favorite verse has to be Ayra's verse on come close. I love how she blended in smoothly and made the sound hers just for 40 seconds. Her voice was so serene and beautiful, it just didn't sound like the usual Ayra. I haven't heard Ayra sing a song so slowly and sound so peaceful with it. Her verse wasn't really a shocker but I like it cause it just sounded different from her other verses.
Dennis: There's a couple of contenders for me, like that wonderful tone-setting verse on "WATAWI," Ayra's trademark magnetic presence on "come close" and that mushy opening verse on "emiliana." Because I'm a fan of edge, I'll take the first verse of "by now" because of how brazen CKay is. The writing here is sharp, and it reminds me of "dtf" from his first EP, which is a good thing because, like that song, the writing is pointed and CKay is in his bag as a star and a ladies' man.
Favourite guest feature
Ebube: A favourite feature on this album for me will be Ayra Starr's feature on "come close." CKay's sultry voice coupled with that of Ayra's just brings out that feeling of calmness you feel when you're out with someone you care about. Ayra's verse on this track was just so captivating and makes you want to listen again and again and again.
Cynthia: 'Sad Romance' brings out another side of CKay and "lose you" with Ronisia is my favourite featured song on the album. It's making me not want to lose touch with CKay's natural calm feel to his songs. Ronisia gives this sultry French touch to the song that has me looking up the lyrics in English. The sound and lyrics had me connecting with the song with deeper meaning and understanding.
Biggest potential hit
Uzoma: My instincts tell me "by now." It is a catchy tune with eyebrow-raising lyrics that strikes a chord with the youth population. In present times, many people are having sex or talking about those either having sex or not engaging in the act. 
Emmanuel: For the fact Sarz produced "soja," there's a good chance it might turn out a hit. However, my soul tilts the most to "by now." I think its bad-boy vibe would resonate with Nigeria's younger audience; it's quite in touch with the convo surrounding heterosexual relationships in recent times, even if from a masculine perspective. I'd surely love to hear how this fits into an outdoor setting.
Overall first impressions
Dennis: I like 'Sad Romance' on first listen, but I wasn't floored. I think maybe it was my expectations because I hold last year's 'Boyfriend' EP in high regard, which ended up growing on me with more than one listen. What's obvious is CKay has crafted an album with a distinct ambience fitting of that emo-Afrobeats tag he wants to be defined with. From that standpoint, I guess there aren't that many surprises, but it's immersive enough for me to want to run back more than once in the next couple of days.
Daniel: CKay's 'Sad Romance' is beautifully put together, with the potential to be a classic. Shout out to love for inspiring such an amazing body of work. 
Maria: CKay's 'Sad Romance' is a well-thought-out and perfectly curated concept album. Each song is spot on with the theme it revolves around be it, love, lust, infidelity or toxicity. From the song titles to the placement, everything is perfect. CKay's storytelling prowess also shines brightly throughout the project. 'Sad Romance' is a beautiful body of work.
Stream 'Sad Romance' below.
Featured image credits/NATIVE