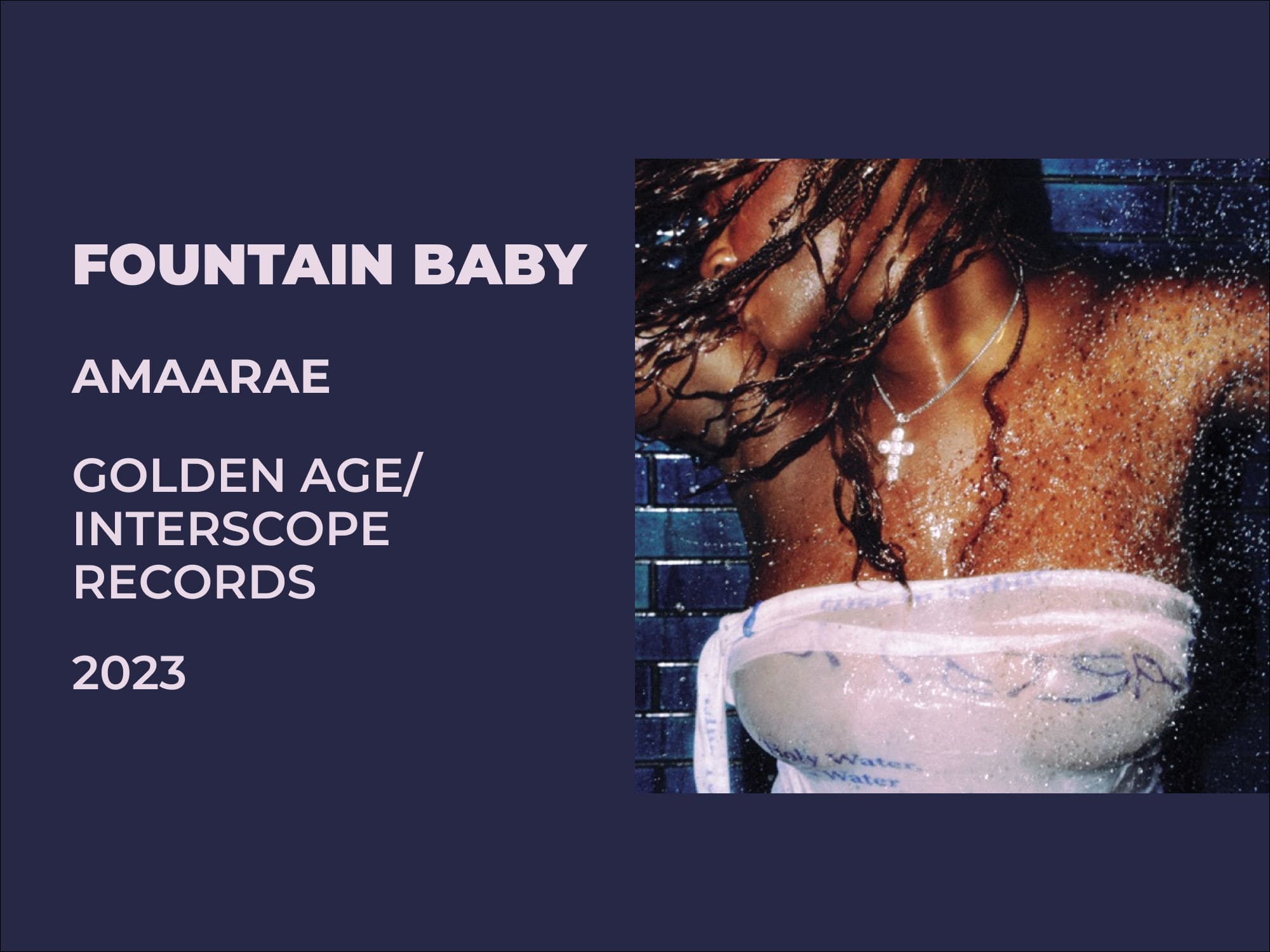 Review: Amaarae's 'Fountain Baby'
A showcase of mastery that doesn't break a sweat Amaarae has made a habit out of eclipsing expectations. The Ghanaian-American singer and rapper stunned with her 2020 debut album, 'The Angel You Don't Know,' an expansive effort that gave listeners increased access to her singular artistic vision, where genre-defying, red-blooded grooves and turn-of-the-millennium southern rap merged with delirious boasts and sexually fluid declarations. She seamlessly shifted from the fairy R&B goddess persona attached to her earlier work, into the excellence of post-genre pop music, setting newer stakes without overwhelming older listeners or demanding too much from those previously unfamiliar.
Within the latest vanguard of Afropop superstars, Amaarae clearly had her own uniquely magnetic appeal, evident in the growth of her fanbase on the continent—Nigeria and Ghana especially—and her explosion into global popularity on the back of the viral success of "SAD GIRLZ LUV MONEY." Along with the even more satiny remix, featuring Kali Uchis, Amaarae's honeyed vocals were soundtracking billions of TikTok videos across the world. She'd stepped into budding superstardom with disarming authenticity and confidence. In the time since, there's so much to account for in Amaarae's sprawling career: Live shows to adoring fans in many, many countries, a recording deal with Interscope Records, that angelic all-white 'fit at Jacquemus 22/23 Fall Winter show, a typically brilliant appearance on 'Black Panther: Wakanda Forever Prologue', and more accolades.
View this post on Instagram
The post-'TAYDK' glow is evident on her recent sophomore album, 'Fountain Baby', a project that's just as—if not even more—enthralling as its predecessor. Effortlessly widening the scope of her musical ambitions, Amaarae spins catchy rhythms in a variety of ways; some songs bubble, others melt, some knock, and others are jagged explosions. She expands on familiar sounds, enriching them with otherworldly visions and toying with expectations, subverting them where she pleases and straight-up destroying them in other instances. It's not the all-out reinvention of her debut LP, but the needle-shifting is significant and awe-inspiring, and we're given a little more access in the Amaarae's mind as she explores desire, relative to her stardom, and constantly glides with blinding ultra-confidence.
'Fountain Baby' arrived much in the same way as 'The Angel You Don't Know.' Months before we witnessed that first album, Amaarae engaged her fans in a string of close-knit interactions during those socially-distanced days of 2020. During these intimate sessions, she previewed music, answered questions about her creative process, and unveiled the world around her album. It's 2023 now and it's the same approach, with a different iteration. Although it's debated who runs the social account, a few months back, the Instagram profile photosofamaarae appeared on the Internet, giving audiences a first-hand look into Amaarae's world through exclusive images of her outfits, tours around the world and moments with her inner circle. It was on Instagram also that the multitalented singer also first played a few tracks off her latest album, for anyone lucky enough to catch her at the time.
When "Reckless & Sweet" arrived in March, it continued the artist's commitment to excellence, especially with an album on the horizon. Strutting over a glistening guitar riff and bouncy percussion, Amaarae considers a relationship where her interest is mainly enamoured by her proximity to wealth. There's some jadedness ("Don't touch me, I get nervous") but she mostly seems to be enjoying the games. Although she never acknowledges it outright, Amaarae's music reverberates with defiance in its carefree sensuality, which is positively striking at a crucial time of pain and harm for the LGBTQ+ community in Ghana. Against this backdrop, Amaarae approaches sex with an existential self-reflection that shows she's constantly questioning her own biases and the motivations of those around her: "I needed a cleanse, anointing my mind, my spirit," she coos.
Second single, "Co-Star," continues with the same motif of exploring the games young people indulge in during that phase between attraction and (non-)commitment. It's more playful but it's approach is ingenious, linking admiring odes and mischievous barbs alike with stereotypes about astrological signs. It's a fitting theme for Amaarae who has become the patron saint for saying the things younger millennials and Gen Zers might not want to say outright. "Tease me like a Taurus/Them Libra bitches horrible," she pointedly sings on the second verse. By its instantly unforgettable hook, "Air, I need some air," Amaarae's powers as a pop star feels bigger than ever, the charisma in the silky, buoyant melody daring you to not sing along.
As established by its two singles and expanded on by the rest of the album, 'Fountain Baby' is Amaarae's offering to the bad girls who (want to) love with all their heart. Of course it wouldn't be Amaarae if lust, to the point of self-possession, doesn't figure into the equation. "Fuck me slow and subtle, Don't you wanna taste it," she sings in that hair-raising near-whisper on "Angels In Tibet," basking in sexual euphoria over Funk Carioca-inspired production. "Step into your power/come on home to God," she chants with irresistible charisma on the same song, an invitation to surrender to her whims. The vision is one of bodies melting and melding into each other without reserve.
Falling in love unreservedly these days, in an era partly defined by situationships, ghosting and all sorts of complicatedness, is hard. Adding the complex layer of celebrity definitely comes with its own set of challenges. Instead of lamenting, Amaarae pirouettes through the mess by finding the balance between levity and directness. On "Princess Going Digital," Amaarae openly expresses her desire to enter a committed relationship. Feelings have been caught, her voice dips into a low register at the song's opening when she declares, "You know what? I've finally figured it out. Loving you is like fye."  She's not running from the fire, though; in fact, she wants to be consumed by flames: "Baby, hold me down/I got feelings for you now," she confesses over the sublime, psychedelic synth-pop arrangement helmed by Tochi Bedford.
By the chants of "Take me out the streets," it's evident that there's no happy ever after because "niggas be doing the most." Amaarae is not desperate, she's just exasperated by the madness—like me, like you. Similarly, "Big Steppa" adopts stark vulnerability, but the singer still makes being thirsty on main come off as the coolest thing ever. "You wanna desert me like I been auctioned off/See I had to, to be pressure, just to be option one," she coos over blaring horns and folk-pop drums. On 'Fountain Baby', "Big Steppa"  occupies a unique position for its gleaming Afropop sensibilities, the Highlife influence proving that Amaarae can command even the most familiar sounds to fit into her distinct, sometimes garish sonic orbit, with her voice as the ever-defining presence.
There are several flattering ways—siren, fluttery, enchanting, spellbinding etc.— to describe the texture of Amaarae's vocals, and none of them would be over the top. At this point, the singer's voice has its reputation but, more importantly, it's in how she toys around with it and emphasises it range even within the confines of a single song—talk more of a project. 'Fountain Baby' continues to offer intriguing variations, a necessity considering the myriad of musical choices she crams into the album. "Wasted Eyes" opens with a sampled Japanese Koto riff, a motif that recurs throughout the song. Amaarae tackles the oriental choice with a detached cool, surfing over the blown out bass and loud horns with a breathy vocal cadence, declaring that she's "fresh to death" amidst her unwillingness to commit to a person who loves her "with no honour."
'Fountain Baby' is an album driven by clarity. Amaarae doesn't just know what she wants, she also knows what she doesn't want. She wants a shawty that loves her "like she love the Lord," as she sings on the grand, fourth wall breaking closer, "Come Home to God." The preceding mini-suite of songs, starting from the psychedelic rock-indented latter part of "Sex, Violence, Suicide" up till penultimate song "Water to Wine," is knowingly self-indulgent. "Maybe we could be the remedy/Then eventually we'll be enemies," she suggests to a potential one night stand over the rubbery bassline of "Sociopathic Dance Queen."
In Amaarae's hands, hedonism will always be purposeful and compelling. It's in how she confidently evokes pleasure, sometimes with an impish smile, and often through a queer perspective. "Me and my bitch got matching titties/She got Fountain Baby tatted 'cause she fucking with me" are the first bars on the first verse of "Counterfeit," the mid-album speaker rattler that samples Clipse's "Wamp Wamp (What It Do)." Throughout the song, she's so self-possessed that the production comes off as a fascinating, well-worn choice, rather than an experiment. It's mastery that doesn't break a sweat.
View this post on Instagram
'Fountain Baby' is a confident collection of tracks punctured by Amaarae's sultry vocals all tied in a bow for listeners to unfurl at their pleasure. No matter where one picks up in the project's runtime, you're bound to find something for every listener as Amaarae never squeezes her artistry into forms that have already been defined. On "Disguise," her hitmaking abilities shine through the most, with earworm production that all but beckons one to the dancefloor. While the deep—almost daunting—keys introduce the track, it's Amaarae's lyricism that shines through, as she chants confessionals such as "I like my coffee with some head in the morning- two shots." The atmosphere created with the background vocals and instrumentals kick the likeability of the track up several notches. Listen close enough and it feels like a perfectly crafted mini orchestra in the best way possible. The attention to detail is pristine and a fine showcase of her meticulous craftsmanship. 
In the two and a half year gap since her debut album, Amaarae has shown unprecedented levels of growth with an almost peerless run that has earmarked her as one to watch on a global scale. It's clear that she's spent most of her time learning, as a true student of the game which continues to widen the scope of her ability and showcase her impeccable artistry. As an artist still fairly a stone throw away from her debut back in 2017, it's clear that improving her skill is a great source of pride and satisfaction for her. Delivered just under 40 minutes, 'Fountain Baby,' is a manifestation of all Amaarae has learned and acquired over the years, showcasing a unique mixture of versatility, dexterity and style that merges her Ghanaian-American identity with her multi-cultured experiences.
Through 'Fountain Baby,' Amaarae is able to transport listeners across continents and dimensions through glittering production, skilled penmanship and her silky timeless vocals. 'Fountain Baby' solidifies her position, once again, as one of the most daring artists of the now–message well received, Amaa. 
Stream 'Fountain Baby' below.
Featured image credits/NATIVE