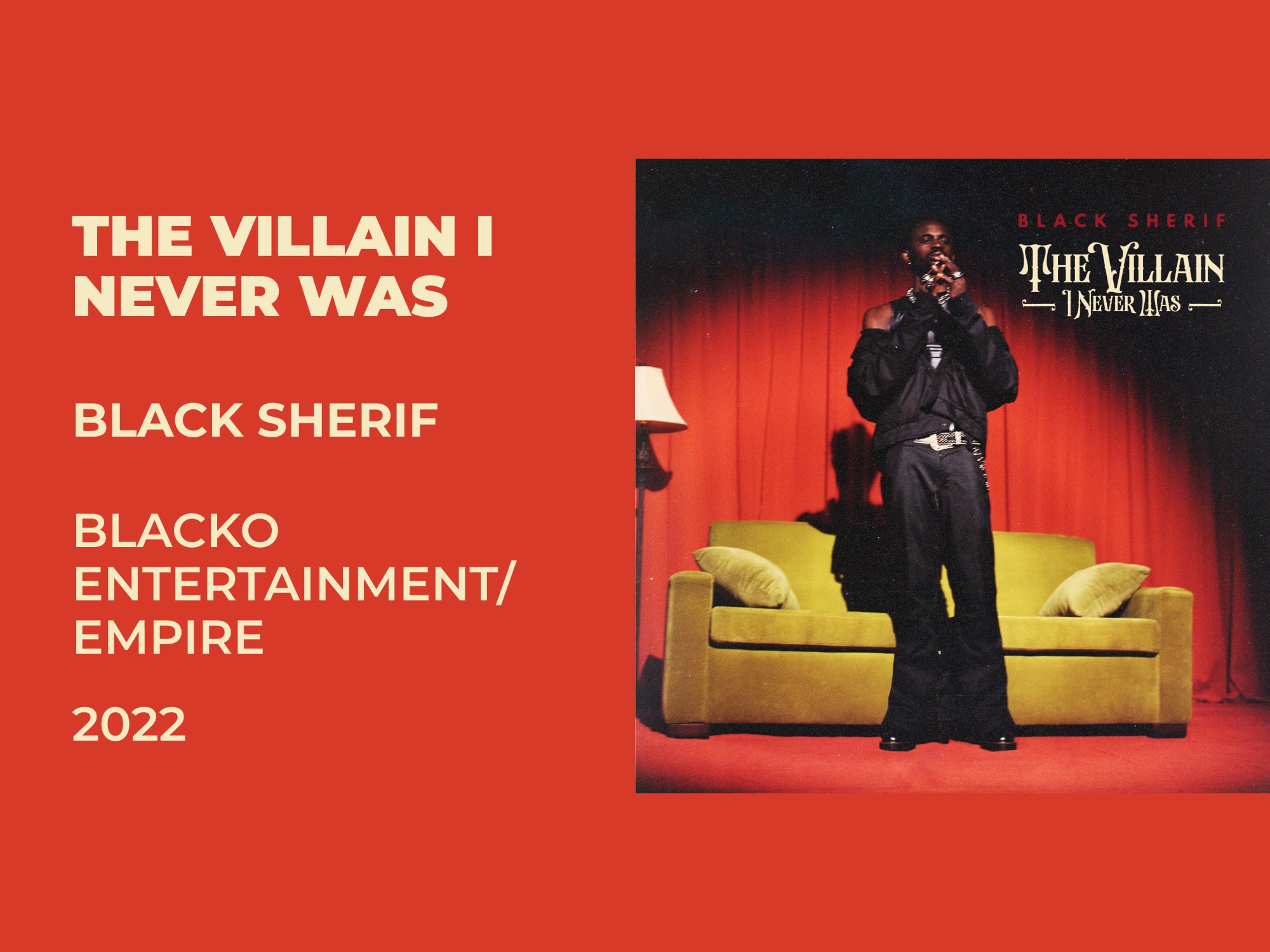 Review: Black Sherif's 'The Villain I Never Was'
Black Sherif is unafraid to become the hero of his life The current Black Sherif dominating global airwaves and the pre-fame Black Sherif who, nestled in the belly of Konogo, was seeking an audience with freestyles share a similarity: vulnerability. It's a resonant ability to engage in a catharsis that pulls his listeners closer to himself. Take his three-year-old freestyle "Motivation" for instance. In the video, a 17-year-old Black Sherif, seated on cement blocks, is staring at the camera as he lays his vocals over a Highlife-influenced Pop beat filtering from an unseen speaker. In the freestyle, Black Sherif is pleading with the government and those fortunate enough to have better odds at life, to show consideration for the plight of citizens in the poor Ghanaian communities.
"If you no get money/Abeg give us motivation/Show me love and hold me down/That be all I dey want from you," he sings. Black Sherif's use of "us" is deliberate; he marks himself as one with the people, as one who understands their realities, pains and joys. He considers himself a voice for his people. "I feel like I am touching on spots that people used to not touch and I am being as raw and real as I can be," the Ghanaian singer told GRM Daily. "I am being the voice of that boy outside, because I am from there, I am from the Zongo (ghetto)."
Raised by a large network of family relatives in Konogo in the Ashanti region of Ghana, Black Sherif, born Mohammed Ismail Sherif, chose a life on the streets, buoyed by a determination to carve his path and harken to the call of his destiny. His travails and experiences are the fertile soil that Blacko—as he is affectionately referred to by fans—feeds his words. His breakout singles "First Sermon" and "Second Sermon," both odes to street life, capture Black Sherif's energetic delivery and firebrand lyricism. On his debut album 'The Villain I Never Was', which shuffles past the previously planned 'Road To The Tape' EP, Black Sherif makes a personal catalogue of his journey and that of the people he holds close to his heart. 
Before the grittiness of "First Sermon" and "Second Sermon," there was the softness of "Cry for Me," Black Sherif's debut single. His Highlife influences colour the tone of his delivery and the mellow rhythm of the track. It was also the opening chapter of Black Sherif's common-person personality. Although "Cry for Me" showed that Blacko was a talented singer, it was "Money" that brought him recognition in his home country. This time, Black Sherif took his Highlife style of delivery and layered it over a Hip-Hop beat as he sang about his desire to escape poverty. On the remix, which features Ghanaian acts AMG Armani and Tulenkey, the latter makes a pronouncement, "Sherif, you go make am/E be time."  Less than a year later, "First Sermon" and "Second Sermon" were released and now, Black Sherif's ghetto gospel is gaining massive appeal around the world.
"I'm at my down-est in life/And I'll be homeless for a while/I know it's unbelievable/Cause I had a home a few days ago," Black Sherif reveals on the album's opening track "The Homeless Song." It is a striking revelation because no one could have imagined a homeless Black Sherif amid the acclaim trailing his music. But it is an example of the honesty Blacko has embraced all through his career. Ever the optimist, he reiterates that although he might fall, he will always get back on his feet, channelling the emotions from "45," where he sings, "If I fail, I needed that/I'll come back stronger."
Defiant is one word to describe Black Sherif's attitude in his music. Whether he is narrating personal pains on "Kwaku The Traveller" or collective trauma on "Soja," Black Sherif informs the listener that he refuses to back away and settle for less. On the former, which was released in March, he owns his mistakes with the quotable—"Of course I fucked up/Who never fuck up hands in the air, no hands?" On the latter, where he recognises that he is not the only person in the world with struggles, he calls on listeners not to let the darkness of life overwhelm them. "No, I go dey run my race/I'm gonna keep my pace/Cause I really have no one to blame when I fall again/I can't stand this pain/I can't watch me fail," he raps on "Kwaku The Traveller."
That defiance even shows up when Blacko is having a great time. As he celebrates his victories on "Oil In My Head," he chips, "Man don't stay down when man fall/I get up and come for more." On the equally jubilant "We Up," he sings, "On God I trust no man/I lost few mandem to the game I was close to my grave I fell in a trap/But you know man don't stay down." It is a trait that Black Sherif honed while in the Zongo settlements in Konongo, one of the roughest areas in Ghana.
Since the days when Nigeria and Ghana began sharing cultural influences through music and other forms, there have been conversations about both country's music industries and Nigeria's dominance in the African music scene. From the issue of Nigerian songs topping music charts in Ghana to the most recent Global Citizen Festival, where headliner Usher called three Nigerian acts (Oxlade, Tiwa Savage and Pheelz) to the stage during his performance, Nigerians and Ghanaians are engaged in constant battle. In the media tour for "Kwaku The Traveller," Black Sherif favoured collaboration. He visited media houses in Lagos and was featured on shows of Nigerian content creators, helping "Kwaku The Traveller" become the first Ghanaian song to debut at number one on the TurnTable Top 50 Chart.
"I don't smile when I take pictures most of the time," Black Sherif told OkayAfrica. "We are sad boys because there is nothing to laugh about." The melancholy in his music is in alliance with the current crop of melancholy-driven sound permeating the African music space. Last year, Black Sherif released "Ankonam," whose title translates as a loner; on the track, he evokes a sobering mood about sadness. On 'The Villian I Never Was,' he makes a tribute to the disciples of melancholy with "Sad Boys Don't Fold." Contrary to the solemnness of "Ankonam," the energy on "Sad Boys Don't Fold" is upbeat as Black Sherif paints himself as "the man who's always been sad and ballin' every day."
He brings that melancholy to "Oh Paradise," as it contends with the song's bright horn blasts. Dedicated to his late girlfriend who passed away in 2017, Black Sherif revives memories of their time together and expresses frustrations at the good times that they never shared. "Sleep well my lover/I will be fine my lover/And my love for you'll be forever," he sings. Delivered mostly in his native Twi, he consoles himself with the belief that she is in heaven and begs her to ask for blessings on his behalf.
View this post on Instagram
Since he entered the music industry, Black Sherif has never hidden his admiration for the Asakaa Boys, the Ghanaian Hip-Hop group who, in 2020, bolstered the rise of Drill in their home country. Borrowing from the Chicago-originated sound, which was adopted and evolved in the UK, then commercially elevated by the late American rapper Pop Smoke, the Asakaa Boys—made up of O'Kenneth, Jay Bahd, Kawabanga, Cedi City Boy, Reggie, Kwaku DMC, Sean Lifer, Rabby Jones and Braa Benk—spun their unique experiences on the sound's characteristic hard baseline and inspired a new generation of artists. Black Sherif and fellow Ghanaian artist Yaw Tog are some of the popular names on Ghana's Drill scene.
On 'The Villian I Never Was', Black Sherif utilises Drill for "Sad Boys Don't Fold," "Konongo Zongo," "Wasteman," "Oh Paradise" and the Burna Boy-featuring "Second Sermon (Remix)." A self-acclaimed street preacher, Black Sherif pays homage to his roots on "Konongo Zongo," as he revisits tough decisions he made in the past. He remains on the streets of Konogo and offers a peek into the life of one of its inhabitants on "Wasteman," giving details about the pressures that many youths in improvised communities face. On "Second Sermon (Remix)," which was released last year and helped Black Sherif's rise, Nigerian artist Burna Boy gives colour to the certified street banger.
There are not a lot of love songs in Black Sherif's discography. Before 'The Villian I Never Was,' there was only 2020's "Mariana." On the album, there are three: "Toxic Love City," "Don't Forget Me" and "Oh Paradise." Like "Oh Paradise," there is a dark streak to "Toxic Love City." On the song, Black Sherif admits his unwillingness to let go of a romantic partner who brings out the worst in him. He wants to leave but he is unsure if someone else will accept him. Between a known evil and an unknown good, he chooses the former. The vibe on the Reggae-influenced "Don't Forget Me" is healthier, though. He opens up to his loved one, requesting that they spend time together before he inevitably leaves and goes into the world to hustle.
On the production side of 'The Villain I Never Was,' Black Sherif sticks with Ghanaian Stallion ("Second Sermon (Remix)") and Joker nharnah ("The Homeless Song," "Soja," "Prey Da Youngsta," "Konongo Zongo," "Toxic Love City" and "Kwaku the Traveller"). He also makes space for new collaborators—London ("We Up" and "Don't Forget Me"), Samsney ("Oh Paradise"), JAE5 ("45"), WhYJay & LiTek ("Oil in my Head" and "Wasteman"), AoD and RNDM ("Oil in my Head") and Zaylor & Dystinkt Beats ("Sad Boys Don't Fold"). These producers, diverse in style, cook a potpourri of sounds that offer magnificent uniformity on several listens.
While the production list is crowded, the guest list is not. It is a Black Sherif show, with only Burna Boy disrupting the flow, right at the end. The track list shares the individuality of Omah Lay's 'Boy Alone,' another debut album from the African continent that does not have a crowded guest list. The album's cover art, which bears similarity to Eminem's 'The Eminem Show', places Black Sherif firmly in the spotlight. 'The Villain I Never Was' is Blacko's diary, where he pens his pains and aspirations and victories. Although he might make mistakes, he is willing to own them while he creates his world. He is unafraid to become the hero of his life.
Stream 'The Villain I Never Was' below.
Featured image credits/NATIVE
---