Since the creation of this column, I've sort of made it a duty to avoid Hot Takes duty during our daily newsroom conversations. On one hand, I enjoy reading my colleagues' opinions on whatever's prominent on the timeline. On the other hand, I'm in that phase where I deem nearly everything about pop culture to be inanely funny, so I rarely have any meaningful takes, not to even talk of hot takes. Well, on Tuesday, I was finally pressed into doing this part of the job I've been avoiding mainly because, Tami and Ebube (the latter might send me a query).
Now that I've established that I was essentially bullied into doing my job, it's only right I quickly explain my current issue with pop culture. At the end of the previous year, the NATIVE took a break, giving me the leeway to gaze at current happenings through my rear-view mirror. With no news to report and no pressing need to write stories, I was often late to whatever was trending, which meant that I witnessed conversations when the dust had settled to an extent. Believe me, when you're on this end, you see how repetitive the cycle is, regardless of the topic and as humorous as it always, it can push you into cynicism.
Over the last decade, social media has become the cornerstone for our increasingly globalised world. At the same time, it's emboldened just how polarised we can all be, since the vast majority of us are online to cater to our biases rather than meaningfully engage. With every topic, there's always a for and against, which only serves to ignore nuances and often flattens everything into two-dimensional arguments. But, hey, this is the way pop culture works now, and even though I've hacked the pattern, there's no other option than to participate somehow. Now that I've sucked some of the fun out of our best column, here's my attempt at giving out opinions on current happenings. (I take my job seriously, guys.)
What I'm listening to – Young Nudy's 'Anyways'
Over the last few weeks, I've showed my real age a little with all of the Kuti talk. Don't get me wrong, I love Afrobeat and the Kuti dynasty, I enjoy the fact that I know a bunch of historical facts on the genre and its prime purveyors that the average person doesn't know, and I think Made Kuti will be really high in AOTY conversations at the end of 2021. But, I'm also a young person who listens to young people music. My Tidal account is mostly reserved for outré, sample-based rap music and the best Trap/Drill music I can find.
During the weekend, I revisited Lil Uzi Vert's epic opus 'Eternal Atake', as well as Playboi Carti's 'Whole Lotta Red' (for probably the 50th time). By Sunday afternoon, I found myself listening to a bunch of Young Nudy and I've gone on to listen to his solo debut LP, 'Anyways', every day since. When the album dropped nearly a year ago, I gave it the obligatory rap fan listen, and while it didn't instantly strike me the way 'Sli'merre' did, I remember meaning to revisit it in full but I couldn't because they were like fifty albums to go through every week in 2020. One of the reasons I'm stuck on 'Anyways' is that, I believe the rap community and I did a massive disservice to this album by not including it in year-end conversations.
'Anyways' is the quintessential Trap album, one built around the familiar tenets of thumping low ends, loud boasts and street tales, but it's brimming with so much persona that it's impossible to consider it rote. Going solo on seventeen tracks, Nudy's ear for shimmering, slightly bent-out Trap beats matches the villainy he goofily exudes in his music. Similar to cousin 21 Savage, Nudy raps with a deadpan cadence, but what sets him apart is that he seems to rap every word with a wry smile on his face. There's nothing funny about the line, "I'mma make sure I kill all them niggas before I leave this bitch", but he makes it sound like he's having way too much fun plotting his way to a potential sea of dead bodies.
What I'm watching – "Snowpiercer" & "Superstore"
Since Sunday, Netflix has been trying to bully me into watching its latest acquired Nigerian feature film, "Namaste Wahala". I'm here to say that it won't work, despite the notifications and email, even though I didn't pre-add it to my list. If you're looking for takes on that film, you'll have to wait on AV Club (which I won't be doing by God's grace) or just read Woju's thoughts on the trailer. Anyways, my screen time over the last week has been split between "Snowpiercer" and "Superstore", two very different but both pretty decent TV shows.
Because I like copying cool people, I added "Snowpiercer" to my list a few weeks back after Tami wrote about it on Hot Takes. With episodes that run north of the hour-mark, the show has yet to test my patience or my amateur film critic mind. The story is just above serviceable, so much so that the character arcs can even be intriguing, plus the cinematography is quite remarkable. If you have a long stretch of free time, perhaps during a weekend, I'd recommend seeing "Snowpiercer", it works best a binge-able. Side note: these weekly drops for the second season are not it.
I got into "Superstore" because I'd seen the boss, Damilola, tweet about the show's character similarities with "The Office", a show I vehemently believe to be one of the best comedy TV shows of this century. Halfway through the fourth (and last available on Netflix) season, and I definitely see some of the parallels, but what has really struck me is that all the main characters eventually developed into self-obsessed douchebags, which somehow feels fitting for a loosely knit group of individuals that tend to call itself a "family". It's not the funniest thing you'll watch, but there are a handful of good laughs that make "Superstore" worthwhile.
Valentine's has gone, where are your stocks?
I hate Clubhouse. On Friday, a friend decided that the best use of the aux, in traffic, would be to subject everyone in the car to a conversation about Valentine's Day and its symbolic importance to know if your partner truly values you. I'd heard something to the effect that guys have to pull out all the stops for a woman they're in love with, which I sort of agree with, but I laughed really hard because the last time I did that, it was essentially a waste of time. Anyway, I wasn't on the timeline on Sunday, so I didn't catch any of the headlines…until our badass Features Editor, Woju, sent me Lori Harvey's IG stories as an idea for this column.
Guys, this is what pulling out all the stops looks like. Michael B. Jordan—who I'll forever associate with being a snitch on "The Wire"—cleared out an aquarium for his significant other, treating her to a private, 5-star meal and beautifying her house with bouquets of flowers. The big-ass cherry on top came when Lori revealed that Michael had bought her stocks in Hermes, the premium, longstanding fashion brand. Obviously, certain sects of the Internet have been pressed, including Future Hive, which is expected, considering Future's last album, the excellent 'High Off Life', is believed to have been inspired by his relationship with Lori circa late 2019 to around mid-2020.
Lori Harvey won.. pic.twitter.com/v9snB6U4bG

— rust me ja? (@discobitcch) February 15, 2021
Over the last few years, Lori Harvey has increased in popularity with each high profile relationship she's been in, meaning that she attracts ballers only (male celebrities are groupies to popular baddies). For this reason, I've decided to search out "Lori's Prayers" and vehemently recite it every day, because I'd also like to get some valuable stocks, or possibly cryptocurrency (even though it's banned in Nigeria), for being the partner of a rich person. I know societal standards would probably make this wish difficult, but guys deserve really nice, opulent gifts, too. If you fit this description, I'm just a DM away plis.
Meanwhile, all this Lori Harvey and Michael B. Jordan talk is making me wonder what my favourite celebrity couple, Tiffany Haddish and Common, are up to. If I ever write this column again, I'll be sure come with updates.
If Lori Harvey wrote a players handbook I'd buy ten of them joints.

— eye am joking 🇧🇧 (@lilbajanting) February 15, 2021
Everyone wants to be like Ngozi
Here's a fun-fact about me: I'm a big fan of women shoving their beauty in my face. Since the beginning of the year, the ever-generous Internet has blessed us with several challenges with women exhibiting their physical splendour. I quite liked the Bussit challenge, but I just couldn't get into the silhouette challenge because I've heard Paul Anka's "Put Your Head on my Shoulder" in one too many mobster films. However, I'm the biggest fan of the #BeLikeNgoziChallenge which has taken over Twitter NG in the last day because, and I can't even stress this enough, women are beautiful!
On Monday, the World Trade Organisation finally confirmed Ngozi Okonjo-Iweala as its new Director-General. The appointment would've happened sooner if America's 45th president, Captain Orange, and his administration weren't being dickheads. Set to officially start work at the WTO, this new position is the latest jewel in Ngozi Okonjo-Iweala's trademark head wrap, setting history as the first woman and African to head the multinational body. In addition, she's also inspired a challenge amongst many women who see her serially competent and record-smashing résumé as an inspiration.
With Africa's ultra-conservative stance as society thawing at a slow rate, women are breaking glass ceilings that should have never existed in the first place, and Ngozi Okonjo-Iweala is blazing a path for more to follow in the future. Her Ankara-centred fashion style has been receiving due homage since the WTO announcement, with women posting selfies of their best imitation, both regalia and pose, on social media. The challenge is simply heart-warming, and it will no doubt induce a smile while you scroll through the hashtag and stare at pictures of radiant, beautiful women.
My baby's entry for #BelikeNgozichallenge pic.twitter.com/ip2aMSlfal

— Jime_vieve (@jime_vieve) February 16, 2021
Thanks to Temi @temite & all my wonderful sisters who dressed up in Ankara yesterday.Thank you for all your messages of support.I'm delighted&honored to see so many getting the "gele" right.Please let me know who won the challenge. #AnkaraArmy #BeLikeNgoziChallenge #NoiGoesToWTO https://t.co/bl3DHQ8vFQ

— Ngozi Okonjo-Iweala (@NOIweala) February 16, 2021
Beefs in South African music > beefs in Nigerian music
Nigerians are a very self-involved bunch. If you ask many around these parts, the different combo of tension between the apparent big three of Wizkid, Davido and Burna Boy over the last decade is the most interesting beef on the continent. Well, if you've been paying attention to beefs in other Afropop hotspots across Africa, then you might feel like that assumption is false. Last December, the tiff between Davido and Burna reached a new level after things allegedly escalated into a physical brawl at a club in Ghana. However, it's not as gangster as Shatta Wale pulling up to the stage with a gun at the 2019 Ghanaian music awards, after Stonebwoy picked up the award for Dancehall artist of the year.
Down South, beefs have been baked into the very fabric of the music industry. Last week, Prince Kaybee guested on Podcast and Chill (I haven't cancelled MacG just yet because he's taken accountability for his bullshit), and he spent over half the interview duration discussing the beefs he's been a part of, from Black Coffee to DJ Maphorisa to Busiswa and more. What really stuck out to me is, these beefs were triggered by relatively trivial matters. As outspoken as Kaybee has shown himself to be on social media, he came across as a thoughtful guy willing to reconcile these scores, but the more he spoke, the more I felt like none of these beefs would be fully settled—which is a shame because a collaboration with either Black Coffee or Phori or both would be gargantuan.
The Mowalola Trucker Hat
(written by Tami)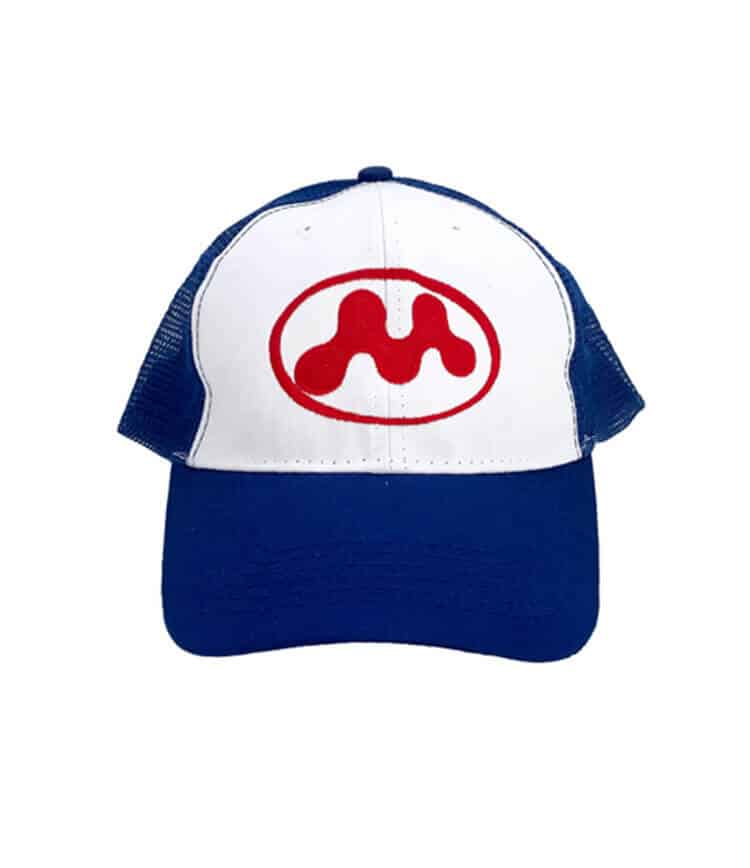 Back in the old days, cult fashion items fell somewhere a pair of between Baby Phat jeans, Ed Hardy snapbacks, or the latest G-shock wristwatch. Notably, all these brands were all international, a feat that was not surprising considering how much Black American culture, particularly Hip-hop/R&B popular culture of the noughties influenced an emerging class of millennial and Gen Z Africans. Growing up, anything that was African was looked down upon, rendered inferior, and labelled 'razz', whilst well-known international brands were favoured for the clout attached to them. Hey, we've all been through that process of dimming our own light and it won't be hard to find young people who faced similar struggles with their identity due to the overwhelming influence from foreign aesthetics.
However, it's safe to say that we're coming into times where more and more young Africans are embracing their culture and with it, the homegrown entertainment, fashion, and music, and more from these parts. The greatest example of that is the burgeoning Afropop scene which is experiencing an explosive moment, quite unlike it's ever seen before. But while music continues to cross borders, African fashion is also making headways amongst a new generation of Africans. Nowadays you'll see your favourite celebrity sporting Kenneth Ize in a cryptic Instagram picture and your favourite artists wearing the latest Mowalola custom fit in a branded campaign. There's a milieu of exciting talent bubbling in the continent and not just Black designer fashion but also an emerging class of streetwear brands as well.
View this post on Instagram
And it's not just sartorial choices now catching on, even accessories are enjoying a moment. These items have the power to catapult a coveted brand into the spotlight at lightning speed, in no small part thanks to the magic of Instagram which sees new releases proliferate on feeds the very day they drop. Mowalola seems to have hacked the power of creating cult fashion accessories, influencing a generation of Africans in the same way that a bag drop from Telfar has the ability to break the internet. The NATIVE 004 cover star's growing cult-like following study and take note of every drop the Nigerian designer makes with laser-eye precision; a new bag is sold out in seconds, but the Mowalola Puff Puff Trucker is by far the most revered accessory from the designer. The self-proclaimed DriP Gawd captured the hearts (and wallets) of her cult-following with this trucker hat release which features a cotton twill snapback with the signature, orb-like M logo influenced by the former Sony Walkman logo. It's pure taste genius and simple enough to elevate any look within seconds. It's particularly found a home within a community of young Africans looking to express themselves; creatively and otherwise through the use of fashion. These young people are challenging an outdated fashion system and items like the Mowalola Puff Puff Trucker serve to unite a community bent on diverging from the norm.
Nowadays you'd be hard-pressed not to find stylists such as Ashley Okoli or rapper Deto Black – best friend to the designer herself – sporting the trucker in all their latest glam pics. Even other coveted Mowalola items are getting all the rave reviews, from the custom The Simple Life tote to the vibrant Bundle bags and even the recently teased Mowalola thongs and jelly rings. Long-time followers of her brand now know to expect something outrageously unique from the designer and have boosted her to this level of household popularity because of this. As demand for more Mowalola cult items reaches fever pitch, owning one has now become as famed as the proverbial Dinner with Jay-Z. All in all, it's a new kind of pride to see an African designer turn heads in this kind of way–albeit one that examines fashion through the lenses of liberated women, of queerness, and of non-orthodoxy.
View this post on Instagram
Finally…GOOD NEWS!
(Written by Tami)
Although her debut album was titled 'Good News', the Houston rapper's project was not wholly embraced by the entire world of Hip-Hop–particularly her day one fans who were disappointed to hear that the rapper had not reprised her loved pimp alter-ego, the legendary Tina Snow. I, myself, was disappointed in the project as a collective body of work, especially as it was being marketed as thee Stallion's debut album. As a project, it felt lacklustre and hurriedly put together, arriving merely a week after it was officially announced–although some others might think differently. But despite this setback, Megan's dominance as one of the top mcees of this generation cannot be understated, no matter how much the opps say otherwise. Your favourite rapper also had to go through several phases and shed their skin to become a more well-rounded artist in full control of their creative output. And that's why I fully welcome the different stages that Megan is currently going through, with hopes that she continues to find what works for her.
Yesterday, to mark the Aquarian rapper's 26th birthday, the lovable Houston Hottie released a new freestyle titled "Southside Forever" that found her laying rest to anyone still doubting her at this stage in her career. The three-minute burner built on a track from LilJuMadeDaBeat and Juicy J opens with Meg posting a warning to anyone out there who still thinks they want to take they have what it takes to go bar for bar with her. "Shit can't get started without me/Like I ain't take over a season, the summer is Megan's/B*tches ain't eating", she raps self-assuredly on the freestyle, eyes narrowed in slits and tongue pursued to continuously rollout clap backs, the rapper looks at home as she dishes out bars over the uptempo beat. The track arrives just a day after Meg changed all of her social media handles back to her alter ego Tina Snow, who we last saw on her 2018 EP of the same name. Whatever she's teasing, we know it's going to be good and we're waiting with bated breath to see the return of Tina Snow. In the meantime, stream the 2018 EP for good luck, and let's manifest new music from the ruthless character real soon.
Featured image credits/NATIVE
---
Dennis is a staff writer at the NATIVE. Let me know your favourite the Cavemen songs @dennisadepeter
---