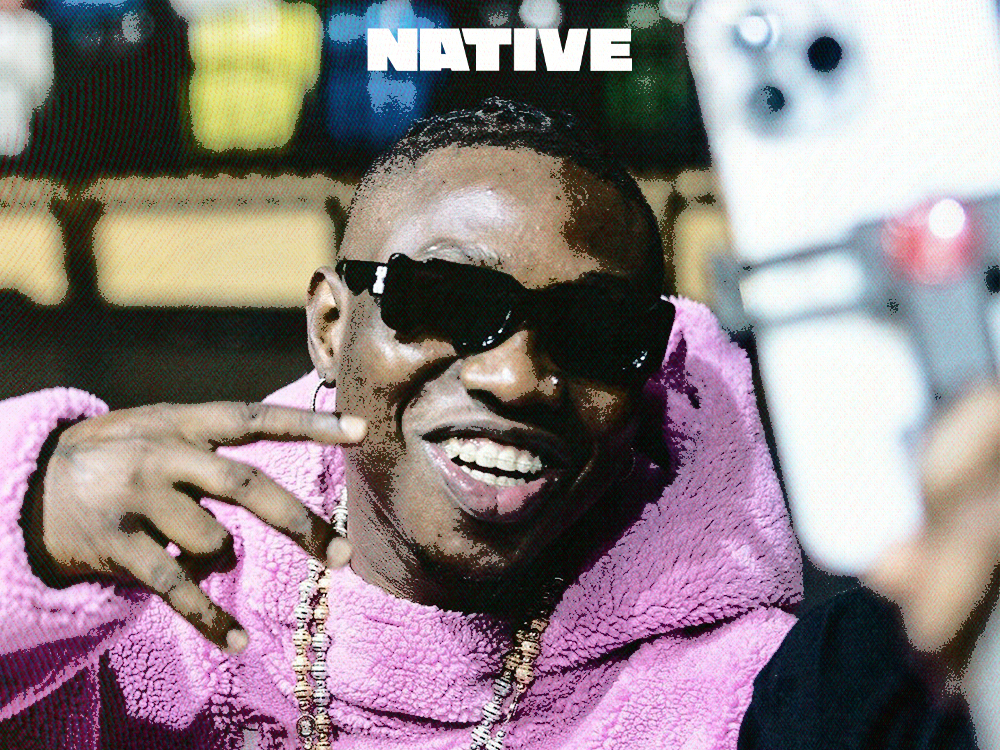 Zlatan's Immense Contribution To Rap Culture In Nigeria
A shining light for rappers in Nigeria & beyond
How does an artist successfully cash-in on virality? Zlatan is certainly one artist whose career is a manifestation of playing the long game and staying true to oneself. Since his debut on the scene, the rapper has commanded attention with ease and his 2019 was more a stretch of viral moments forming into real currency. Although having a backlog before then, that year he was arguably the hottest rapper in the continent. That he's here in 2023 boasting similar reverence isn't something many saw Zlatan doing, and his tact and ever-evolving skill level deserves recognition. 
View this post on Instagram
The subject of rap and rappers is a recurring discussion in Nigerian music circles. Once the nucleus of our popular music, observers are keen to register lower levels of participation in the genre these days. Beyond faulting the apathetic communities around the music, conversations have often been centred around the attitude of rappers, a lack of deliberate moves often the mentioned undoing. Zlatan was carried on electric wings upon his entrance; a dancer, an assured spitter with street hop origins, he was heralded. 
Hip-Hop might try to corner its unique spaces but traditionally, it's always existed side-by-side with Pop. America's glorious nineties had the entwined sounds of Rap and R&B working in its favour and the likes of P Diddy and Bad Boy Entertainment would best pair these elements, dominating the sonic zeitgeist of pre-2000s pop music. In these parts, it's similarly important that Zlatan was embraced by Davido the year before 2019. We often give 001 his flowers but he's consistently been a champion of the Rap music he loves, and on "Osanle" we definitely got a taste of Zlatan's versatility. 
Produced by Fresh VDM, the song had that buttery percussive sound Davido had on lock throughout 2018. With his freewheeling style Zlatan describes the hardships of time past, neatly wrapping up the first verse before his feature's emotive hook. Rap-wise, it wasn't the most spectacular of performances, but Zlatan's energy was palpable. His tendency to deliver bars with sing-songy cadences that made one dance was also a demonstration of his distinct technique.
That record being his first stamp in popular conversations, Zlatan had the ears and eyes of an interested industry on him. It was too early to make any concrete predictions, thus he had the wiggle room to be creative. Any further doubts were dispelled by the end of the next year—2019—whose reign of ubiquity began with a song which foreshadowed that moment. "Able God" at that point was the soundtrack of urban culture; working to fulfil desires of living a peaceful cosmopolitan lifestyle, residents in places like Lagos always relate with a divine plea for help. Even outside the state and far beyond, the Chinko Ekun song was massively loved.
Without Zlatan's contribution, both in sound and personal direction, the song might not have gained as much traction. The production was somewhat tailored to his cadences and his consistent adlibs was a colourful streak which made this particular cry for blessings less melancholic and more celebratory. By the time "Am I A Yahoo Boy" dropped, Zlatan's figure was chiselled fine, although he'd come out of that a lesser-known artist than Naira Marley. Commentaries such as "Never forget Naira Marley's 2019" underlie the fact that Zlatan also had a great year that year too. 
Zlatan didn't have an-establishment movement in the mould of Marlians, but for sure he had the industry. "Killin' Dem" would most demonstrate how effective he could be on wax, for most parts being the fulcrum behind the song, owned by the Nigerian superstar, Burna Boy . It would also help in constructing the 'African Giant' myth and epic Grammys Award run-up, while the man born Temidayo Oponiyi would go his own way, dipping toes in pop music more than any other person who rapped in the country. 
The successful trio of "This Year", "Bolanle" (with IVD) and "Yeye Boyfriend" were released at different points during the year, and with distinct ambitions. Where the first was a nostalgia-inducing song charting impending greatness, the later two appeared at the tail-end of the year, its festive vibe quickly establishing itself. Both seemed to follow the same narrative sequence: centering the titular Bolanle, it charted her dissatisfaction with a lover. "Who no like better thing?" asks Zlatan in a way that doesn't deride women but validates their desires, a sensitivity not quite common among Afropop musicians. With shiny guitar-playing and Fuji-replete influences, both songs confirmed Zlatan as a hit-making machine. 
The 'Zanku' album was the only blip on Zlatan's 2019. The project was stuffed with too many sonic choices and an almost nonexistent narrative thread, it was more like a jumbled collection of songs. None of the feature choices were excitable, suggesting his unpreparedness going into that debut album. Perhaps the only longstanding regret would be that he's now used the choice of that particular title, but it's a shortcoming which Zlatan took in good stride. 
In 2020, the artist remembered his roots. From then on the artist increasingly collaborated with rappers, bringing his signature energy to records such as the uber-popular "Cash App" and the Oladips-helmed "Mainland 2 Island," which coalesced into an EP with the same title. He still coveted viral moments by tapping from reined-in totems of popular culture. "Egungun Be Careful" paid direct homage to his Fuji influences through the collaboration with the iconic Obesere, while "Lagos Anthem" flagrantly reiterated the city's mythos, referencing its status as the commercial epicentre of the country. "Dem go talk say money no dey Lagos," he proclaimed in the chorus, in a sarcastic way which subtly replied, "Na lie, there's money in this place". 
Zlatan's most memorable appearance between 2020 and the following year came tellingly on a rap song. "Kuronbe" featured the unique rapping skills of Prettyboy D-O (who Zlatan has previously collaborated with on "Police n Teef [Remix]") and Ice Prince, marking a new direction for curation on Rap songs. By bringing the several sides of the genre together—D-O's ragga and drill-inflected style, Ice's legacy English-speaking flow, Zlatan's indigenous zest—the Trap-indebted artist Straffiti gave a solid nod to the evolution of Hip-Hop in the country. Whereas D-O had the best verse (by my own estimation), it was Zlatan who unarguably owned the song, delivering its bouncy hook and after delivering adlibs in the background, returns to lay the closing verse. 
In no small way that was one of Zlatan's most defining moments. While rappers have been prone to fancy high concept records, here was this person who made the mundane become extraordinarily powerful. He wasn't revolutionary in that "Local Rappers" style of his acclaimed predecessors Reminisce, Olamide and Phyno, but he set the still-blazing trail for indigenous rap—and rap in general—to be taken more seriously by popular audiences. 
This first quarter of 2023, few songs have captured the period's rap sensibilities better than "Omo Ologo". Last week, the record became the first by a Nigerian rapper to reach No. 1 on the Official Hip-Hop/Rap Songs chart by Turntable. Edging out records such as ArrDee and Cat Burn's "Home For My Heart" and Rema's "Ginger You", it is joined in the Top. 5 by Odumodublvck's "Picanto," a song he's also featured in. 
"Omo Ologo" has brooding vocals and drum arrangement which sounds parallel to the production on Eminem's "Like Toy Soldiers" and Olamide's "Ilefo Illuminati". It's a quintessential direction for rappers with stuff to get off their chest, but then again, Zlatan has always had good ears for beats. He's rather sharper in his rapping, each lyric packed with the intentionality of a person who's been working behind the scenes. Autobiographical in lyricism but flagrant through its visual representation, it's also a nod to Zlatan's approaching act as a fashion and beauty influencer. 
Afropop doesn't thrive solely on the music's quality. That's of course a strong factor, but the visual influence behind stardom has often been understated in these parts. From stylists to video directors, art directors, digital artists and costume designers, there's a whole ecosystem behind the musicians who make sure they look the part. Rap's appeal is very much aligned with looking the part, and that's something all-rounders like Jay-Z and Kanye West understand. Zlatan belongs in this category, as we've seen in recent months. 
All these skin care brands no get Zlatan money or they sleeping?

— ibe (@maziibe_) March 22, 2023
People are increasingly taking note of Zlatan's glow up, how deliberate he's been in taking care of himself. It's not everyday that a Street Hop-emerging artist gets praise not for their songs but for their looks, and it's an indication Zlatan knows the influential appeal of looking and operating at your best. A face is the first thing people see; it's also the stand-in for gauging one's energy or financial status in some rare cases, and just by looking good Zlatan has placed himself there.
There's also the matter of his fashion. While he might not be the most avant-garde dresser, Zlatan has always held his own in his outfits. His early career was often attended by tight jeans and polo shirts, with his hair partly sprayed golden. Nothing too special, but he looked as though he'd rap the most exciting Yoruba-laced bars you ever heard. It was purposeful. During the "Bolanle" era he was usually seen in blazers, again referencing the ballroom-centric music he was then making. Nowadays, Zlatan is able to go either way—a dripped-out rapper or a conservative stylist, while his neatly-locked hair can be let down depending on his choices. 
Directed by Visionnaire Pictures, the video casts beautiful scenes to incorporate these stylistic nuances. It's no surprise that it's arguably Zlatan's best video yet. With nods going to legacy brands such as Louis Vuitton, Daily Paper and Richard Mille, he charts a successful trajectory in a way that is evocative more than boastful, a trait not many rappers share. 
With the rap scenes across Nigeria opening up in refreshing ways, Zlatan is a figure worthy of emulation. Off the mic, he's kept himself free from any serious controversy while implicitly upholding the ethos of Drink water and relax. As a rapper, his willingness to get on songs with rising talents have earned him respect which transcends the genre, one which has most poignantly been captured by Odumodublvck when he raps, "Zanku runs Ibile" on his newest track "Declan Rice," the follow-up to the chart-topping success of "Picanto". As an actor, he's recently just starred as Kash on Jade Osiberu's latest film 'Gangs Of Lagos' which premiered on Amazon Prime Video Naija this weekend. 
That is where Zlatan is at this moment. Overlooking the wider plains of Rap music in Nigeria, it's understandable why some might gloss over his contributions, seeing as he's neither the most technically-skilled rapper or boasts acclaimed projects. His influence is however more pertinent: he's a champion for excellence, for the relentless pursuit of self while meeting the far-reaching requirements that comes with being great. He's done all this while looking flawless, and that's a major flex. 
Featured image credits/NATIVE
---