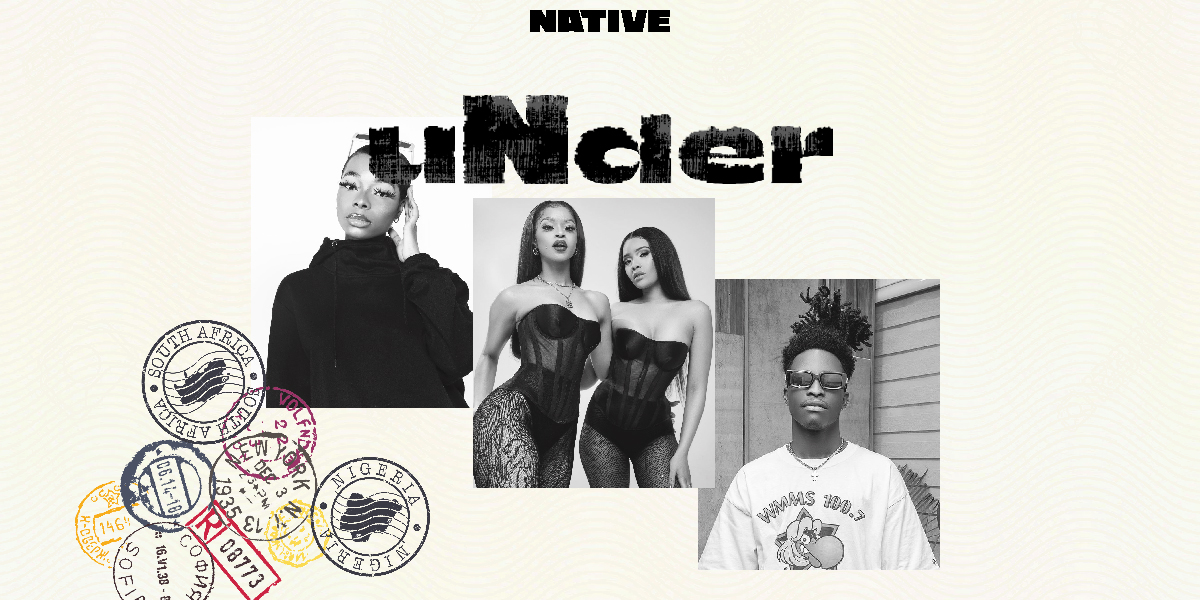 uNder: Best New Artists (July, 2022)
Featuring Majesty Lyn, Lasmid, TxC & more
2022 is poised to be a great year for music. Coming off the stay-at-home induced orders of 2020 and creating and experiencing music in isolation, the world is open up once again and music is being released an exponential rate. As such, with another edition of the uNder column, our mission remains committed to bringing our audience the best new crop of artists primed to cause a stir on the continent and in the diaspora.
So here we are again, with a new batch of rising artists who probably haven't even peaked yet but are nearly on the cusp of an explosion into superstardom. From the 'Piano-loving duo TxC who have dominated popular festivals and stages across the globe to Nigeria's Majesty Lyn who steadily carving her own corner in the game, and to Ghana's Lasmid who is reworking nostalgic influences in his music, here is our list of Best New Artists for July.
Lasmid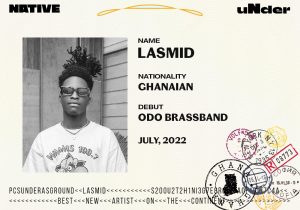 There's a certain nostalgia that comes through on Lasmid's music. Born and raised in Ghana, Lasmid is a singer and songwriter whose growth can be charted from his 2020 debut single "Odo Brassband." The groovy Hiplife single harkens back to an early era of Ghanaian music and finds the singer showering his muse with praises. The earworm track was a glittering debut which cast a wide net for where Lasmid was able to go sonically and artistically.
While he's taken the slow and steady pace to releasing new music, the hard work seems to be paying off as he racks in more accolades on the way to the top. In 2019, Lasmid won the 8th season of MTN's Hitmaker, a music competition created by MTN Ghana back in 2011, which earned him the recognition of his peers and role models alike. He's only released a handful of singles but everything he's released has been more engaging than the last, with records such as the Kwami Eugene-assisted "Sika", "Father" and "Atele" revealing more layers to his artistry, as he melds Afropop, Gospel, Highlife, R&B and more.
If you're looking for an entry point into Lasmid's short but sweet catalogue, look no further than his latest single "Friday Night", one of the biggest songs in Ghana this year, which also shows his massive potential. The mid-tempo number finds the singer talking about enjoying life and focusing on the positive aspects it has to offer, a cocksure and confident way to come into the game. Within two years of his debut single, Ghana's Lasmid has gone from singing in the choir at an early age to getting involved in rap battles while growing up, and now singing on main stages. With a few months left in 2022, we're betting that Lasmid is one to watch out for.
Majesty Lyn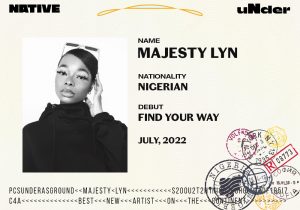 In 2018, Majesty Lyn released a cover of 2Baba and Peruzzi's "Amaka". Amid other covers, that one went on to become a smash hit on social media, introducing Lyn's total artistry to a large section of Afropop fans, shortly after the then 21 year-old musician delivered a stellar verse on "Memories" is a stand out cut from 'Alternate Ending', the joint album from Boogey and Paybac iBoro also known as The Lost and Found.
Lyn soon captivated ears with singles of her own, going on to release the 'Four Twenty' EP in 2020. The four-track project had buzzing standouts like "Hold On My Heart" and "You See" which showcased Lyn's expansive range and tonal brilliance, while constructing tales of young love and ambition. The brilliance of that introductory year was finely wrapped with "Find Your Way," a House-tinged record packed with motivational bite. "Friends don't even last these days, shameless with the plastic ways/ Sadly there's no time to waste, concentrate when things fail," she sings with exciting resolve, underlining her resolve to be a generational voice.
2021 was a typically prolific year for the Port Harcourt-bred musician, releasing two projects–'Lyn of the South' and 'Loud And Clear (4.20)'–between March and April. As suggested on its title the former bleeds into personal stories, carried by strong records of affirmation like "Name Another Girl" and "Zion," an ode to the transcendental forces behind her. Still, lyrics like "cos I'm entitled, and I am a bitch," reflect her unapologetic honesty. Her latest single "Notice" was released barely a fortnight ago, notably to much anticipation after becoming an IG trend as well. Without a tinge of exaggeration, Lyn's amorphous skill set sets her on the path of making a novel impact on the ever-changing Nigerian music industry.
Wendy Kay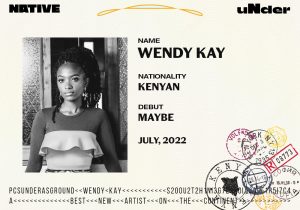 Over the years, East Africa has been a breeding ground for some of the most inventive musicians emerging the continent. Wendy Kay emerges from this tradition of excellence, debuting in 2018 with "Maybe." Even that early into her career, Kay's artistry already possessed an accomplished sheen, constructed by poetic, cutting lyrics which gently flowed out of R&B-patterned strings. "Nakudai" followed the next year, this time relaying more urgency yet still indelibly stringed by Wendy's bright vocals breaking into fun, dance-ready cadences.
Her debut EP came in 2020, the succinctly-titled 'My Way' which significantly broadened her range. The titular opener ripples with rap-inflected drums, but Wendy's vocals are remarkably cool as she sings about executing her vision in her unique way. From mirroring the beat's rhythm to soulful croons, her skillset is audibly gorgeous. Other songs like "Mama Papa" and "Stori Ni Gani" also had that singularity of vision, utilising bold sonic to sketch out Wendy Kay's motivations. The Rigga-assisted "Samahani" is a personal favourite, formed on a lush backdrop of knocking percussions and Kay's affectionate singing. Breakup is the subject, and such powerful emotion is weaned from that, portraying Wendy Kay as an experiental artist.
Going through a prolific 2021, Lyn released a number of songs which strengthened her grasp on the Kenyan music scene, and crucially marked her out as one to pay attention to. Earlier this year she released 'My Way 2,' a fitting sequel to her first project. As on earlier songs, her neo-soul flourishes are present on standouts like "Niambie" and "Safe Space," again reaffirming Wendy Kay as a most compelling artist.
TxC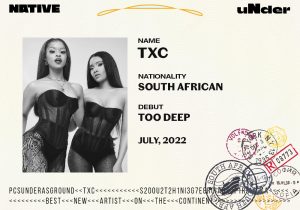 South African Amapiano duo Tarryn Reid and Clarisse Hefke will most likely fall within the category of artists you may have come across before. Popularly known under their moniker, TxC, the duo are well known for their viral 'Piano dj sets which has seen them grace prestigious stages across the world including their eclectic Boiler Room set which has amassed over 1 million views.
While their stellar DJ sets need no introduction, they are fairly new on the music scene given that the duo only released their debut project this year. Arriving just this month, the duo released their debut 5-track EP 'A Fierce Piano,' which brings their love and passion for Amapiano into sharp focus. The 30-minute body of work features guest performances from stellar African artists such as Tim Lyre, Daliwonga, Murumba Pitch and more, who offer a rare and rounded glimpse into the world of the 'Piano-playing duo. On "Mood," one of the project's standout tracks featuring Tim Lyre, the duo provide the perfect backdrop for Tim Lyre to fire off his pensive and clever verses, creating an irresistibly danceable hit.
Since their arrival on the scene, they have collaborated with industry heavyweights such as Dinky Kunene, Daliwonga, DJ Task, Unlimited Souls, Amaroto, as well as Nigerian superstar Davido. Although the step towards releasing their own original music may seem new to those familiar with the duo from their early days, TxC have always been involved in music from a very young age and decided to pursue disc jockeying full-time to express this passion. Inspired by the fact that there were not many female DJ's of colour, they decided to take the risk and move to Johannesburg to start their music career, making one of the most impactful decision of their lives. Now, with the world at their feet, TxC are ready to take on the world stage from the studio.
Mi$tak
Mi$tak is a marvel of youthful imagination and a reflection of hip-hop's diverse, Trap-centric era. A year ago, he shared his debut full-length project, 'Truth of the Matter', a fine showcase of his ability to helm vibrant bangers packed with self-assured bars and occasionally introspective lyricism. Months later, on this year's Valentine's Day, the Kenyan artist dropped 'Love & Ties', a brief EP featuring his best impressions as an R&B crooner, laying his atmospheric vocals over thumping and mood-based production.
While the bulk of his current catalogue favours his powers as a rap artist, Mi$tak fits perfectly into the digital era of artists boasting seamless diversity across singing and rapping. As a rapper, though, he favours quirky punchlines that accent his delightfully deadpan flow. He recently joined forces with Ouma Wafegi for 'RAHA', a trap-infused tape packed with an unrelenting onslaught of feel-good slappers underpinned by a consistent display of exuberance, in the catchy flows, imagery-based raps and ominous but colourful beat selection. Whether dropping intoxicating rhymes or indulging his gruff soul-man croon, Mi$tak is carving out his identity as a worthwhile artist to listen to.
Caleb Awiti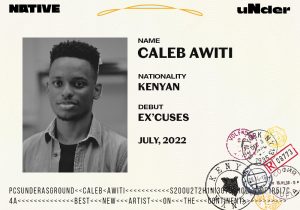 In a 2020 interview, Caleb Awiti stated that his dream collaboration was to work with Bryson Tiller. That should give you a clear picture of the era and type of R&B music the Kenyan singer reveres. Having decided to make music as a passion, Caleb started honing his voice from a young age, officially debuting as a teenager in 2019 with "Messed Up", introducing himself as a decidedly R&B artist. Since then, he's delivered dozens of singles and several projects, including his debut project, 'Love Letters 1', and its fairly recent sequel from March.
Prolific and talented, Caleb's smooth and entrancing vocals are the centrepiece of his music, often floating over hypnotic, slow-rolling beats as he navigates infatuation, love, and toxic exes. It's fitting for an artist that, in addition to Bryson Tiller, the vivid influences of singers like The Weeknd, Drake and Brent Faiyaz plays into the solipsistic edge of his music, as he escapism, romance, and melancholia. Parsing his music through something of a Lo-Fi filter, his sound is hazy and often minimal, made for moments of personal listening – preferably at owl hours.
With an inclination towards spontaneous music-making, there's a constant lived-in feel to his songs, whether it's an off-the-cuff love letter to a modern R&B darling or taking us through the tumult of being with a possessive partner on latest single, "All To My Own". The type of music Caleb Awiti makes prioritises honesty and he's living up to that requirement.
Featured image credits/NATIVE