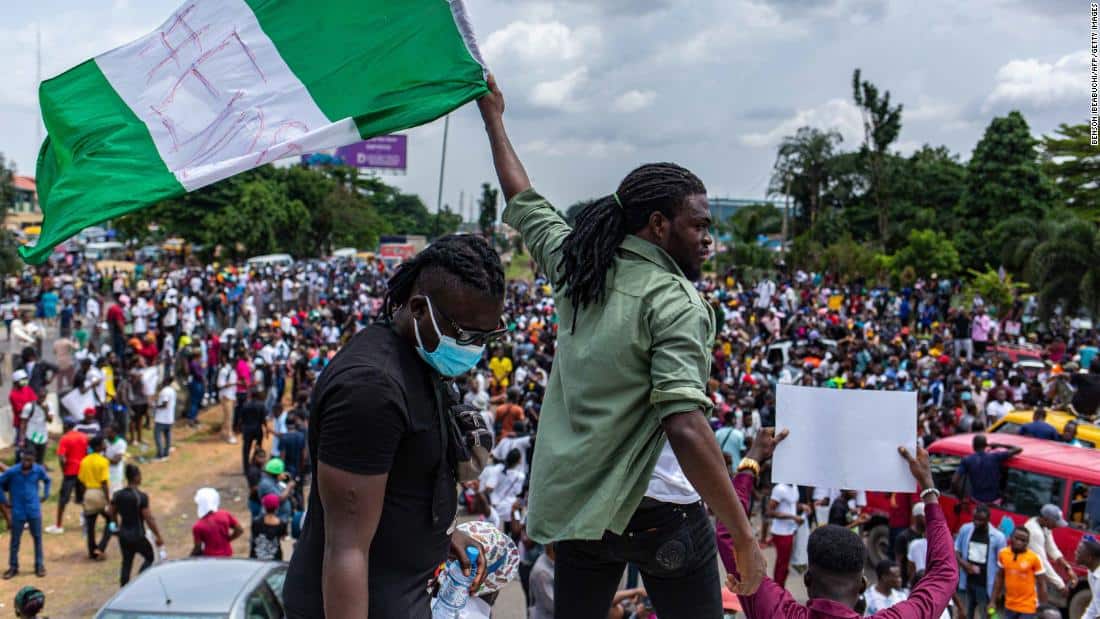 The evolution of protest culture in Nigeria
A defiant readiness to speak about the failings of the government
For many young people across Nigeria, the night of June 11, 2021 was a tense affair. Between phone calls from concerned parents worried about their safety and those struggling to navigate a way home from jobs across the federation, the message was clear: the next day was shaping up to be one of the most eventful days in the year as the country prepared for a series of planned protests across the federation. In many states across the country, threat levels had been beefed up to critical levels including Lagos State, where President Muhammadu Buhari visited two days before the June 12 protests to inspect its security formations and commission security equipment.
Eight months on from the tragic shooting of October 20, 2020 at the Lekki Toll Plaza, the situation of things in the country has worsened with a further slide into Nigeria's worst economic situation in over four decades and, just one week before the planned protests, the federal government announced a ban on Twitter in the country, cutting off a critical resource for commercial activities and real-time information gathering. With the national mood oscillating between apprehension and full-blown foreboding, not many expected the June 12 protests to go ahead. "I honestly didn't expect people to turn out and I was very scared after how #EndSARS ended," Chike, a PR specialist in Lagos, told me, "but seeing Nigerians out on the streets peacefully stating their needs made me so full of joy and hope for the future. Hopefully this is the generation that starts to see proper growth in Nigeria."
For 24-year-old data analyst Babatunde, he expected people to turn up for the protests even if he predicted the government would take a forceful route. "I knew people would be arrested even if it's within the constitutional rights of a citizen to protest, what's the point in harassing and arresting unarmed citizens?" he asks. "It just shows there's somehow a way to use a show of force to make people feel defeated and make them fear the idea of starting off a protest."
Despite the threats and eventual use of force against protesters, the momentum of #EndSARS and the June 12 protests have shown the potential of Nigerians to organise and bring attention to the issues affecting them. It also hints at a new phase of intentful citizen partnership in the civic space that is almost foreign, but Chike disagrees, believing that Nigeria has almost always had a protest culture. "Nigerian protests date as far back as Nnamdi Azikiwe and the others involved in the independence struggle," he says. "I think people believe that protests must be one way but the truth is there are so many ways to protest and Nigerians have been protesting for a long time but now it's a different energy with the younger population choosing to disrupt the system. It's like 'we've tried dialogue, time to flip the script. Let's all feel the heat.'"
Bolu, a journalist covering socio-political topics in Nigeria, disagrees. "It is obvious that the #EndSARS protest was somewhat unprecedented for our generation. The spontaneity and the magnitude are both factors to consider and which distinguish it from other recorded protests. But to think of a 'culture,' I will say no because we will have to scratch our heads to name protests like it that shook the country as #EndSARS did," he says. "In the 60 years plus of Nigeria's existence, we have had more military dictatorships than democracy and even now, we are in a milieu that cannot be literally considered a democracy. It is a militarised democracy which even with some elements of democracy in it, the government abhors protests and dissidence. So to be specific, no we do not have a culture of protest yet."
For what it is worth, Nigeria has not had a concentrated period of awareness and contextualized record-keeping like it is presently undergoing. 23-year-old dancer Ahmed believes that what is happening across the country impresses the need for a protest culture and helps shape the direction of his politics. "Being informed is a big part of protesting because these conversations are what help us know what needs to be tackled and amplified," he says. "We can't just go out on vibes, we need to debate our positions and know where and how to engage the authorities critically." Ifeoma, a 19-year-old student, agrees with this point: "As much as #EndSARS united Nigerians, there was still some divide and it was due to ideological differences about women's history with police brutality and the LGBTQ community also. We cannot afford to erase their struggles if we want a better country and that requires us to read and educate ourselves about these issues."
With many Nigerians still dealing with the fallout of the #EndSARS protests, protesting has taken an amorphous form to reflect the needs of the moment. Twitter handles like Sars Watch are sharing information about political inclusion ahead of the 2023 elections while the EndSars Legal Aid, a network of 800 volunteer lawyers, continues its efforts to secure the release of arrested peaceful protesters all over Nigeria. "The protests have definitely changed the way protests would occur in the future because Nigerians have seen that there's a strength in numbers and teamwork," Chike says. "We've always heard that teamwork makes the dream work on paper but we got to see it. Although the changes haven't been made, I definitely believe that work has started in the right direction."
The question that remains to be answered is if these protests are a symptom of the bleak reality of life in the country or if Nigerians are truly alive to the rights of peaceful protesting as enshrined in the 1999 constitution. Bolu thinks it's the former, arguing that living in Nigeria requires that people speak up. "You can't sit idle again," he explains. "Nigeria is going to kill you one way or the other. So people going out despite the enormous threats speaks more to the desperate situations we have found ourselves in." Chike agrees with him to an extent. "I think it's a little bit of both things," he says. "The amount of times I've heard "all die na die" and "you only die once" speak to how tired Nigerians are, and the need for change in the right direction. However the #endSARS protests have sparked something in all well-meaning Nigerians and that would build a consistent protest culture. Our protest culture is good but so much more can be done, the road would be long, but we are up for the challenge."
Whatever the challenges may be, Nigerians seem ready to speak about the failings of the government defiantly and march hand-in-hand to bring attention to these shortcomings regardless of institutional attempts to stifle their fundamental rights. "It is our right to speak," Ifeoma affirms, "and we want to be able to talk about the issues affecting us without fear for our lives. It is the bare minimum in what should be a democracy but unfortunately we are denied that. It won't stop us though."
[Featured Image Credits: AFP/Getty Images]
---
@walenchi Is A Lagos-Based Writer Interested In The Intersection Of Popular Culture, Music, And Youth Lifestyle.
---