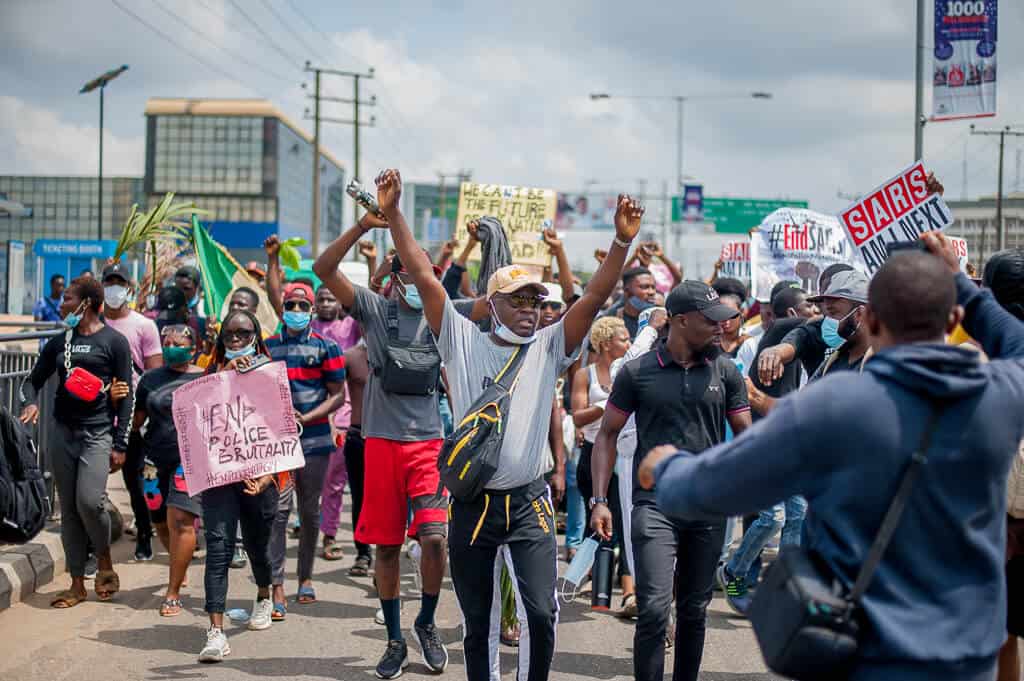 #TwitterBan: Nigeria indefinitely suspends Twitter
June 12 #EndBadGovernance in Nigeria
On Tuesday June 1, in response to the ongoing violence devastating Imo State, the Nigerian President, Muhammadu Buhari released a series of seemingly threatening tweets, in a similar vein to his harrowing statement that came a whole two days after the Lekki Massacre back in October. Implying that state violence was his answer – to both peaceful protest and insurrection alike – on Tuesday, President Buhari concluded a thread addressing the Indigenous People of Biafra (IPOB), the separatist organisation believed to be responsible for the violence in the East, with the now-deleted words: "Many of those misbehaving today are too young to be aware of the destruction and loss of lives that occurred during the Nigerian Civil War [in which Buhari himself served as a commander]. Those of us in the fields for 30 months, who went through the war, will treat them in the language they understand."
This tweet, in particular, stood in violation of Twitter's abusive behaviour policy, therefore as a consequence was deleted, and the President's account suspended.
Now, it appears that Nigeria's Federal Government are now throwing a public tantrum. In a press release, ironically shared to the subjected platform itself, the Federal Ministry of Information and Communications announced that the foreign government would be indefinitely suspending the operations of Twitter in Nigeria. With no details of when or how this ban would take effect, the press release cited "the persistent use of the platform for activities that are capable of undermining Nigeria's corporate existence," as the social media application's fault, going on to state that, "The Minister [of Information and Culture, Alhaji Lai Mohammed,] said the Federal Government has also directed the National Broadcasting l Commission (NBC) to immediately commence the process of licensing all OTT and social media operations in Nigeria."
The Federal Government has suspended, indefinitely, the operations of the microblogging and social networking service, Twitter, in Nigeria.

— Fed Min of Info & Cu (@FMICNigeria) June 4, 2021
Of course, there were jokes – with tweeters mocking the Federal Government for spreading the news via the precise app they wish to get rid of and using an archaic Twitter logo to do it – but this time, Nigerians weren't simply meme-ing through the pain as we do. This time, there was overwhelming worry and fear at the silencing of youthful voices by the Nigerian government and the dangers to democracy that the information vacuum of a Twitterless Nigeria poses. In true dictatorial fashion, President Buhari's government paid no mind to the protests of the people, nor did they consider all the costly implications to livelihoods this ban would produce. This morning, the good people of Nigeria woke up to find Twitter inaccessible using mobile data, however, internet service providers are yet to comply with the ban.
With the debilitating level of competency they have shown over the past six years, it is utterly shocking and gravely disheartening that the Federal Government would be so quick in their ill-advisable reactionary response to Buhari's tweet being deleted for violating the apps regulations. It might be a foreign concept to men in power, but perhaps it might have swerved him to play by the rules this time. As Governor Seyi Makinde said in a statement appealing for the reversal of the ban, "Twitter has become the platform for young people and indeed all Nigerians to exercise their fundamental right to express and publish an opinion." Taking away this platform takes away this freedom and infringes upon our rights to freely and safely speak to our government. If it weren't obvious before, it is abundantly clear now that the Nigerian government don't want to hear from the Nigerian people.
Elsewhere in his statement, Governor Makinde also recognises the impact this ban will have on our international reputation, our economy, foreign investment and the livelihoods of Nigerians businesses and individuals who rely on the platform for communication and promotion. He states, "Nigerian youths and digital communications organisations earn a living from being able to use the platform to post communications on behalf of their clients. Others who may not have physical stores also rely on Twitter to give visibility to their products and services." During the EndSARS protests especially, we were all witness to multiple ways in which Twitter supports and empowers young people in Nigeria. From enabling and easing crowdfunding, to acting as an emergency hotline, from mobilising groups in search of missing persons to educating users at home and abroad on contemporary issues and their historical context, as many dissertations of bright young Nigerians graduating this year will read, Twitter has been an essential administrative auxiliary in the current affairs of young Nigerians. It should be studied, tapped and used by the government to connect with us, understand us, represent us and effectively govern us. It should not be discarded in a childish unreasonable tantrum.
I, therefore, use this medium to appeal to the Federal Government to reverse this suspension for the greater good of Nigerians.
Full statement https://t.co/xvHyhLK9Ge

— Seyi Makinde (@seyiamakinde) June 5, 2021
Since the effect of the Twitter ban, Nigerians have taken to sharing VPN providers, with 'Thank God for VPN' now trending in the country, however Attorney General and Minister of Justice, Abubakar Malami has today ordered that those still using Twitter, via VPN be immediately prosecuted.
Further, as expected, others are also peddling their own versions of the social media website, including Adamu Garba, whose inflammatory tweets regarding the President's account suspension and his assertions that "Twitter is clearly an IPOB online Terror machine," powered government support of this troubling ban. Previously petitioning the Nigerian government to sue Twitter Inc. CEO Jack Dorsey, following the philanthropist's support of the EndSARS movement, Adamu Garba is now pushing for government officials and other Nigerians to make the switch to a very laughable, Crowwe App, which ironically has its own twitter profile. According to their Twitter bio, this alternative bird app (which apparently copied Spotify's terms and conditions) is, "a Nigerian multi-purpose app built to ensure privacy in instant messaging, ease mobile payment, and let you connect with friends and family." Existing social platform, Discord, which has been popular amongst gamers, is being courted as another alternative.
In the wake of the Twitter ban, Nigerians are also amplifying the previously scheduled June 12 protests, which were organised in prior months in response to the multiple political and police killings that persist across Nigeria, and the governments lackadaisical response. Falling on Democracy Day, this protest continues our resistance to persisting insecurity in Nigeria, police brutality, abuse of state power and the bad governance that enables all these. On June 12, Nigerians will fight for our democracy from the same military general responsible for overthrowing Nigeria's first democratically elected president. It is a sardonic reality Nigerians are facing, and with every move the federal government make, the future looks even more bleak for democracy within the Federal Republic of Nigeria.
Akure. Kaduna. Kano. Zaria. Abuja. Lagos. Benin City. PH. Abeokuta. Lokoja. Oshogbo. Yola. Calabar. Onitsha. Awka. London. New York. Jos. Makurdi. Warri. Ibadan. Ilorin. Minna. Lafia. Damaturu. Gombe. Joburg. Toronto. Frankfurt. Stockholm-CONFIRMED #June12Protest #BuhariMustGo pic.twitter.com/lTq4X7dyH7

— Omoyele Sowore (@YeleSowore) June 3, 2021
Featured Image Credits: Review of African Political Economy
---